As nights are getting colder and the probability of outdoor dining is drawing to a close, the possibilities for safe activities are shifting with the seasons and many couples are left wondering how to plan a romantic date night during COVID-19. After months of quarantining together indoors, where many nights of binge-watching Netflix have slowly begun to run together, a night in might not initially appear exciting. We consulted industry experts Chef Gabriele Bertaccini from Netflix's Say I Do and photographer LaJoy Cox from Love is Blind and Married at First Sight, both featured in our new Winter 2021 print issue, to help couples transform their homes for an at-home romantic dinner and fun and flirty photoshoot that will surely set this dreamy at-home date night apart from other evenings at home.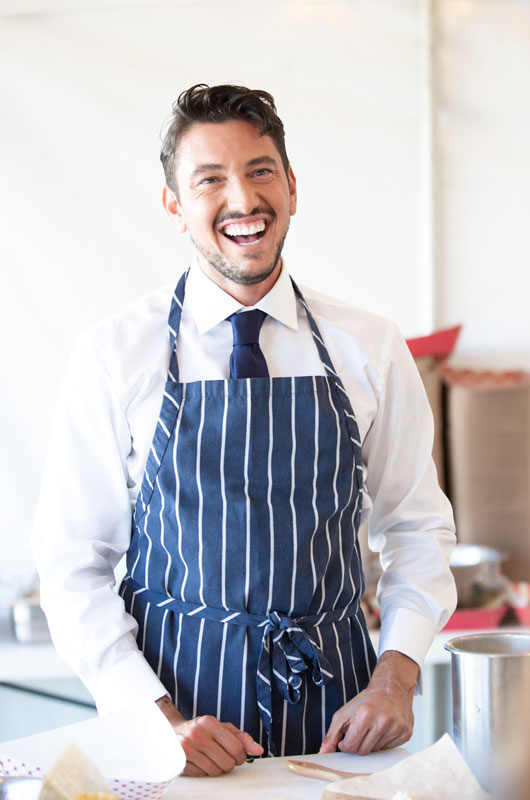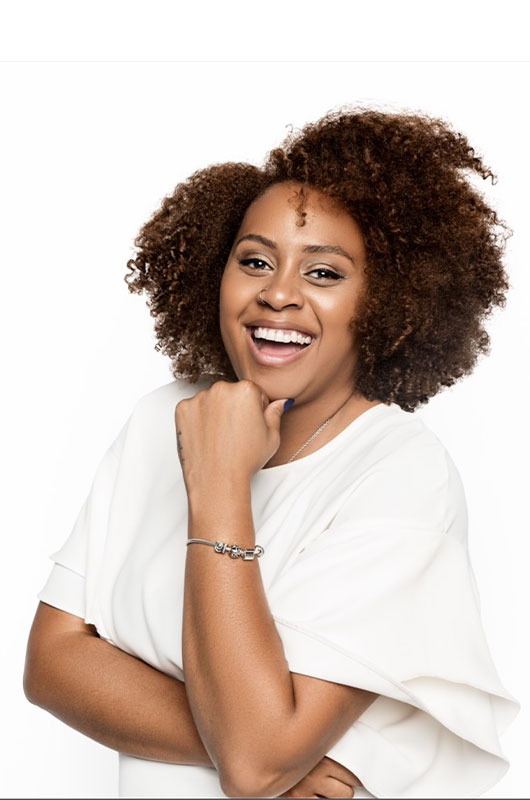 Step 1: Treat your night in like a real date.
La Joy believes part of the fun of date nights is the anticipation. Treat this night like the special occasion it is: get ready in separate rooms, get dressed up, and surprise each other with a first-look.
"Pretend you're on a first date in a crowded restaurant. Make your goal to get that 'first kiss' by the end of the night and the rest of the evening is bound to be filled with flirting, leaning in, and lots of laughs," La Joy says.
Step 2: Revamp your dining space.
Born in Florence, Chef Gabe understands that part of the joy of dining out is the ambiance of the space. To elevate the experience of an at-home dinner, Chef Gabe invites couples to think of their favorite restaurant and to bring elements of its atmosphere into their homes.
The little details are what makes a dinner out so romantic. Aiming to recreate the attractive elements of restaurant dining in quarantine, Chef Gabe's team has been curating and delivering "experiences in a box" to client's homes, fit with delicious food as well as extra "ingredients" that Chef Gabe believes are essential, from a bottle of wine to a candle or even a bottle of olive oil from his grandmother's farm in Tuscany*.
"A romantic dinner isn't just about the food—it's about the experience," Chef Gabe says, "Turn off your TV! Dim the lights, put on a good playlist, light a candle, buy some roses, and pop open a bottle of wine. To me, that's already a good setup."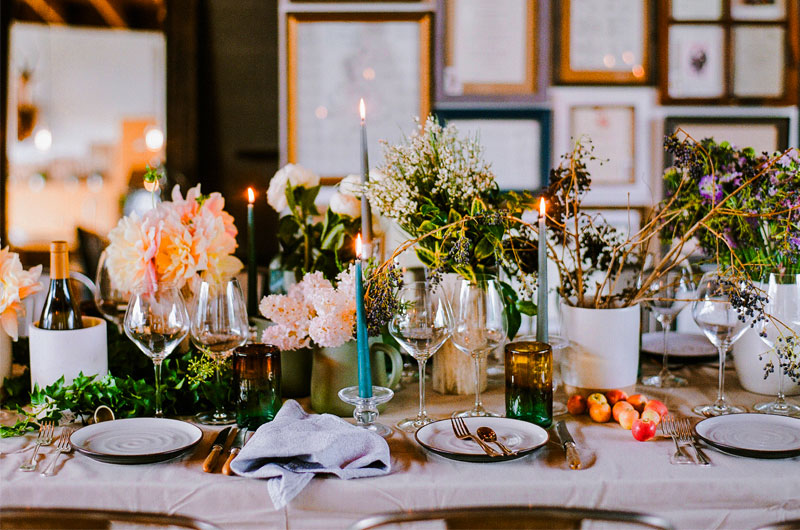 Step 3: Make an indulgent meal.
Once you've gotten ready and transformed your dining space, you can put your own twist on a classic dining experience. Try to recreate a dish from the restaurant where you had your first date, or better yet, test your teamwork skills and make Chef Gabe's butternut squash risotto recipe for some warm comfort food on chillier nights.
If risotto isn't a part of your normal dinner repertoire, making it your date night entree will be a decadent second step for your at-home date night. A staple of Italian cuisine, risotto takes lots of time and patience to cook, but with nothing but time, Chef Gabe's recipe, and your sous chef partner by your side, there's no better time to learn than the present.
"Risotto is simple and fun—you throw all of your ingredients into a pan, but you have to nurture it," Bertaccini said. "Listen to music, enjoy each other's company, and laugh as you watch this beautiful, amazing dish come to life."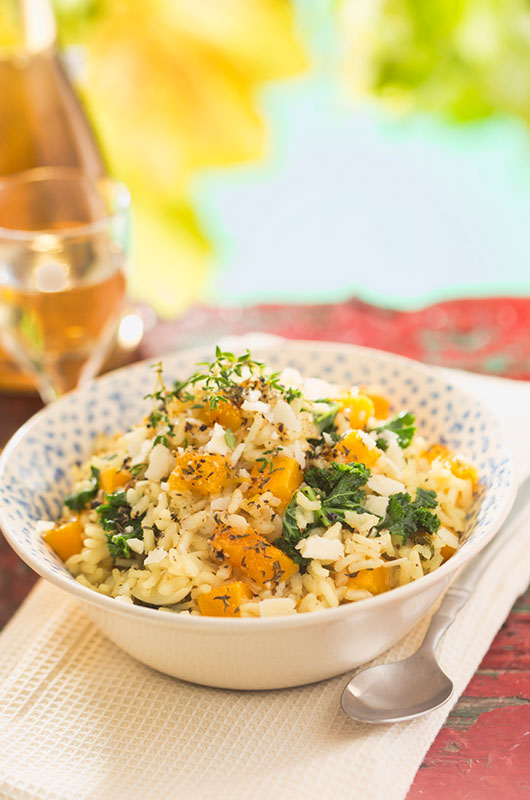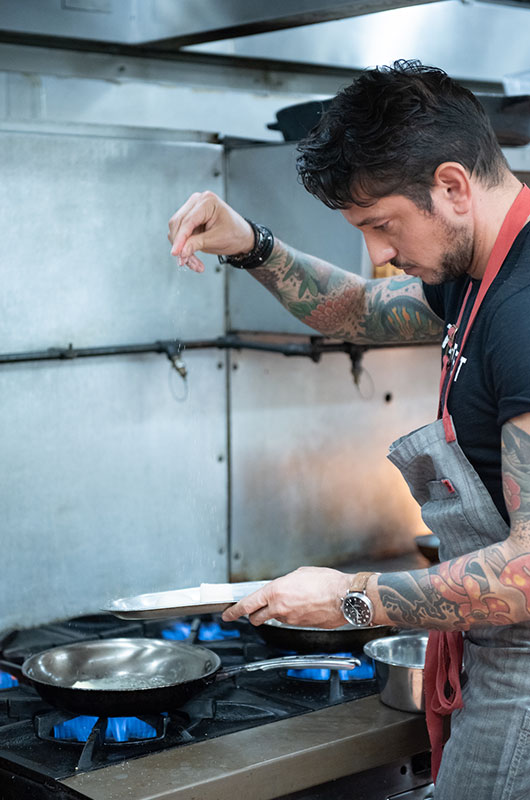 Chef Gabe's Butternut Squash Risotto
Ingredients
1 medium butternut squash (about 1 pound)
About 24 sage leaves
Coarse sea salt and freshly ground pepper to taste
7 to 8 cups chicken stock
1 medium onion
5 1⁄2 tablespoons unsalted butter
2 cups Arborio rice
1⁄2 cup dry white wine
1⁄2 cup grated Reggiano Parmesan, plus extra for garnish
Preparation
Peel, clean, and dice the squash. Put it into a heavy-bottom pot and cook it with a few whole leaves of sage, salt, pepper and one cup of chicken stock. Cook for 5 to 10 minutes until tender but not too soft.
Finely chop six sage leaves and dice the onion.
Heat the rest of the chicken stock and hold at a low simmer.
In a heavy-bottom saucepan, heat three tablespoons of the butter, add the chopped sage and cook for a minute or two.
Add the onion to the broth and sage, and continue to cook over medium heat until it is translucent, about five minutes.
Add the rice and a pinch of salt, then cook over low heat about three minutes, stirring often, until the rice has turned slightly opaque.
Turn up the heat and pour in the white wine. When the wine has been absorbed, add just enough stock to cover the rice, stir well and reduce the heat.
Keep the rice at a gentle simmer and continue to add more stock, a ladle or two at a time, letting each addition become absorbed by the rice.
While the rice is cooking, saute the remaining sage leaves in butter until crisp. Drain on paper towels.
After 15 minutes, the rice will be nearly cooked. Stir in the cooked squash, the rest of the butter, and the cheese.
Continue cooking for 3 to 5 minutes.
Taste for texture and consistency, adding a little more of the stock as needed. Serve in a warm bowl and garnish with extra cheese and sauteed sage leaves.
Step 4: Celebrate the occasion with some pictures.
While spending the night savoring Chef Gabe's risotto, show some love for your partner with a fun and candid photoshoot using LaJoy's Insta-worthy tips.
"Set up a self-timer or take photos of your partner throughout the night," Cox says. "It'll make your date feel even more special and you'll have a lasting memory of your unforgettable romantic evening."
Pull out your Polaroid after your first looks, while you're cooking, and after you've enjoyed your meal for a series of pictures that you'll treasure long after the night is over.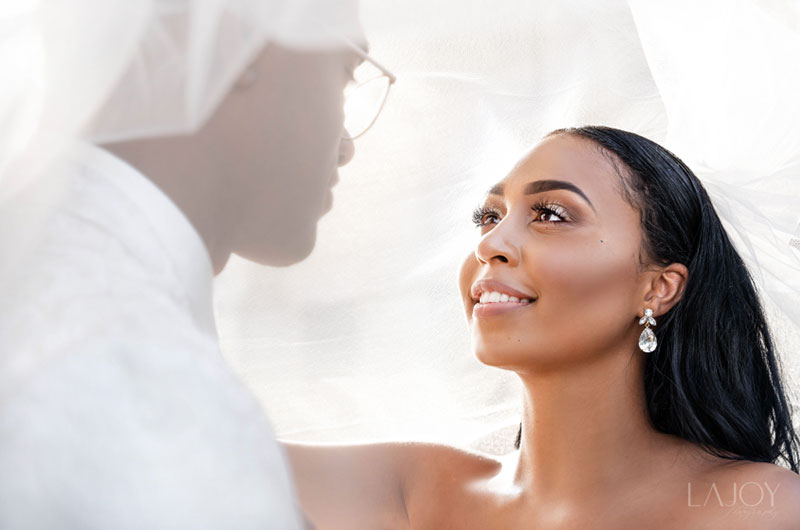 Though the pandemic has undeniably changed the dating scene and caused many to wonder how to create a dreamy at-home date night during COVID-19, industry experts like Chef Gabe and LaJoy are finding new and creative ways for couples to celebrate their love for each other. With these tips in mind, you can find new ways to cozy up to your partner when the nights get cold—and sweatpants and Netflix will be far from your mind.
*For more information about Chef Gabe and his dining and culinary events, visit his website, and to book a photography session with celebrity photographer LaJoy Cox, visit her website.
Image credits from left to right: Image 1 provided by Chef Gabriele Bertaccini, Image 2 provided by LaJoy Cox, Image 3 provided by Constance Higley, Image 5 provided by Chef Gabriele Bertaccini, Image 6 provided by LaJoy Cox.