Today on the Southern Bride Blog we are very excited to have guest blogger and wine and spirits writer Hayley Hamilton with Dallas Uncorked. Hayley travels the world looking for the perfect glass of wine and we are very excited to have her here sharing some incredible spirits for brides to consider for the exciting and special events during all of the wedding festivities.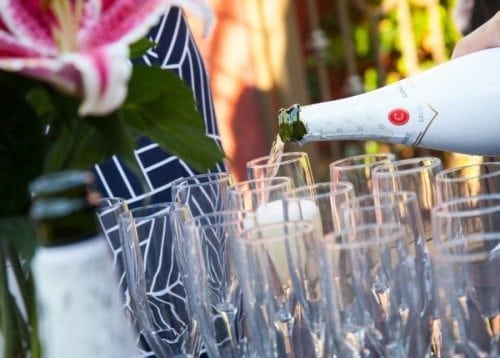 You're Engaged! Congratulations and best wishes, now, let's start planning.
The list of to do's when you are a bride is extensive, and can be over-whelming, even for the girl who has been planning this special day since birth. The last thing you need to worry about as you are planning is what wine to serve your party guests throughout the celebrations. Happily, I am here to help. From the engagement party to the toast as you exit the reception, here are a few ideas to make sure you are the most celebrated bride of the season.
For the engagement party
You want your first party of your wedding season to start with a bang, and what gives more of a bang than bubbles. Champagne and sparkling wine will be a staple at all your celebrations, so start with one that sets the tone of great taste.
For the bride without a budget, start your bridal season off with a vintage Champagne. Traditionally Champagne and sparkling wine is made without a vintage designation, as each year the new harvest of wine is blended with previous years to create a house style with flavors consistent from year to year. Only in very special years, when the fruit produced is extraordinary are vintage Champagnes made. One of the most recent vintage Champagne years was 2006. Last year Moet & Chandon Champagne released their Moet 2006 Grand Vintage Brut Champagne. A blend of Chardonnay, Pinot Noir and Pinot Meunier, the sparkler is the definition of refinement, elegance and complexity found in only the most special of vintages. SRP $75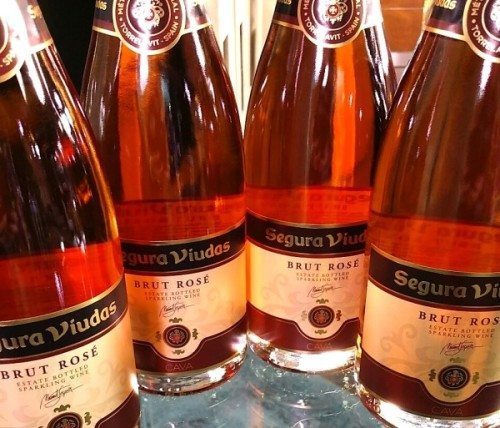 For the economical bride, Segura Viudas Brut Reserva Cava and Brut Reserva Rosé  is an incredible bargain, retailing for around $10 a bottle, but made in the traditional method of Champagne with the second fermentation taking place in the bottle. (This method is key and something you want to look for on all sparkling wines you buy.) Very crisp, light, dry and balanced making it an affordable and delicious sparkler filled with green apple, juicy lemon and soft herbs. Made from hand harvested Spanish grapes in the heart of Penedès, Spain from 30+ year old vines.  Great on its own, but also a perfect addition to cocktails. SRP $10
Classic Champagne Cocktail
6 ounces Segura Viudas Brut Reserva or other sparkling wine
1 sugar cube
Angostura bitters
Lemon twist for garnish
Put sugar cube in a Champagne glass. Lightly sprinkle the sugar cube with Angostura bitters and pour in enough chilled sparkling wine to fill the glass. Garnish with a lemon twist before serving.
For your bridal shower brunch
Create a romantic cocktail with fresh roses, raspberries, gin and sparkling wine from Domaine Chandon. The 40 year old Napa Valley winery owned by Moet & Chandon produces high quality bubbly from sustainably farmed vineyards in the traditional method. Domaine Chandon Brut Rosé is filled with layers of fresh strawberry, watermelon and white peach. The cocktail, accentuated with citrus, botanical notes of the Bombay Sapphire East Gin and the sweet floral notes of fresh rose petals, creating a harmonious blend of romance.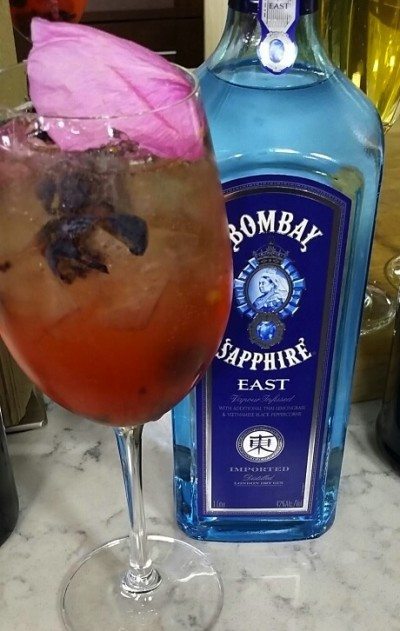 Petal Power
3 rose petals, rinsed well (or, buy organic)
3 fresh raspberries
1 oz simple syrup
1 ounce Bombay Sapphire East Gin or other dry gin
4 oz Chandon Brut Rosé Sparkling Wine
Preparation: In a cocktail shaker add the rose petals, raspberries and simple syrup. Muddle to release the flavors of the rose petals and berries. Add gin and ice and shake vigorously. Strain the contents into a tall flute and top with Chandon Rosé. Garnish with additional rose petals.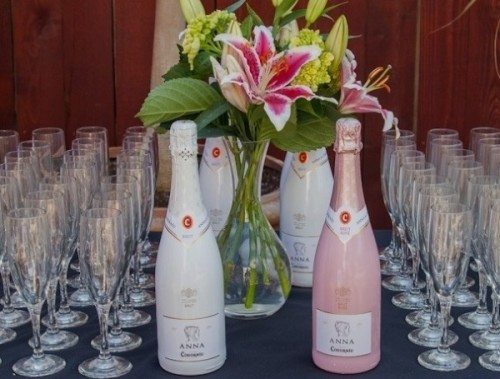 Nothing is more bridal than the beautiful presentation of Anna de Codornui Brut Rosé Cava and Brut Cava. The charming white and pink bottles reveal vibrant, refreshing bubbles inside. Made in the traditional method in Spain with the classic grape varieties of Champagne this affordable sparkler is as pretty to look at as it is tasty to drink. SRP $20 each.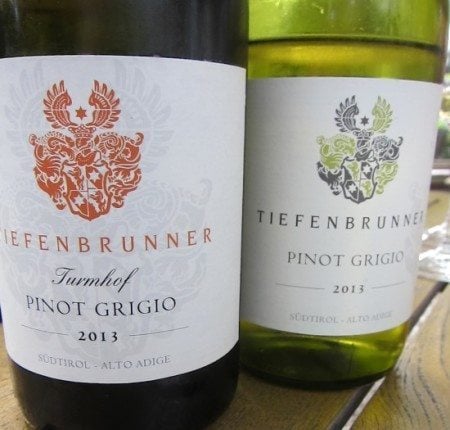 Party food at the bridal shower is often light and easy, so you want a fresh wine to pair with the lighter food palate. Consider a Pinot Bianco or Pinot Grigio white wine from Alto Adige, Italy. The high elevations and cool climate of the region keeps white wines light, crisp and punchy, making them perfect for pairing with brunch time favorites. A few to look for are Hofstatter, Tiefenbrunner, Abbazia di Novacella, each retailing around $20 a bottle.
A light, go to red wine to enjoy with an afternoon party would be a Pinot Noir, with some of the best coming from Willamette Valley. Stoller, Soter, Adelsheim and EIEIO will always please any palate as ripe strawberry, cherry and red raspberry flavors meld with earthiness found in the wines from the volcanic soils of the Northwest. Retail prices start around $35 and go up depending on the style of wine you choose.
For your bachelorette party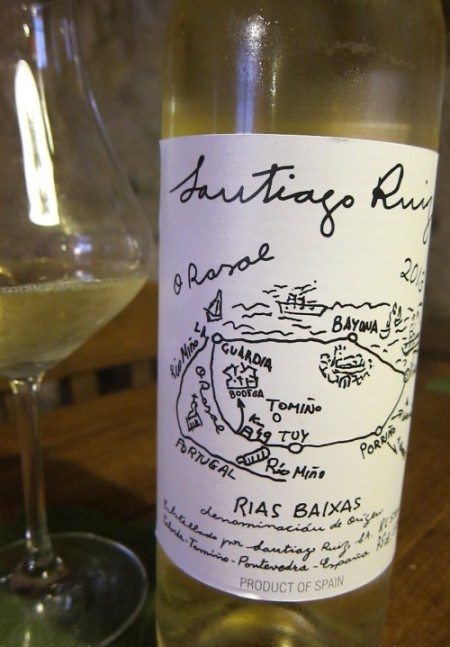 Throw a wine tasting featuring a handful of interesting wines paired with tasty bites. Perfect as the party, or to enjoy before your night out on the town. Start with a white, paired with a fish or vegetarian bite, then a few reds paired with beef, mushroom, pasta and chocolate. For the white, select an Albarino from its home, Rias Baixas in Galicia, the Northwest part of Spain.  Slightly herbal, lemon and citrus filled with vibrancy and texture. Martin Codax ($15) is a cooperative in the region producing a quality Albarino that is also easy to find throughout the country. Pazo de Senorans ($20) and Santiago Ruiz ($18) are also incredible options.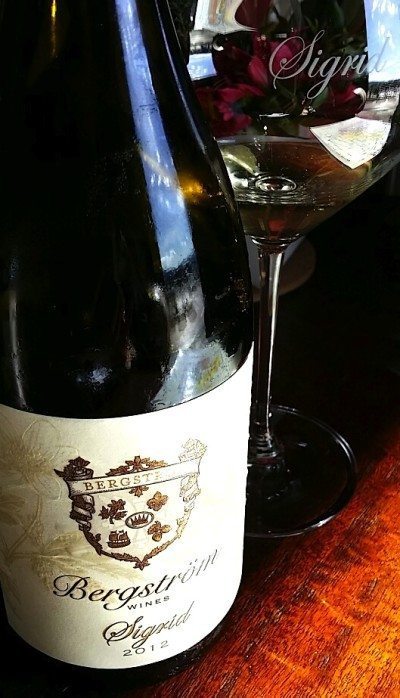 If your crowd is a fan of America's consistently favorite white wine, Chardonnay, splurge on a special one from Bregstrom Winery in Willamette Valley. The Bergstrom Sigrid Chardonnay ($85) is created only in select vintages when the fruit is of the highest quality from the 7 different vineyards Bergstrom farms. The very best barrels of French oak aged Chardonnay from these 7 vineyards is used to produce Sigrid, giving the wine richness, complexity and luscious texture balancing brioche, toasted hazelnut and spice with golden apple, fresh citrus and a touch of stone fruit. A beautiful wine that will make the bride, and all of her bridesmaids, feel very special.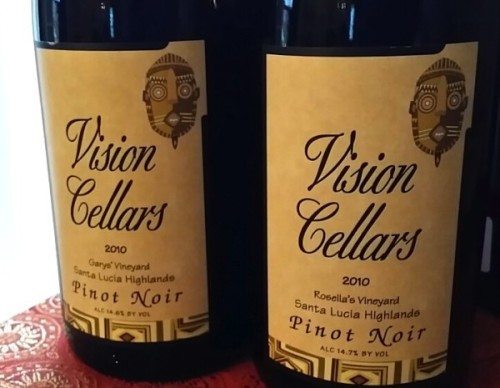 For the reds, start light and proceed to something richer and heavier. A light red would be a Pinot Noir from Russian River or Santa Lucia Highlands, Schiava from Alto Adige, a Grenache from the Rhone/ Garnacha from Spain.
One of my favorite producers of California Pinot Noir is Vision Cellars, producing lush, wild strawberry, cola and spice filled Pinot from their estate vineyard in Russian River and fruit purchased from the highly distinguished growers Gary Pisoni and Gary Franscioni, growers of Gary's Vineyard and Rosella's Vineyard fruit in Santa Lucia Highlands just south of Sonoma, produced by Texas native Mac McDonald and retailing for $40-$60 a bottle. If you can't find Visions, high rated Siduri from winemaker Adam Lee, also a Texas native, is sure to please for a similar price point.
For the heartier reds a Napa Valley Cabernet or classic Bordeaux is ideal. The Bordeaux will be slightly earthier, often lower alcohol and not as fruit filled as the Napa selections. Right Bank Bordeaux will have a Merlot/Cabernet Franc base, Left Bank will be Cabernet Sauvignon based. Right Bank is often a touch lighter than Left, with the friendly Merlot keeping the wine balanced and fresh. Lassegue ($75) and Chateau Angelus ($250) are both incredible St. Emillion Grand Cru options. From Napa, a favorite any day is from Miner Family Wines with their Miner Oakville Cabernet Sauvignon ($75), the wines of Ladera , Rocca, Meander, Merryvale and Mi Sueno, all retailing around the same price point.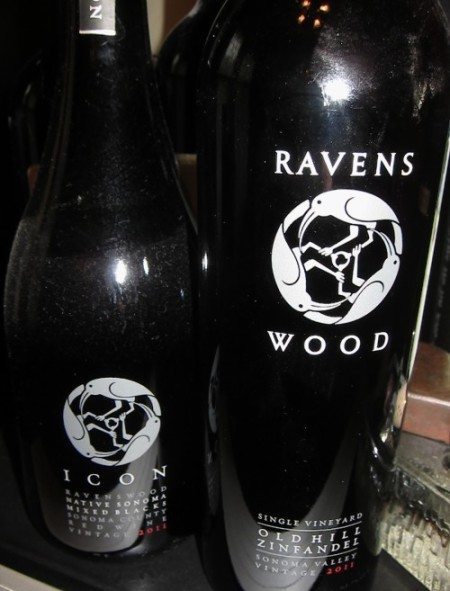 Finish the night with a juicy, spicy Dry Creek Zinfandel, a perfect pairing with chocolate. Ravenswood and Sbragia produce elegant, juicy, spicy versions from two fathers of the variety, Joel Petterson with Ravenswood and Ed Sbragia, orginally winemaker for Beringer, who promised his vine growing grandfather he would eventually produce a wine with their family name on it. His old vine zinfandel from estate grown fruit touches the heart as much as the palate. Ravensood Old Hill Vineyard Zinfandel ($60), Ravenswood Icon ($75), Sbragia Gino's Vineyard Zinfandel ($34), and Sbragia La Promessa Vineyard Zinfandel ($48)
For your wedding day luncheon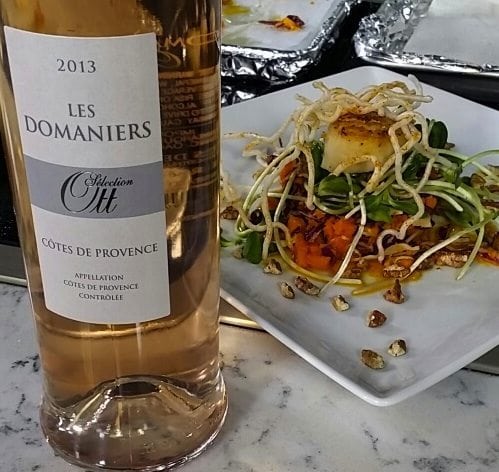 You want something refreshing and celebratory, but not too high in alcohol in your big day so opt for something low alcohol, like a fruity Moscato from Italy, or something pretty, like a Rose from France.
Blushing pink Rosé from Provence, France is classic and fresh, filled with watermelon, wild strawberry, juicy orange and soft herbs. One of the finest, Domaine Ott Rosé ($50) from their estate grown Grenache, Syrah and Cinsault grapes, presented beautifully in their patented glass bottle from a winery that was founded in 1912. Delicate, refined and elegant, a special Rose for your special day.  Domaine Ott also makes a less expensive version in their state of the art facility using the same blend of fruit sourced from carefully selected nearby vineyards. Domaine Ott Les Domaniers Rosé, paired with sea scallops, summer salads or light pasta dishes, is a fresh and affordable alternative retailing for around $20 a bottle.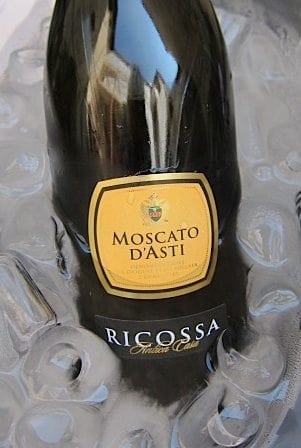 A refreshing wine to use as an aperitif or to pair with summer salads, salmon, chicken or light pasta dishes is a moscato from the Piedmonte region of Northwest Italy. Very low in alcohol, usually around 5%, often with a light effervescence, or "frizzante" style. Filled with white flowers, green apple and sweet and sour lemon candy notes, this easy and appealing wine is sure to please your bridal party, while keeping them light on their toes to help walk you down the aisle.  Tip – Make sure your Moscato comes from its native region, Piemonte, Italy. The grape is grown throughout the world, but the best are really from their native home. A favorite is from Ricossa Winery, retailing for $12-$16.
For the reception
Cocktails are in order for celebrating your big day, so create one for you and one for him that are sure to please all guests of the night.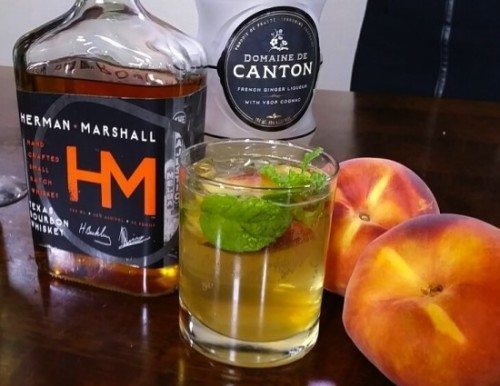 Ginger Bourbon Smash
1 1/2 ounce Herman-Marshall Texas Bourbon or other bourbon whiskey
1/2 ounce Domaine de Canton Ginger Liqueur
2 slices fresh peach
sprig of mint
club soda or ginger ale
Preparation: Add 1 slice of fresh peach and mint to a high ball glass and muddle slightly. Add ice, bourbon and ginger liqueur.  Stir to combine, then top with club soda and garnish with the additional peach slice.
Rosemary 75
¾ ounces London No 1 Gin or other dry gin
½ ounce freshly squeezed lemon juice
½ shot of rosemary infused sugar syrup
Top with Adami Prosecco
Garnish with a sprig of rosemary or a refreshing wheel of cucumber
Preparation: Shake the first three ingredients with ice and strain into champagne flute, then top with Prosseco and lightly stir.
*To make the rosemary syrup add equal parts water and sugar (a cup of each) to a sauce pan over medium-low heat, stirring often until the sugar melts into the water. Add 1 spring rosemary and turn the heat off. Let the rosemary infuse into the syrup for about 10 minutes, then remove the sprig and strain if necessary.
The perfect gift for your sweetie and yourself
Domaine Carneros, the Tattinger owned estate in cool climate Sonoma, recently added a special offering for the bride, Jerobaum size bottle of their winery estate signature Domaine Carneros Brut Cuvée sparkling wine that can be customized (with up to 35 words) with a your very own label to mark the special occasion.  The 3L bottle with a Domaine Carneros Life Moments hand-calligraphed label is ideal to have on hand instead of a guest book for your wedding guests to sign when they arrive. The beautiful presentation is available for $190 per bottle, including the label. Save and enjoy on your 1st anniversary or 10th anniversary remembering your friends and family that were there to celebrate your special day.  The labels take about 2 weeks to prepare, so order early to make sure it is ready in time.
photo credit: Hayley Hamilton Cogill
Wine, spirits and travel writer and educator, Hayley Hamilton Cogill, is Founder of Dallas Uncorked and Co-Founder of Cogill Consulting.
Follow Hayley:
Twitter and Instagram @dallasuncorked
And follow Dallas Uncorked on Facebook by clicking HERE