For many of us, Memorial Day weekend marks the beginning of summer and the start of wedding season. Weddings are often held on Saturdays because it is the most convenient day, but how about a wedding during the long weekend? When should the wedding ceremony be held, and should any themes be considered?
If you are planning a wedding over a long weekend, it is advisable to honor the holiday during the festivities. Brides should keep in mind that travel costs are greater during long weekends, which may be a deterrent for some. Sending out-of-town wedding invitations should be done at least 6 months in advance.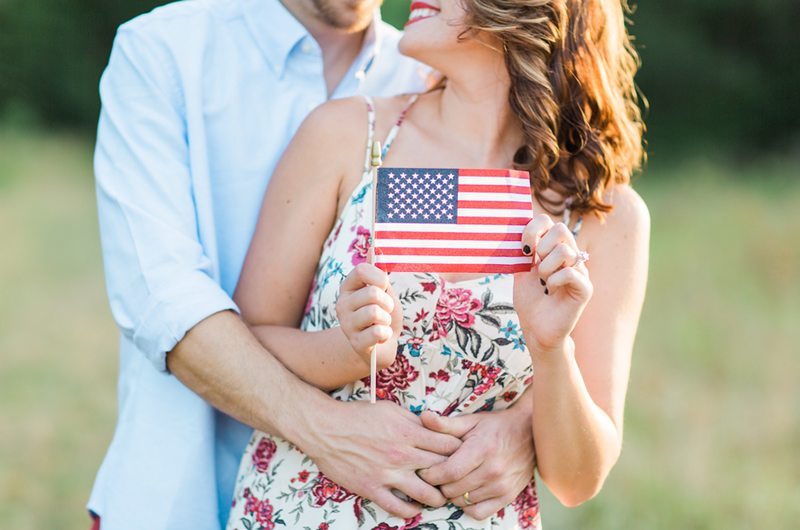 Consider holding the wedding on a Sunday of the long weekend. This allows the guests to arrive at the destination without booking Friday off for travel. As Monday is a holiday, Sunday is a perfectly respectable day to celebrate late into the night. Guests can sleep in and be rejuvenated with a farewell brunch on Monday.
The following long weekend wedding ideas, particularly in the summer, can enhance and commemorate the holiday weekend in addition to the wedding festivities.
Create a twist on a cocktail party – instead of individual drinks, a pitcher of Ruby Sangria or Pitcher of Juleps – recipe below. Long weekends are frequently blessed with pleasant weather, and pitchers of delectable cocktails add to the festive atmosphere.
Small elements of the holiday theme are allowed, such as a pair of table flags at the cocktail table or around the property for Memorial Day. Allow guests to share a tale about a loved one who has served; after all, we must recognize the holiday itself.
If a holiday theme is incorporated it should be on the day before the wedding, not on the wedding day. That day is still reserved for the bride and groom's vision.
Incorporating long weekend activities and libations into the wedding weekend is always a great way for the guests to experience the joy of the particular long weekend in addition to celebrating the couple: swimming, grilling, ice cream for dessert, and a fun summer cocktail menu.
Hammocks and lounge chairs allow people to relax while still sharing the space. Long weekend weddings, like destination weddings, can take a similar approach.
Ruby Sangria by Denise Gee
one 750 – ml bottle of red wine
1/2 cup brandy
1/2 cup orange-flavored liqueur
1/2 cup fresh orange juice
1/4 cup sugar
2 cups orange wedges
2 cups red apple wedges
2 cups green apple wedges
2 cups grapes
one 750 ml bottle sparkling water
garnish: grapes, orange wedges, apple wedges threaded on small wooden skewers (optional)
Combine the red wine, brandy, liqueur, orange juice, and sugar in a large pitcher of plastic container; stir well. Add the oranges, red and green apples, and grapes. Chill for several hours.
Just before serving, add sparkling water.
Pour the sangria into red-wine goblets or cocktail glasses filled with ice. Garnish with fruit kabobs, if desired.
Pitcher of Julpes
2 cups water
3/4 cup sugar
3 cups loosely packed mint leaves
2 cups bourbon
garnish: fresh mint springs (optional)
Combine the water and sugar in a medium saucepan over medium heat; stir until the sugar dissolves. Add the mint and bring to a boil. Remove from the heat, cover and let steep at least 30 minutes.
Strain mint syrup through a fine-mesh sieve or coffee filter and let cool. Combine with the bourbon in a sealable container. Keep well chilled.
Transfer the julep to a serving pitcher. Pour into cocktail or julep cups filled with ice. Garnish if desired.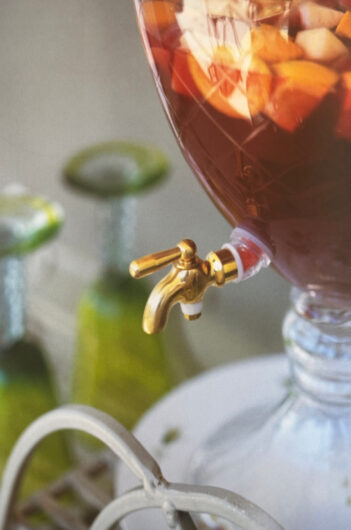 Recipes by Denise Gee,
Porch Parties; Cocktail Recipes and Easy Ideas for Outdoor Entertaining
Image by Robert M. Peacock