We LOVE Amanda and her hair and make up team at Little Rosie & Co. Based out of Nashville, Tennessee, this little pink trailer has stolen our hearts. Southern Bride loves this idea and company so much we actually invited them to attend the wedding of our own social media director, Scottie Watson. Amanda and her talented team gussied us all up and had Scottie looking absolutely beautiful for her wedding day.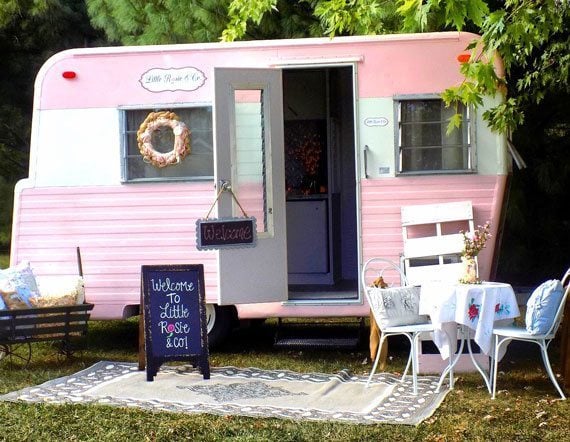 You can't tell now, but this super shabby chic 1965 Barth aluminum camper trailer was once a rust-filled nightmare, purchased off of Craigslist! (Don't believe us? Check out the Before and After Photos).
Amanda Cocanougher, a hair and make up professional had the bug to start working for herself and this little rusted trailer was the perfect opportunity. She purchased the run down trailer for $600 from a hunter!
 With a little paint, a lot of TLC,  and a passion for making all things (including people) beautiful, Amanda's parents, Sonny and Sherry Thompson, restored the entire trailer. Little Rosie & Co. was born.
 Little Rosie is it's own beauty station on two wheels and a hitch. From it's vintage charm, to it's outstanding team of beauty experts, she's ready to roll into any wedding, special event, photoshoot, or volunteer opportunity.
 Learn more about Little Rosie & Co by visiting their website and their Facebook Page.
Oh, and don't forget to follow them on Instagram (that's how we found them)!