It's no secret that the southeast is well-known for its hospitality, but that reputation doesn't simply come from sweet old ladies smiling and calling you "honey" while they serve up some southern cookin'. While that warmth is often the peach on top, it's the variety of locales and atmospheres in the region that truly make it a destination for anyone.
So, if you and your partner are on the hunt for a wedding venue that truly matches you, you won't have to look far. From mountains to beaches, big bustling cities to small country towns, there's a vibe for everyone down south. Check out these 10 Eye-Catching Wedding Venues in the Southeast and you just might find the one you've been dreaming of.
Castle Ladyhawke – Tuckaseegee, NC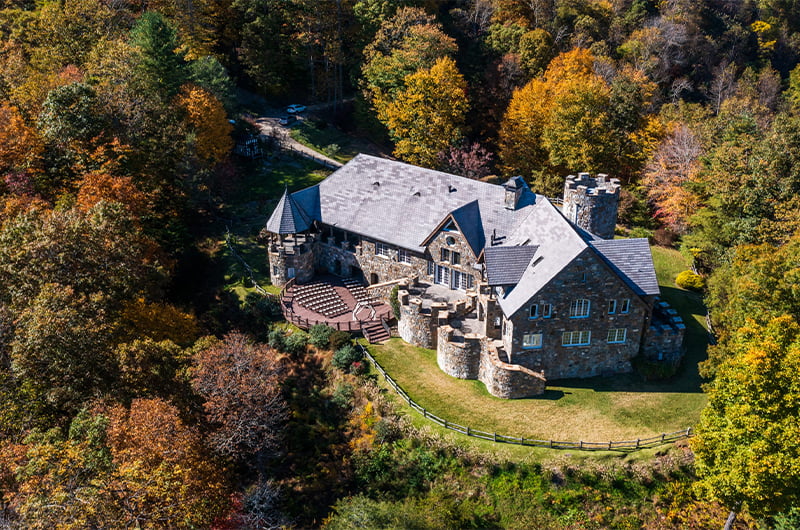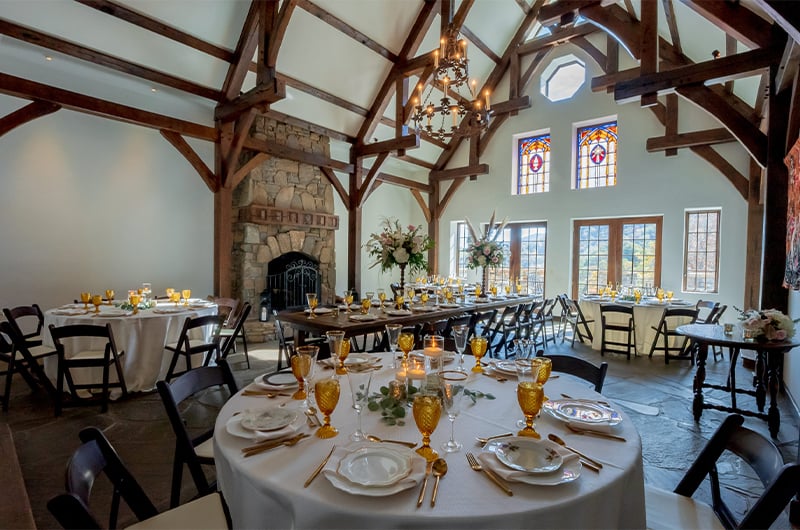 If you and yours want to feel like true royalty, look no further than Castle Ladyhawke. Sitting on 62 acres of land in the Western North Carolina mountains, this breathtaking venue was built in 2005 using authentic period design inspired by real Scottish Border Castles. The result? A three story, 10,000 square foot masterpiece, complete with gorgeous stone walls, three lavish suites, a pub, and its iconic tower.
The Mountain View Lawn offers an incredibly picturesque spot to say "I do", positioned perfectly in front of the backdrop of the Blue Ridge Mountains, while The Great Hall's outstanding acoustics make it perfect for live music and dancing. Toss in amenity-filled accommodations at nearby Bear Lake Reserve and all that the charming mountain town of Sylva has to offer, and Castle Ladyhawke becomes a true destination for couples who love the mountains.
Sanderling Resort – Outer Banks, NC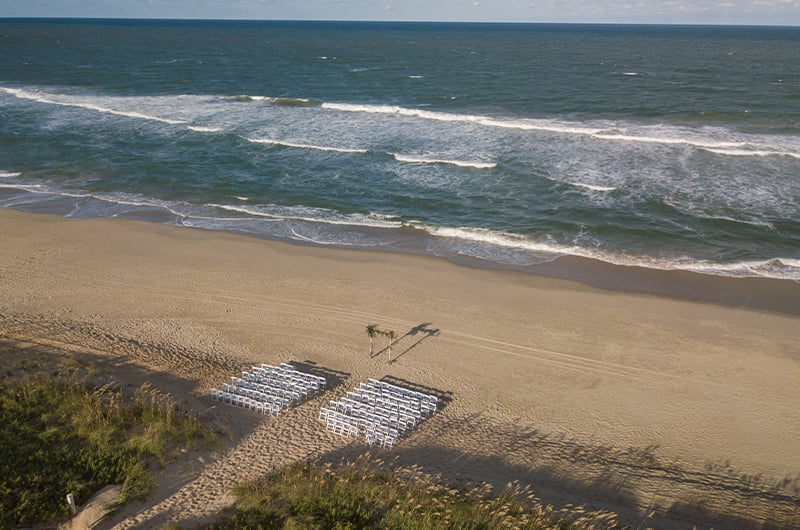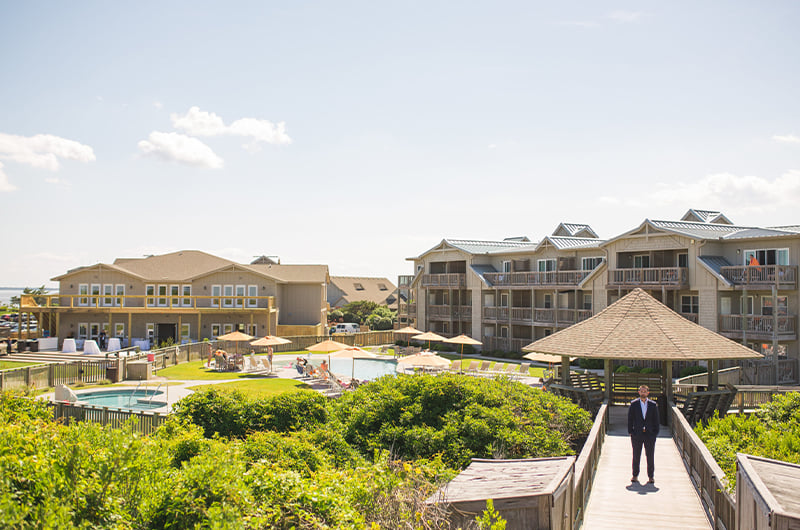 Photos: Coleman Shots/Ryan Rach
The Outer Banks of North Carolina are a fascinating destination, rich with ties to our nation's earliest history and dotted by numerous charming seaside villages. Right between Currituck Sound and the Atlantic Ocean lies Sanderling Resort, a historic oceanfront resort complete with beautiful accommodations, top notch dining, a spa, and wedding venues large and small.
Proclaim your love for your partner in front of the crashing ocean waves before enjoying dinner, drinks, dancing, and the ocean breeze at the newly renovated event house and deck. Or, for a more intimate setting, consider holding your rehearsal dinner in the Keeper's Loft. Sitting directly above the Historic Lifesaving Station where the United States Coast Guard was first formed, the Keeper's Loft offers beautiful views of the Currituck Sound and a special gathering place for history lovers and military families alike.
Key Largo Lighthouse Beach – Florida Keys, FL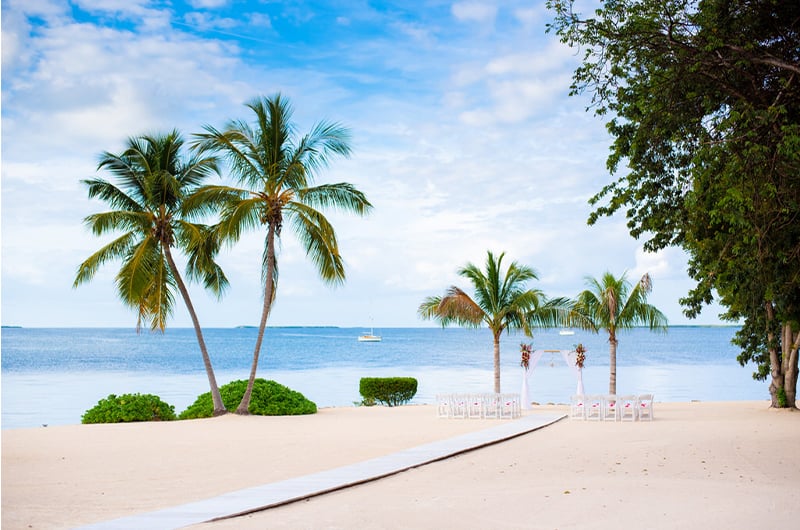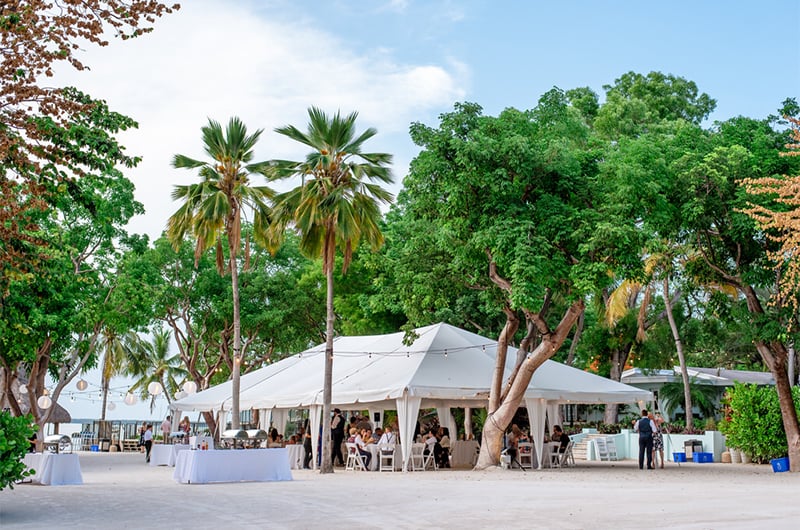 Photos: Margeaux Boles Photography
Between the laid-back island culture, natural beauty, and great weather year-round, it's easy to see why the Florida Keys are one of the most popular wedding destinations in the United States. Key Largo Lighthouse Beach combines its eye-catching location with an eye-catching concept: a 4-day, 3-night private destination wedding for the same cost as a 5-hour wedding at another lavish venue.
Turn your special day into an unforgettable weekend with up to 300 of your closest friends and family amidst white sand beaches, palm trees, and the last living coral reef in America. With two separate private venues, you and your guests get the entire place to yourselves, creating a much more intimate experience.
The Treasury on the Plaza – St. Augustine, FL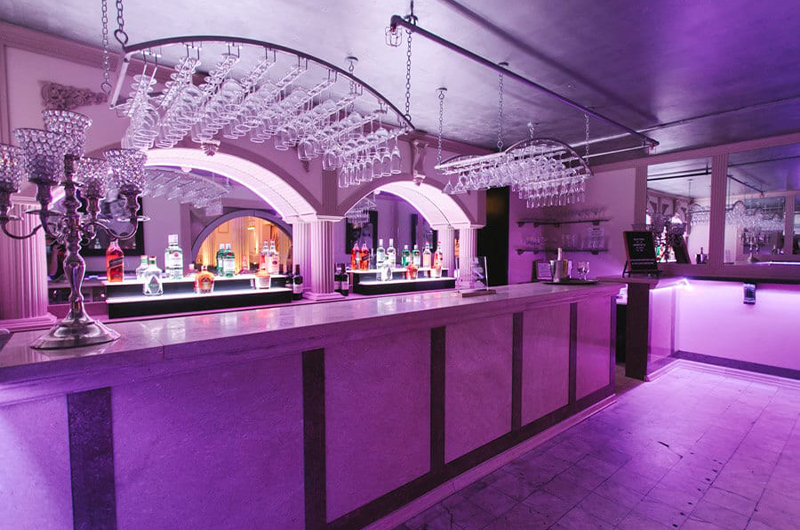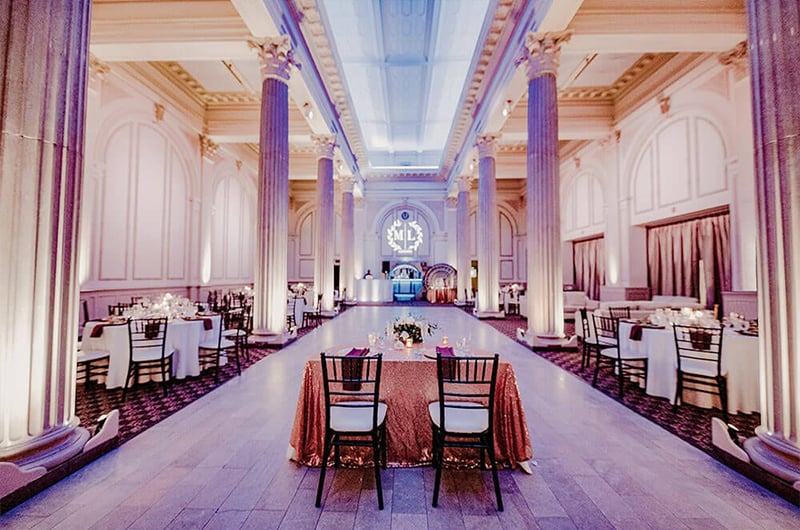 Photos: Lunic Photos/Ashley Steeby
Located in the first and only skyscraper in America's oldest European settlement, The Treasury on the Plaza has an incredibly interesting history. The six-story building first opened as The First National Bank in 1927, quickly becoming a symbol of the city's prosperity. It would also serve as a community gathering space over the years, hosting art exhibits and crowds attending movie premieres at the neighboring Matanzas Theater.
After Wells Fargo left the building vacant, renovations were done in 2014 to transform it into an event space with emphasis placed on maintaining the building's history. The result is a truly unique and elegant atmosphere. With marble flooring from the 1920's, massive Romanesque columns, and a bar inside the original bank vault that hearkens back to prohibition-era speakeasies, even Jay Gatsby would be impressed!
Swan House Gardens at the Atlanta History Center – Atlanta, GA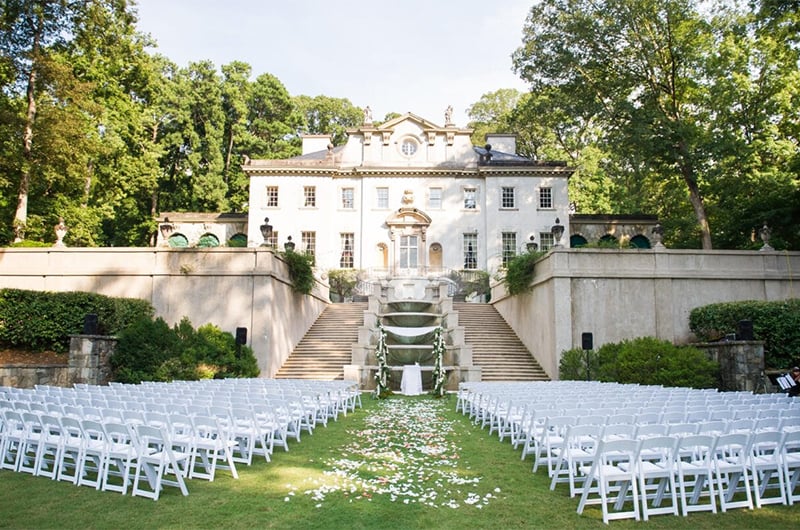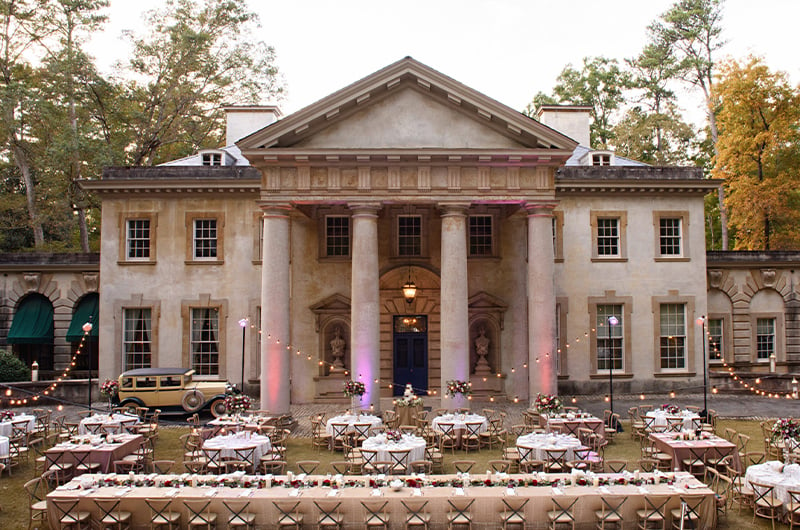 Photos: Scobey Photography/Laura Stone
Completed in 1928, The Swan House was designed by well-known classical architect Phillip Trammell Shutze for the Inman family. The Inmans, who inherited a cotton fortune, used their wealth to help rebuild the city of Atlanta after its destruction in the Civil War. It stands today as a historical site and museum, still showcasing the swan motifs Mrs. Inman so loved.
While its designation as a historic house museum means weddings can't be held inside the mansion, its spacious and beautifully designed lawn spaces can accommodate up to 750 guests. With cascading fountains, a private boxwood garden, and 1920s classical architecture, you don't have to stray far from the heart of Atlanta to find a space rich with natural beauty.
The Peachtree Club – Atlanta, GA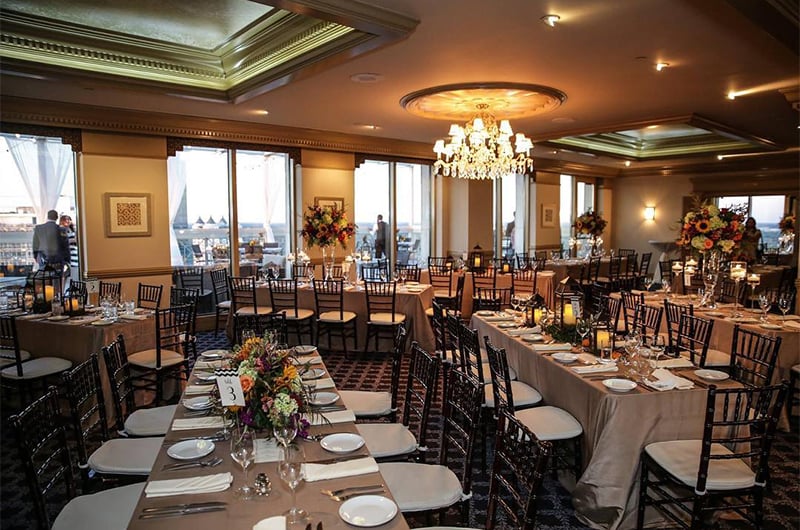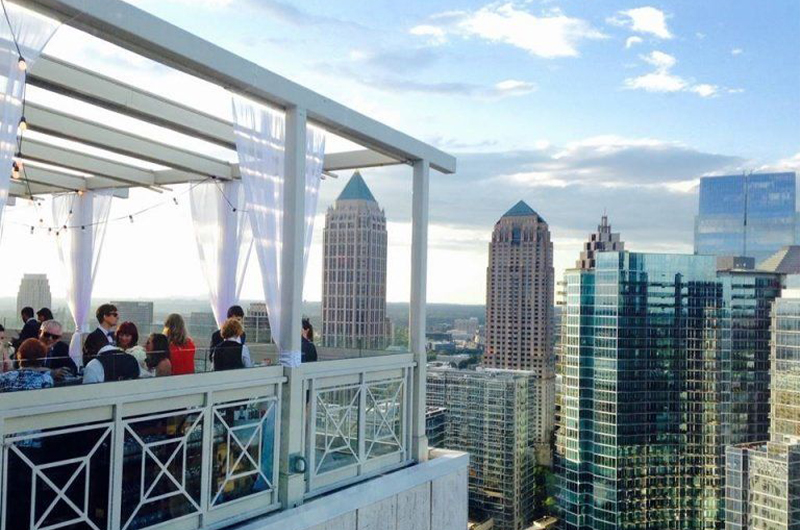 If you want the VIP treatment in the heart of Atlanta on your wedding day, The Peachtree Club delivers just that. Located in Midtown near some of the city's best restaurants, bars, hotels, and more, you and your guests won't have to venture far for good food and good times.
The Peachtree Club's lavish European furnishings and high-class service provide the perfect atmosphere for those looking for a sophisticated wedding. They also pride themselves as being the only outdoor event space at skyline level in Atlanta. All the way up on the 28th floor sits the Skyline Terrace, where you can catch some amazing view of the city's skyline and, if you're lucky, a gorgeous southern sunset.
Ramble Creek Vineyard and Events – Athens, TN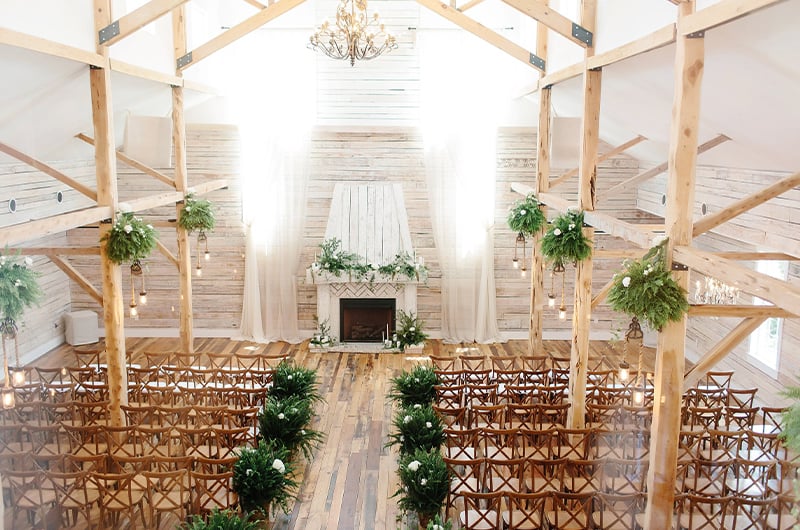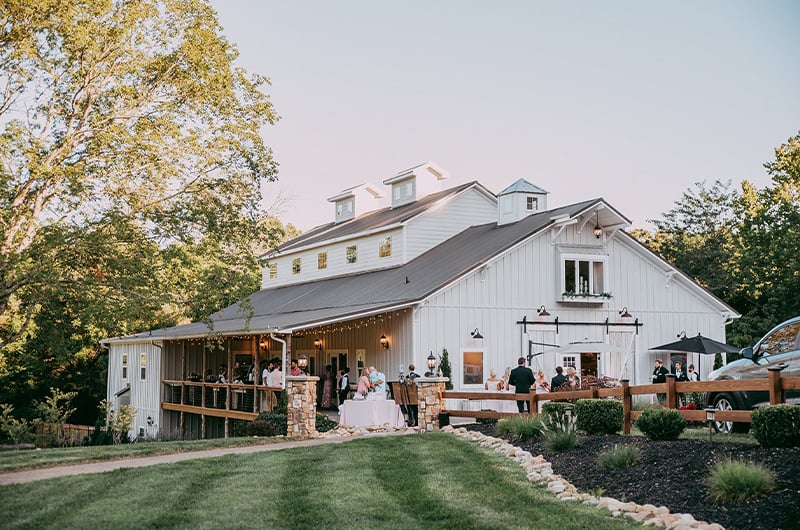 Photos: Caressa Rogers/Ashley Ricci
Barn venues are a great choice for couples who appreciate simplicity and the warm, home-like feeling of being on a farm. Few venues in the southeast strike a balance between simplicity and elegance quite like Ramble Creek does. On the outside, it's a charming barn sitting next to vineyards and a creek in the Eastern Tennessee countryside.
On the inside, The Ramble holds over 8,000 square feet of event space, including a Bridal Suite, Groom's Quarter's, Cocktail Room, serving room, five restrooms, a covered deck, and, of course, The Grand Hall. The interior of The Grand Hall was constructed using more than a dozen different domestic wood varieties, all of which were grown and milled on-site. This craftsmanship ties in beautifully with the great fireplace to make The Ramble incredibly warm and welcoming.
The Bridge Building – Nashville, TN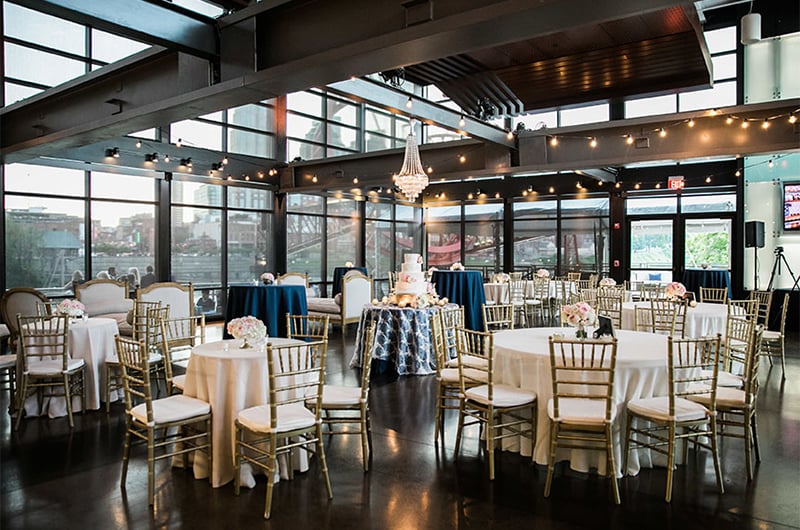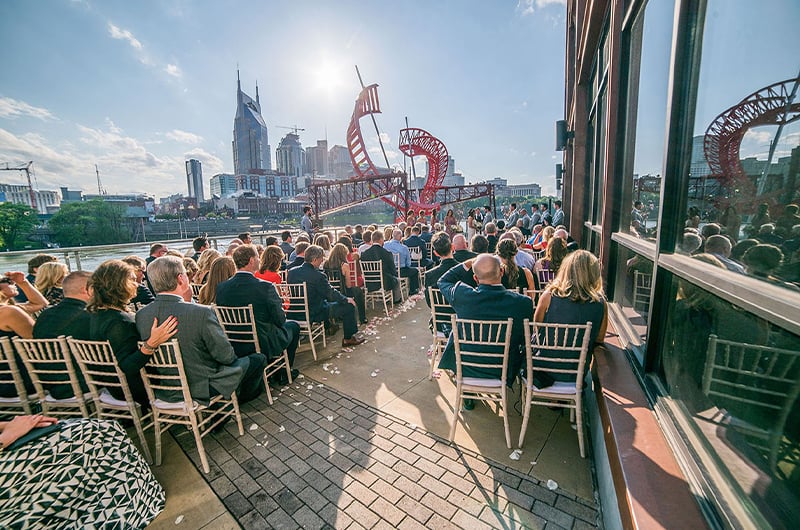 Nashville is a city that loves to party, and now, the historic Bridge Building does, too. Originally constructed in 1908 as an office building for NABRICO, The Bridge Building sits downtown on the riverfront, within walking distance of Broadway, and offers some of the best views of the Cumberland River and Nashville skyline. It was brought into the 21st century with renovations in 2012 that made it one of the "greenest" buildings in the world.
The Bridge Building pairs this efficiency with impressive size and adaptable spaces, which can be transformed throughout the night to comfortably accommodate up to 1,200 guests. The indoor Cumberland Space offers an industrial, yet elegant atmosphere and is ideal for reception dinners, while The Riverfront is a great spot to catch fresh air and beautiful views of the bridge and downtown Nashville.
Tanglewood Plantation – Lynchburg, SC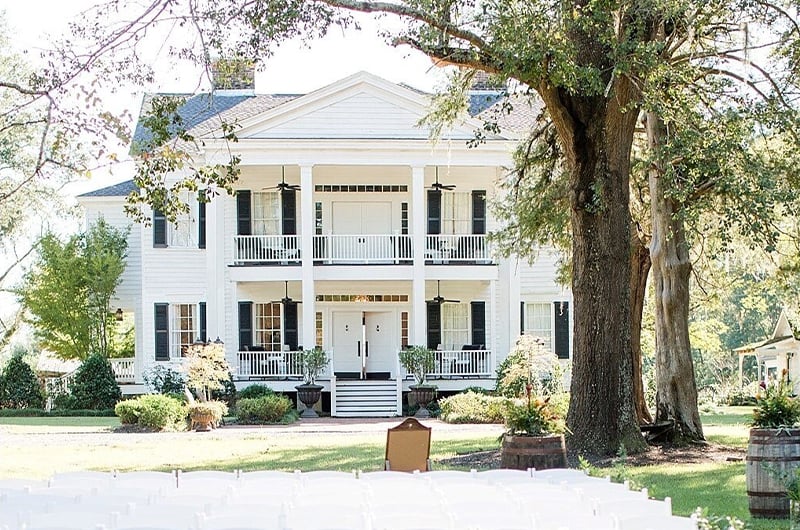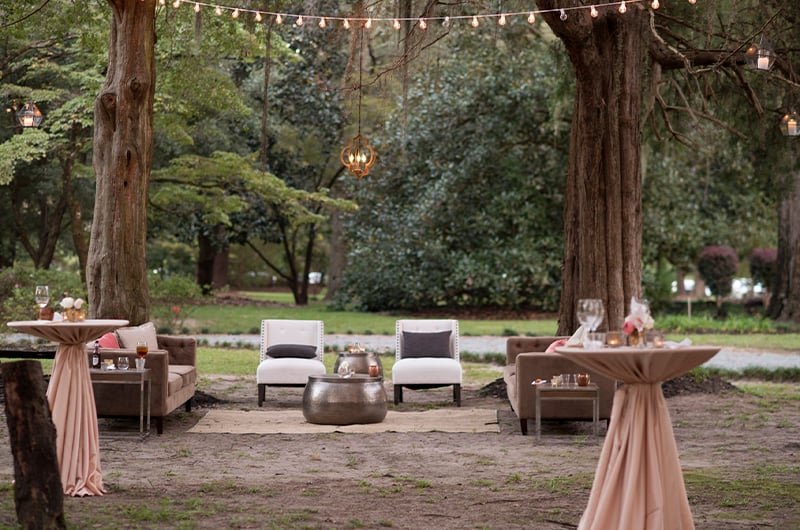 The history of this beautiful, Greek Revival Plantation house dates all the way back to 1747, when King George II granted 5,000 acres of land in present day Lynchburg, SC to Arthur Smith. After the original home was lost in a fire, the current home was built in 1830 by Arthur's grandson, William H. Smith. It's most notable owner was U.S. Senator Ellison DuRant "Cotton Ed" Smith, who brought many famous dignitaries to visit the home including President Theodore Roosevelt.
Jamie and Orville Dyce purchased the plantation in 2014 and took great care in honoring the historical heritage of the home, while adding modern amenities to make it more than capable of hosting both grand and intimate weddings. They even have a friendly cat who lives on the property named Freddie, who's considered "the most photographed cat in South Carolina"!
Cannon Green – Charleston, SC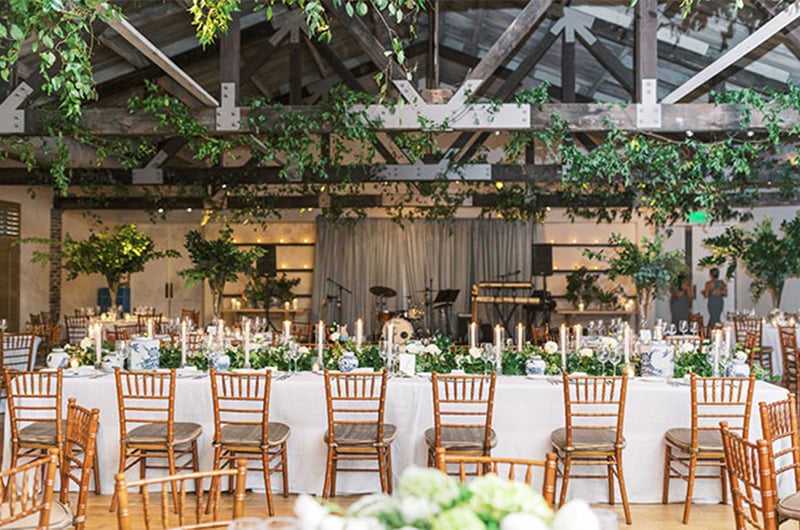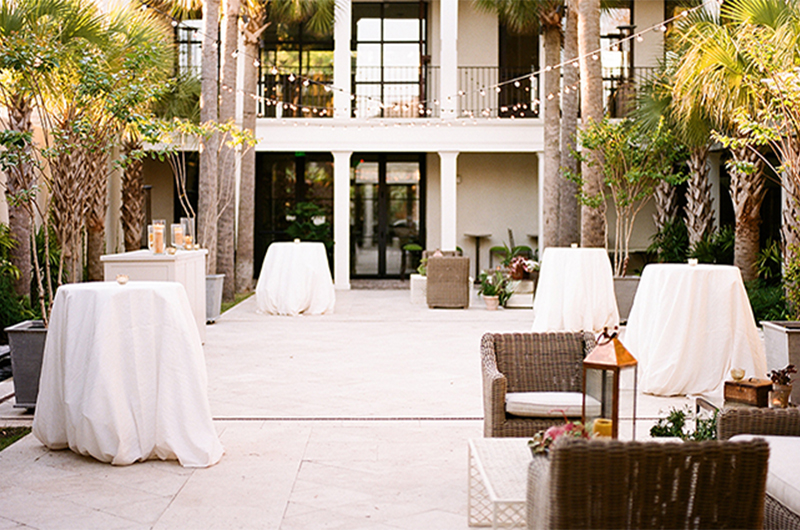 Photos: Catherine Ann/Henry Photography
Tucked into Charleston's eclectic and historic Cannonborough-Elliotborough neighborhood is Cannon Green, a one-time warehouse space that has since been transformed into the city's premier wedding venue. Floral designer Anne Bowen teamed up with hospitality veterans Dean Porter and Lynn Easton to transform the once dilapidated warehouse into a lush and festive venue, featuring the finest food and art Charleston has to offer.
The Courtyard, complete with reflecting pools and palmettos, is the perfect space for cocktails and mingling with guests, while the historic 3,000 square foot Trolley Room is ideal for dinner and dancing. They believe the real magic comes from their onsite restaurant, Wild Common, where local farm/ocean-to-table concepts are taken to the next level.
If you identify as a lover of the south and are in search of the perfect wedding venue, you won't want to miss touring these 10 Eye-Catching Wedding Venues in the Southeast before deciding on the perfect ceremony location.
Written by Jared McCormack