by Sara Heilwagen Paper + Photography 
Autumn Rustic Glam takes elopement inspiration beyond the courthouse into the Tennessee countryside and bathes it in rich autumn colors. "Intimate" and "elegant" combined with a touch of glittery sparkle for a magical marriage celebration.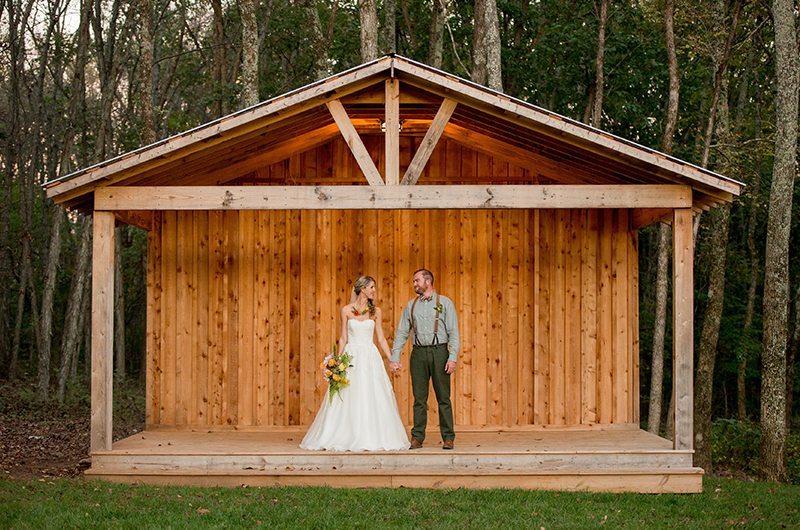 Gorgeous fall weather enhances the natural beauty of an outdoor ceremony near a vast grove of trees on Saddle Woods Farm. A Nashville guitar player strums a tune for a private first dance as husband and wife on the grassy lawn.
A luxe mix of dahlias, English garden roses, ferns, privet, green tassels amaranth, laurel, and mums in autumn hues, locally grown on Basil & Bergamot Flower Farm, adds softness and glamour in the bride's bouquet and custom necklace, groom's boutonnière, and accent arrangements.
The Odette ball gown in a delicate ivory is sweetly sophisticated couture designed by Modern Trousseau. Make-up in warm tones and a soft up-do compliment the French lace and Italian silk organza in the stunning, strapless gown. The groom sports a classic vintage look from Haymakers & Co. in Nashville's West End neighborhood, and a smart, plaid bow tie in orange and navy from The Tie Bar.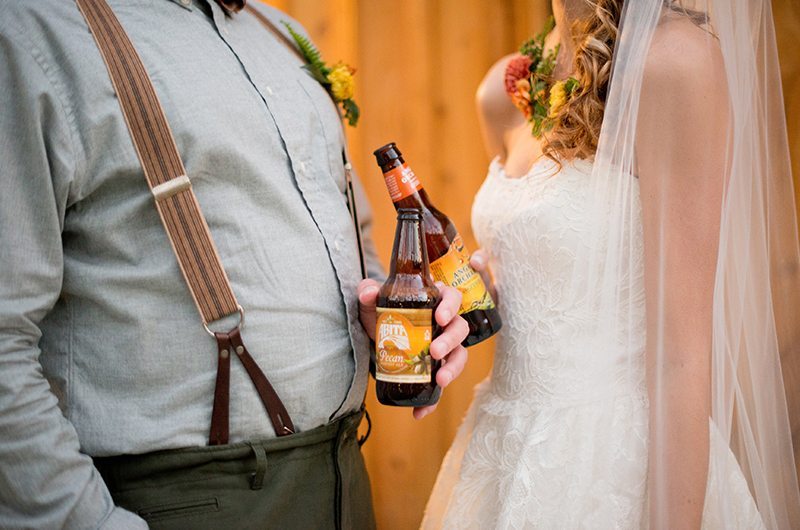 Move into the chandelier-filled, cedar barn for a romantic dinner, starting with a fragrant pumpkin soup served in real pumpkin "bowls" and Sunset Sparklers, a layered blend of sparkling apple cider and grenadine. A rustic burlap tablecloth and glam gold flatware, rented from Southern Events, add autumn charm along with the deep red china and gold chargers.
The hand-painted, gold and cream creation with exquisite sugar flowers floating on a bed of glittering moss from A Frosted Affair is almost too beautiful to cut, but the delicious cake is too good not to devour with your new spouse.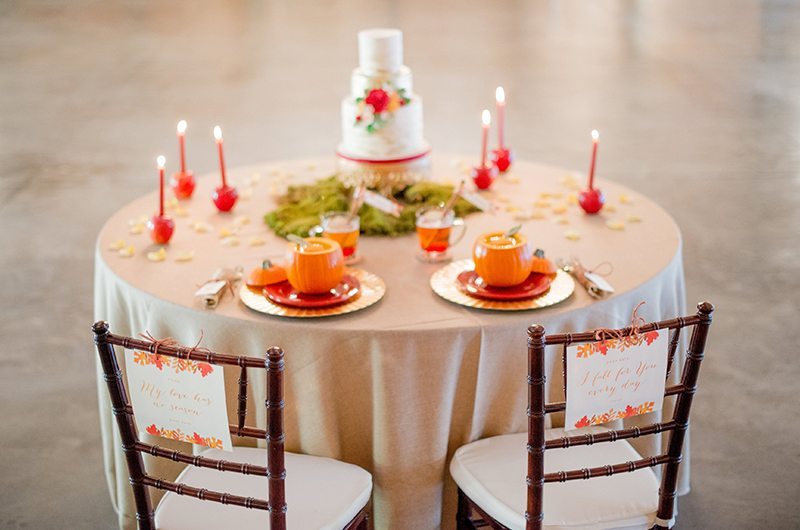 Share the joyous news of your elopement with an announcement from Sara Heilwagen Paper + Photography that coordinates with your intimate marriage celebration. Natural white paper with a hint of texture bursts with vivid watercolor foliage throughout the announcement, place card flags, napkin tags and custom signs. Vintage stamps reflect the charming details of the day.
The romantic evening comes to a close with a nightcap of glittering vanilla and caramel Moon Pies, a "Made in Tennessee" favorite, and the clink of chilled bottles of pecan beer and hard apple cider.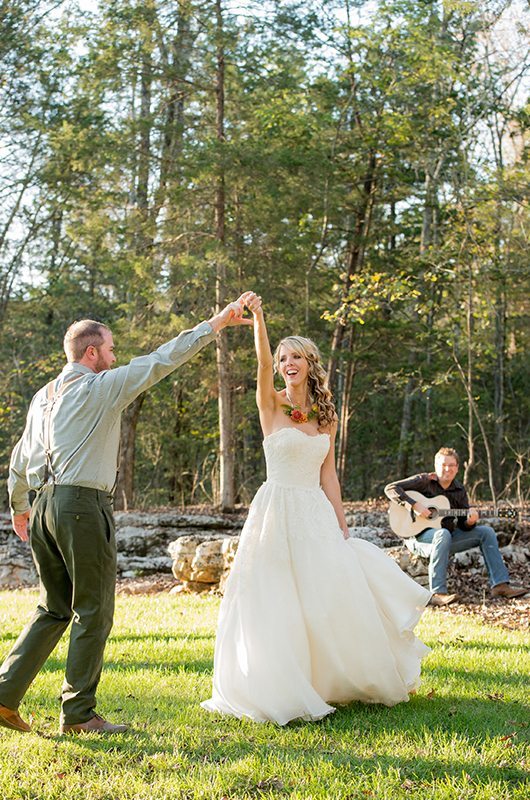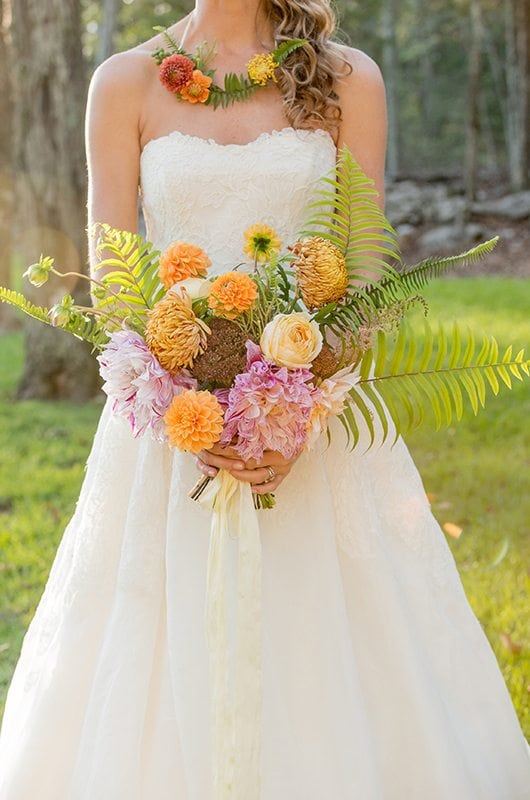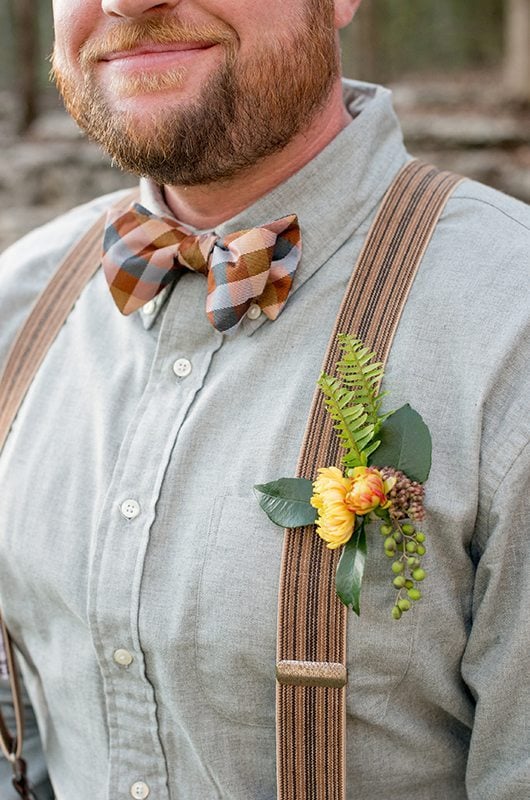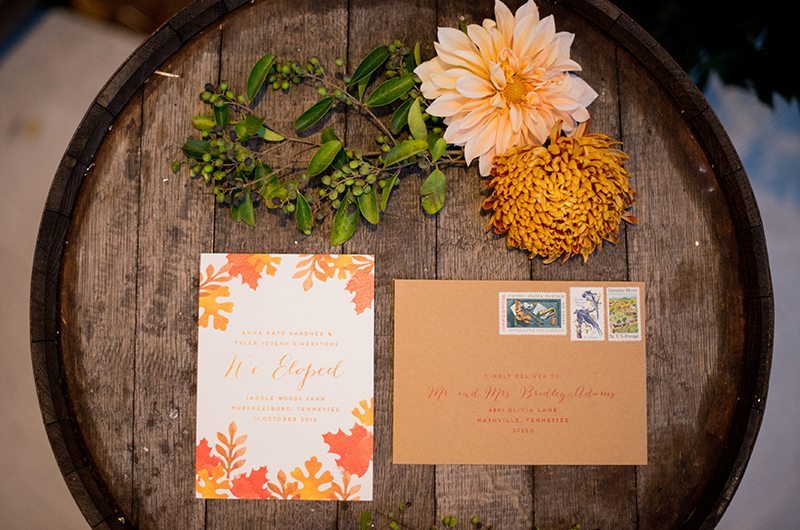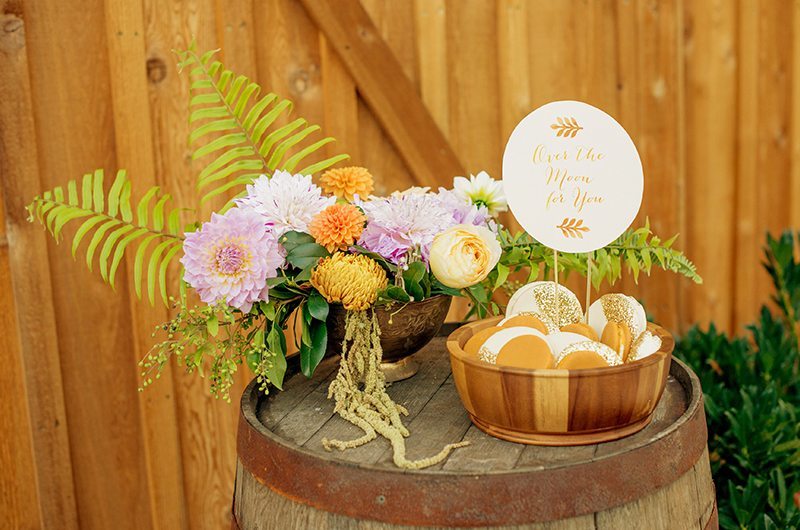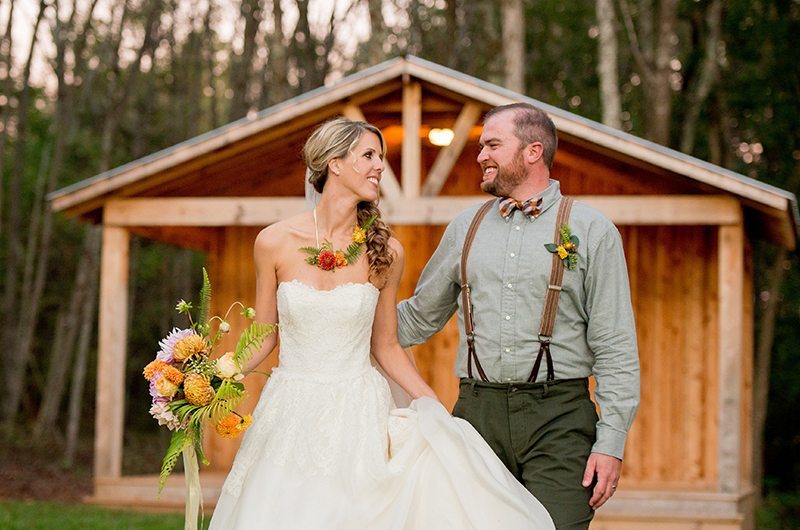 :: credits :: 
stationary & planning: Sara Heilwagen Paper + Photography | photography: Twila's Photography | venue: Saddle Wood Farm | bridal attire: Modern Trousseau | groom's attire: Haymakers & Co. & The Tie Bar | florist: Basil & Bergamot Flower Farm | cake artist: A Frosted Affair by Jay Qualls | rentals: Southern Events Party Rental | vintage stamps: Verde Studio | hair: Emily Jordan | makeup: Morgan LeGate | guitar player: Lance Allen