My Pure Barre Memphis Experience…
With my sister's wedding quickly approaching, I was tired of my current workout routine and was looking for something new. I had heard about Pure Barre Memphis from friends but I was too timid to try a class because I assumed I would not be up to par with the "professional" dancers that I expected to be there.  After much debate and hesitation, I went to purebarre.com and signed up for a class at the Germantown location.
Upon my arrival to the studio, my hesitation quickly disappeared. I was greeted warmly by both the staff members and the other students because they could tell I was a new face. The attendees of the class were of all shapes and sizes and no one seemed to be the bun wearing ballerina type that I expected to be there.  The friendly instructor kindly showed me around, explained to me what to expect and assisted me in gathering the equipment I would need for the class.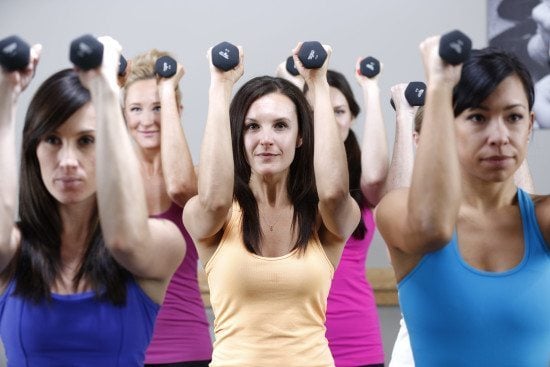 It was time for the class to begin and to my surprise, the instructor turned on upbeat music which helped motivate me. During the 55 minute class, the instructor explained each exercise in simple terms and moved through the class to make sure that everyone was in proper form. The class moved quickly and kept me engaged during the entire workout. Moving from the floor to the barre and then back again, I could feel the burn in my arms, thighs, seat and abs. Pure Barre was such a unique workout that really focused on my trouble areas and I cant wait to go back!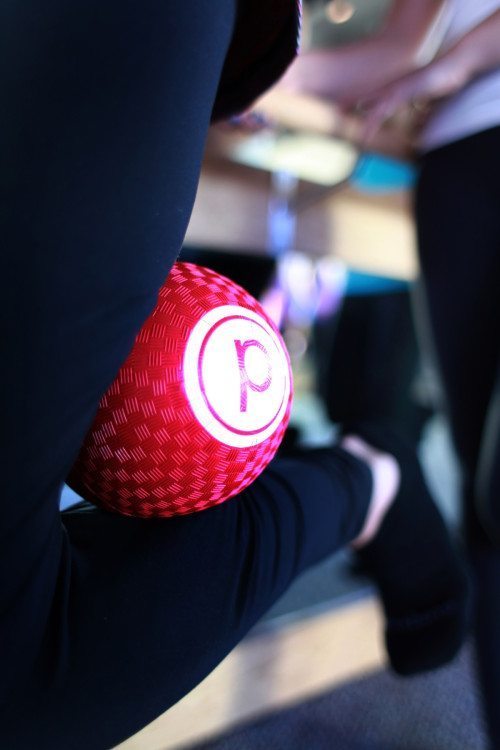 Pure Barre Memphis is high intensity, low impact workout that was created by a woman for a woman's body and is a great option for anyone that wants to tone and lift! Classes cost $20 each and can be purchased in packages to lower the per class cost. The best option is take advantage of the New Client special which is a month of unlimited classes for $100. Go to www.purebarre.com for all the details!
If you are a Bride looking for results for your wedding day, check out the Bride to be package that allows you 3 months of unlimited classes for only $375. Members of your bridal party can get discounts too!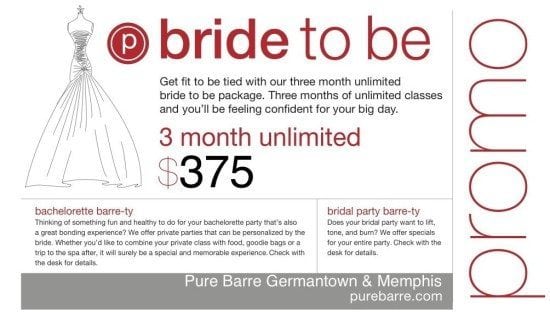 Looking for an alternative to a bridal shower or bachelorette party? Private party classes are now available too! Your wedding party and close friends can lift, tone and shape together with a little celebration following the class. Contact Pure Barre Memphis for more details.

Pure Barre Memphis & Germantown
901-484-0705 / 901-766-1882
memphis@purebarre.com