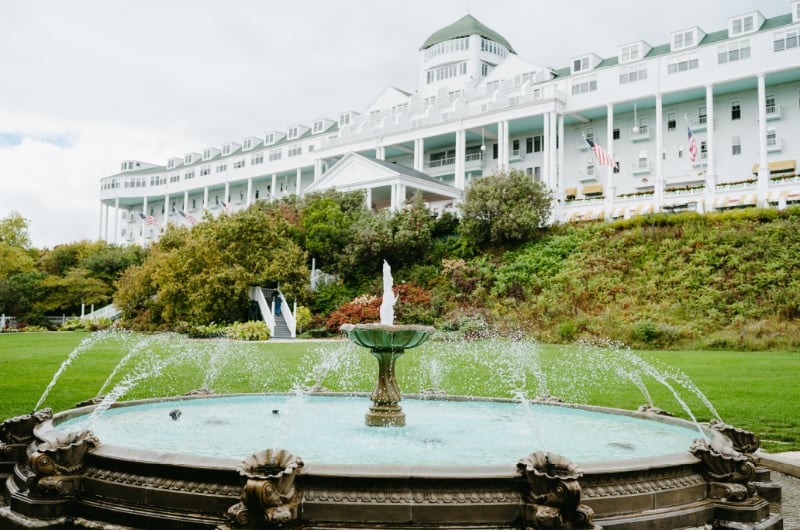 Get Acquainted
Entering the Grand Hotel feels like stepping back in time, for good reason. Since 1887, Grand Hotel has been a classic American destination that preserves and celebrates old-world charm and hospitality. Here, you'll find horse-drawn carriages, afternoon tea, formal dinners, and a nightly orchestra in the mirrored ballroom – creating a rich atmosphere of serenity and elegance that promises an unforgettable experience.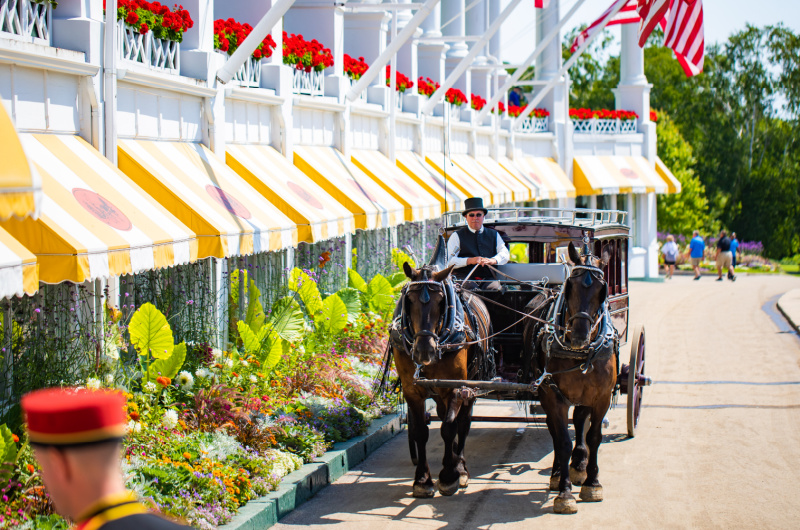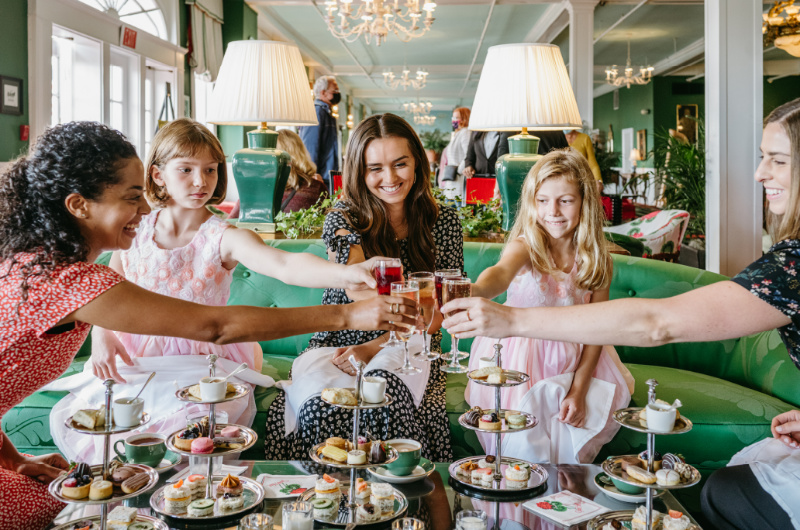 Here's the Scoop
There's nothing quite like Grand Hotel. At first glance, the vibrancy is surprising – so many colors and patterns, a flood of red geraniums, and history displayed on every wall! But as you breathe the fresh Michigan air and are lullabied by live music at every turn, you'll find yourself embracing the spirit of Mackinac Island. It's a serene and joyful spirit that encourages you to slow down, enjoy the beauty before you, and relish the pleasures of a bygone era. Grand Hotel is a timeless treasure of Victorian beauty, offering a unique and unforgettable experience to everyone visiting its historic halls.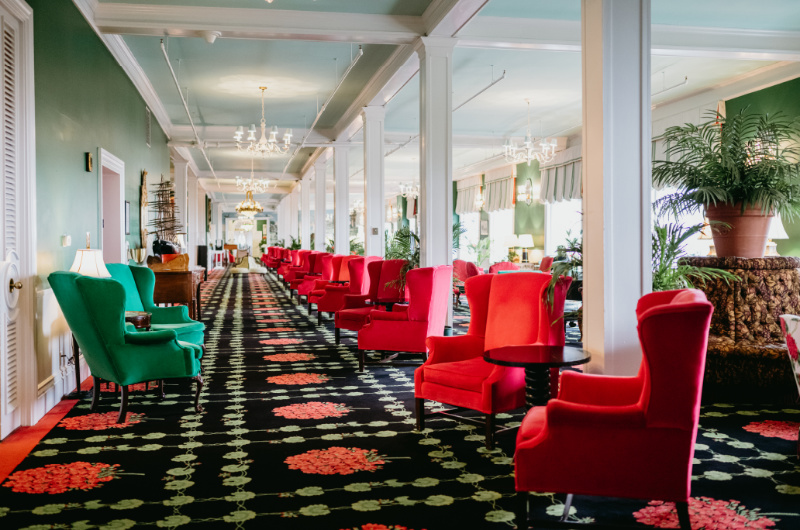 Big Day Details
Elegance is the essence of every event hosted at the Grand Hotel, whether it's an intimate ceremony or a grand celebration with hundreds of guests. The hotel is capable of catering to any event needs and ensures that it is an exceptional and unforgettable experience for all. Grand Hotel Front Porch is one of the most recognizable and photographed spots on Mackinac Island. With a length of 660 feet, it is the longest porch in the world and provides a breathtaking backdrop for an outdoor ceremony, offering stunning views of the Straits of Mackinac. Margaret's Garden is the hotel's own full-service floral shop, which can make your celebration bloom with all the necessary arrangements, bouquets, centerpieces, and more.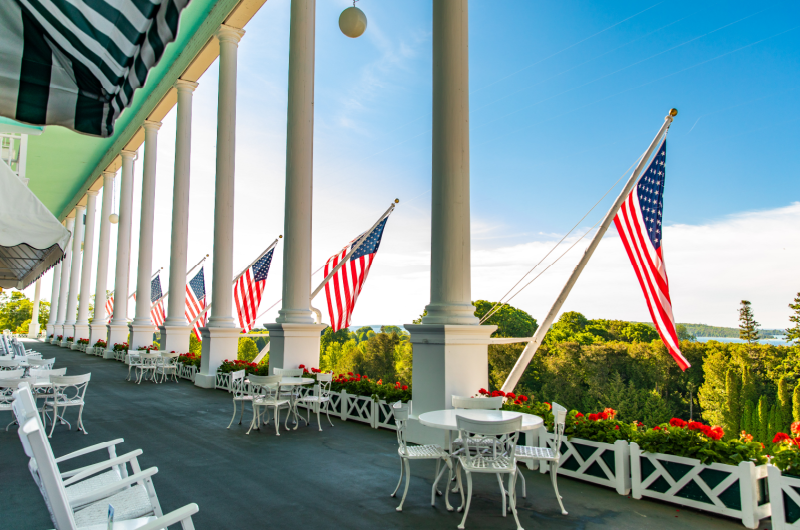 We Simply Adore
● The décor was originally designed by Dorothy Draper & Co. – you really have to see it to believe it, but the entirety of Grand Hotel's interior is bursting with color and authentic Victorian style.
● The location – Mackinac Island has been aptly dubbed the 'Jewel of the Great Lakes' for its tranquility, history, and astounding beauty.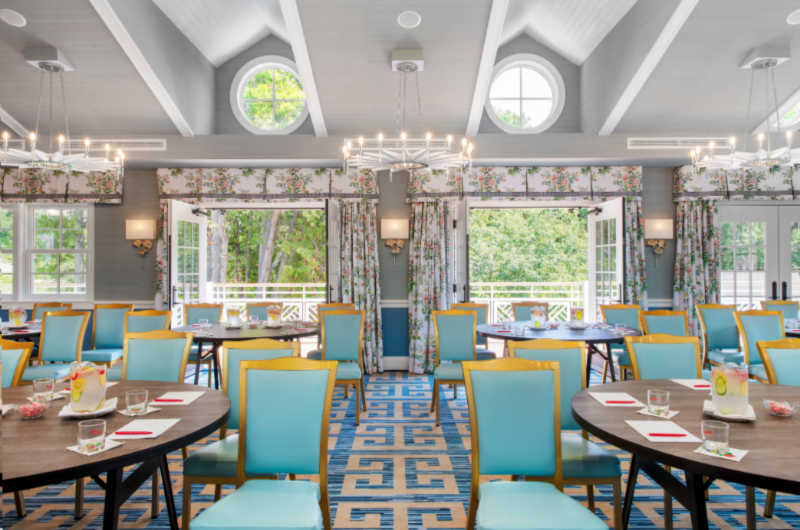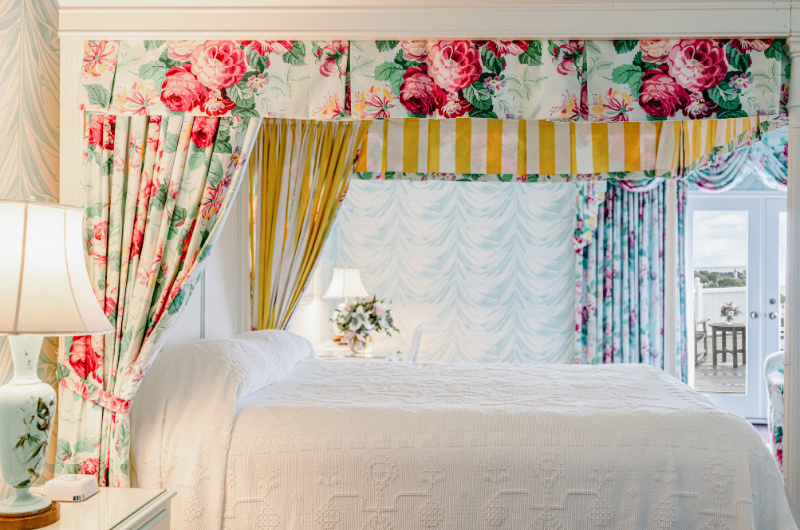 Out and About
Are you looking for an exciting and unique golf getaway? Look no further than The Jewel: one of the most unique courses in the United States. It is the only course that offers horse-drawn carriage rides between nines, making the experience even more unforgettable. One of the best ways to explore the picturesque Mackinac Island is by bike. Visitors and locals alike can pedal through town and enjoy the 70 miles of trails, surrounded by the natural beauty of Michigan. Fans of the 1980 romantic movie Somewhere in Time can find historical displays of the film in the lobby of Grand Hotel. Additionally, there are two themed suites that fans can stay in to feel closer to the movie. Explorers can also find the secluded gazebo featured in the film and create their own magical moment.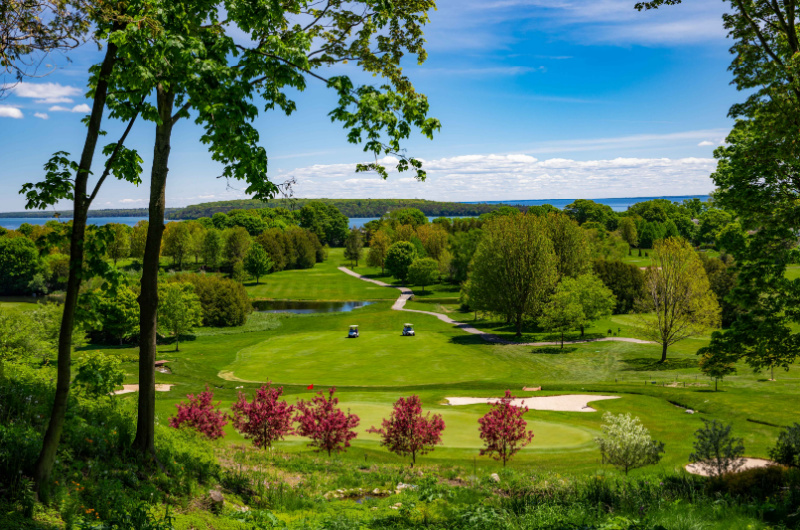 Get the Dish
Dining at Grand Hotel is an exceptional experience. The exquisite meals are accompanied by live music, and the dining rooms encourage dressing up for dinner to preserve the elegant atmosphere. The downtown area of Mackinac Island offers a range of scenic waterfront dining options, from comfort food to craft bistros. The Pink Pony Bar is the most iconic of them all, famous for its whitefish dip and flirty cocktails. Grand Hotel also honors a timeless tradition by offering Afternoon Tea in the Parlor daily. Take a break and relish the variety of Steven Smith Teamaker teas and decadent bites while listening to soothing live classical music.
Fudge is a specialty of Mackinac Island, and there's no scarcity! Stroll through the downtown area and visit the many candy shops to sample the inventive flavors. You can find your favorite fudge and make a great wedding favor idea for your guests.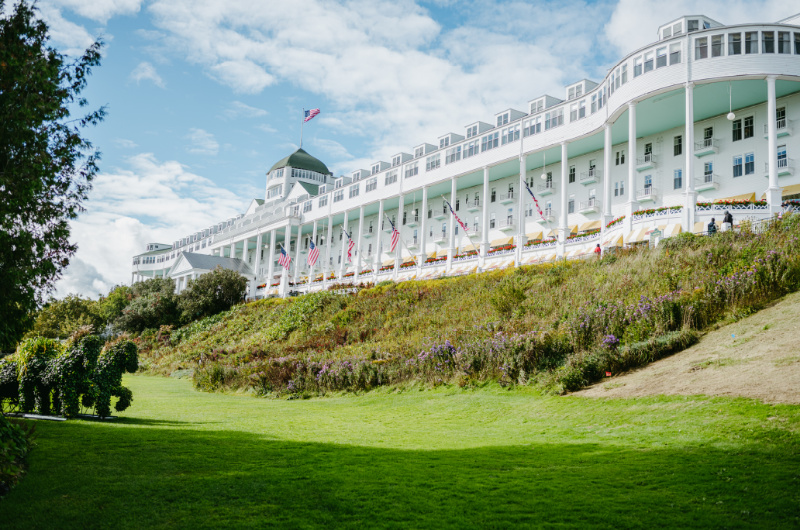 Note to Self
Traveling to Mackinac Island is usually done by ferry, although there is a small airport that can accommodate private or charter aircraft. It is essential to research ferry times on and off the island to ensure a smooth trip. It is worth noting that there are no cars on Mackinac Island, which can be a terrific perk for a peaceful getaway. However, you should consider accessibility needs for yourself and your guests. Bikes are readily available; you can always arrange a horse-drawn carriage to get around the island.
Summer is the peak season for Mackinac Island and the Grand Hotel, which can make it a busy time. It is essential to plan ahead as the island closes at the end of October and reopens in early May.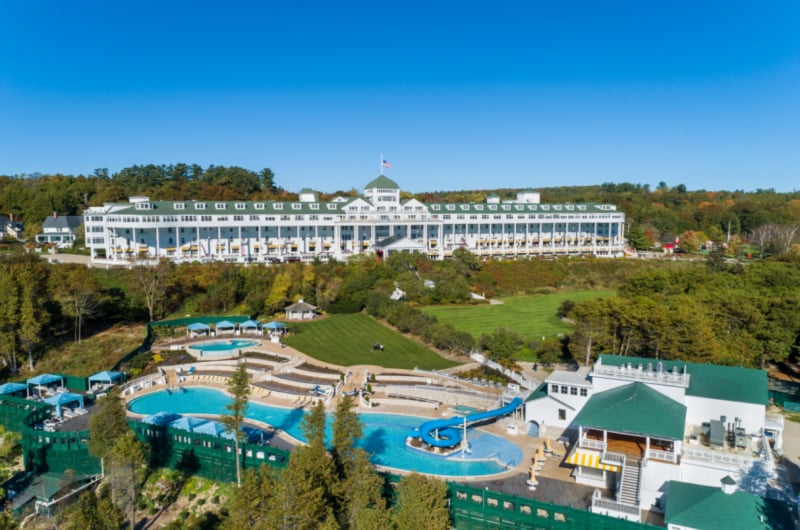 by Rebecca White