An ode to outdoor micro-weddings on a not-so-micro budget, this styled wedding of botanical romance at Emerson Fields in Excello, Missouri, brims with luxe details, an abundance of greenery, and intimate elegance. Sugarberry Blooms styled the ceremony spot with lush fields and florals, heightening the venue's serene atmosphere. Shades of blues popped in the venue, vintage china, invitation suite, tablescape decor, and bride and groom's wardrobe, threading a soothing cohesivity throughout the space.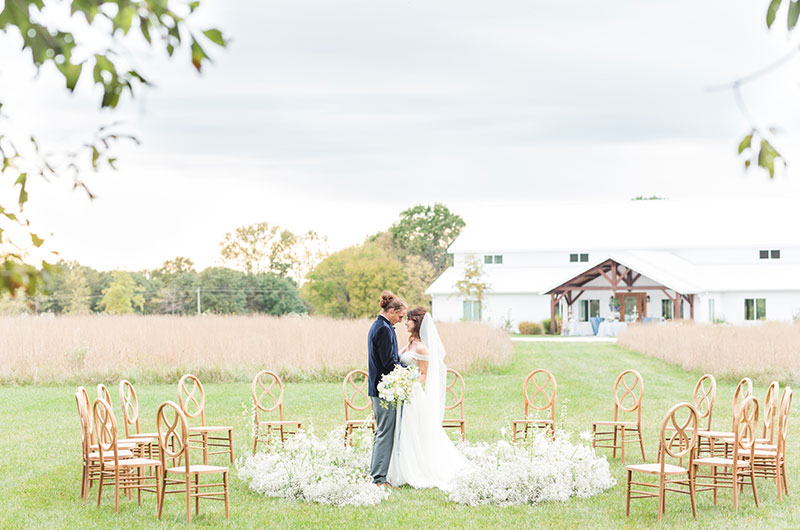 Invitations created by On Three Designs were tied with a navy ribbon that coordinated with its elegant script. Paired with freshly blooming white roses, they set the tone for a ceremony that dazzled with delicate details, much like the bride's ring, a resplendent display of sapphire and diamond.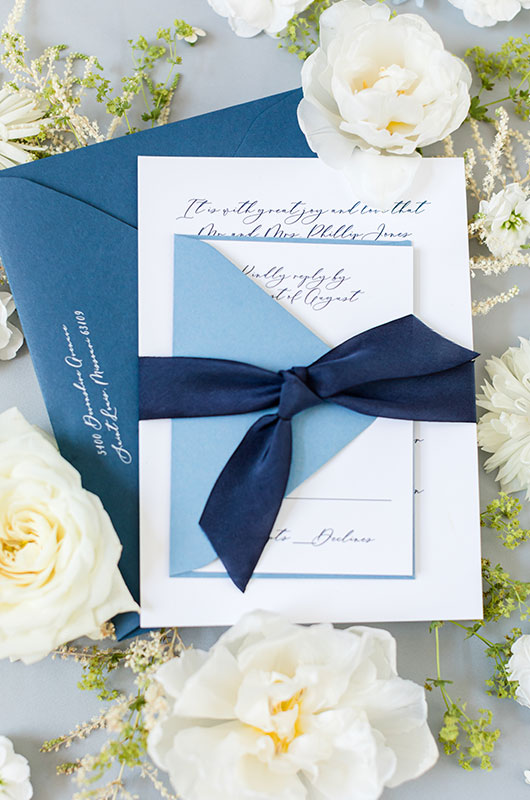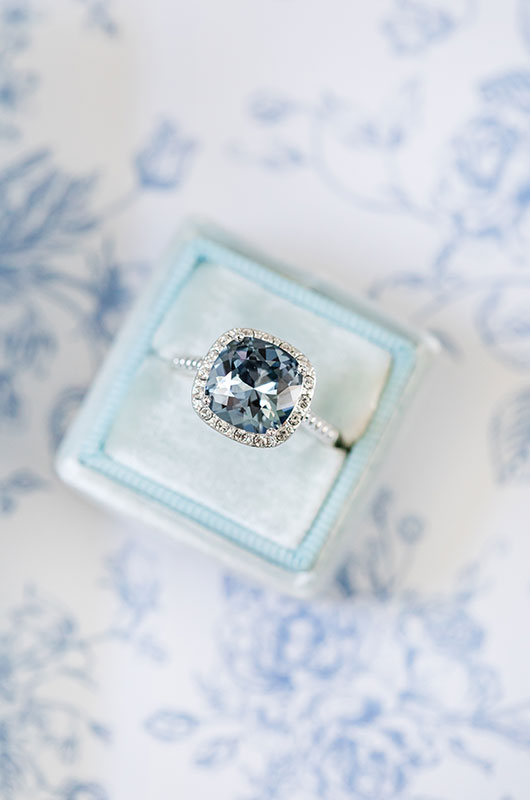 Mia Grace Bridal dressed the bride in a stunning gown complete with a classy v-neck and a timeless off-the-shoulder moment. The vintage-inspired lace heels added a whimsical touch that elevated the bride's test-of-time look. Her stunning bouquet of white florals and soft blue accents complemented her ceremony color palette and the ring shimmering on her finger.
Simple voluminous curls cascaded down her shoulders and into her sweeping veil. The bride's natural makeup by Shanice Mac Beauty, much like the venue, beamed of natural beauty.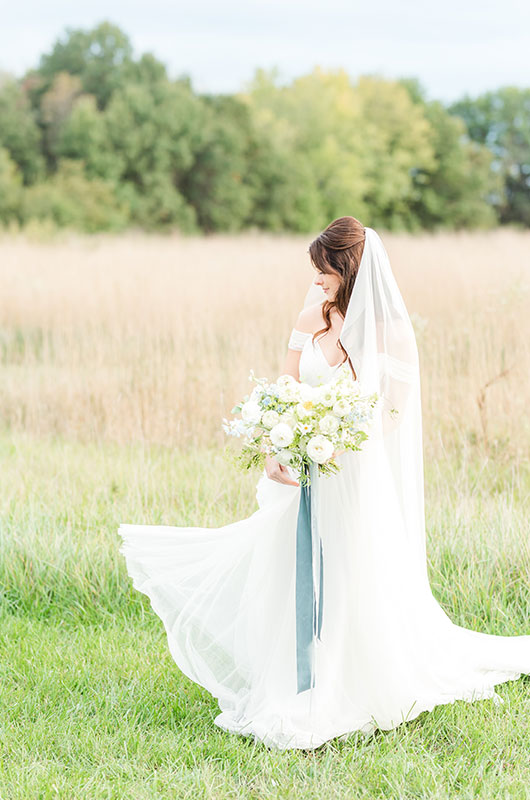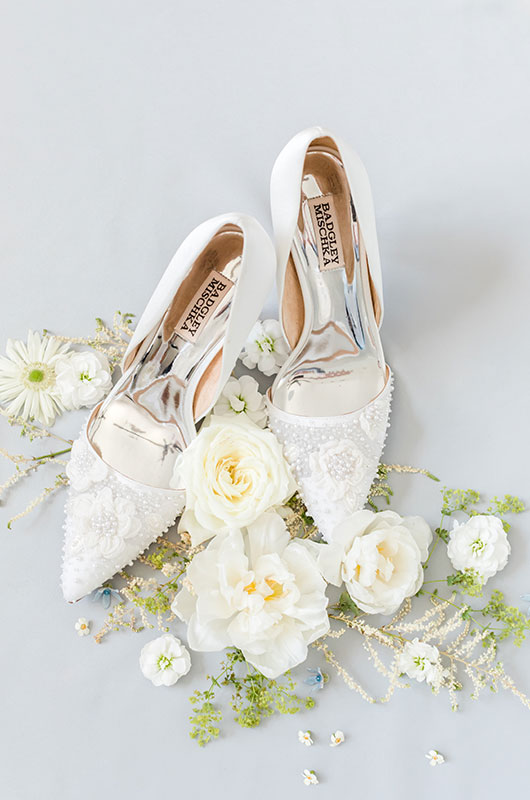 Elegant like his bride, the groom participated in one of this year's biggest trends by donning a navy velvet bowtie and suit jacket. When standing next to his bride, he made not only a fashion statement, but a commitment to last a lifetime.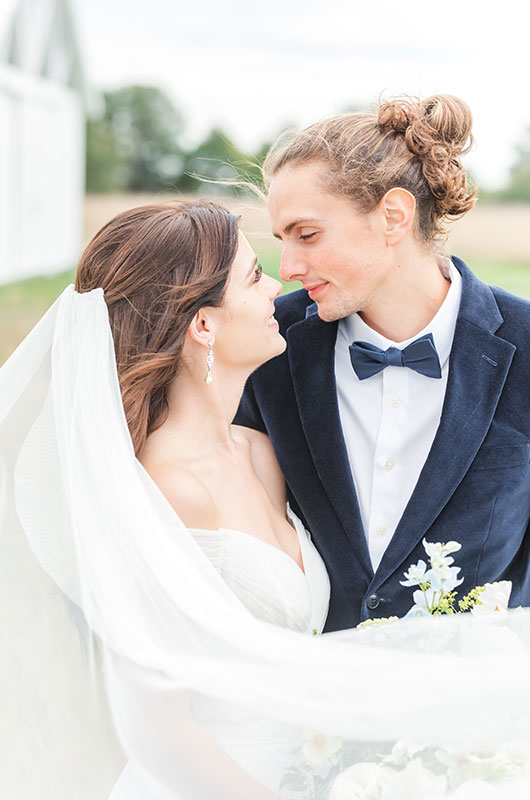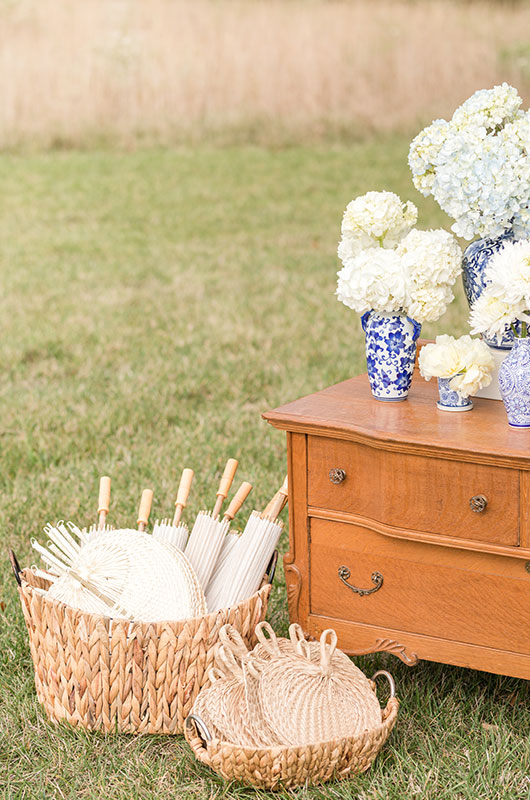 Guests made their way into the covered reception with a cocktail hour in a cozy lounge area that incorporated pops of patterned blues, rattan and wooden accents, and an inviting blue velvet couch that match the groom's ensemble.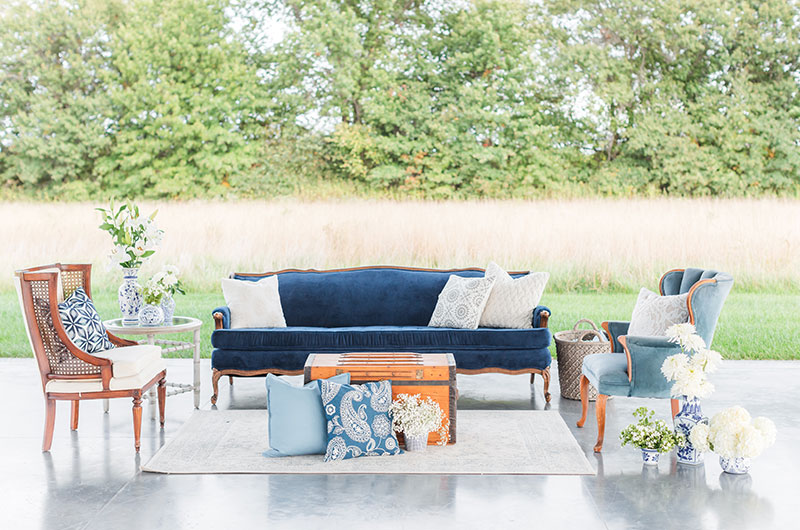 Lavish botanicals reappeared in the reception space, stemming up the wooden lattice behind the dessert bar and including vintage-inspired place settings. Vintage china provided by Nadine & Mina showcased beautiful blue hues once again, their intricate designs dangling delicately upon the walled florals on the wall and resting on the dining table. Each tablescape was complete with silk, baby blue napkins and tall white taper candles, gently easing guests into the next phase of the night.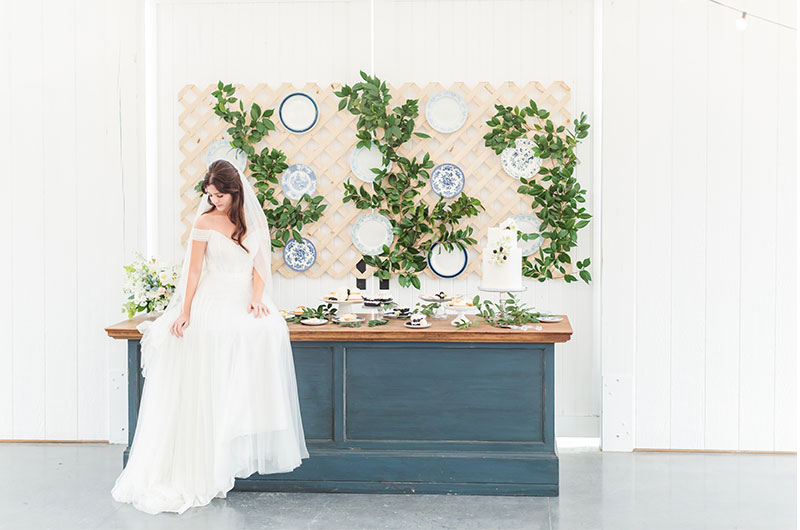 Amidst the grand, lofted ceilings of the space hung lanterns of unique shapes and sizes that added a detail impossible to miss. Strung lights complemented the hanging statement pieces and created an extra twinkle to emphasize the reception's already magical feel.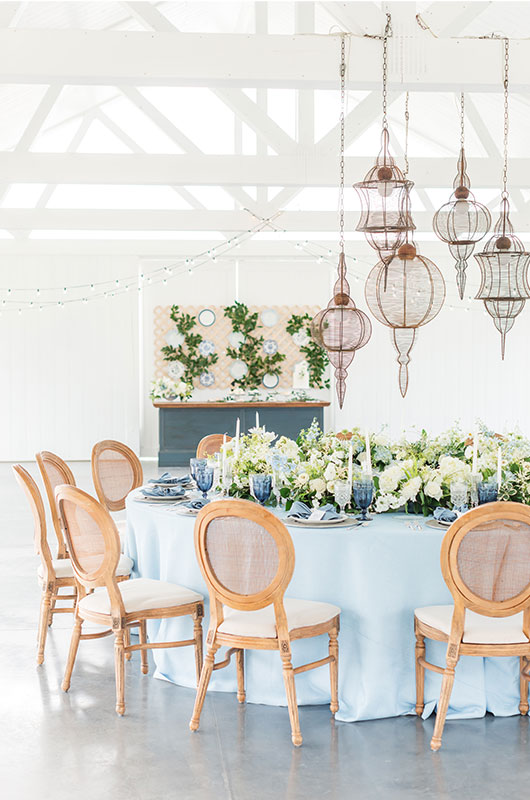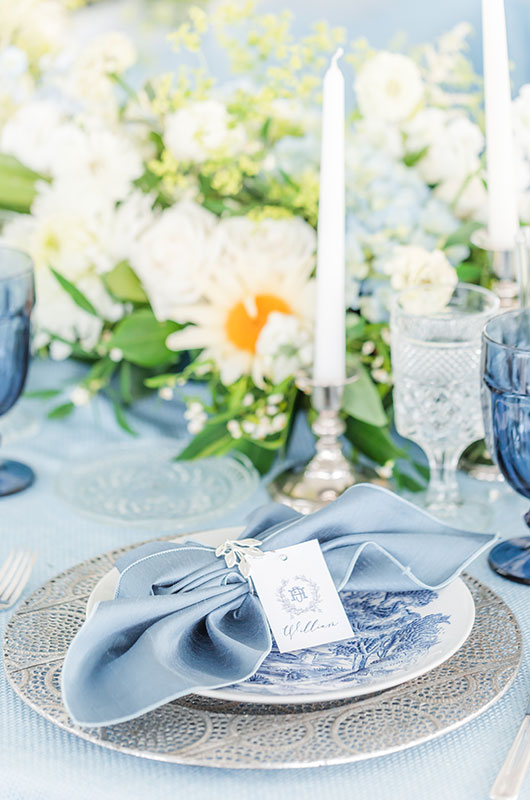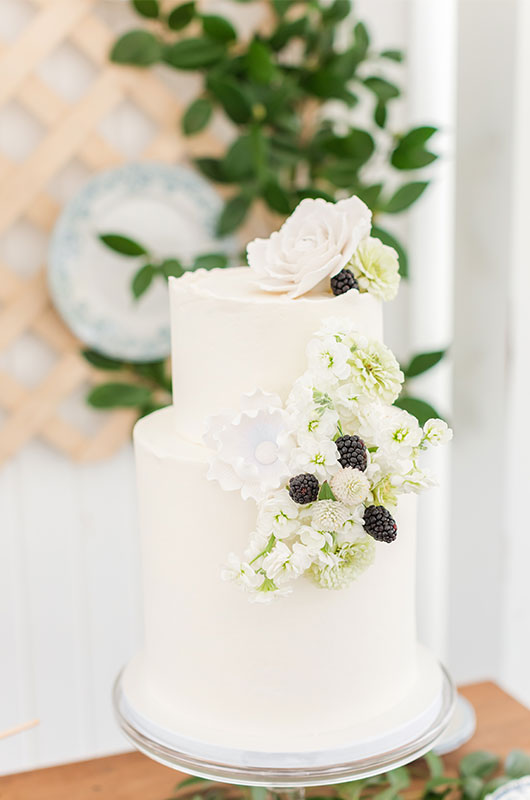 The two-tiered minimalistic cake was the showstopper of the night. Simple accents of florals and berries invited the irrestistible appeal of summer indoors for a sweet treat no one would soon forget. 
Each detail perfectly curated, this styled wedding of botanical romance was a dreamscape of natural elements, soft blues, and ethereal summertime, an ideal atmosphere for this couple to start the next chapter of their lives.