To bring some light to these dark days and show that love isn't canceled, and can never be stripped from us no matter what tragedy we're facing, one couple is sharing their engagement story and gorgeous photoshoot shot by Anne Bequette, a 10-year resident and photographer in the U.S. Virgin Island, St. John.
Matt and Asya reached out to Anne to capture their engagement, suggesting the use of masks that they had been provided with and used after Hurricanes Irma and Maria, which was the tragedy that sparked their relationship.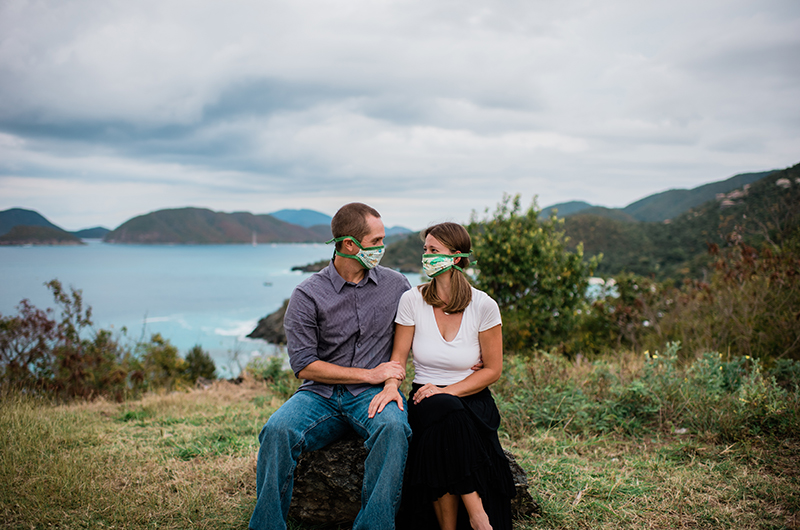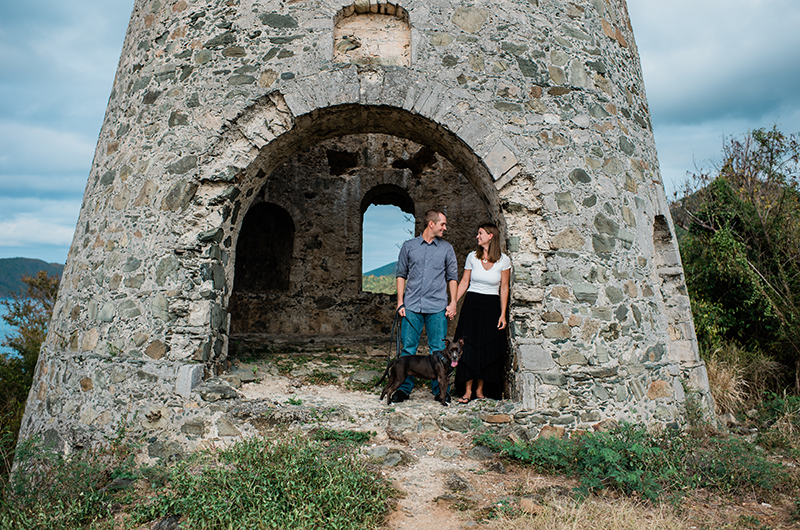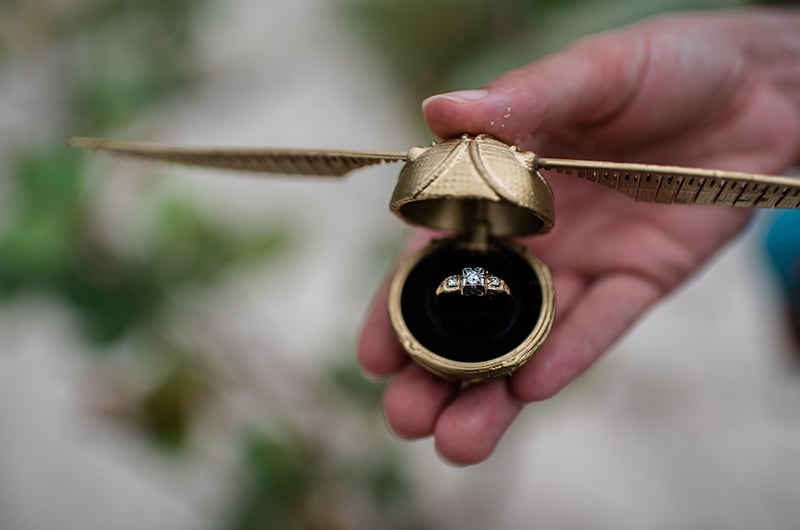 Though Matt and Asya had masks of their own, Anne also brought a pair made by local artist Ali Norton of Hibiscus Jazz. The couple loved the masks so much they decided to shoot with both sets. Ali hand sews every mask and has made over 1,000 of them to date.
"It's a big part of our life right now, so memorializing that felt important. The spread of the virus was a reminder of how quickly things can change in life and the importance of treasuring those you love. We'd gone through one apocalypse together and as this one loomed, it was affirmation that I wouldn't want to go through it or life in general with anyone else," says Matt.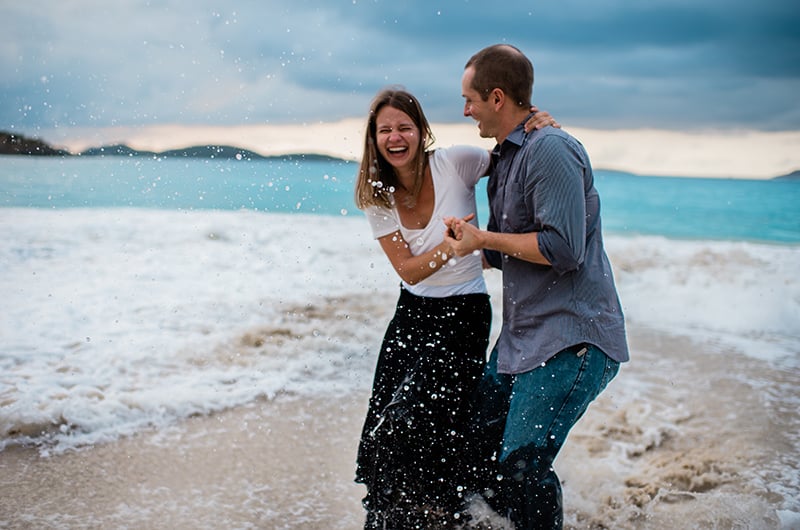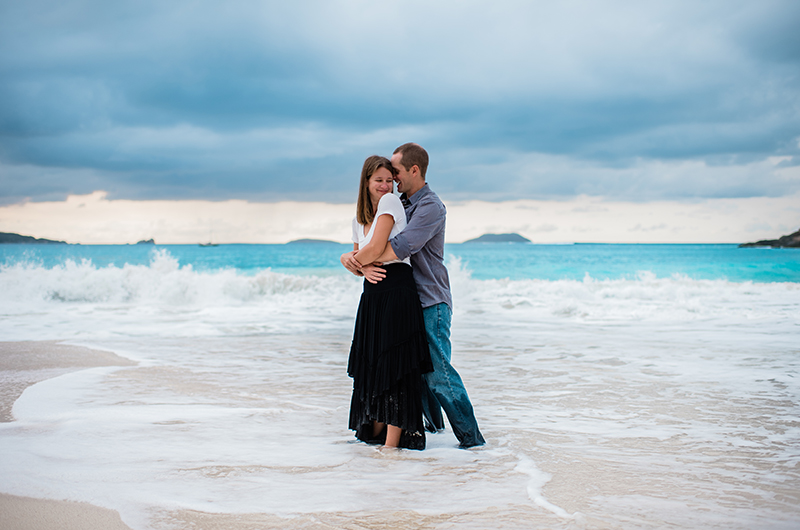 Matt proposed to Asya on March 15, 2020, two days after the first case of COVID-19 was reported in the U.S. Virgin Islands. The Islands are now under a State of Emergency, with shelter in place orders; limited flights; accommodations banned from any new tourist check-ins; and all beaches, trails and National Parks closed down – just one day after this photoshoot.
Here's exactly how he asked: "Matt and I take turns with who plans various celebrations – I had planned our Valentine's Day, so Matt was responsible for planning something to celebrate our 2-year anniversary. First, he wrote a computer program that was a series of riddles I had to solve. The final riddle explained that we were headed to Margaret Hill, which was the first hike we had ever done together. We headed up to the trailhead, and once we got to the top of the viewing platform, he handed me a hand-drawn Marauder's Map (I'm a huge fan of Harry Potter), which I had to follow to where he hid a golden snitch (which he had a friend create in his 3D printer). I opened the golden snitch and inside was a silicone ring – I turned around, and Matt was on one knee with the ring his grandfather used to propose to his grandmother in the 40s. I was so surprised! We had talked about getting married in an abstract sense, but never put a timeframe on anything. It crossed my mind that he might be planning to propose soon because he was being more secretive than usual, but I didn't actually expect it to happen! I anticipated a proposal closer to the end of the year (but I'm so glad he didn't wait that long!)" says Asya.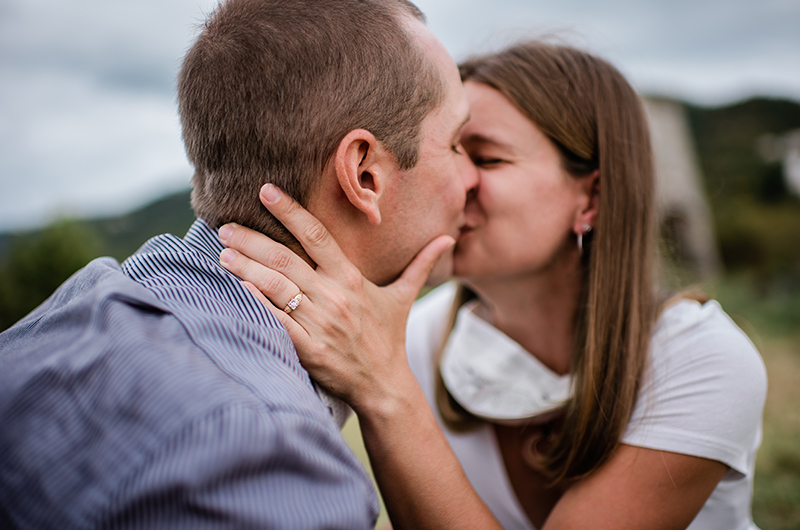 photographer: STJ Creative Photography | location: Peace Hill and Trunk Bay on St. John, U.S. Virgin Islands | engagement ring: Groom's Grandmother's | A St. John Face Masks: Hibiscus Jazz