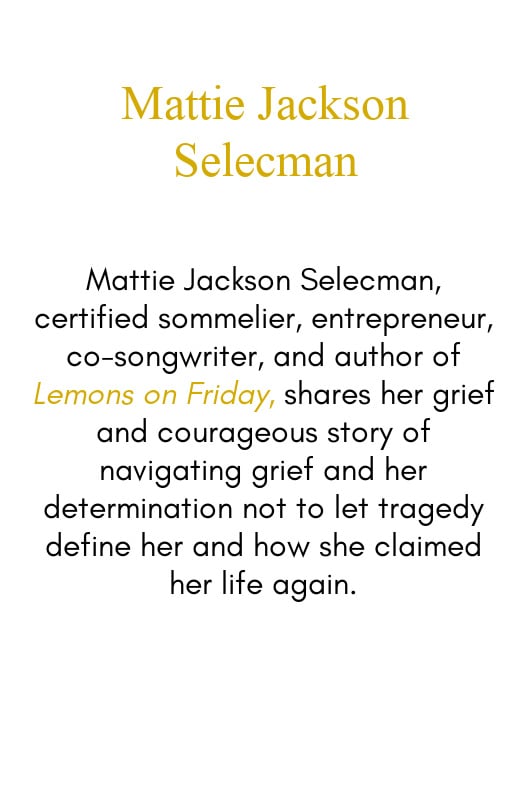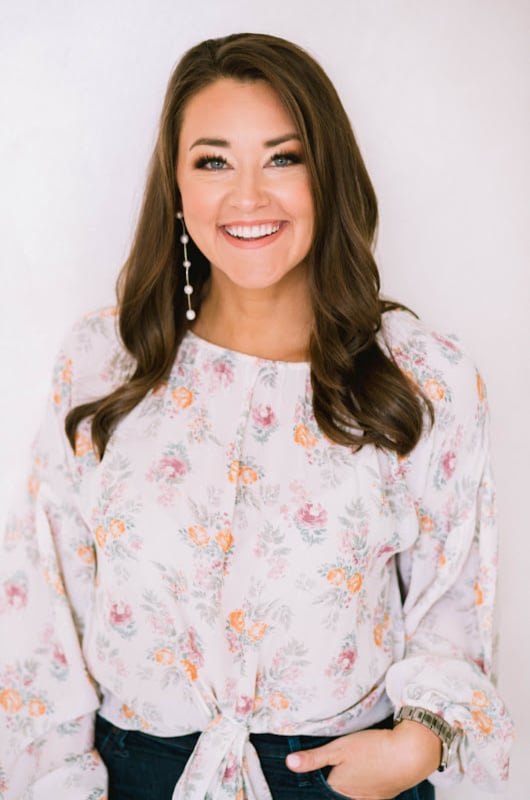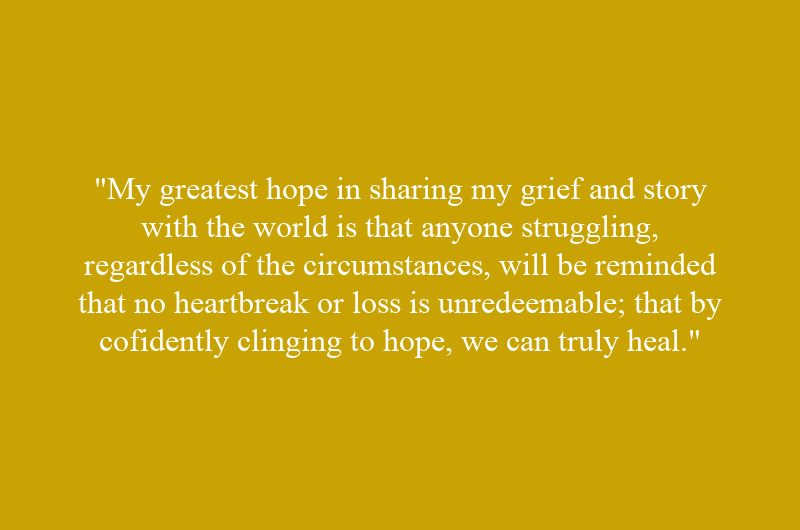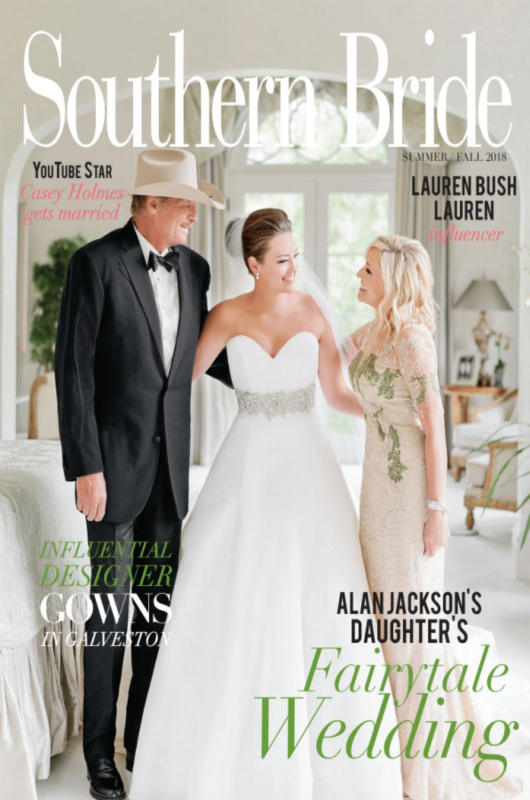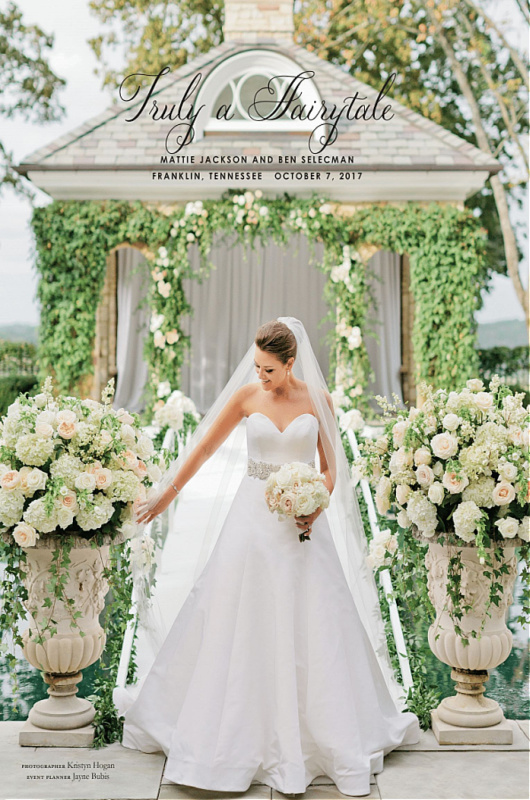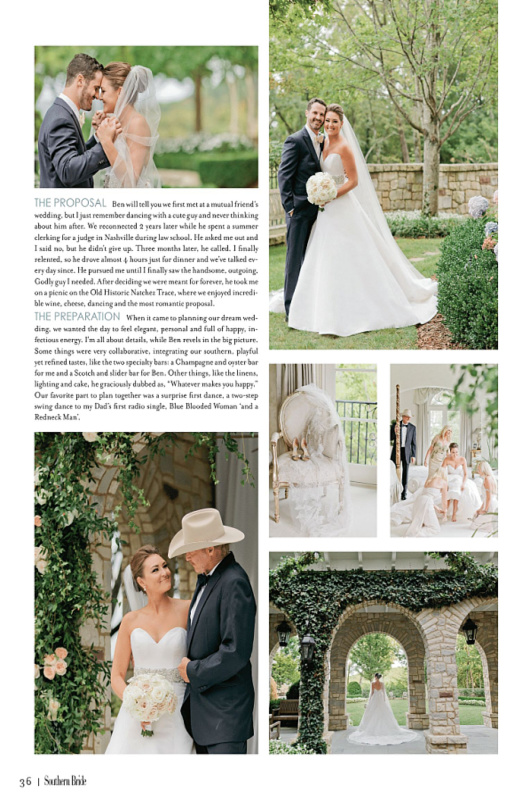 In 2018 Mattie Jackson and Ben Selecman's fairy-tale wedding at the bride's gorgeous parents' estate in Franklin, Tennessee, was featured in the Southern Bride's Summer/Fall 2018 issue. The beautiful bride and her parents, Denise and country songwriter and singer sensation Alan Jackson, graced the cover. After a picture-perfect wedding, Mattie and Ben settled into their new roles as husband and wife. Newlywed life was blissful until just three weeks before celebrating their first anniversary. While vacationing with family and friends in Florida, a tragic accident abruptly ended Ben and Mattie's happily-ever-after. Ben subsequently succumbed to unsustainable brain injuries and left Mattie a widow at the tender age of 28.
In her book, Lemons on Friday, Mattie shares how she found healing through faith and how she turned pain into purpose. And, knowing first-hand that grief doesn't come with a blueprint or handbook, she offers comfort, wisdom, and hope to anyone who has felt loss. Mattie shared that the book had accomplished what she had hoped and prayed for: "a safe place for reader's hurts, hopes, and all in between to land and find company."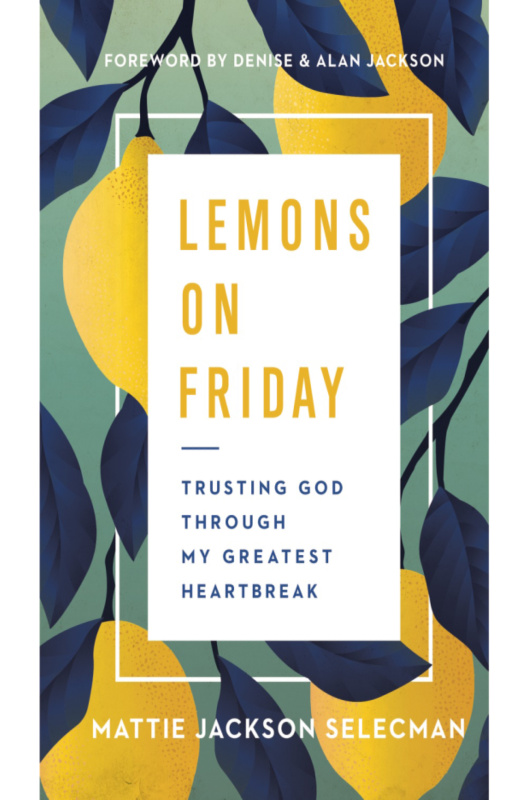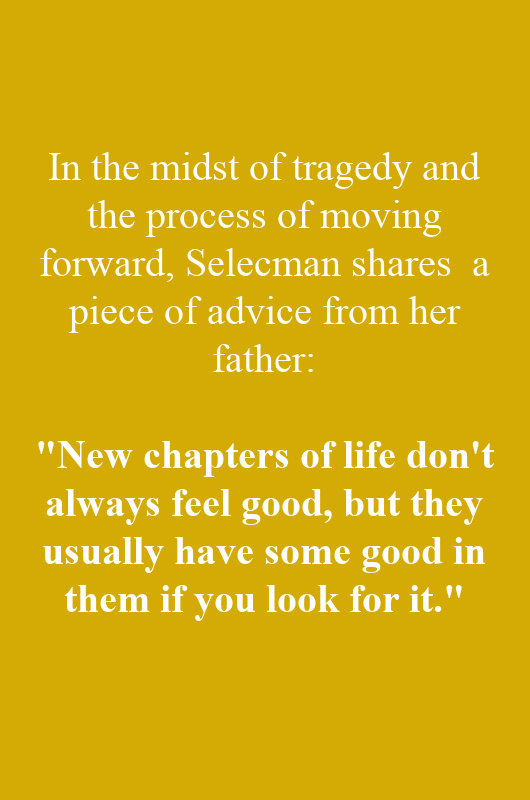 Q. How has your life personally been affected personally and/or publicly after the release of your book?
A. Publicly, with the overwhelming feedback from friends, friends of friends, and strangers whom I'll likely never meet, I feel incredibly grateful to see all the pain I've gone through have a purpose. From day one, I knew that the only pain I couldn't handle was pain that felt like it didn't matter. To now hear endless stories from grieving individuals about how my story, heartbreak, and marriage have helped buoy and encourage them in their healing has been a tremendous part of my healing and moving forward.
Personally, the book helped affirm the incredible value of something I've always struggled to offer: vulnerability. In the course of journaling and reflecting, and writing Lemons on Friday, I was forced to be more introspective and more honest about the good, bad, and ugly parts of who I am and how I handle hard things. I've never been as willing (and sometimes now, even glad!) to share my tears and darker parts with the people close to me. It's like sharing my heartbreak with strangers enabled me to take off some of the armor I'd work with the people I love most. I've never felt closer to my people than I do now because I've learned the richness that results from sharing the whole me with them.
Q. Favorite part of the day? And what charges your batteries and fills up your spiritual cup?
A. Morning! I have never been a particularly late sleeper, so I try to take advantage of at least a half-hour or more stillness in the morning. A huge coffee drinker, I like the process of grinding my beans and sipping coffee (weather permitting) on my screened-in-porch as I read, pray, or simply think through the things I have in the day ahead. Especially after losing Ben, the morning became such a palpable assurance of God's faithfulness to me – if He is this faithful to bring up the sun and care for creation in this way every morning, surely, I can trust He will do the same for me today? It became a physical assurance of faith for me and remains integral in getting my spirit and mind right before I start the day.
Q. Not only are you a naturally talented writer, but you have recently co-written a beautiful song, "Racing with the Dark", with your father, Alan Jackson.
A. The song was a completely lovely surprise for both Dad and me, I think. It was the summer of 2020 when the worst of the lockdowns were happening, and I'd been messing around on an old guitar of mine (I can hardly play 3 or 4 chords!). The second anniversary of Ben's death was approaching, and I sat down on a whim one afternoon and wrote the woman's story in the song. Though it's not Ben and my story exactly, she was a widow who tried to outrun her grief until realizing that the only way to heal is the face the darkness, not to run from it. Dad graciously wrote the beautiful melody to my lyrics and invited me into the process as he recorded it. It was a once in a lifetime experience.
Q. You also are co-founder of a philanthropic merchandise brand, "NaSHEville," which helps support and empower women and children. Can you please share a bit about each of these meaningful endeavors?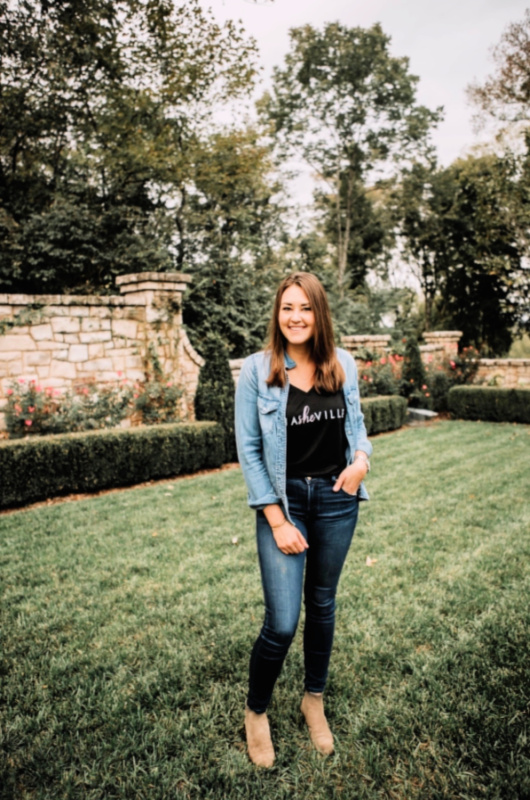 A. NaSHEville is a women's apparel and merchandise brand that I co-founded in July of 2018. Our products celebrate women and Nashville, and the proceeds support nonprofits serving orphans, widows, and trafficking victims. NaSHEville's missions are very personal to me, not just in serving widows but also in the community of trafficking victims in the Nashville area that my husband worked with as an attorney here. He helped us build the brand from the ground up before his passing, and it remains such a special way for me to honor his legacy.
Visit LemonsOnFriday.com

Learn more about how you can support at risk women and children at www.nasheville.com