The historic Memphis Metal Museum created an idyllic setting for this styled wedding shoot featuring fall, boho vibes. Classic flair, modern twists, and colorful details helped make the styled ceremony and reception come to life. A mobile bar by Tipsy Tumbler Traveling Tavern fit with metal accents and industrial light bulbs provided festive cocktails while keeping the intimate atmosphere bubbling. The stylish reception table, adorned with a beautiful charcuterie spread, further enhanced the shoot's autumn theme.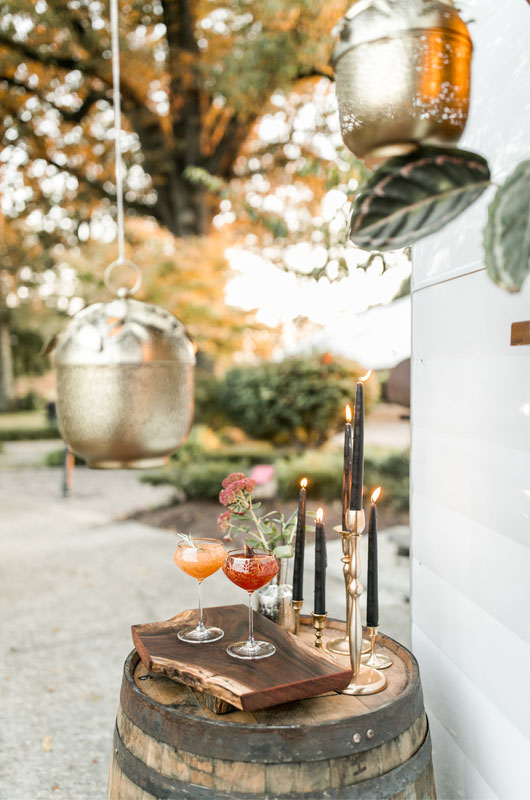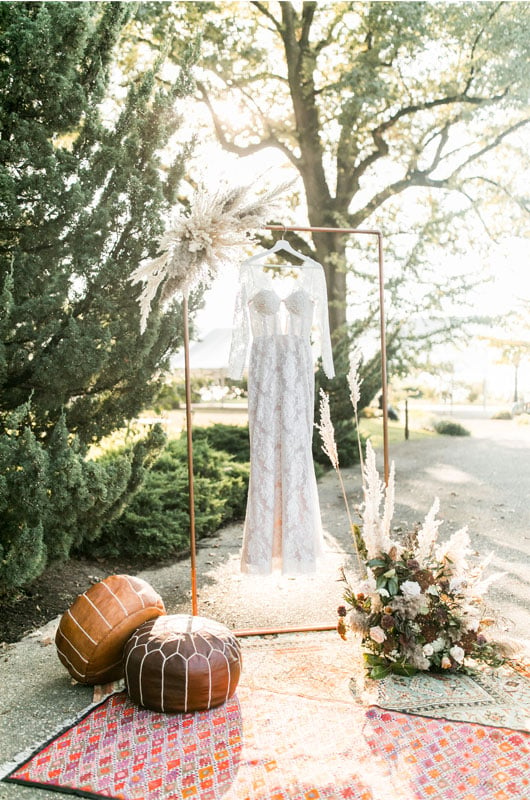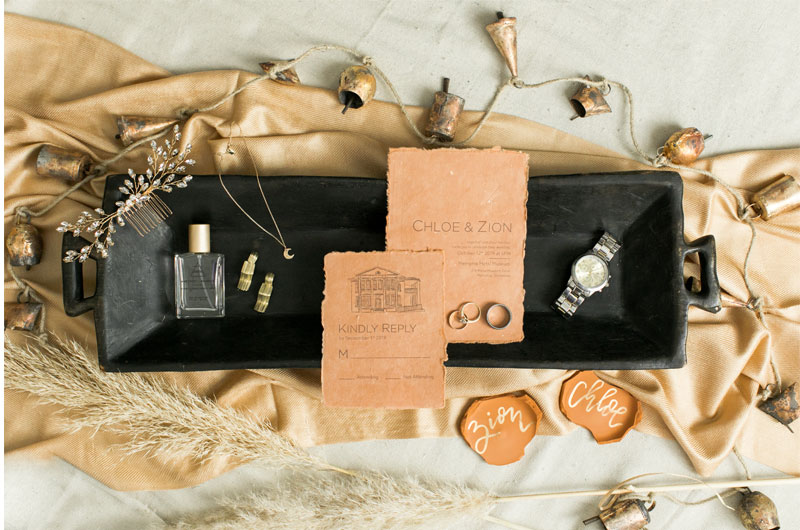 The bride's long-sleeved, lacy gown flaunted deep vees in the front and back that were equally soft and sexy. Delicate flowers pinned in her hair matched her funky drop earrings, nodding to the boho theme of the shoot. The groom's salmon suit and patterned tie popped against the bride's classic wedding dress, creating a contrast that was both eye-catching and organic.
Each curated detail of the styled wedding struck the balance of classic elegance and modern flair. An orange and purple patterned rug complemented the groom's suit and juxtaposed the classic white of the gown and mobile bar, which served signature colorful cocktails all night.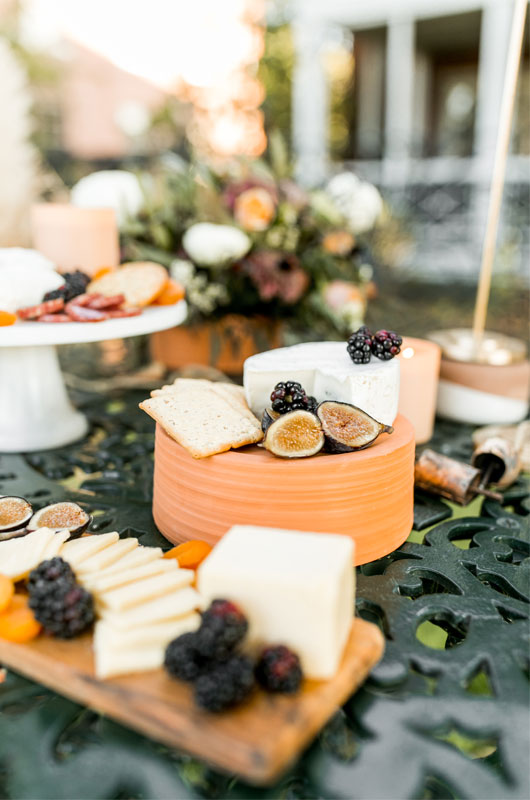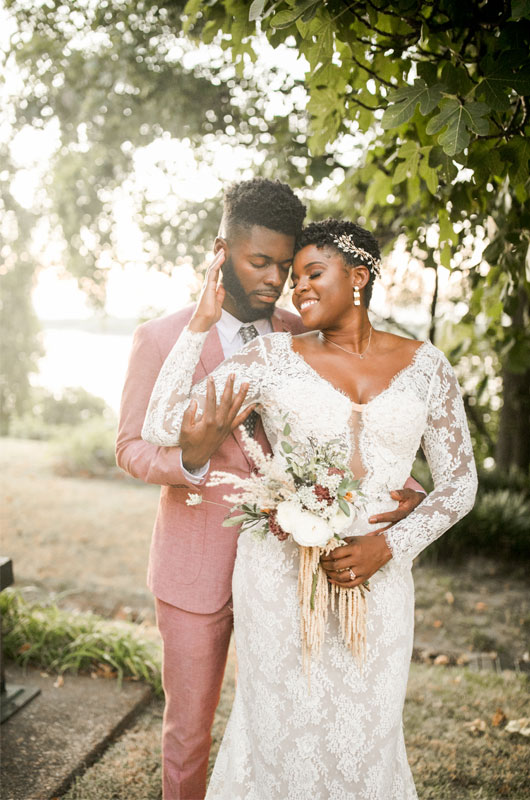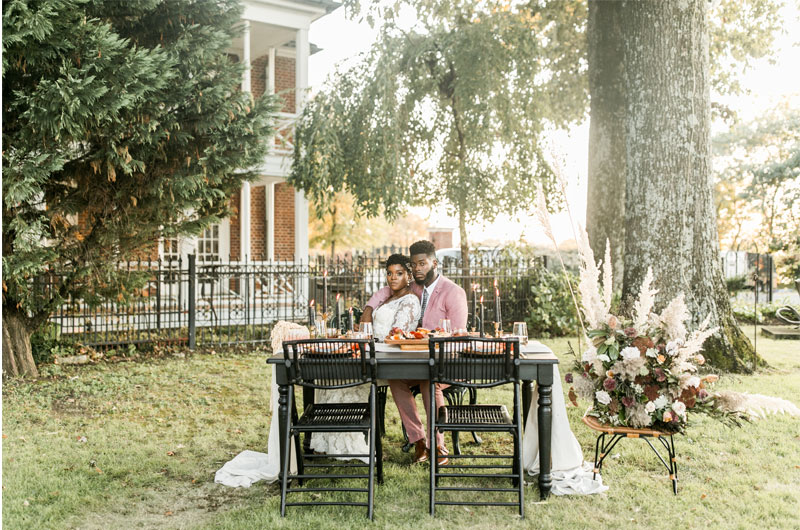 Burnt orange, mulberry, and charcoal accents evoked a fall ambiance throughout the reception venue. White, orange, and burgundy flowers nestled in a bed of baby's breath and cool greens comprised the bride's stunning bouquet. Tall evergreens and oaks shaded the bride and groom, standing underneath an iron arch adorned with white greenery and an abundance of white and terra-cotta botanicals.
The blackberry fig fault line cake, whose charcoal and burnt orange edible accents hearken fall bonfire nights, took center stage on the table. Charcoal wax candles resting in ornate gold candlesticks and wood place setting cards blended with the black tablecloth, while soft orange metallic plates, gold silverware, and black-and-white spotted menus provided modern pops of color.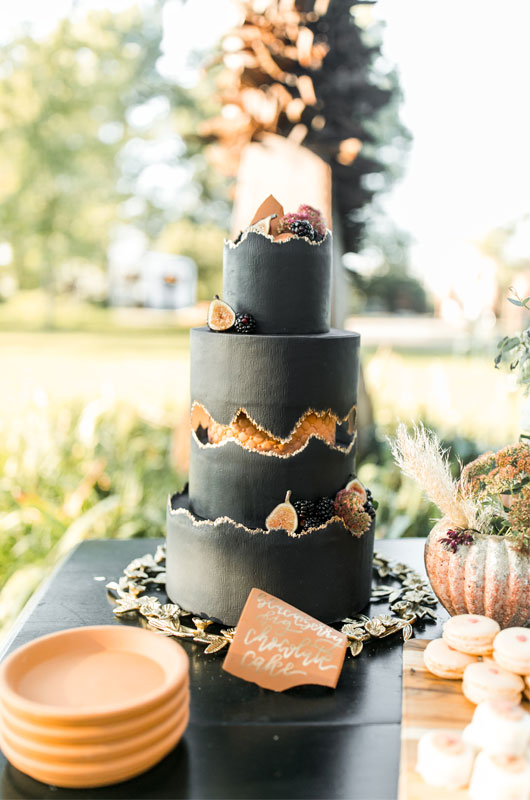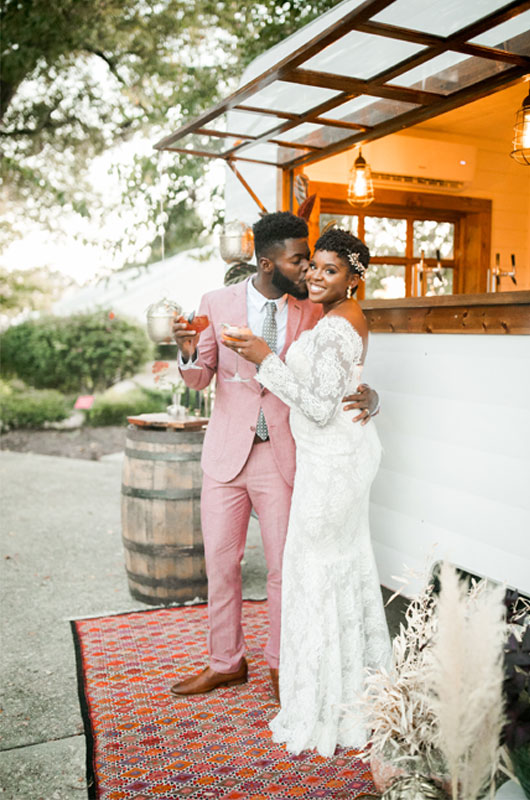 While loose florals sprinkled on the table softened its matte black and terra-cotta tones, the stunning charcuterie board adorned the table in perfect color-coordination. The board's mix of blackberries, hard cheeses, salami, and crackers were curated to perfection and presented an irresistible treat, as did indulgent confections like churros and macarons, which were available in abundance.
Though colorful details permeated this styled wedding and reception venue, their muted tones suited its fall boho vibes. Burnt hues both allowed for bold decor choices and accompanied both metal and wood accents, creating a comfortable and joyful wedding atmosphere while ushering in the calm and warm feelings of fall.