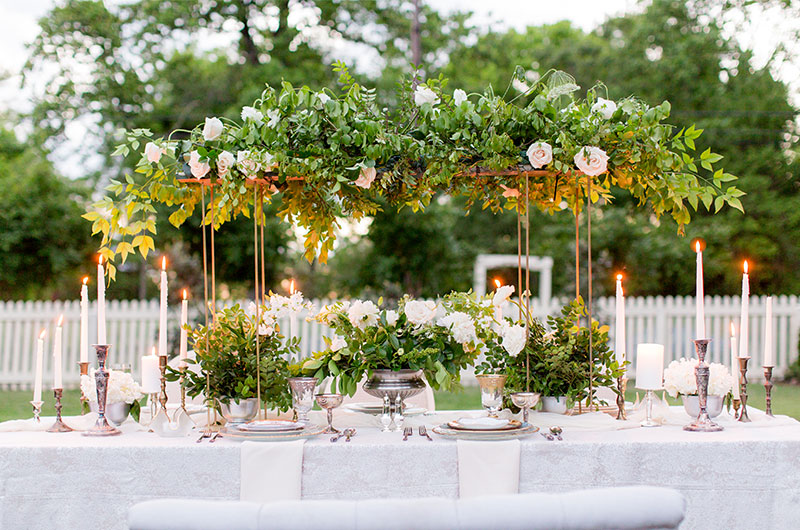 The Cumberland House Styled Shoot is inspired by the historic house and beautiful, lush gardens on the property. Grounding the design is a contrast of mixed metals, symmetry and texture, with a neutral color palette of soft white, fog gray, sand, sage, stone, gray and mixed gold, silver and champagne metal tones. The neutral color palette provides a foundation on which layers of texture, movement and unexpected mixed metals are built to create visual interest that evokes a timeless, romantic wedding.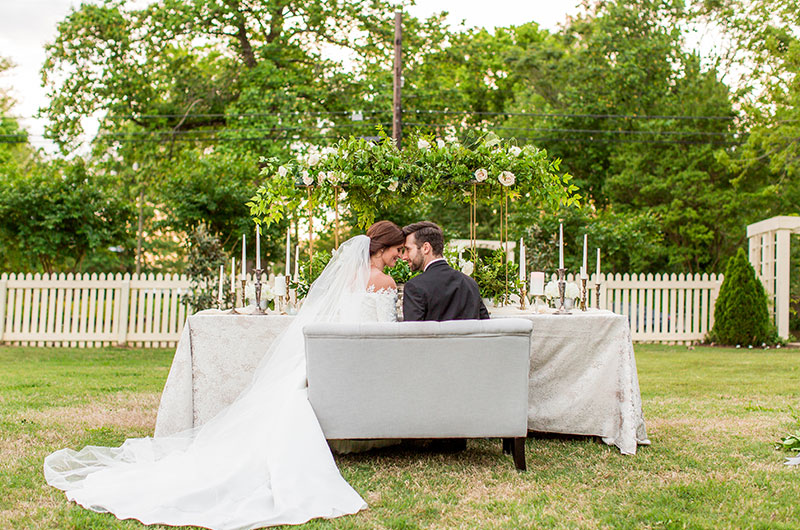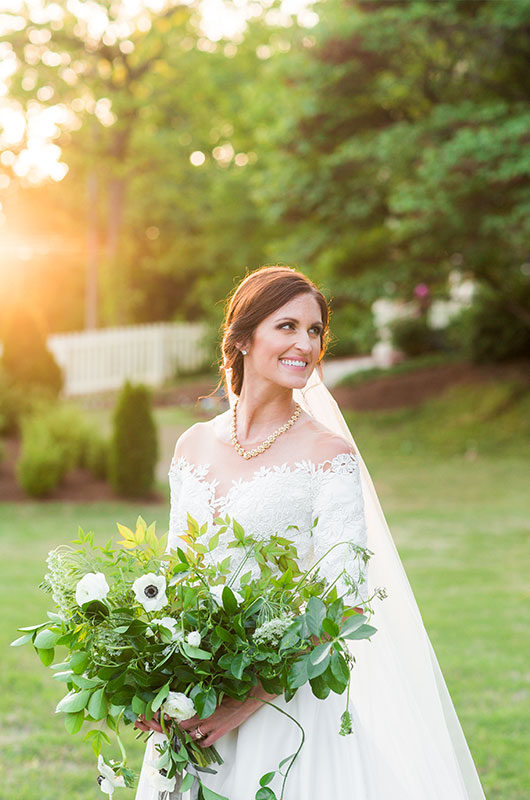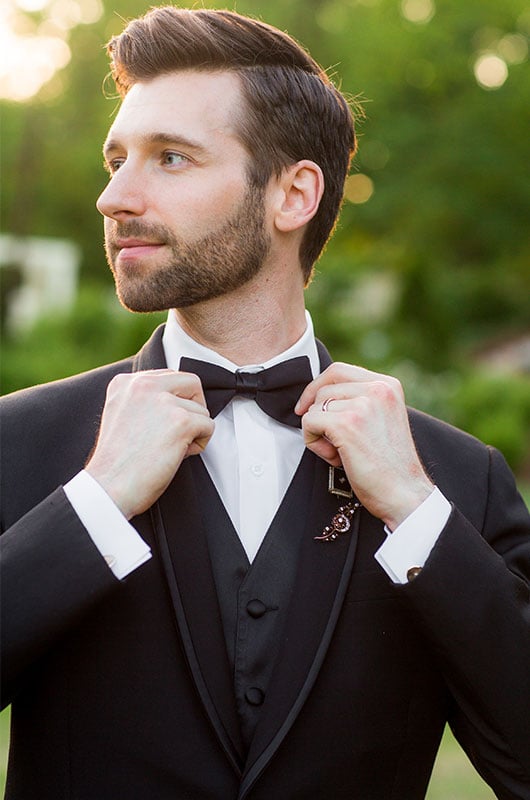 The invitation suite was designed with details from the wedding of Dr. Frank Hamilton and Dinetia Walsh in 1869. Dineta's father, William Walsch, built the Cumberland House as a wedding present for Frank and Dinetia. I designed a hand drawn vintage inspired monogram using Frank and Dinetia's initials, DF, and combined it with botanical leaf illustration crest to mirror the vintage architecture of the house with the organic and lush gardens surrounding the house. The invitation suite was printed on soft white cotton paper with hand deckled edges for an organic feel paired with handmade paper pieces.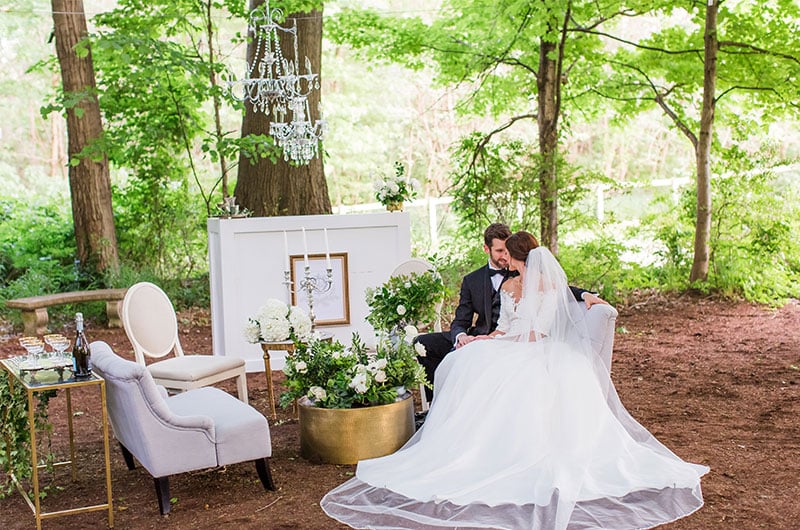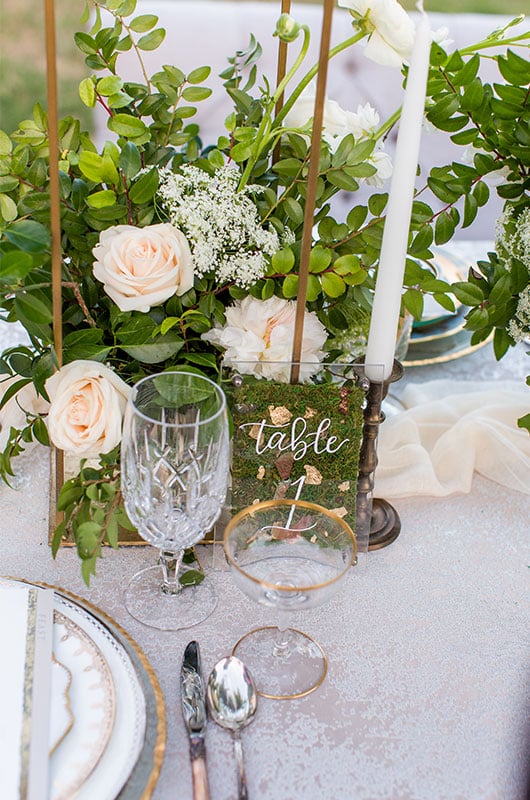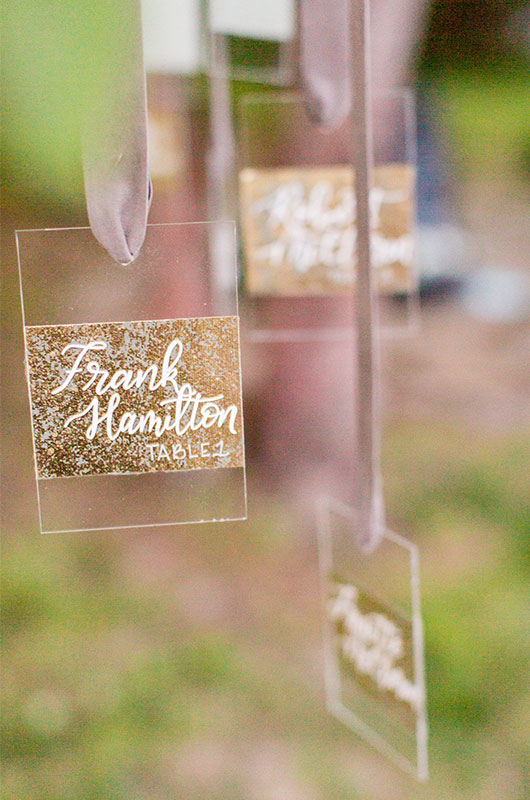 The save the date featured a hand drawn architecture illustration of the Cumberland House printed on handmade paper and the map, also printed on handmade paper, featured local Jackson favorite places. The rsvp envelope was designed to highlight and showcase the vintage stamp. Shades of off-white, cream and grays create texture and layers with the stationery. Gold hand calligraphy brings the perfect amount of metallic sheen and the mercury silver gold envelope liner is a pop of contrasting metallic shades. The whole suite is wrapped in vellum with a botanical leaf pattern and tied with gray velvet ribbon and sealed with a gold wax seal. The monogram crest was also used on the bar in the lounge area situated within the trees in the garden. Having a wedding at your home or family home is the epitome of hospitality and opening up your home.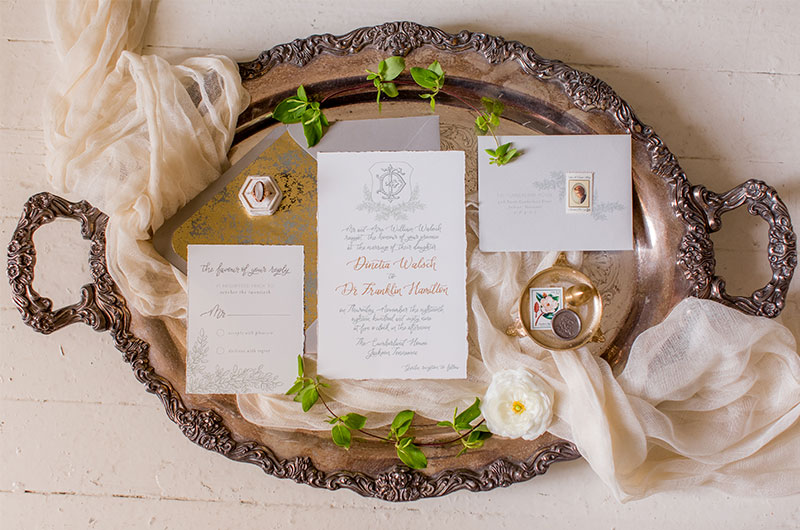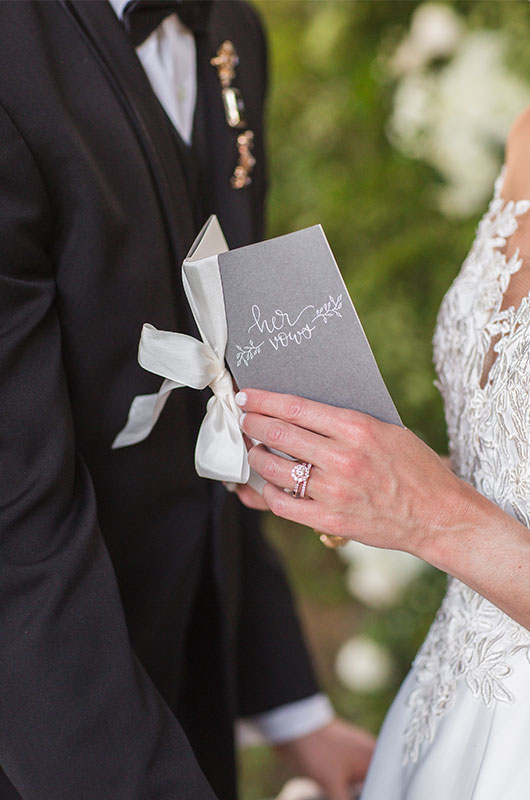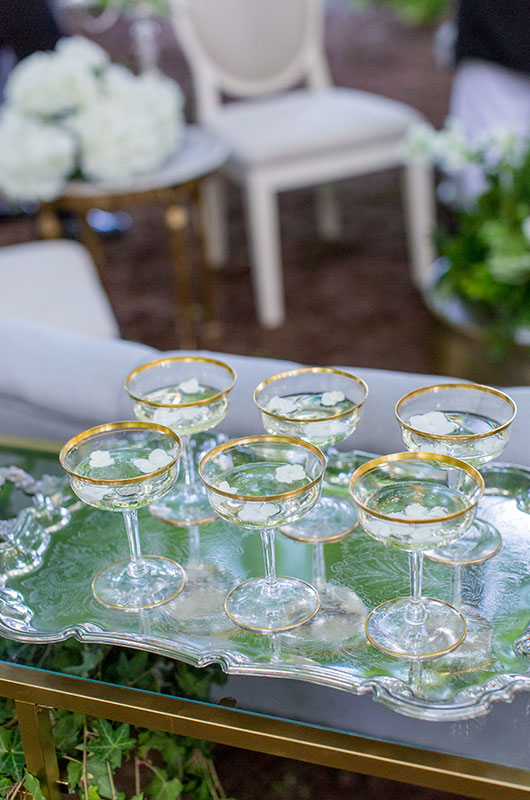 The acrylic and mercury metallic escort cards were hung with gray suede ribbon in the tree limbs in the garden. These modern and structural pieces perfectly juxtaposed the wild and organic garden they were placed in swinging in the breeze amongst the foliage. The place cards were attached to the menus placed at each seat. The menus were layers of color and types of paper creating textural and visual layers. Dinetia had 2 sisters, Jenny and Annette, and we imagined the place settings would have been comprised of Dinetia's, her sisters and their mother's china patterns, creating the varying patterns with the place settings. The place settings at this table was the newlywed's, Dinetia's sisters and brother in law."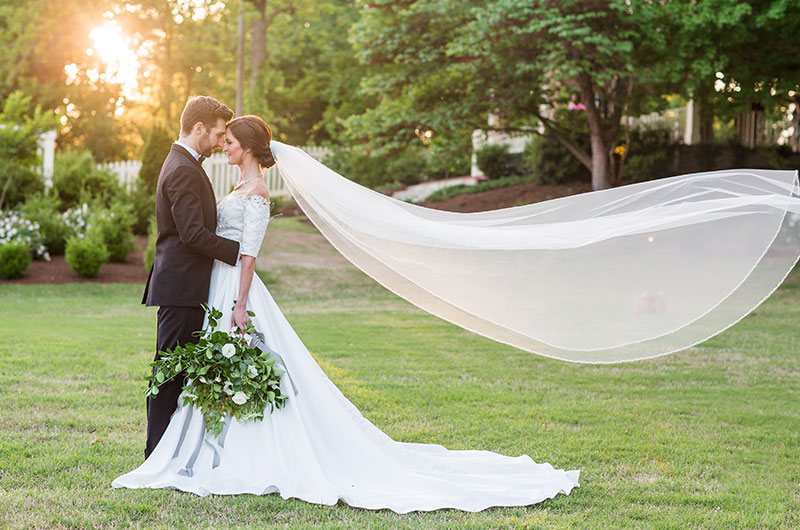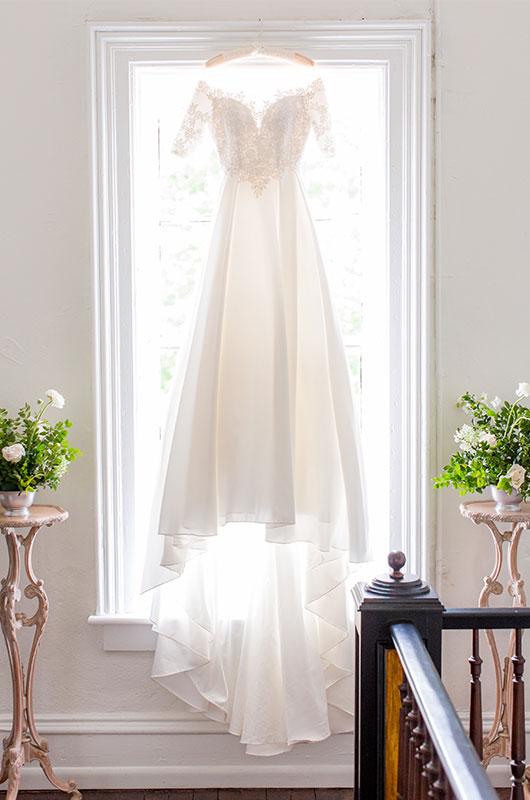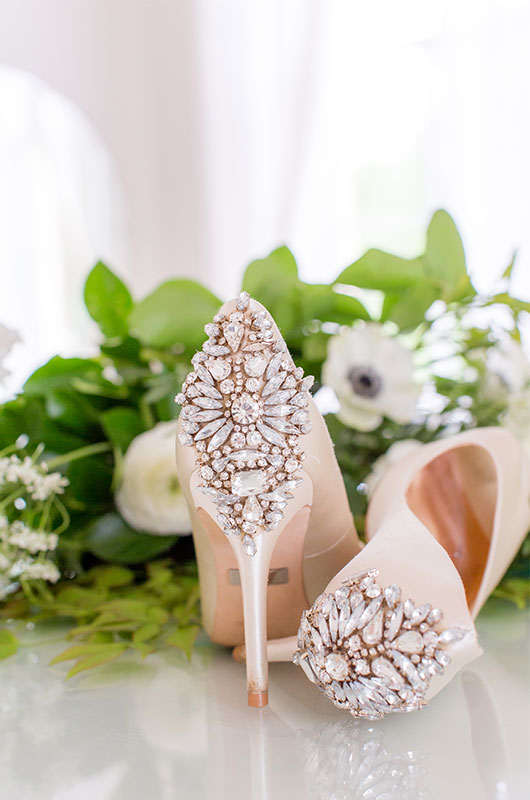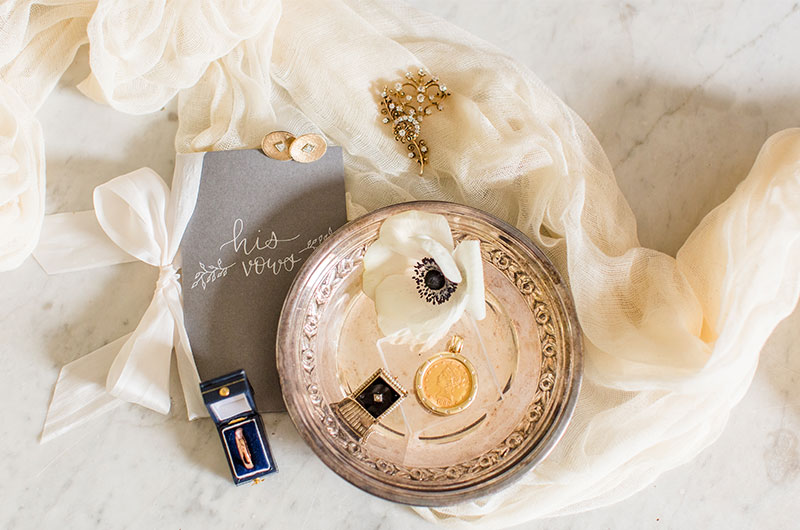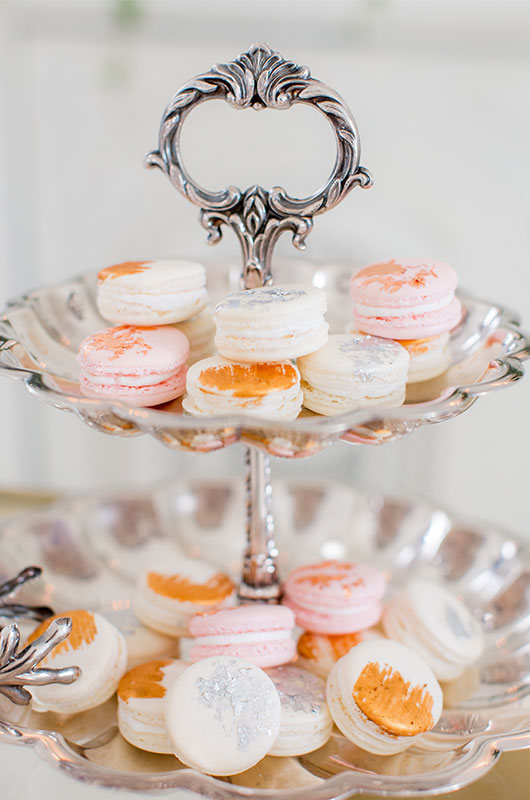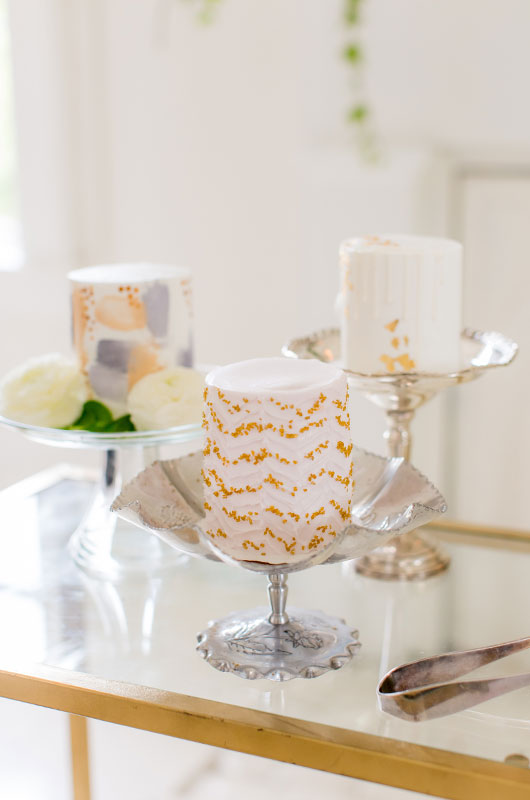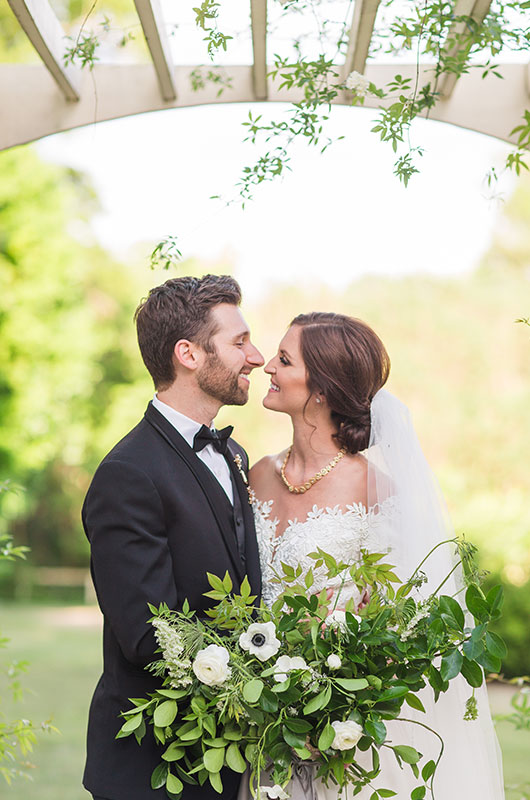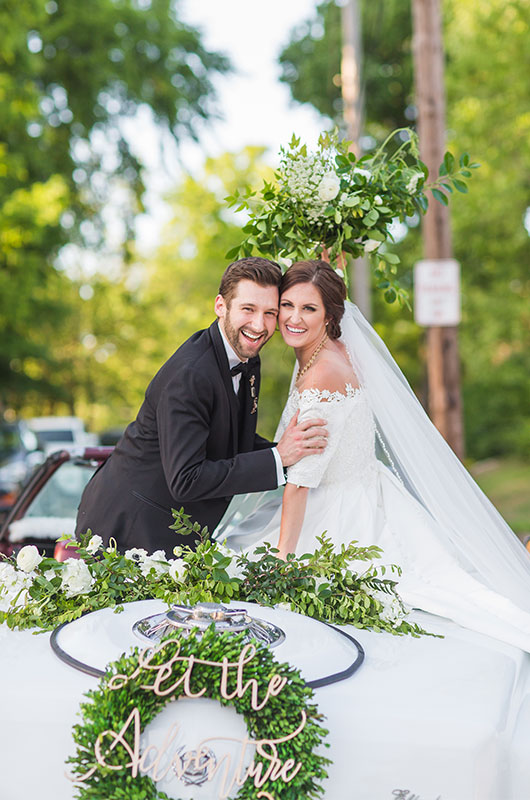 – Krisy Parker Thomas
photographer: Krista Joy Photography | planner: Southern Sparkle Weddings & Events | venue: The Cumberland House | flowers: Southern Sparkle Florals | cake: J.C. Cakes | rentals & decor: Clayton | invitations: Farmstead Design Studio  | gown: Johnathan Kayne | accessories/jewelry: Robert's Jewelers + My Best Friend Jenna | hair + makeup: Kayla Scott | menswear: Prestige Tuxedo | models: Jordan & Bonnie Hall | transportation: Rusty's Car Museum | videographer: Lynn Productions | place settings: Vineyard's Gifts