Sheep, Spanish moss, and sophistication were the words of the day for this styled shoot at Middleton Place in Charleston, South Carolina. Inspired by bygone luxe, this styled shoot boasts an old-world wedding feel with an ethereal twist.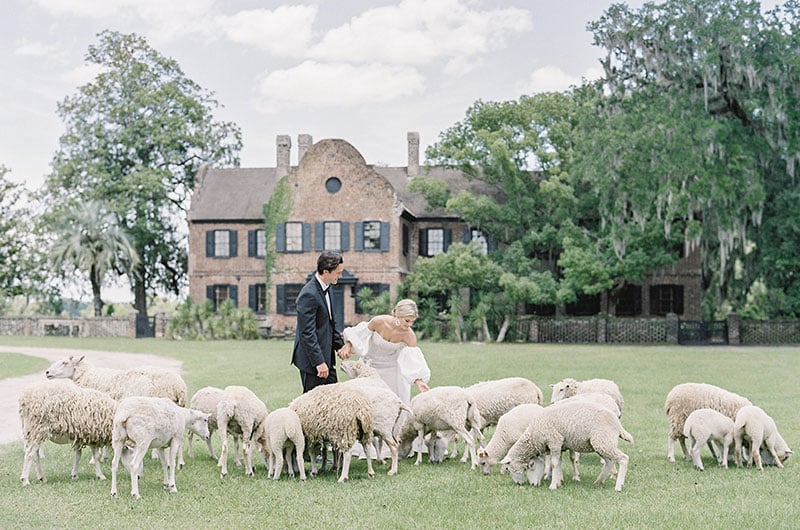 Light-hued floral installations by Isibeal Floralswere were of blooming elegance and careful placement as they set the tone for the dreamy vibes of this timeless decor, upon the already present, natural greenery. As pastels stole the show, hints of darker reds and purples added a pop of warmth to this airy aesthetic.
The aging brick details of the venue were met with historic chimneys and vines that cascaded down the structure, emphasizing the years passed and serving as an eye-catching backdrop for this shoot.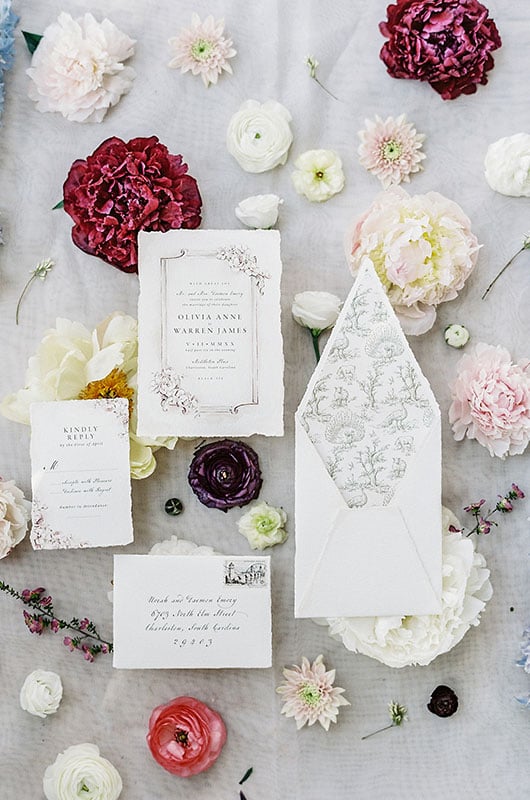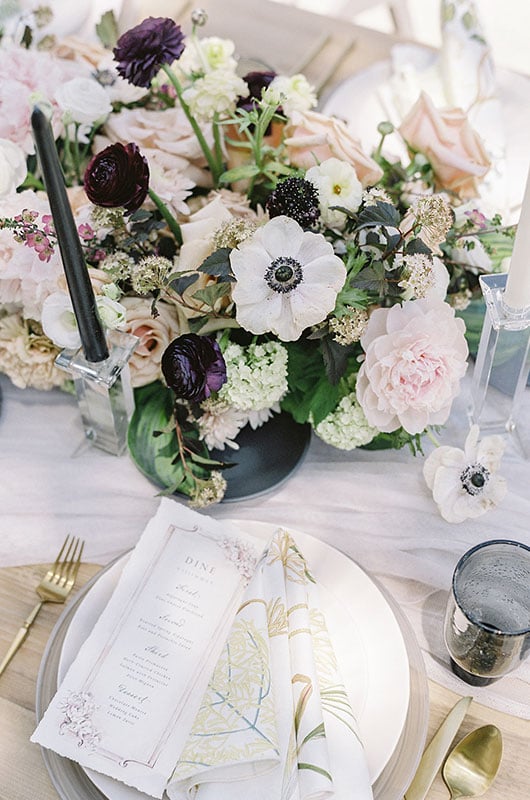 Anne Barge dressed the bride in stunning gowns with billowing skirts and intricate details that were complemented by natural, blush-toned makeup. Soft, delicate hairstyles done by the talented, Katie Gurley, tied together the bridal look and exuded effortless elegance into the shoot's classy feel. Each of the dresses left room to highlight the bride's beauty with their strapless necklines and simple, yet stunning features.
Her first gown was quite the added touch to her ceremony, as its layered feathered details turned heads and gave the bride-to-be the most glowing aura. She then changed into her reception dress that boasted effortless charm with its simplicity. Although this wasn't all for her statement style pieces throughout the night, she later added one more gown into the mix, that spoke of unique and lasting love. Its strapless bodice and detached puffy sleeves tied together the entirety of her wedding day attire.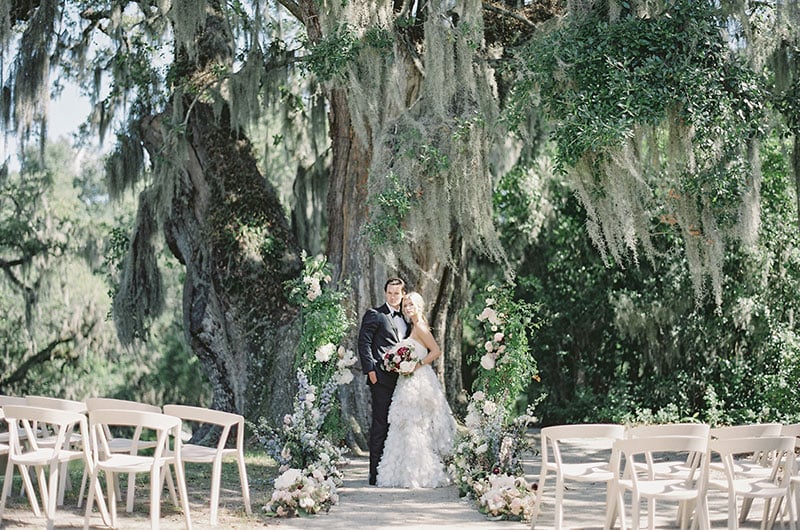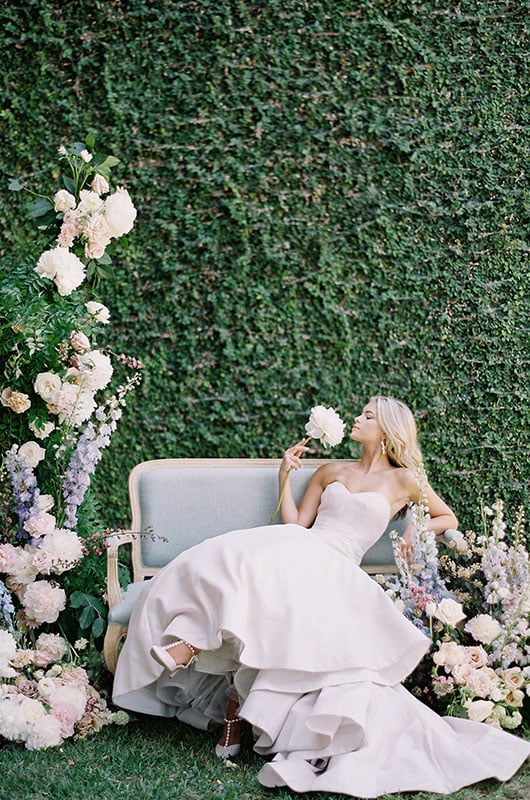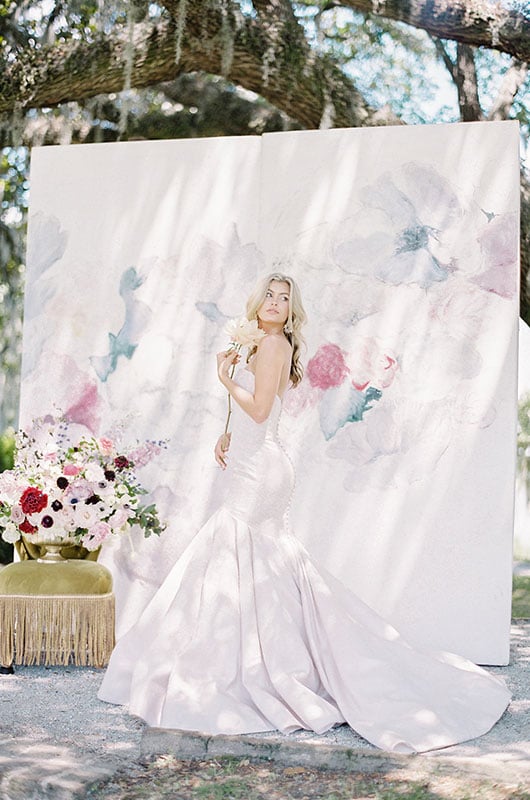 Amidst the florals and plush seating, the head table was wonderfully set under the weeping willows with varying candlesticks, gold dinnerware, and leafy printed napkins that rivaled the idea that eclectic and cohesive are mutually exclusive.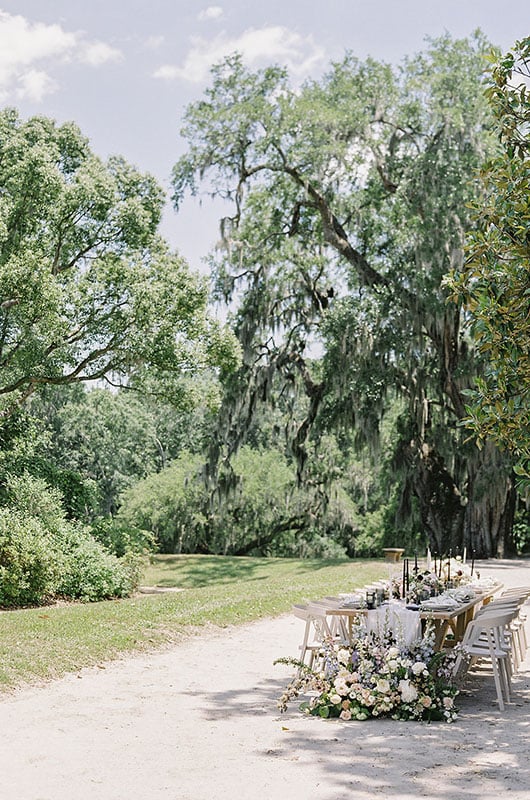 The multi-tiered cake from Sweet Rhi was a statement centerpiece for the reception as it rested prominently on a vintage display table. The winding designs of the dessert table coordinated with the stunning invitation suite by Floraison Design Co.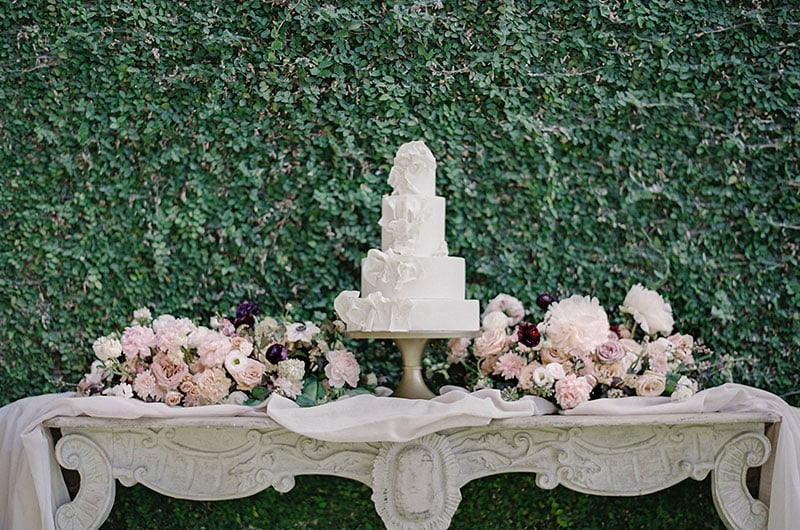 These newlyweds embodied the charm and grace of their big day, and with the help of this country estate that boasts an old-world wedding feel with an ethereal twist, the vision of class and elegance came together beautifully.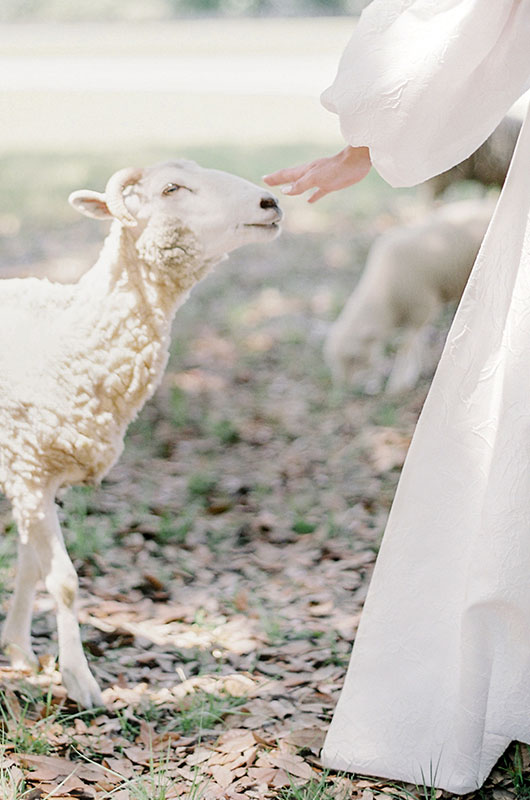 While Southern Bride does not wish to promote the use of plantations as wedding venues or as places of celebration, we feel it is important information to share that the venue of this shoot, a former plantation, has been operating since the 1970s as a 501-c-3 non-profit, educational trust. Tracey Todd, CEO, of the Middleton Place Foundation shared with us their mission
–  "Middleton Place voices its mission to enact positive change while connecting people with the historical events of American history. All weddings held at Middleton Place are not for profit, and any revenues go directly to education programs and scholarship funds for the African American descendant community of the property." 
For more information please visit: www.middletonplace.org