Chic, Sophisticated, and Dramatic Trends for the 2017 Bride
by Abby Turner
Trends are growing bigger and pushing the envelope more than ever and we are loving it!   In 2017, we begin to see brides take the reins to their wedding and showcase their personality in everything from the flowers to linens… but the best thing about these TEN trends below – there are so many ways for brides to use these trends as inspiration for their own big day on any budget.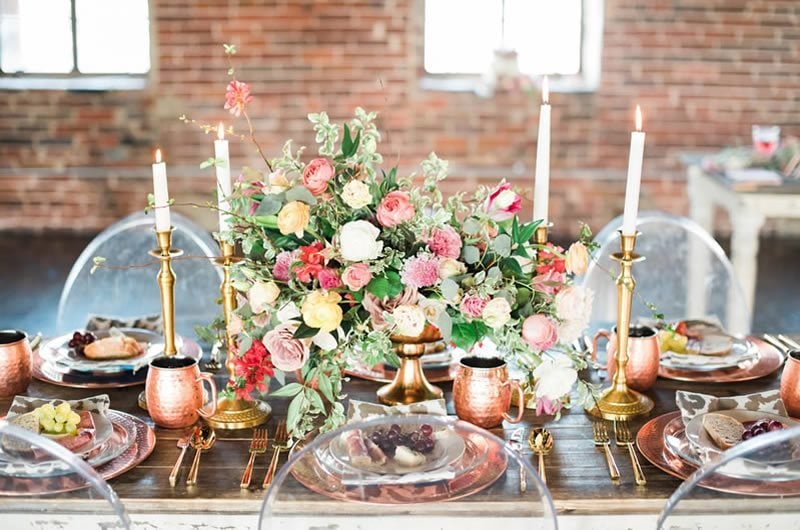 Flowers that Speak –
Flowers will continue to push the envelope. They move further away from tight contrived arrangements and become more loose and dramatic – they help tell a story. Anna Rogers with Magnolia Belle Florals in Conway, Arkansas captured so much emotion and personality in this shoot with her swoon-worthy blooms, which truly captivates the trend in 2017.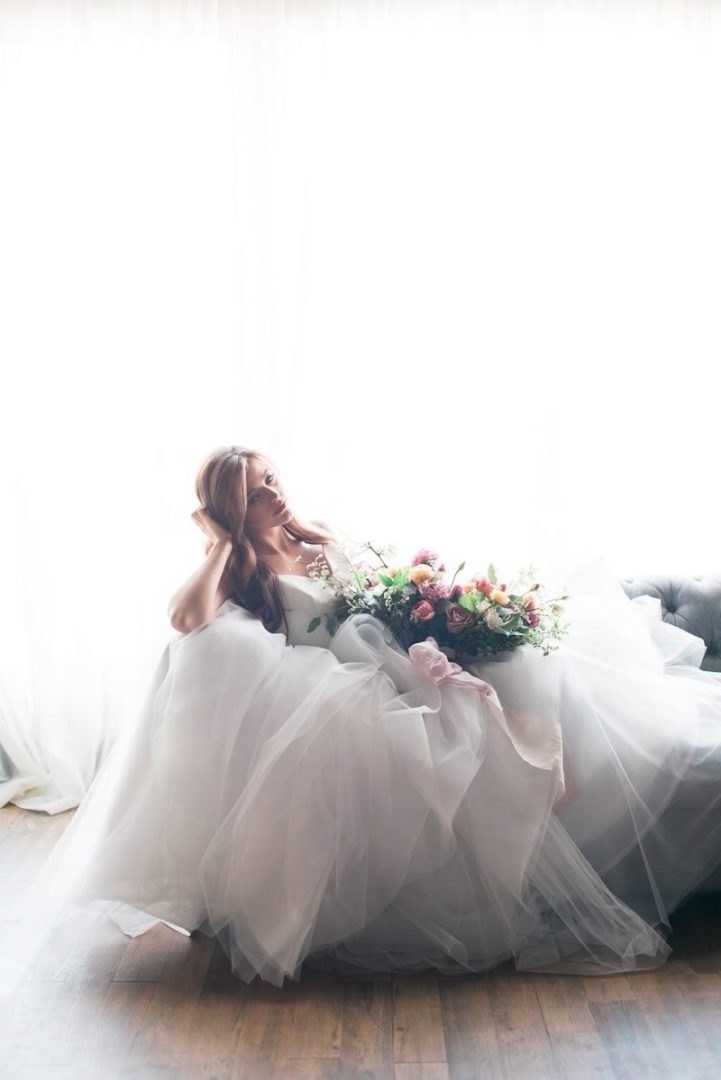 The Modern Bride.
Brides move away from traditional and really showcasing their personality.
We love this trend as it continues to develop year over year. Brides are really making their wedding a canvas to express their personality on. They are enjoying the vogue and dramatic sides of the most elegant of dresses. This dress that Haley is wearing is from Inverness Bridal Couture and we are "heart eyes" over it!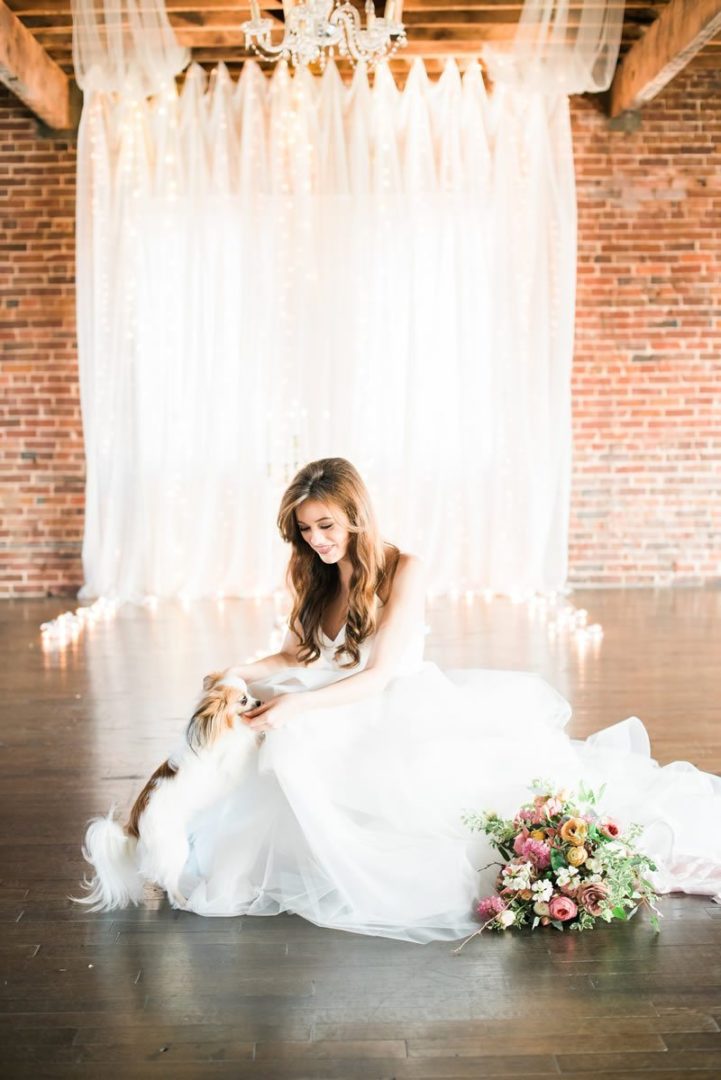 Capture Spontaneous
Not everything has to be planned and posed. The bride is enjoying the candid moments that captivate the emotion and atmosphere of her wedding. This makes reminiscing on the wedding that much better!
Molly Anne Sandefur, owner of Ma.designs is the mastermind behind these beautiful shots. She was so meticulous in making sure she captured every bit of emotion, every shot had purpose and exhibited personality. She created perfection.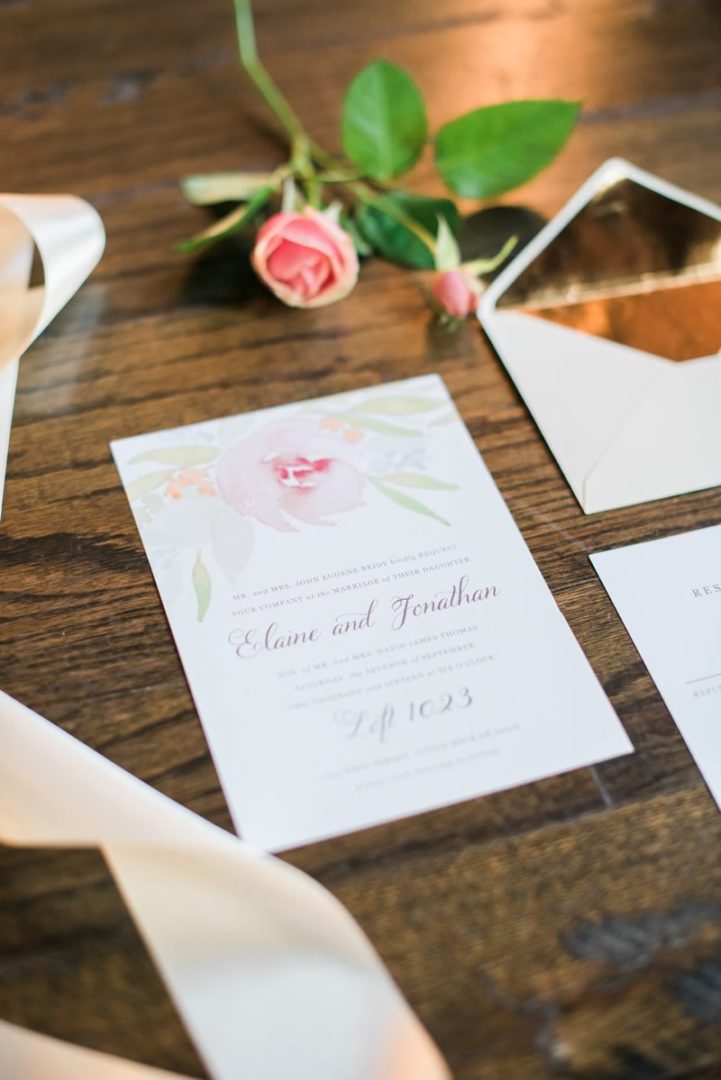 Invitations to Inspire
Brides are taking more pride in what they send to their guests. It's not just about embossed and foiled lettering anymore. They are stepping up their game. Taking a detail from the wedding, the flowers in the picture above, and individually water-coloring it on invitations gives the guest a glimpse of what the wedding will be like. Intrigue at its finest.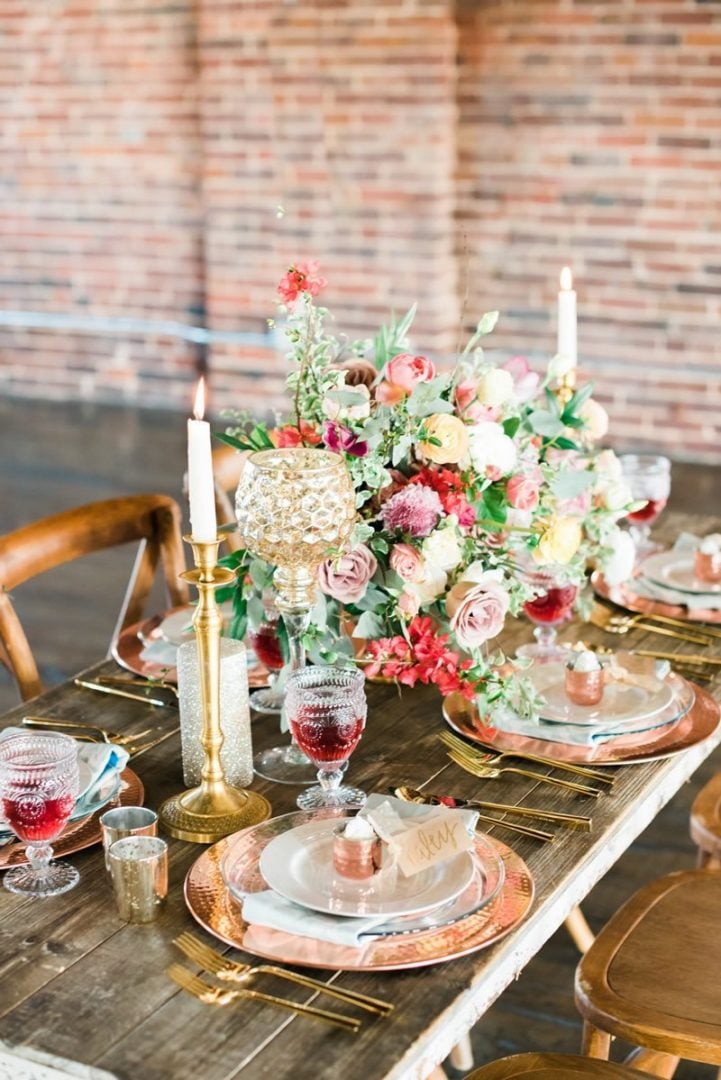 The Bold & Beautiful.
Don't just stick with one or two colors in your florals. Branch out (no pun intended) and bring in a lot of color to the design. Colors help tell a story, they evoke emotion. Brides are showcasing their personality in every aspect of the wedding day, but especially with their flowers. Don't be shy when it comes to flowers – be bold and beautiful!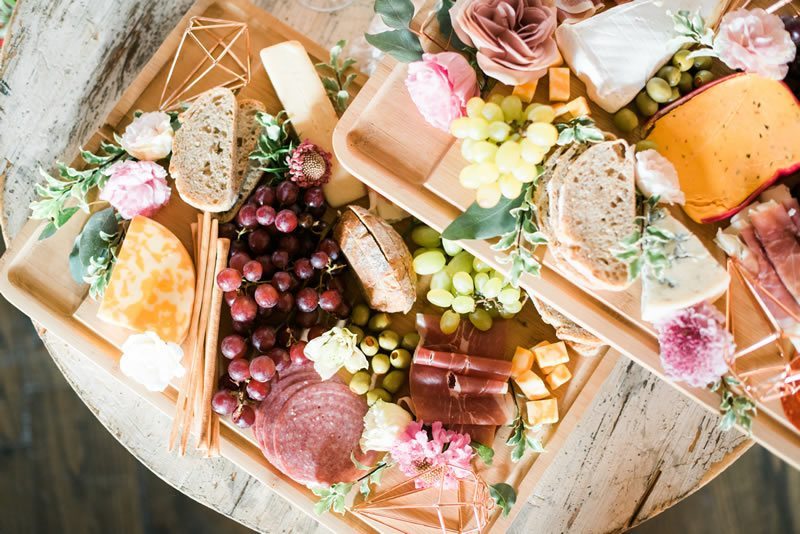 Chic and Fabulous Food –
Forget the meatball skewers and potato bars, we will begin to see elevated foods such as artisan charcuterie boards as well as food catered in from boutique restaurants that showcase the bride and groom's personality and relationship.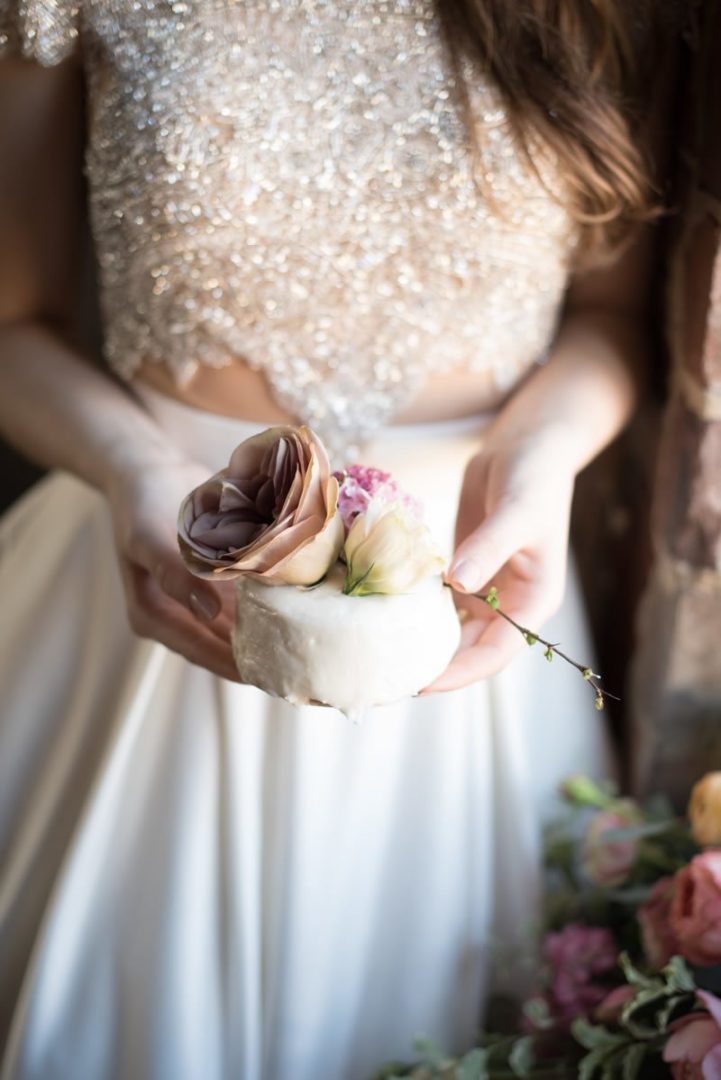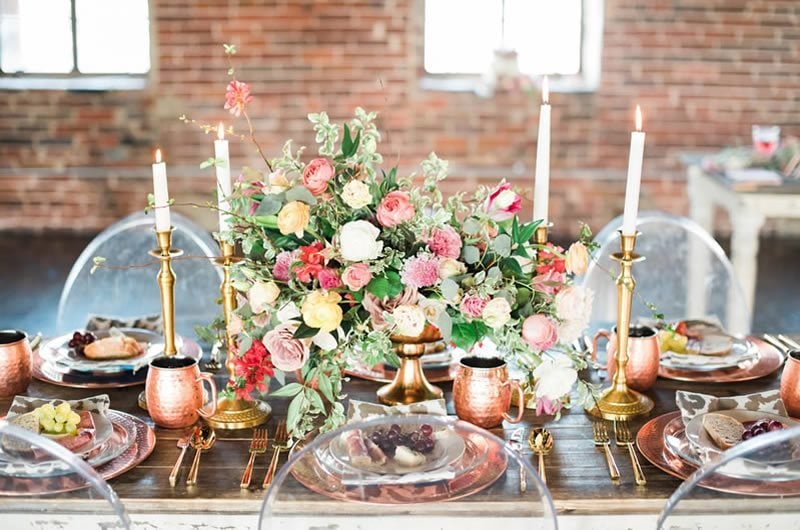 Make it mini:
We can't get over how cute this trend is. Since brides and grooms aren't limiting themselves to traditional cakes anymore – possibilities are endless. They are making desserts versatile and personalized. In addition, you can individualize each place setting with a sweet treat or create an elaborate display!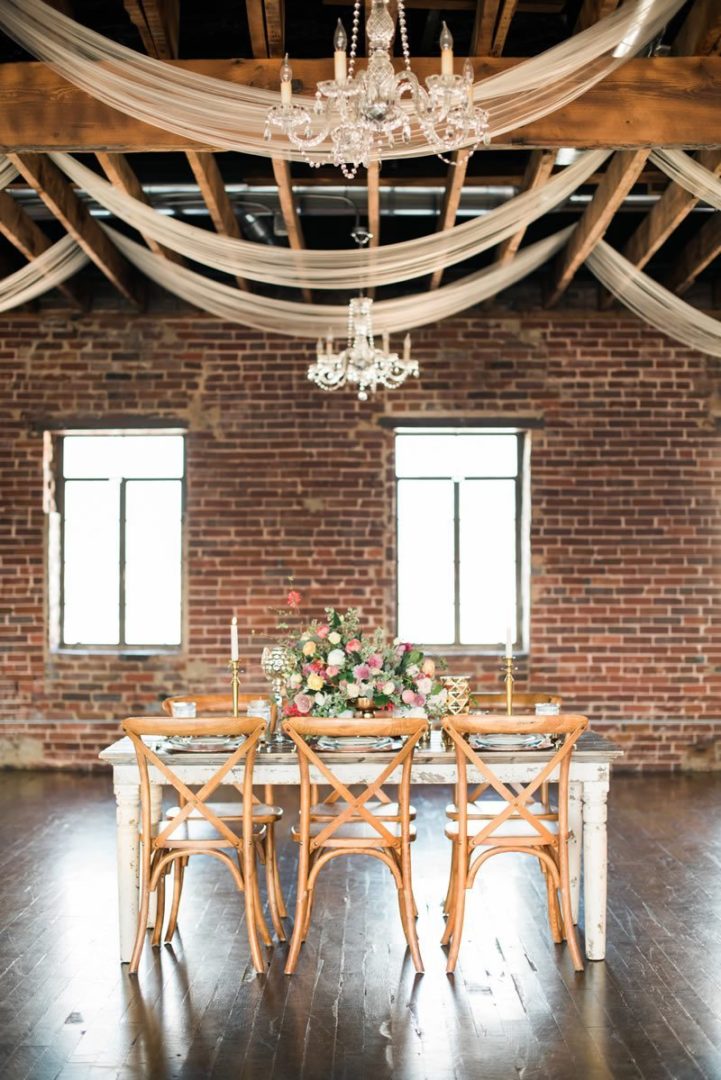 Stripping it Down –
What's better than starting with a blank canvas and making it your own? Despite gorgeous luxury venues, couples are enjoying having the freedom to design their own space. Don't be afraid to start with an industrial warehouse or a room with exposed brick. Again, brides are looking to push the envelope and show their personality.
Loft1023 in Little Rock, Arkansas is an urban favorite for brides. With 3 rooms and almost 10,000 square feet – this venue complete with stained concrete floors, wood beams, and gorgeous exposed brick is a must book for the modern trendy bride.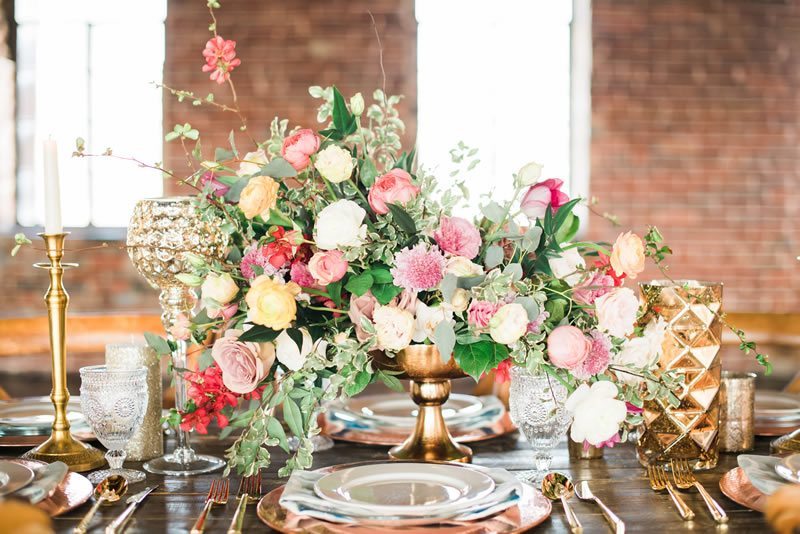 Mixed Metals Round 2:
Just like we haven't seen the end of barns and farmhouses – we are going to still see this gorgeous trend surrounding mixed metals. My favorite metal is mercury, so anytime I have a bride that wants to dive into this trend – we try to incorporate mercury because of its elegance and sophistication. So use them all; silver, gold, bronze, rose gold, copper, and mercury and make your wedding shine because this trend is here to stay.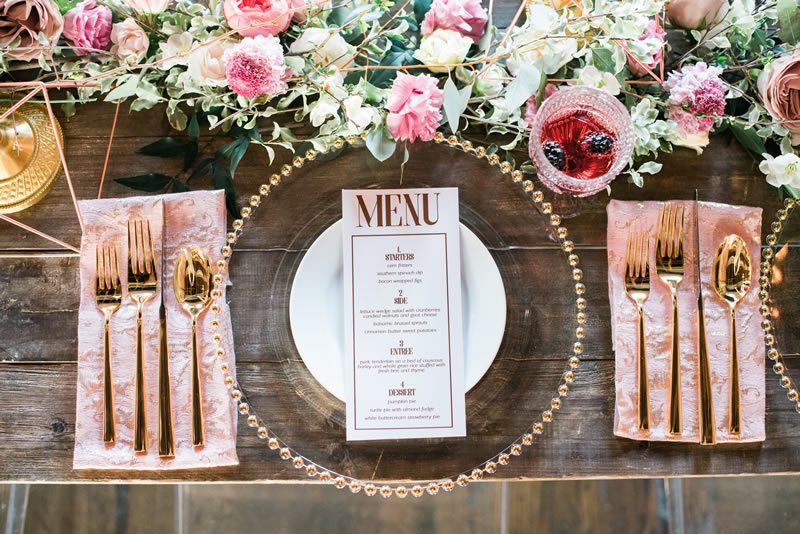 For the love of linens.
Throughout the years – we have seen a ton of sequins, satin, and embellishments on linens. But what we will start to see more of is specialty linens with big patters that help make the statement. Brides are treating their tables as canvases and using linens to create an over the top visual experience. We love this trend because dollar for dollar – linens will add more value to the wedding day than any other rental.
Eventures Party Rentals out of Fayetteville, Arkansas, supplied all of the gorgeous rentals for this styled shoot. Their team has the insight and expertise to help with any style wedding – and we love what items they had for us to style at the Loft1023.
Abby Turner is the owner of Turner & Co Events, a full service wedding planning and event coordination firm. Turner & Co styles weddings and events all across Arkansas, Oklahoma, and North Texas. Visit turnerandcoevents.com for more of their weddings and designs.
photographer: Ma.Designs | plan & design: Abby Turner & Events | venue: Loft1023 | florist: Magnolia Belle Florals | rentals: Eventures