It's late spring/early summer in the South, which means the magnolia trees are showing off their velvety blooms and releasing their heavenly and distinctive scent. After months of quarantining and a historically long and icy winter, their presence serves as a heartwarming image of life opening up again. And, with masks slowly being tossed aside, rescheduled events and joyous reunions with family and friends are finally taking place. We're thrilled to announce that The Southern Bride Magazine Summer 2021 issue is here to bring inspiration for the season of sun and celebration: it feels as sweet and refreshing as a cold glass of iced-tea on a hot summer day.
Southern women who overcome unimaginable challenges with uncommon fortitude while maintaining unwavering grace are often described as steel magnolias.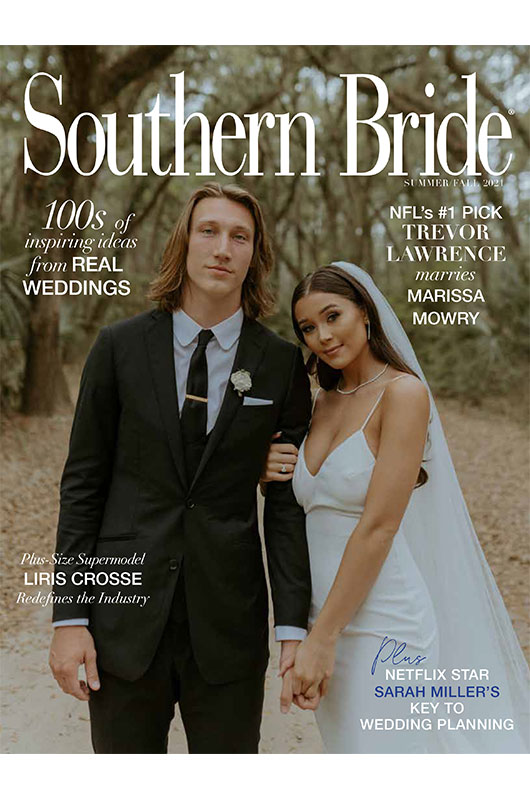 The impact of the pandemic has left a mark on all of us. Both men and women have collectively endured unimaginable circumstances; while our inner resilience has been tested and hopefully strengthened, let us each strive to show more graciousness and respect and to embrace our shared humanity.
This issue features a unique group of weddings, all of whom were challenged by COVID in some way. We are thankful not only for the opportunity to share their stories, but also for vendors within the wedding industry who have continued to support us through a transitional business model change.
Our gorgeous cover couple features the NFL's #1 draft pick, Trevor Lawrence, and his lovely bride Marissa Lawrence, who graciously spoke with us after Trevor's announcement to join the Jacksonville Jaguars. What an exciting time for this young couple! We wish them a lifetime of happiness, and we couldn't be more thrilled that they and their photographer Katie Wilson wished to share their wedding with Southern Bride.
Also gracing our pages are top supermodel Liris Crosse and celebrity wedding planner Sarah Miller, co-star in the Netflix series Marriage or Mortgage. Each shares a bit about their professional and personal journeys. Both women exhibit extraordinary intentionalism: Liris, a plus size model, in her commitment to diversity, and Sarah in creating celebrations that invest in long-lasting futures. If you've been binging the show, Alex & Whitney, who are featured in the Just Married section, might look very familiar. You can also find the charming wedding of Aidan & Brady in our Just Married section: they have honored us with their feature, and we are proud to showcase our first groom/groom wedding.
Luscious landscapes and dreamy gowns color the pages of our styled shoots, which showcase inspiration from the Regency Era-inspired series Bridgerton, the enchanting landscape flaunted in Emily in Paris, or classic films that have comforted generations. Their attention to design and detail will provide plenty of decor ideas for your planning.
In addition to these styled shoots, we are thrilled to provide brides with a tangible planning resource. Our illustrated wedding planner, though not comprehensive, is designed to alleviate the beginnings of planning anxieties and to help couples take their first steps towards walking down the aisle.
And who better to demonstrate walking down an aisle with confidence and style than the incomparable Liris? She dazzles our fashion spread in Maggie Sottero's beautiful gowns while helping brides find their personal style.
All of this, along with several luxurious destinations that make traveling again feel all the sweeter, lies in the Southern Bride Magazine Summer 2021 issue, in which the joy of a world reopening provides inspiration to be cherished during this exciting time in your life. Happy Summer y'all, and may your inner steel magnolia continue to blossom! Stay safe, stay strong, and love fiercely.
Image provided by Katie Wilson