If you've always dreamt of saying I-do in a venue fit for royalty, there's no better location than a castle to make your fairytale wedding dreams a reality. We've compiled some of the world's most beautiful castles to host your own royal wedding. Whether you've always imagined getting married abroad or right here in the U.S., each of these castle wedding venues for a fairytale-inspired ceremony offer unique, stunning backdrops for a royal experience you will marvel at for a lifetime. 
1. Biltmore Estate: Asheville, NC
The timeless elegance of the 1895 Biltmore Estate is calling your name. Located in Asheville, North Carolina, and consisting of 250 rooms, the all-American Chateau offers an array of amenities, including thousands of vibrant blooms, rich architecture and history, wine tasting tours, carriage rides, and multiple outdoor activities. There are also over 10 locations within the estate to host your dream ceremony and reception. All wedding packages include a selected menu of the finest cuisines, four-hour open bar, customized wedding cake, champagne toast, and a complimentary overnight stay for the bride and groom. The castle is also home to many famous films such as The Odd Life of Timothy Green, Forrest Gump, Richie Rich, and more.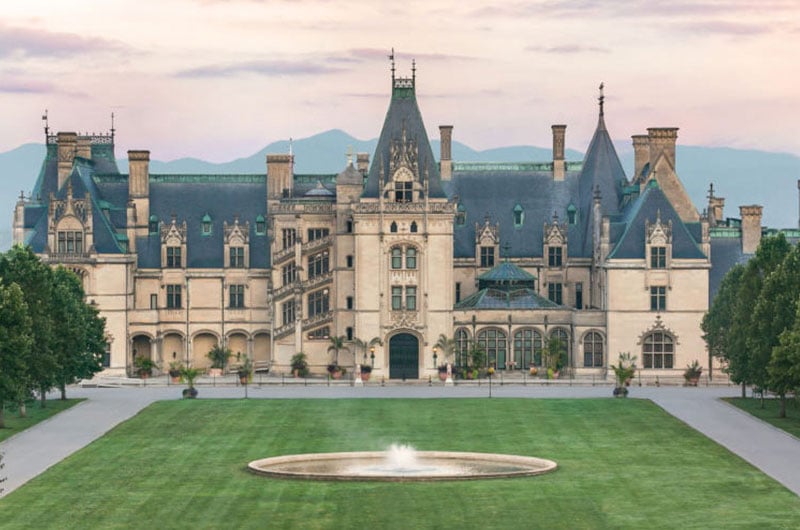 2. The Kentucky Castle: Versailles, KY
In Versailles, Kentucky, sits one of the most luxurious and romantic wedding destinations in the United States. Kentucky Castle includes nine spacious and state-of-the-art event spaces, including a dazzling ballroom. The boutique hotel can also arrange activities such as a romantic carriage ride, hot air balloon lids, farm-to-table dining experiences, and a customized bottle of bourbon created just for you so you can enjoy an all-inclusive, luxury wedding weekend.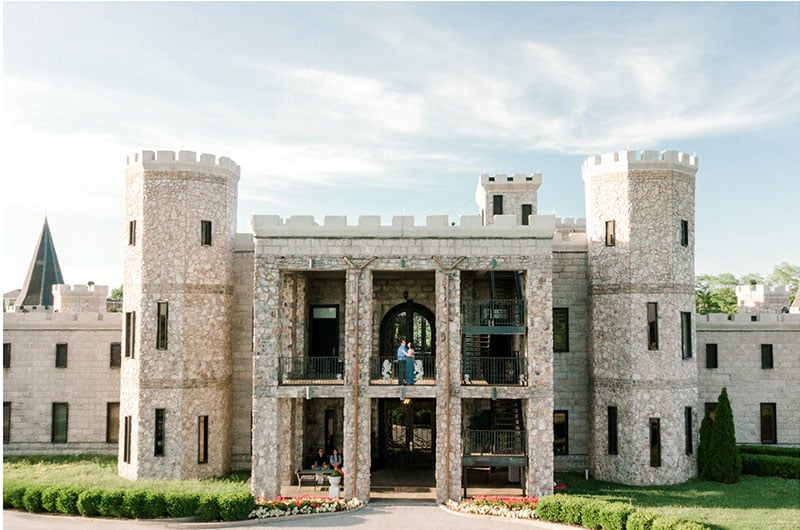 3. Boldt Castle: Alexandria Bay, NY
Built by George C. Boldt in honor of his love for his wife Louise, Boldt Castle offers a  symbolic location to start off a marriage made to last a lifetime. This fairytale venue is located in St. Lawrence River's 1,000 Islands near Alexandria Bay, New York, and wedding parties are given the privilege to use the gazebo, Alster Tower, Powerhouse, and the Dove-Cote tower. Ceremonies located at the Dove Cote offer pristine views of the St. Lawrence River and allow couples to make a grand entrance out of Boldt Castle before they tie the knot.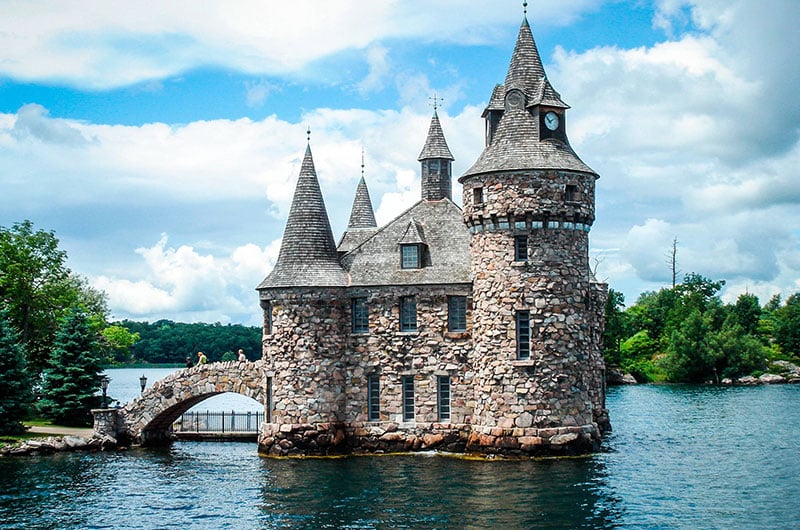 4. Castle Farms: Charlevoix, MI
Located in the resort community of Charlevoix in Northern Michigan is Castle Farms, which brings a royalty-inspired wedding experience to brides and grooms who don't want to travel abroad. The fortress was built in 1918 and modeled after stone barns and castles found in Normandy. The eight different venues inside the castle range from fairytale garden rooms to indoor chapels to four different courtyards, so you can pick the location that fits your vision and make your wedding day the experience of a lifetime.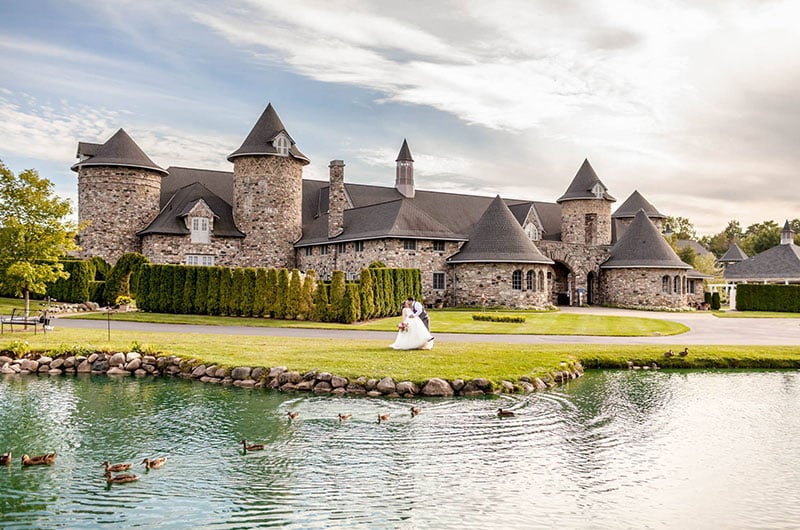 5. Rhodes Hall: Atlanta, GA
Rhodes Hall, located in Atlanta, Georgia, is a highly sought-after wedding venue that combines traditional Victorian accents with Romanesque elegance and charm. With painted glass windows and a carved mahogany staircase, Rhodes Hall is the epitome of a fairytale-inspired wedding venue. The castle can accommodate up to 150 guests and guests may utilize the first floor of the home, front porch, and front lawn to capture multiple different picturesque views throughout the big day.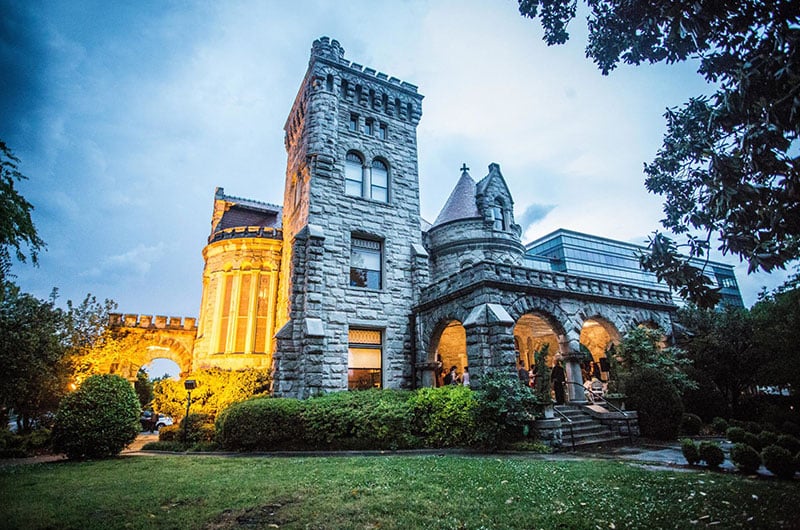 Castles Abroad
#DreamNowTravelLater! If you have more time to plan your ceremony and want to really live like a princess for the day, consider these fairytale-inspired wedding venues situated across the pond.
6. Chateau de Challain, France
Chateau de Challain is the epitome of luxury and magnificence. A full-service chateau, it take cares of all your wedding planning needs, from your cake, flowers, and food and drink to music, entertainment, ceremony, and everything in between to ensure that your big day is as flawless as you've always imagined. Accommodating over one hundred twenty guests in its twenty-three suites, this chateau is grand enough to make all your extravagant wedding dreams come true. Location options for the ceremony are almost endless and include a large gothic cathedral, small chapel within the chateau, wedding gazebo, memorial tower, woodlands outside the chateau, and Bridgerton-worthy bridges and gardens.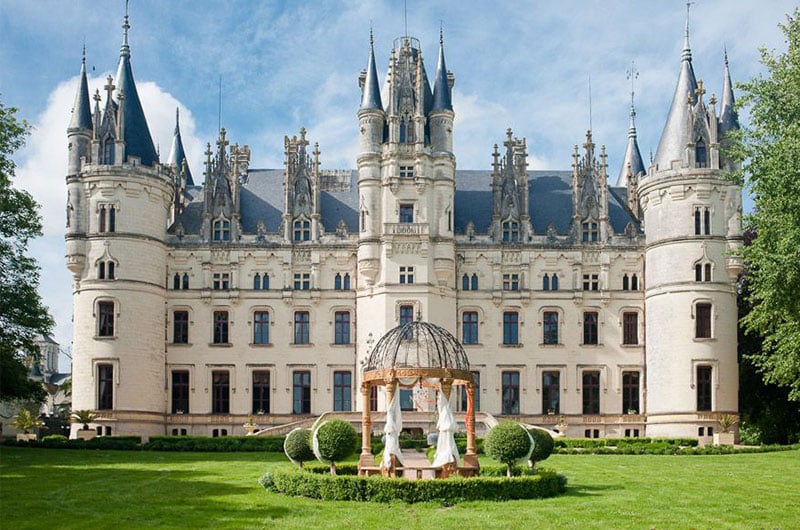 7. Hluboka Castle: Hluboka nad Vltavou, Czech Republic
As one of Czech Republic's most impressive castles, this late gothic palace boasts intricate design details that are almost out of a fantasy. Rows of bushes and colorful foliage guide you to the fit-for-royalty front gate, where you can wander through the courtyard, chapel, art gallery, and tearoom. Inside the castle is home to sixteenth century tapestries, wood carvings, portraits, and over-the-top chandeliers. With eleven towers and two internal courtyards, the one hundred forty rooms in the fortress allow guests to keep exploring and find new wonders everywhere they go.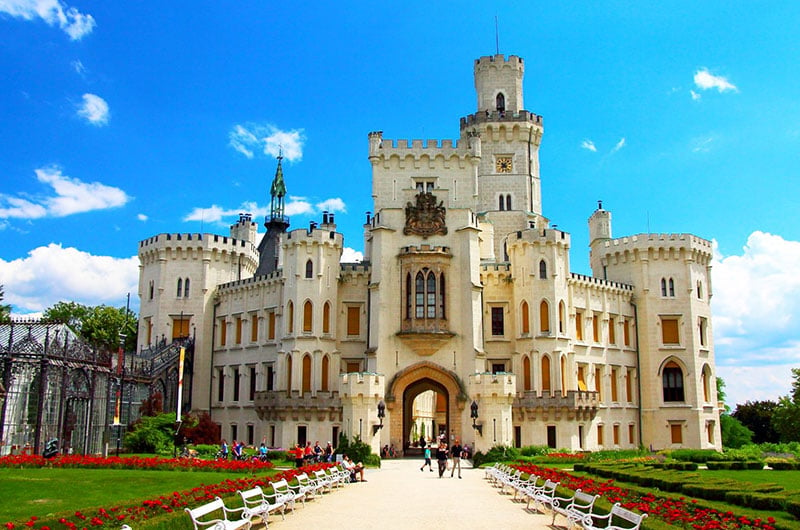 Image provided by Hluboka Castle
8. Ashford Castle: Mayo-Galway, Ireland
Overlooking the shores of Lough Corrib in County Mayo, Ireland, lies Ashford Castle that is nothing short of a venue fit for a king and queen. The eight hundred-year-old fortress consists of eighty-three bedrooms and suites and even includes a fairytale hideaway cottage where couples can relax alone and soak in the private gardens and lake front views. Guests can explore the ancient mansion or enjoy activities such as falconry, horseback riding, golf, river cruising, fishing, and spa treatments.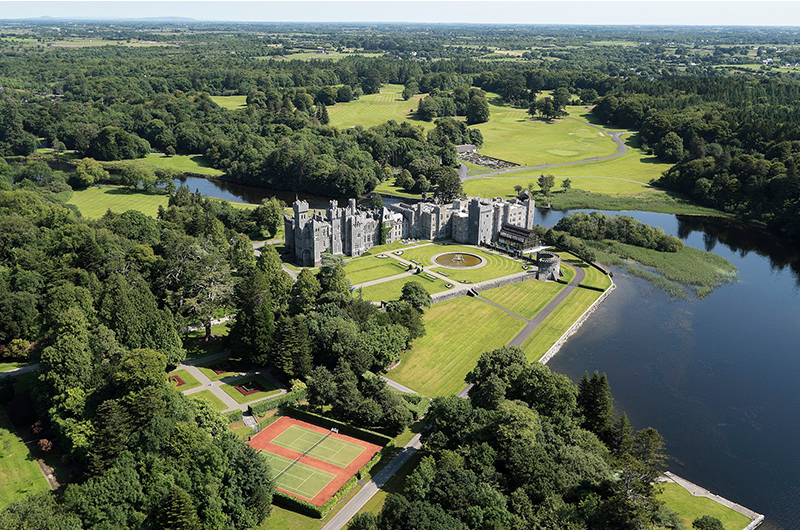 9. Castello Di Vincigliata: Fiesole, Italy
 An unforgettable Tuscan wedding awaits you on a secluded hill right outside Florence, Italy. The thirteenth century Castello Di Vincigliata encompasses romance and rich history while offering a princess-worthy balcony overlooking the city and a breathtaking courtyard big enough to accommodate one hundred twenty guests. The castle is not open to the general public, which makes it ideal for couples who dream of an intimate but lavish destination wedding.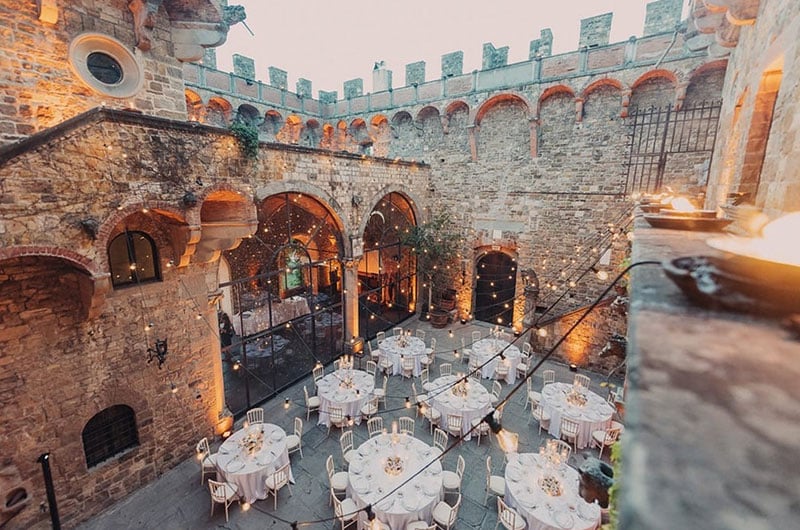 10. Stonefield Castle: Stonefield, Scotland
Tucked away in the Scottish hillsides and sitting on sixty acres of alluring woodland gardens lies Stonefield Castle. The fortress-turned historical wedding destination is composed of thirty bedrooms with a capacity of up to one hundered twenty guests. Ceremonies can be held in one of the castle's charming banquet rooms or on the romantic terrace overlooking the shores of Loch Fyne. The architecture throughout the building expresses the historic Scottish lifestyle, creating an enchanting environment for a wedding fit for royalty.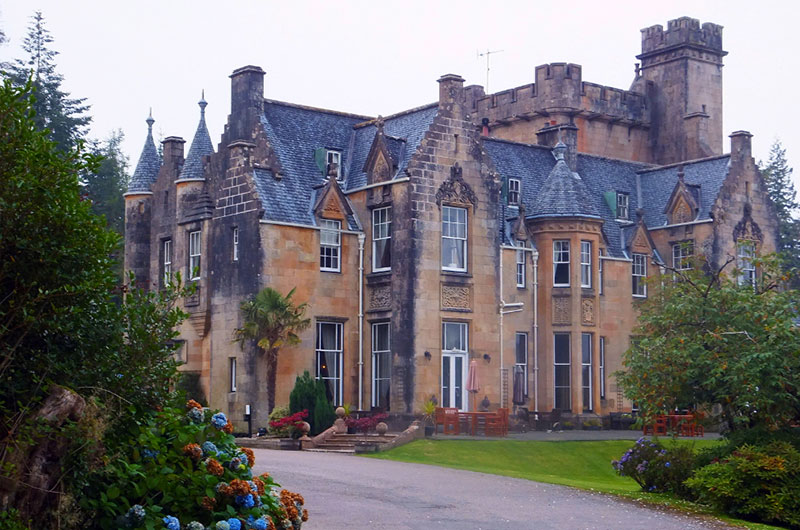 With lavish architectural details that pop against lush, dramatic settings, each of these ten castle wedding venues for a fairytale-inspired ceremony creates a unique experience to host your own royal wedding. Visit parts of the U.S. that offer historic and elegant venues or #DreamNowTravelLater and seek out castles on different shores. Either way, your fairytale wedding is well within reach, and it starts with these venues taken straight out of the storybook. 
Written by Lauren Bjerke