Written by Katie Ginella
Matt and I said "I do" on a cool evening overlooking Table Rock Lake in front of a panoramic window surrounded by twenty-five of our closest friends and family members. I remember six months into dating Matt, he was at Big Cedar Lodge covering a work event; for The Golf Channel featuring the best destinations and golf courses. He called me from The Chapel of the Ozarks at Top of the Rock and said "If we ever get married, it has to be here." For a guy who travels the world 250+ days a year and tell me that this destination was the perfect place for his future wedding, meant a lot. Fast forward 18 months after he proposed and without ever seeing Big Cedar myself, we booked the date.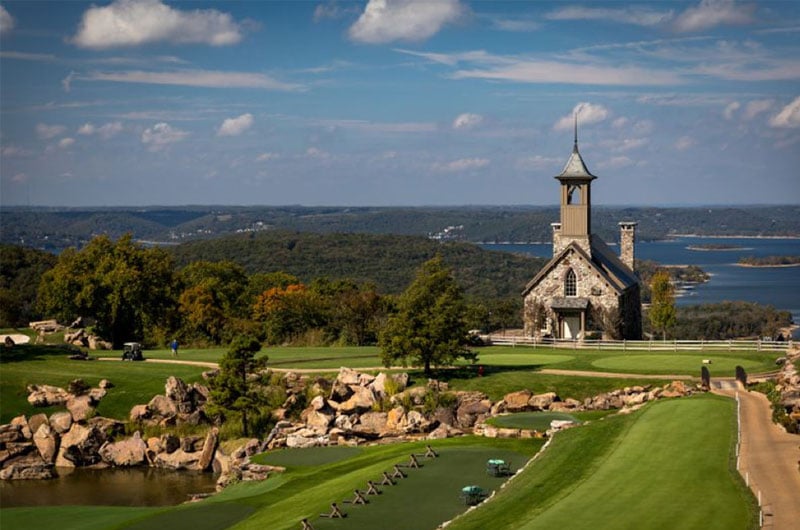 Shortly after, I got a call from "Say Yes To the Dress". They heard about our engagement and the location we chose and wanted to come along for the wedding. I took my best friend to Kleinfeld in New York and with the help of the world's best consultant, Shay Yarbrough, I chose a David Fielden sheath dress that I thought was perfect.
We wanted to make this an intimate evening so we only invited our closest friends that meant the most to our relationship. The majority of my family and friends had never been to Big Cedar so it was going to be a discovery weekend for everyone. We wanted to keep this a weekend about love and relaxation.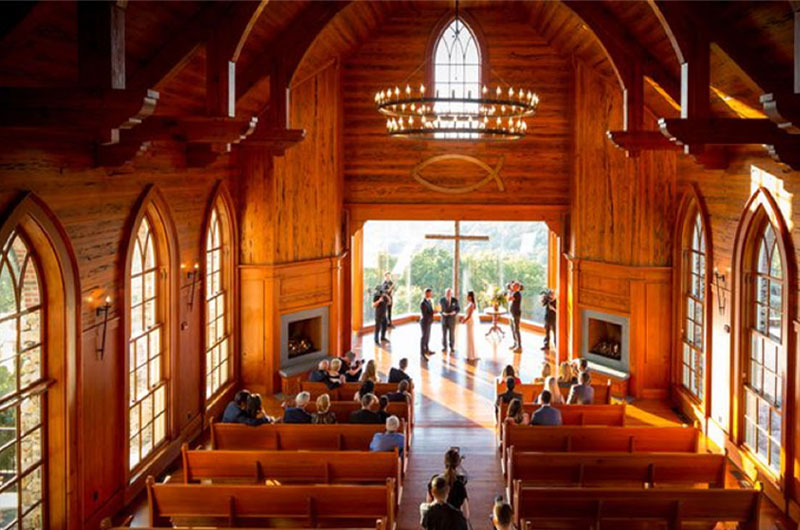 I wanted a rustic wedding and to showcase all the local flowers. We also wanted to watch the sunset over the golf course. Big Cedar is all about enjoying nature and the beauty of the great outdoors so we started the weekend with fishing and dinner at nearby Dogwood Canyon. Everyone had a guide to try their hand at fishing and then we ate, told stories, and laughed at old memories next to a beautifully lit waterfall. Dogwood Canyon is a short shuttle ride from Big Cedar's lobby so it was a great amenity to offer to our guests. You can get a tram tour of the grounds, go on segway tours, hike, bike and there is an amazing treehouse just for kids to explore.
 On the morning of the wedding, the guys went out for a round of golf on the short course at Top of the Rock while the ladies hit the spa. I have been all around the world with Matt and have been lucky enough to sample the spas at a lot of resorts. Cedar Creek Spa is by far the best I have ever visited. The ladies and I got massages and our hair done and they were quick to comment on how pleased they were.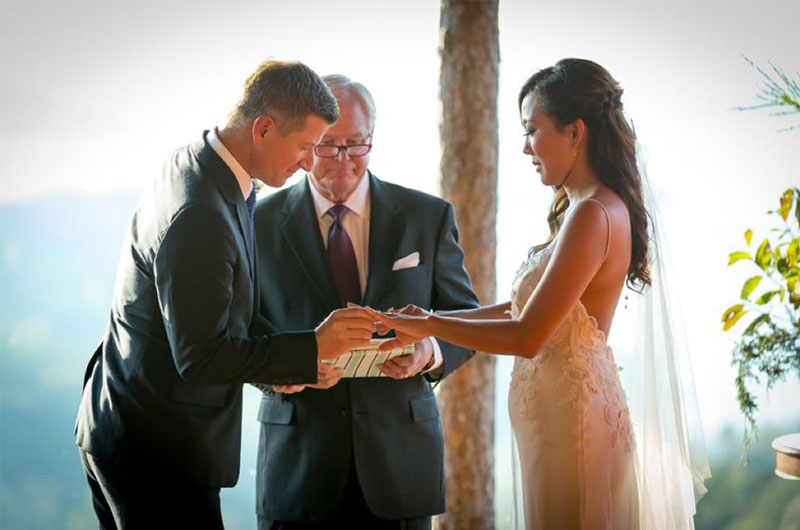 At 5 p.m. I was carted to The Chapel of the Ozarks at Top of the Rock and walked down the aisle to "Let it be me" by Ray LaMontagne, this was a moment I will never forget. Our dear friend, Davis Sezna, married us. To be surrounded by the people who have supported and loved our relationship from the beginning and with the backdrop we had, was truly magical.
All of the flowers and décor were locally grown or picked. We wrote our own vows and expressed our gratitude to our friends for making the trip for our wedding. Just as we said "I do" the sun started to set behind us and the chapel could not have been more beautiful. How beautiful is this chapel? Johnny Morris, owner and founder of Bass Pro Shops and Big Cedar, built this for his daughter's wedding. You can feel the love in this sweet space. Every stone, every slat of wood was put in place for intimate ceremonies like this. It was beyond perfect for our day.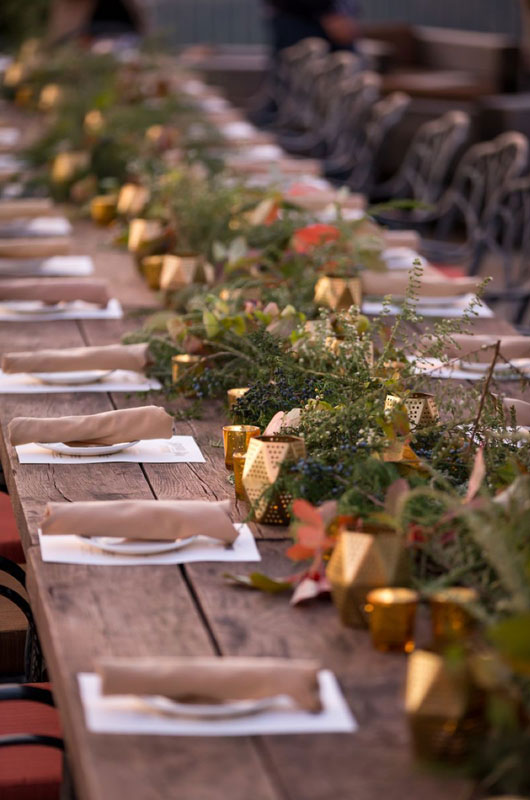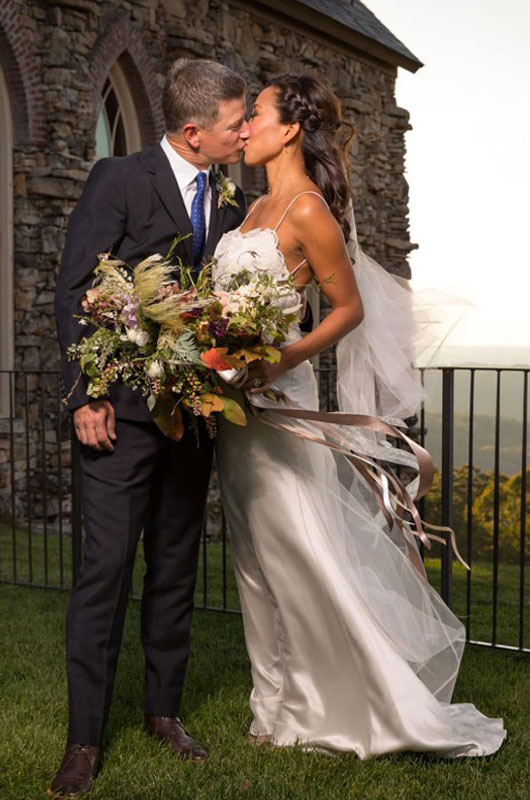 We had a small reception at the Buffalo Bar that looks out onto the chapel and is also situated at the highest point in Taney County, highlighting the best views of the beautiful Ozark Mountains and Table Rock Lake. I sent a picture of a cake that I thought would be perfect to the team at Big Cedar and they effortlessly recreated it for me. We all toasted, our friends made speeches and Matt announced that we were expecting our first child together. It was the perfect weekend.
We have been back to visit a few times and every time it is just as magical as the day we got married. When the baby was 9 months old, we took him back to Big Cedar and relived our wedding weekend. It was a special moment to walk him down this aisle inside the same chapel we started our life together.
If you love amazing food, wine, stunning scenery, the best in service, and things to do for all ages, this is your place. Everything is remarkable and we are so thankful to have had this experience.