Alexandra Villarreal & John Conover
Dreamy Winter Fantasy
Married
Jan 16, 2022
Austin , Texas
Photo Credit
ShyLaurel Photography
---
Style Guide
Color Palette
Style
Whimsical
Season
Winter
---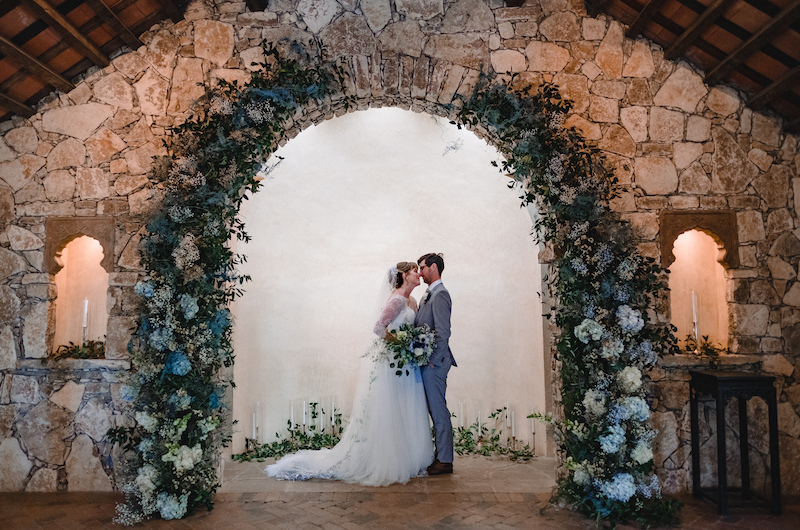 The Proposal
For Valentine's Day, John planned a weekend getaway to San Antonio, Texas. He brought chocolate-covered strawberries and John Kelly chocolates for the occasion — Alexandra's favorite. Instead of the typical San Antonio experience, John planned for a visit to the city's beautiful Japanese Tea Garden nearby. The two slowly made their way to the most gorgeous spot, a waterfall. There, amidst the eaves of overhanging trees, John nervously stopped Alexandra (who thought the pause was to give John's recently sprained ankle a break). He carefully lowered himself onto one knee and asked her to marry him, and she said yes!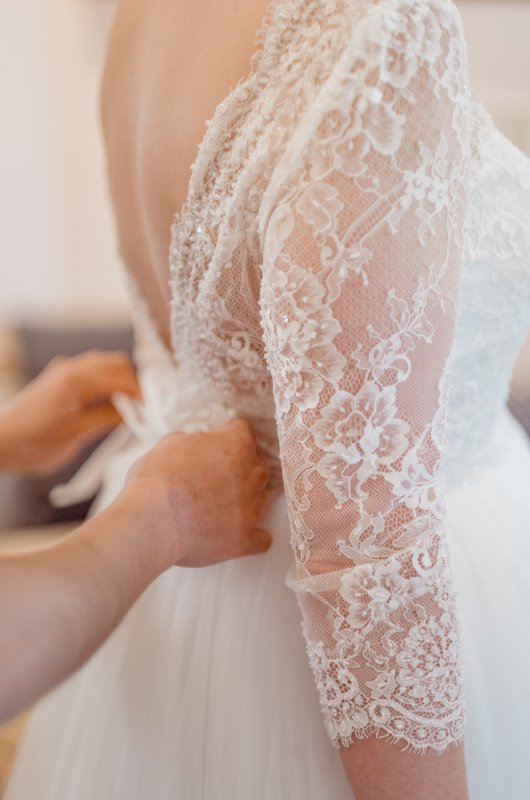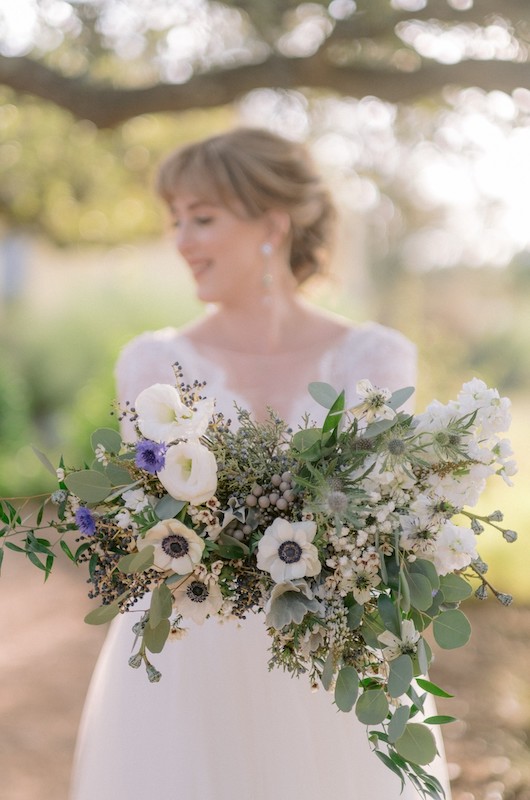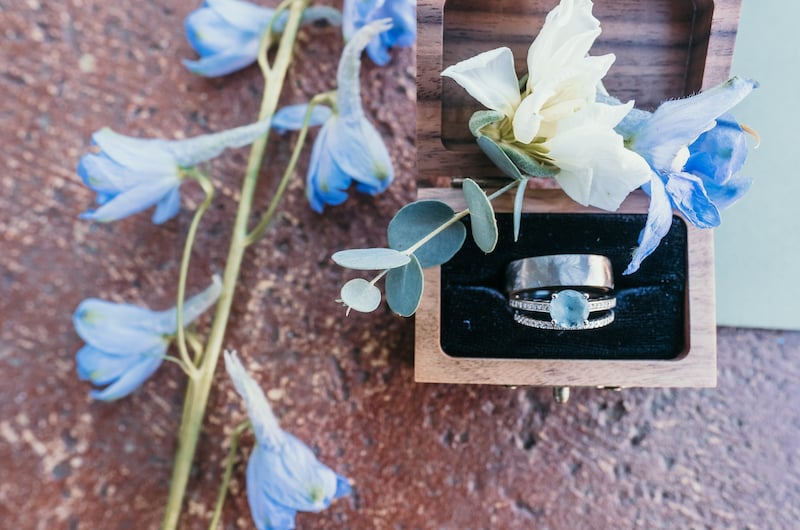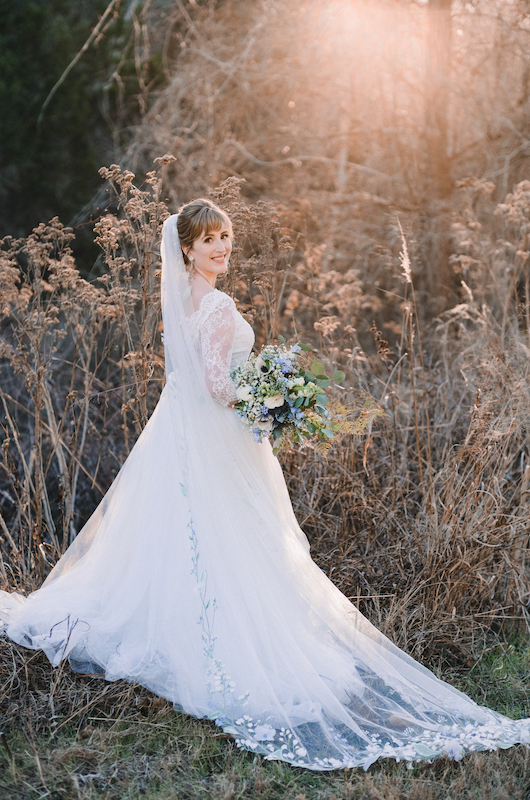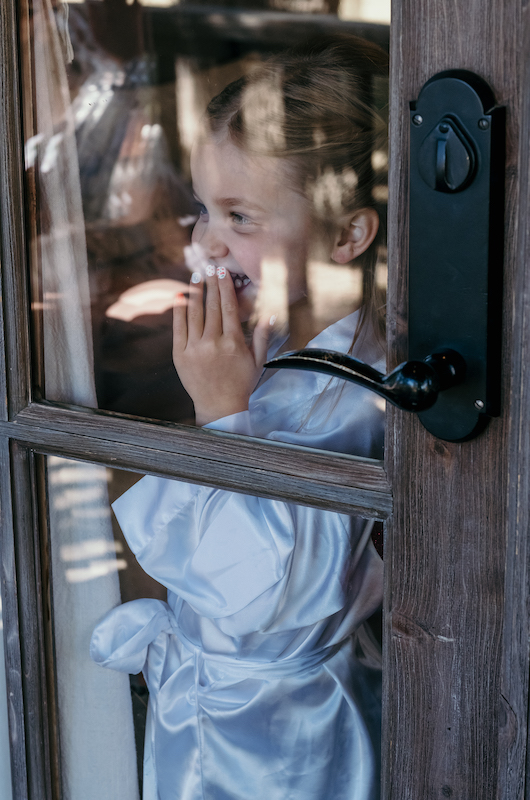 In Preparation
Because the wedding was in January, they wanted the décor to create a sense of winter fantasy. They decorated Camp Lucy's small chapel with candles and an abundance of flowers. For the reception, everything was candlelit and teeming with greenery to give a warm winter ambiance.
To incorporate personal touches, the earrings for the welcome dinner, ceremony, and reception were made by Alexandra's godmother, who worked with her for months to design the perfect look. The couple imported Alexandra's favorite hot chocolate, Angelina Paris, from New York, to have something from their time living together in Manhattan. The napkins and stir sticks had their toy poodle, Teddy Bear — whom they called their "ring bear," as he served as their ring bearer for the ceremony — on them, designed by their friend Aedan Richter. Alexandra's veil, shawl, and bridesmaids' shawls had personalized details to match the bouquets, customized through an Etsy shop from Vietnam. The music for their ceremony was performed by their friend, Lydia, who went to college with John. She played "Darling Divine" and one of her original songs for their entrance.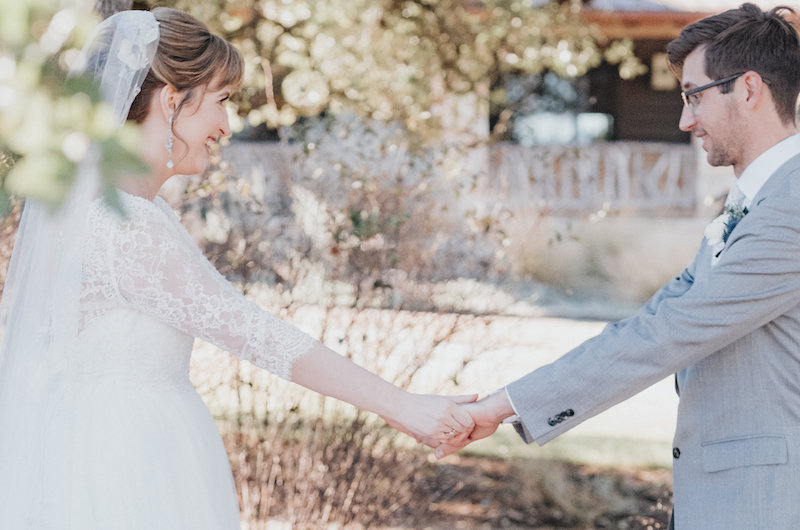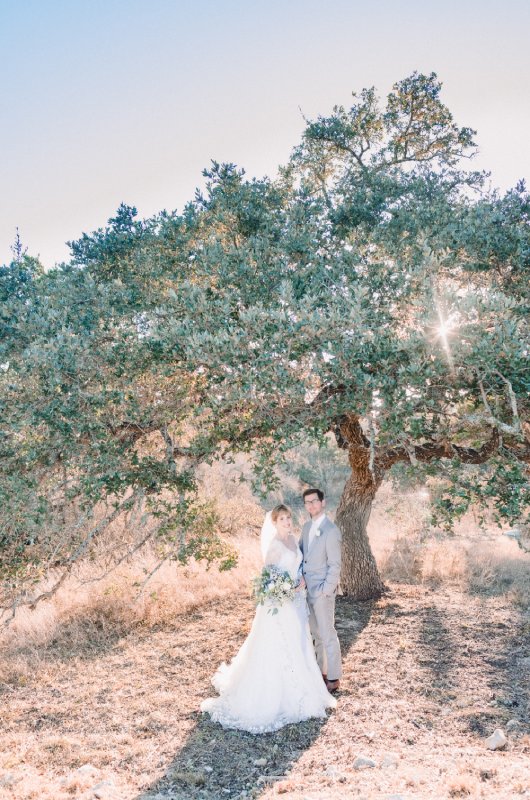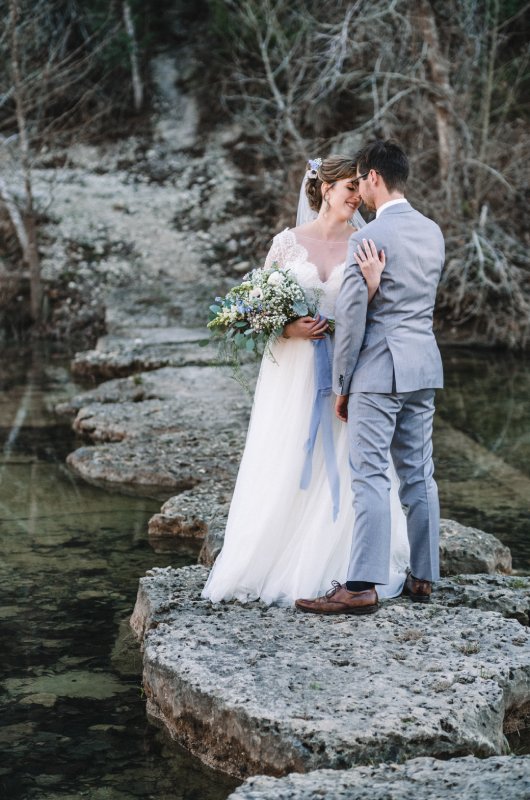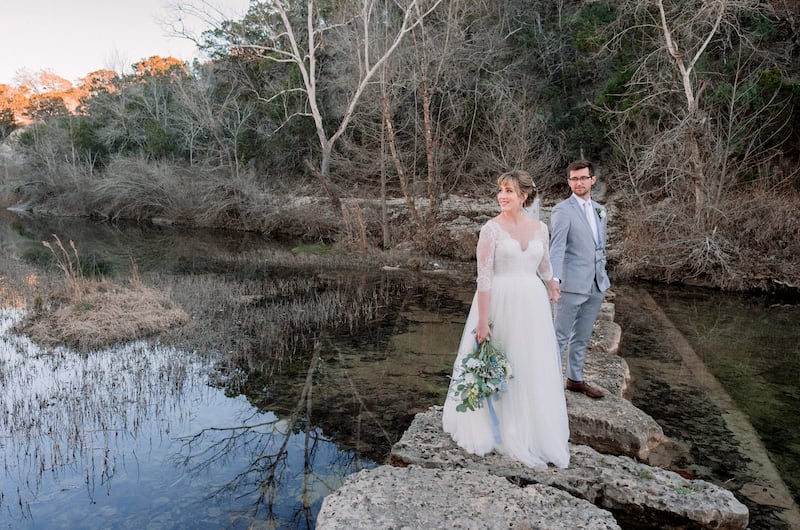 The Big Day
They started their wedding day with yoga onsite at Camp Lucy, which was the perfect way to relax with members of their wedding party. As Alexandra got ready, John brought her a chai — the sweetest gesture that reminded her how lucky she was to have someone who always knew what she needed in the moment. Before their first look, they exchanged gifts; Alexandra made John a scrapbook with every great adventure they had been on since they met in August 2017. John gave her a beautiful lighthouse lamp, because they've always called each other their lighthouses shining their way home. For the ceremony, they wrote their own vows and did a handfasting ceremony with a garland made of baby's breath. Their officiant was a family friend who had known Alexandra since childhood.
The hit of the night was the personalized ice cubes from Full Spectrum Ice. They also got ballet flats for anyone wearing heels, so they could change out and relax for the night. Chocolate liqueur was brought in for chocolate martinis, Alexandra's favorite drink. The couple danced the night away, had a delicious s'mores bar, got to see so many friends and family from around the country, and then finally got a moment to debrief together during their vintage car ride to their hotel in Austin.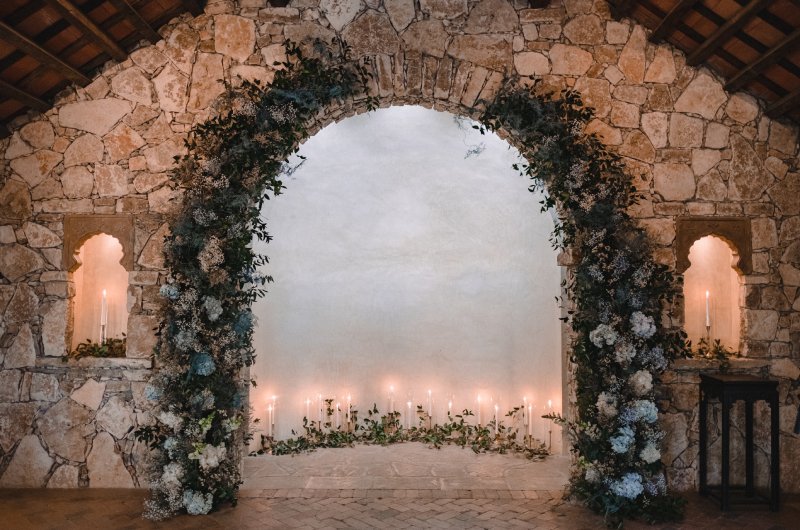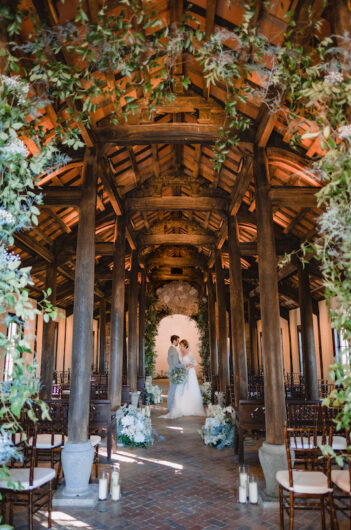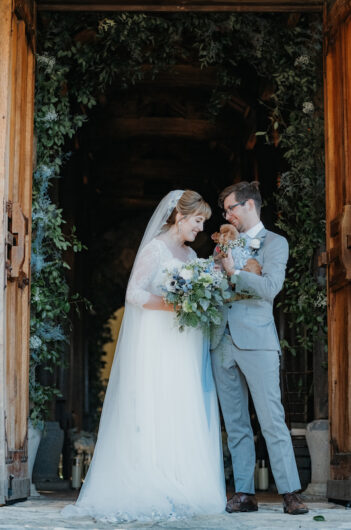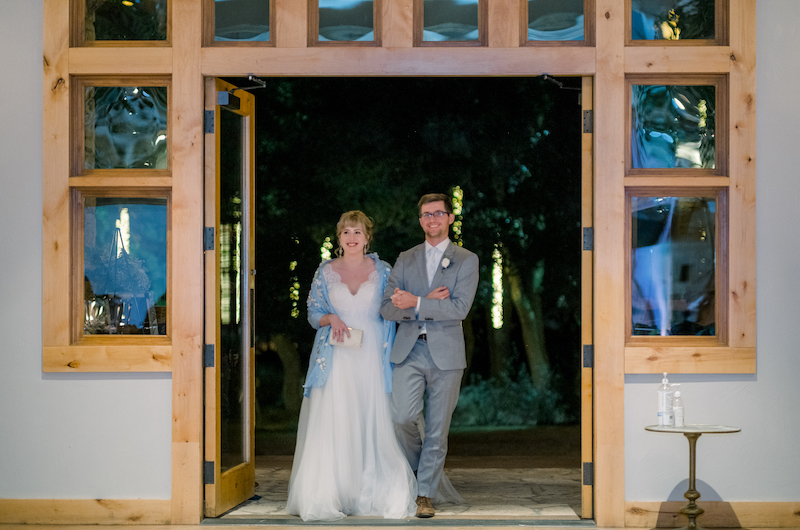 The Retreat
Alexandra and John took a short mini-moon through Getaway in the Texas Hill Country just after the wedding. In August, they had a wonderful honeymoon to Greece, Italy, Turkey, and Austria. They took a gondola ride in Venice, jumped off a boat into Mykonos's stunning blue water, learned about Crete's small villages, and toured the ruins in Ephesus. Then, at the end of their honeymoon, they caught up with Alexandra's maid of honor in Vienna, where they fell in love with the incredible food and great music scene!