Amber Calderon & Jon Wolfe
The Best is Yet to Come
Married
Nov 30, 2019
Austin , Texas
Photo Credit
Julie Wilhite Photography
---
Style Guide
Color Palette
Style
Formal, Luxury
Season
Winter
---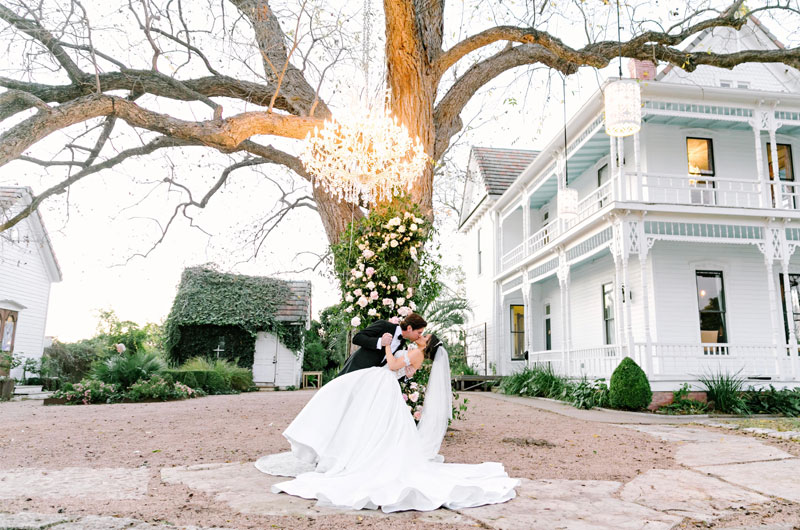 The Proposal
Every winter, Jon and I take some time off to recharge in Cabo with friends and family. On one particular trip, we were meeting friends for a celebratory New Year's dinner. One our way to the restaurant, Jon said we needed to pick up one of our friends at a nearby resort and that we'd stop to have a cocktail too. As we walked up the coastline to meet our friend, I saw a gorgeous gazebo draped in white fabric. Jon then admitted he planned a romantic, culinary experience for just the two of us on the beach. Our "menu" was a photo album Jon created, documenting our relationship. While we were eating, a pair of caballeros (horses) appeared. They trotted over to us and announced a special delivery for Mr. Wolfe. Jon stood up, took the leather satchel, opened it, and presented me with a custom ring box. He got down on one knee and I immediately said yes.
[smartslider3 slider="230″]
In Preparation
Once we returned to Texas, I began planning. I created a checklist and worksheet, reached out to vendors, whittled down selections, and made swift decisions. I plan events for a living, so preparing for a wedding came naturally! I also have two sisters that let me plan their weddings. We wanted a timeless, elegant ceremony that resembled a Ralph Lauren ad. We both love Frank Sinatra, Old Fashions, Audrey Hepburn, and anything that feels classic. We wanted to be able to look back on our wedding day decades from now and feel like we could step right back into those photos no matter how many years passed.
[smartslider3 slider="227″]
The Big Day
I remember feeling a bit nervous throughout the day to see Jon for the first time. We decided to do a first look to calm our nerves and the moment I looked into his eyes, I felt peace. The ceremony was beautiful. From vows to music selections, every detail reflected our path to each other. Dinner was lovely with rose-colored, tapered candles, farm-to-table food, and wonderful toasts given by our favorite people. We then transitioned to the reception with a live cigar roller, outdoor bar, dancing, a photo booth, and collection of large scale photos of Jon and I throughout the years. Our guests waited outside while Jon and I had one last private dance together before we exited in a sparkler send-off. A vintage Rolls Royce transported us to our favorite speakeasy bar, Small Victory, where we continued the party.
[smartslider3 slider="228″]
The Retreat
Two days after the wedding Jon and I flew to New York City for our honeymoon. When we arrived, it started snowing for the first time that season! We stayed at the legendary Plaza Hotel. We were upgraded to a beautiful suite upon check-in and there was champagne and chocolates waiting for us in the room. During our four days there we strolled through Central Park, ate wonderful Italian food, saw the tree lighting at Rockefeller Center, caught the Radio City Rockette show, and more.
[smartslider3 slider="229″]