Baileigh Johnson & Christopher Fahey
At Last
Married
Apr 27, 2019
Inlet Beach , Florida
Photo Credit
Paul Johnson Photography
---
Style Guide
Color Palette
Style
Beach
Season
Spring
---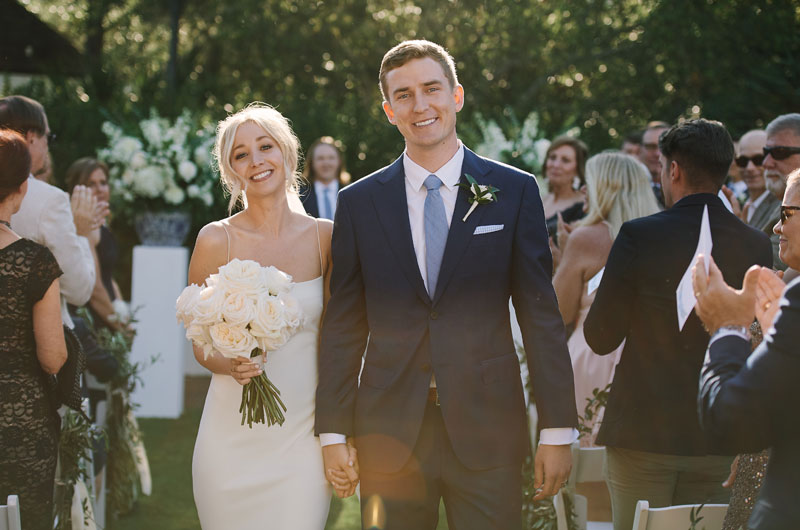 The Proposal
Chris and I went on a weekend getaway to Rosemary Beach® community in Inlet Beach, Florida and one Saturday morning, while we were watching the sunrise on the beach, he popped the question! After a "yes" I couldn't say quickly enough, we spent the rest of the day celebrating with various sentimental activities he had planned. Upon returning home to Jacksonville, Florida, we went to dinner at my favorite restaurant, Orsay. My closest friends and family were all there waiting to surprise me! It was the loveliest engagement dinner I could have ever imagined.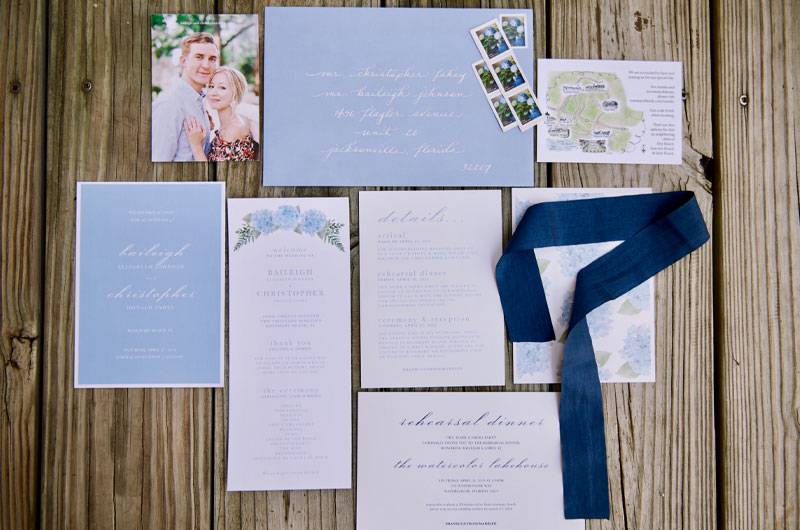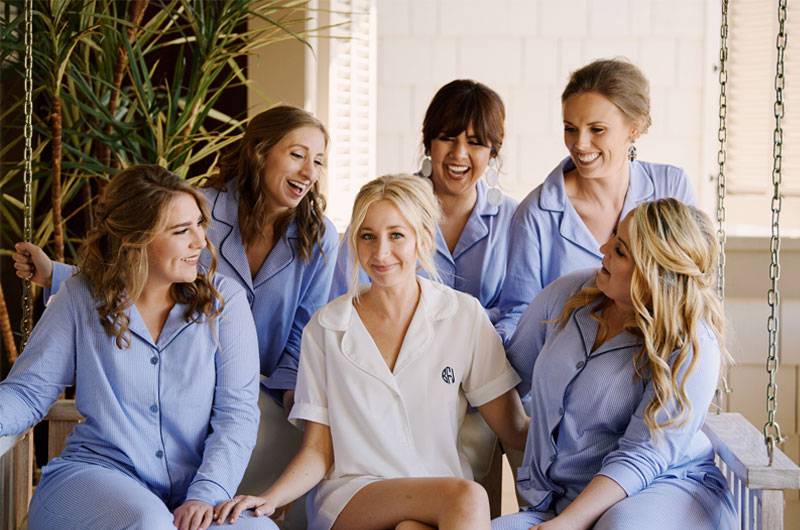 Baileigh Johnson & Christopher Fahey Wedding Invitation Suite Flatlay
Baileigh Johnson & Christopher Fahey Bride And Bridal Party
In Preparation
I hosted an at-home wedding dress fitting by ordering options from designers I loved. I was searching for a simple and timeless look which I didn't think I'd be able to find at local retailers. For the overall theme, in addition to having our quaint beach town as our backdrop, we wanted the colors and decor to feel very reflective of us. When I worked at Town & Country Magazine there was always at least one delft jar filled with flowers lying around the office and my grandmother has always collected delft blue & white pottery. This inspiration carried into our home, so it seemed like the perfect concept to also extend to the wedding. We also decided to make a weekend-long celebration out of the ceremony and rented a few houses for the wedding parties and their families.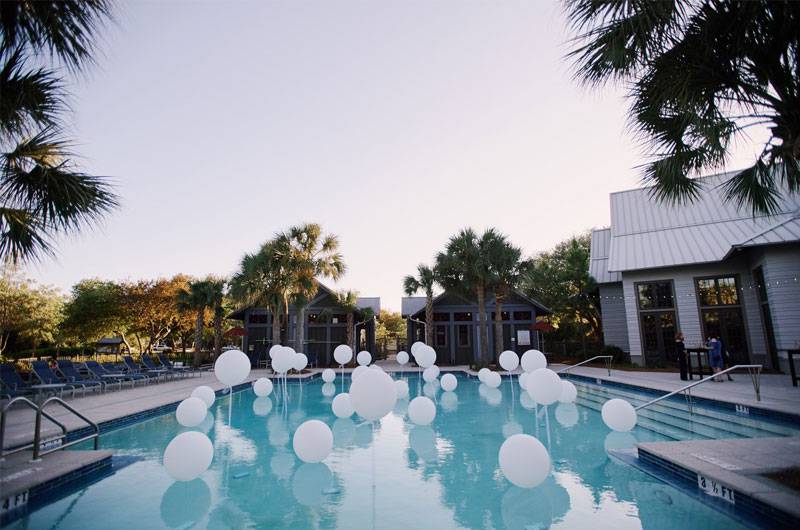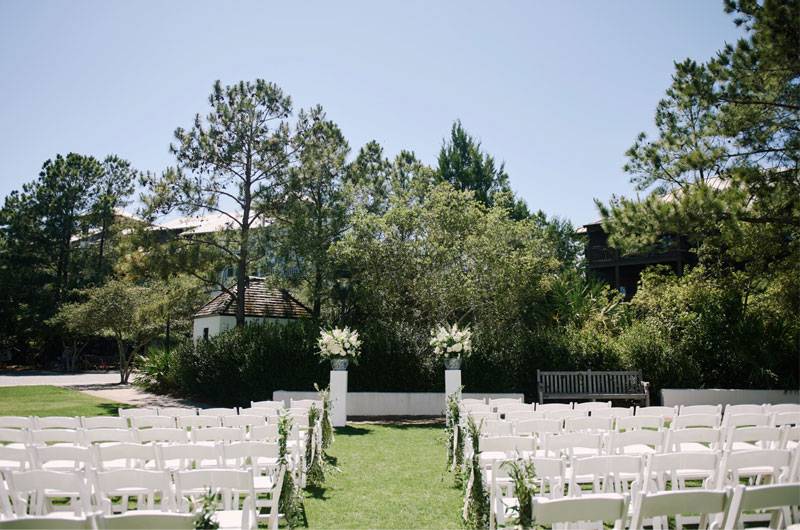 Baileigh Johnson & Christopher Fahey Rehearsal Dinner Pool Balloon Display
Baileigh Johnson & Christopher Fahey Wedding Ceremony Overview
The Big Day
The night before the big day, my wonderful in-laws hosted our rehearsal dinner at The Watercolor Lakehouse. The evening consisted of a fun, pool balloon display and elegant, rattan place settings, and delicious food. We were married the next day on the St. Augustine Green Lawn with one of our best friends as the officiant. Chris gifted me a pair of pearl earrings, and in return, I gave him a Tudor watch with our wedding date inscribed on the back. My parents also gifted me one of my mother's diamond and sapphire rings, which I wore that very day. Our designer created a cocktail lounge area with banana leaf furniture and blue and white décor, as well as semi-formal place settings with delft printed linens and simple, white florals. We enjoyed a low country boil for dinner, before dancing the night away. I wore my embroidered "Mrs. Fahey" vintage Levi's jacket my sister made for me for our send off, where we also passed out slices of pizza in custom to-go boxes.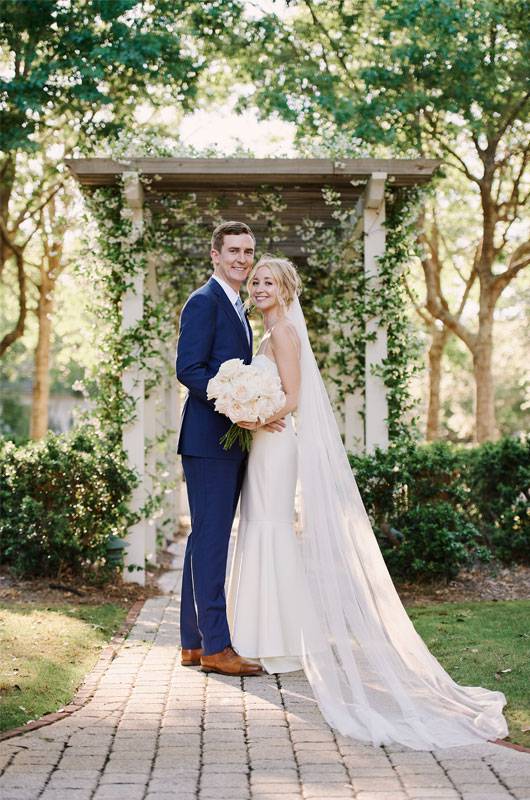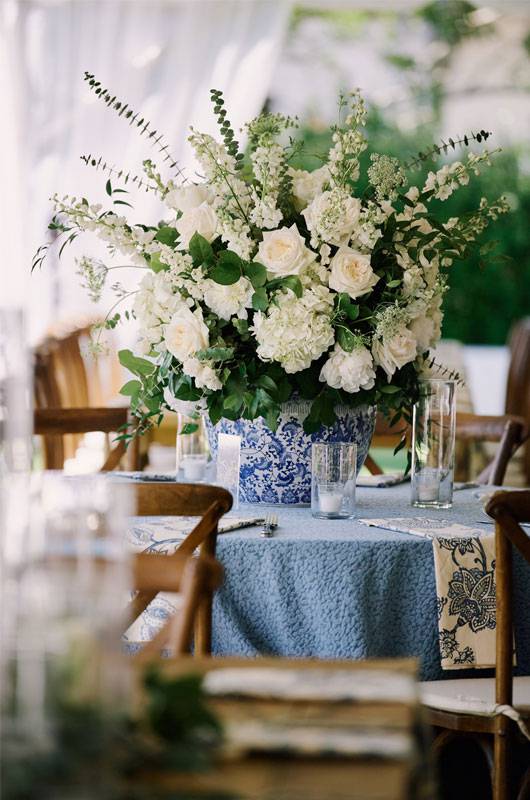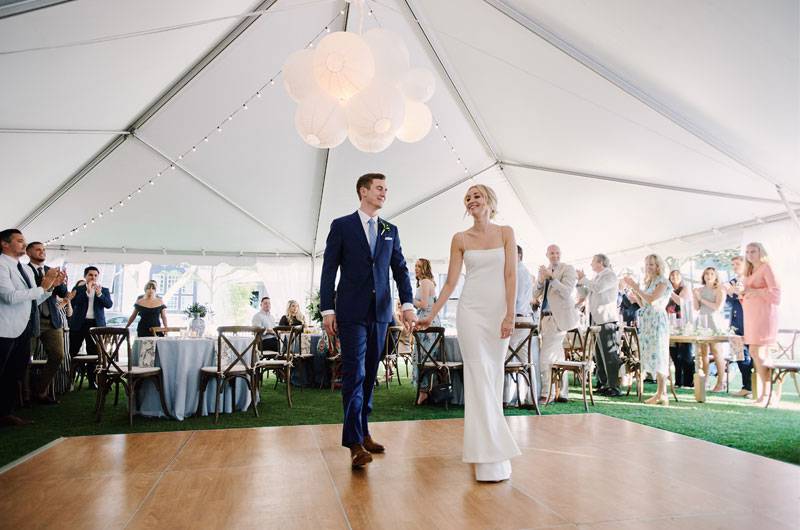 Baileigh Johnson & Christopher Fahey Bride And Groom Portrait
Baileigh Johnson & Christopher Fahey Wedding Reception Tablescape
Baileigh Johnson & Christopher Fahey Couple Wedding Reception
The Retreat
We honeymooned at The Viceroy Sugar Beach Resort in St. Lucia. The staff were kind enough to upgrade us to a Master Suite and Chris surprised me with a bottle of champagne and a flower arrangement waiting in our room upon check in. We spent the entire time lounging by our private pool, reading on the beach, enjoying local cuisine, and reflecting on the blessed life we are so fortunate to live.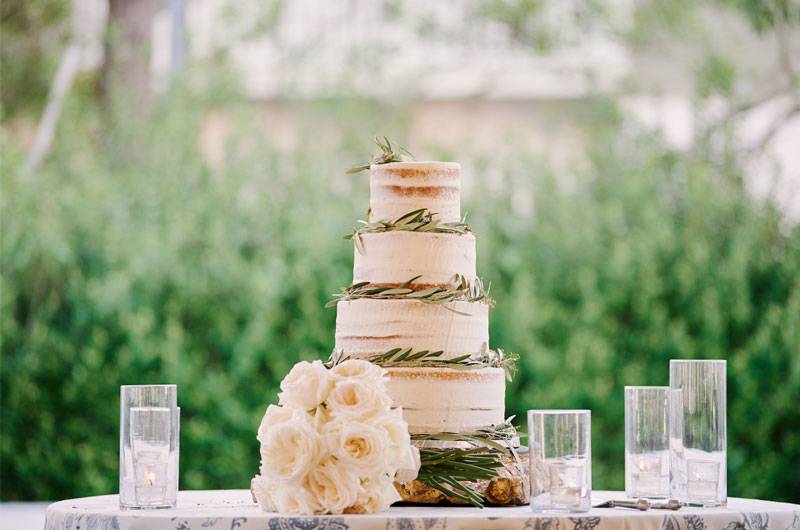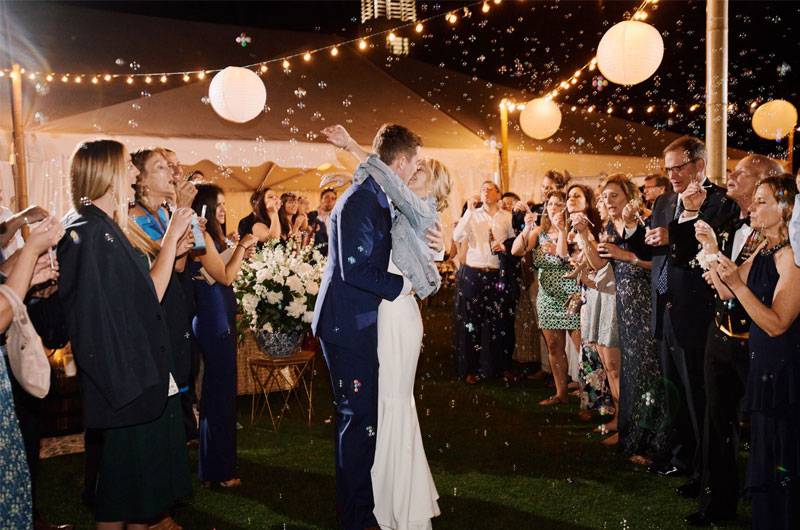 Baileigh Johnson & Christopher Fahey Wedding Cake
Baileigh Johnson & Christopher Fahey Bride And Groom Send Off