Brooke Raffanti & Chase Smith
Mississippi In The Fall
Married
Sep 29, 2017
Byhalia , Mississippi
---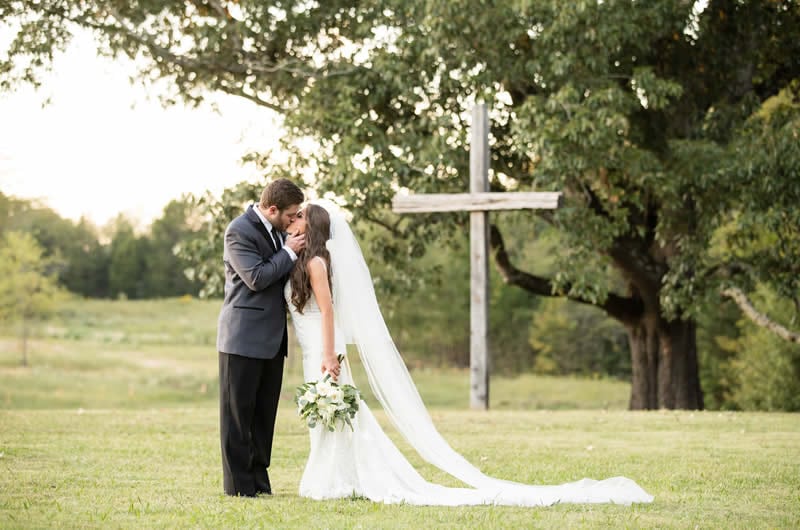 The Proposal
It was Christmas day and it is a tradition for all my relatives to gather at my grandmother's house to celebrate the day with each other. Every year we play a classic game of Dirty Santa. We each bring an anonymous gift that we place together in a pile and then choose a number from a hat for our order of pick from the pile. The catch to the game is that we can also steal gifts from each other and fight for the best gift. Well chase had meticulously planned it to where I was the last person to choose a gift which left me with the last unopened gift and my only option. Little to my surprise it would be the best gift I had ever received. Inside was a Christmas ornament that read on it will you marry me and when I looked up chase was on one knee in front of me holding a ring.
In Preparation
Chase and I always knew we wanted to have a southern inspired wedding with a barn and a ceremony outdoors. After countless searching we couldn't have found a more perfect place than Mallard's Croft. The venues incredible flexibility allowed for me to create the wedding I had always imagined. My dream wedding would have never come to life though if it was not for the hard work and dedication of my wedding planner Katherine Benson of Bella Baxter Events and my precious mother. The months leading up to the wedding seemed to fly by, but with the help of these two incredible women things began to fall into place as the big day grew nearer.
The Big Day
The big day had finally come and all the time and effort that was put into planning could not have paid off any more than it did. Everything was perfect. Where the ceremony took place, church pews were set up in a green open pasture with a flower filled arch in front of them with a beautiful oak tree draping behind it as a backdrop. A big red antique barn was just down the hill where an elegant buffet was served and the cake was cut following the ceremony. Outside the barn doors was a clear tent that held the dance floor, DJ, bar and seating. Guests arrived at half past four and were welcomed with signature cocktails and hors d'oeuvres. At five o clock my dad led me to meet my best friend at the altar. It was the first time Chase and I had seen each other that day which gave us an overwhelming feeling that we will never forget. After exchanging our own written vows and saying our "I dos" we set off to the barn and tent where a true celebration of our love took place. It was a night filled with love, laughter, drinks, and dancing with all the people that mean the most to us.
The Retreat
At 6am the morning after the wedding we set off for the beaches of Mexico where we stayed at Excellence Playa Mujeres an adult's only all-inclusive resort. We had planned on taking part in the excursions available outside of the resort but with the infinite amount of food, drinks and live music we couldn't help but want to stay at the resort and just relax and enjoy each other's company as newlyweds.
Featured Wedding Vendors
PLAN + DESIGN
Contributing Vendors
BRIDESMAIDS DRESSES
Bella Bridesmaid
CATERING + DISH RENTALS
Draper Catering of Memphis
ENTERTAINMENT
DJ Jordabella & Beth Luscombe Group
FLORIST
DeClerk Wray Designs
FIRST NIGHT HOTEL
James Lee House
FLORIST
DeClerk Wray Designs
GET AWAY CAR
A Posh Limousine
HAIR STYLIST
Caitlin Williams
MAKEUP ARTIST
Kasey Acuff
PHOTOGRAPHY
Rob & Deanna Photography
RENTALS
Mahaffey Tents
STATIONARY
Mrs. Post
VENUE
Mallard's Croft
VIDEOGRAPHER
Frameblender Films