Caroline Blake & Jeffrey Byrne
For As Long As There Is Love
Married
Mar 19, 2022
Nashville , Tennessee
Photo Credit
Kate Holt Photography
---
Style
Rustic
Season
Spring
---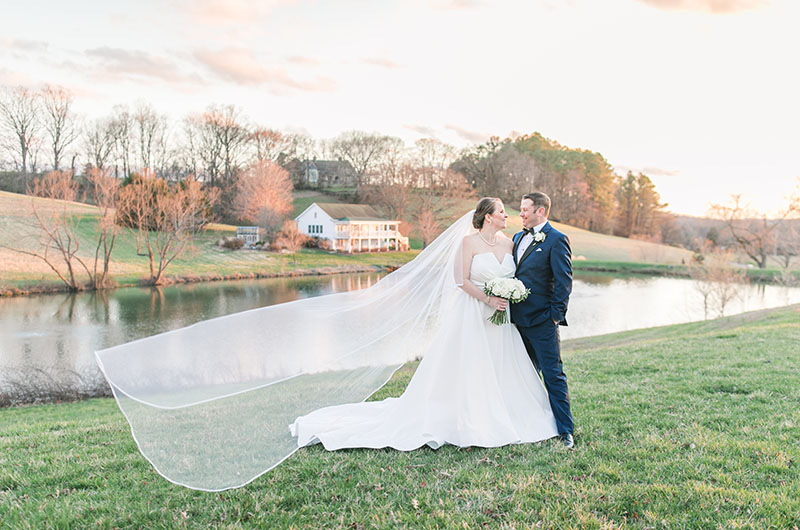 The Proposal
A few months ago, Caroline Blake & Jeffrey Byrne's Beautiful Lakeside Retreat Wedding set the stage for the couple's beginning story as husband and wife.
On Christmas Eve of 2021, Caroline hurried to get her and Jeff's stockings ready for Christmas morning. With Lola, the couple's beloved service dog at her heels, she worked quickly to stuff the stockings full of treats and gifts before bed, excited to share the intimate holiday between the two of them. In the morning, when they woke, Lola, forever the fateful sidekick, nudged and nosed Caroline and Jeff out of bed to start the day.
As Jeff and Caroline began to unpack their goodies, Caroline noticed a small box in her stocking which wasn't there the previous night. Curious, she picked it up and read the words on the card attached, "Will you…?" Puzzled, she looked up at Jeff and asked him, "Will I what?" to which he responded with a laugh and told her to open it and find out! Opening the box, Caroline saw the sparkle of diamonds, and tears immediately surfaced. Throwing her arms around Jeff, she replied, "Yes!"
Lola happily wagged her tail and grinned in agreement while the newly engaged couple called their families to share the news. Caroline's engagement ring, a family heirloom, was purchased by her father for her mother to celebrate their 20th wedding anniversary. Jeff had the diamond reset in a Tiffany setting and added a stunning diamond band as the perfect complement. Every time Caroline looks at it – she is transported back to that Christmas morning when Jeff asked her to be his forever, and she whole-heartedly agreed!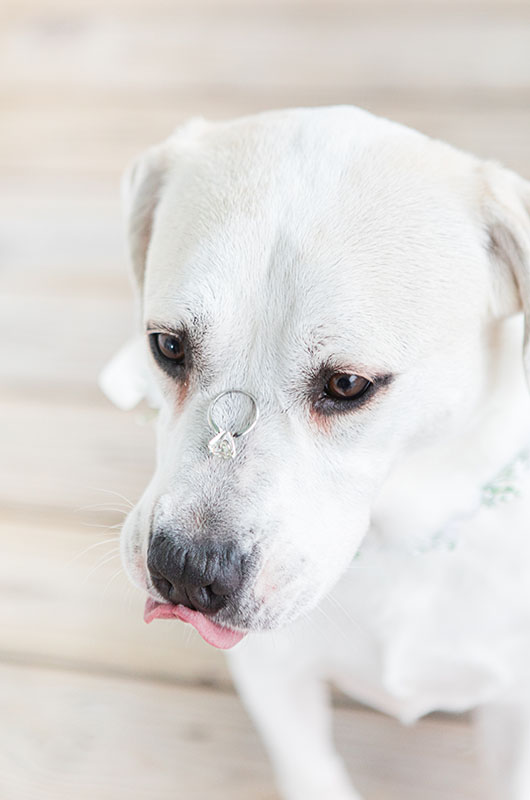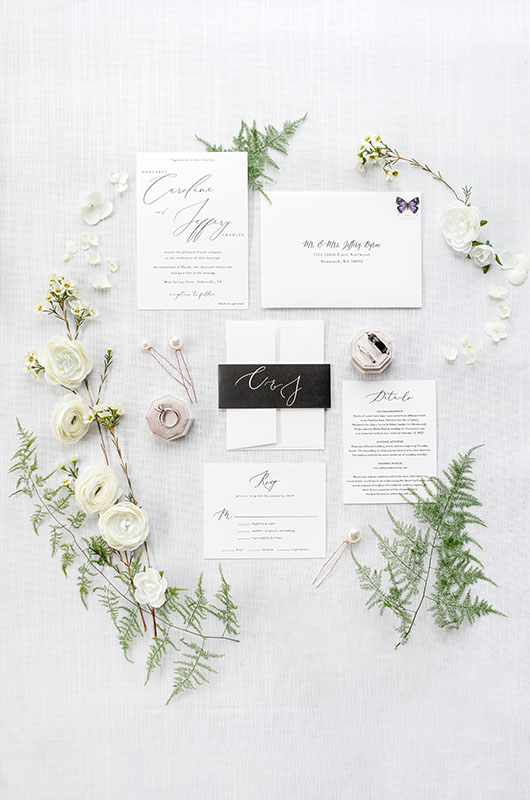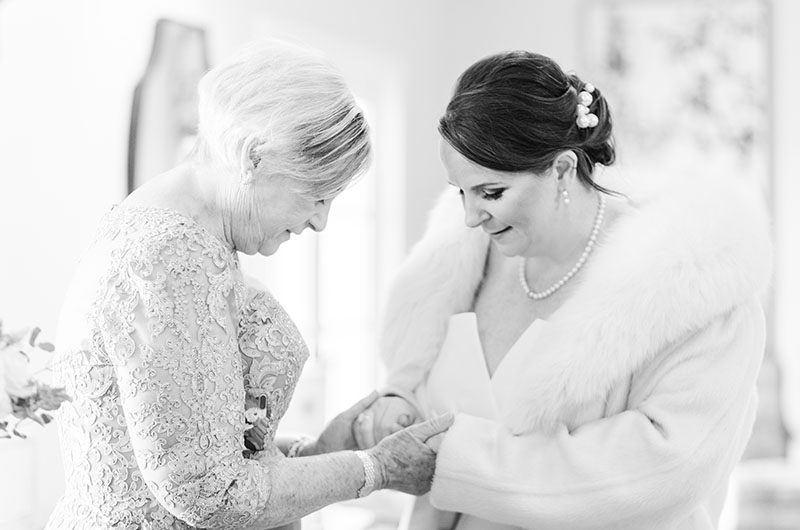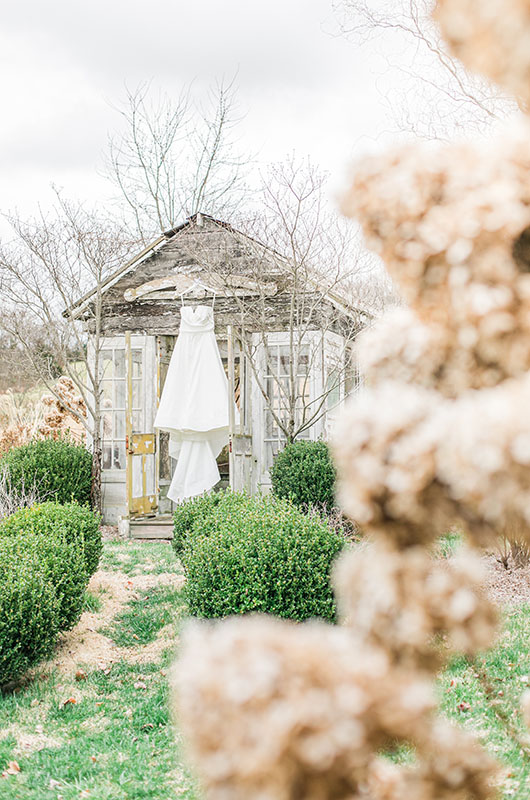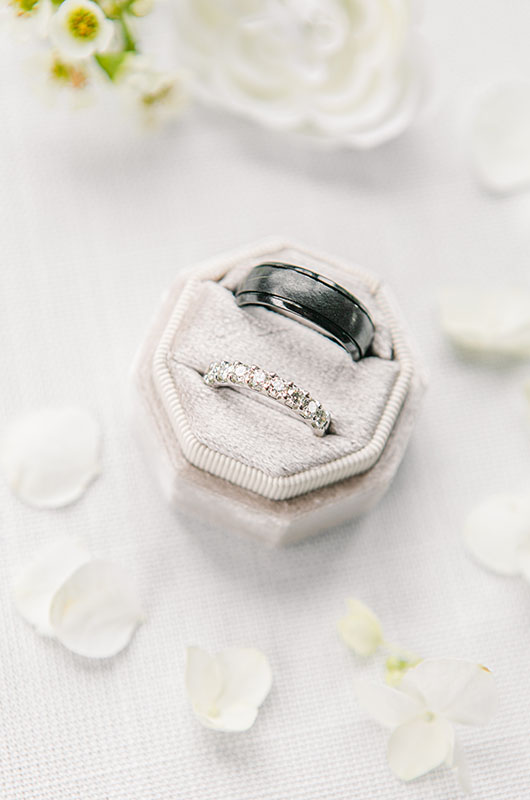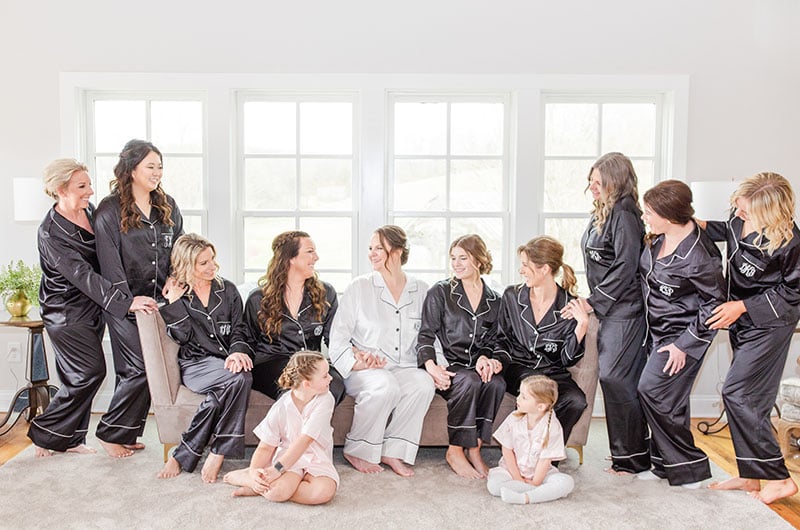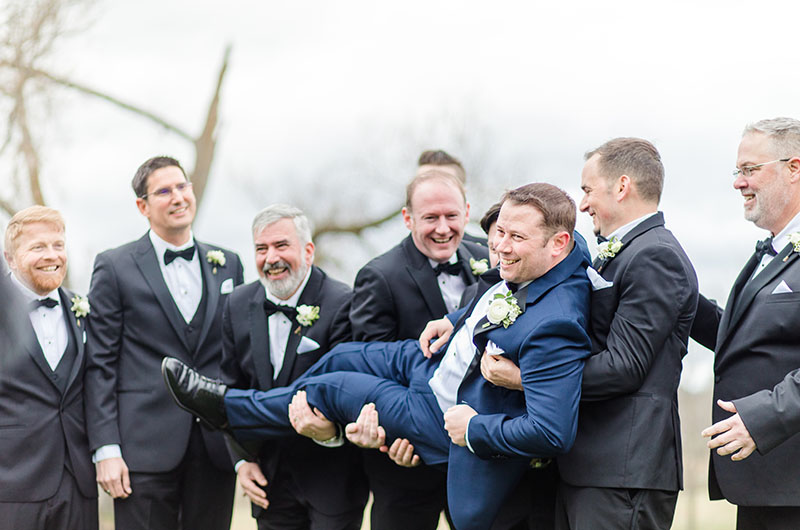 In Preparation
Caroline wasn't the kind of girl who had her wedding planned by the age of 10 and, for many years, didn't think she would ever find "the one." However, following their engagement, she knew she wanted a classic, traditional, big Southern wedding with lots of white and pops of gold.
Caroline had been following Southern Bride ever since Jeff proposed, and the magazine and its wealth of wedding information became her primary source of inspiration. The Seattle-based couple was looking for the perfect centralized location for a destination wedding, as their guests would be traveling from around the country. Caroline had familial ties to Tennessee as her sister attended Belmont University and started her dog training business, Fresh Canine, in Nashville. Her parents also retired to Franklin, Tennessee, where her mother volunteers as a garden docent at Cheekwood Botanical Gardens and a Sustaining Member of the Junior League of Nashville.
Caroline's desire for a classic Southern wedding, coupled with family ties to the south, made Tennessee an easy choice for their wedding. While searching for venues from afar, Jeff and Caroline would select a venue online and set up an appointment, and her sister Charlotte would carry her laptop around the property while face-timing with them. When they found Mint Springs Farm, they instantly knew it was PERFECT. With a spacious bridal suite and stunning grounds, it was the perfect mix of classic wedding elegance and country charm. Jeff and Caroline knew they wanted an intimate family feel for a whole week of wedding events. They planned a golf tournament, welcome barbecue, bridal shower, rehearsal dinner, and farewell brunch to ensure their family and friends had plenty of opportunities to interact and get to know one another.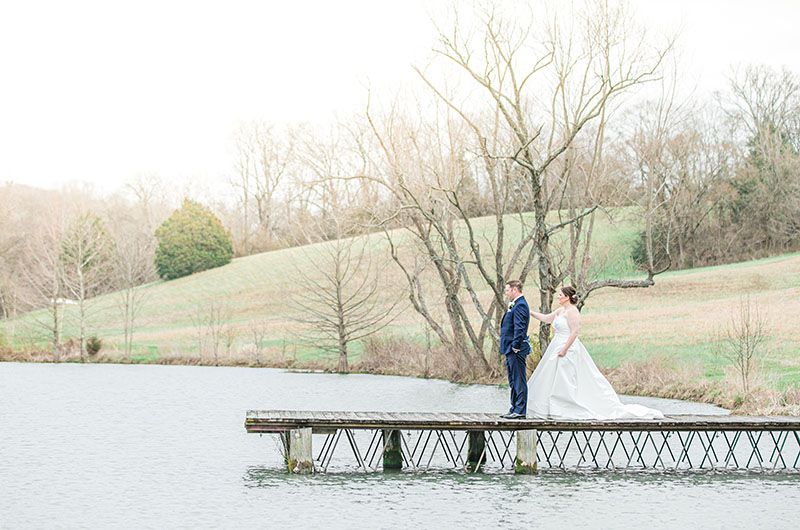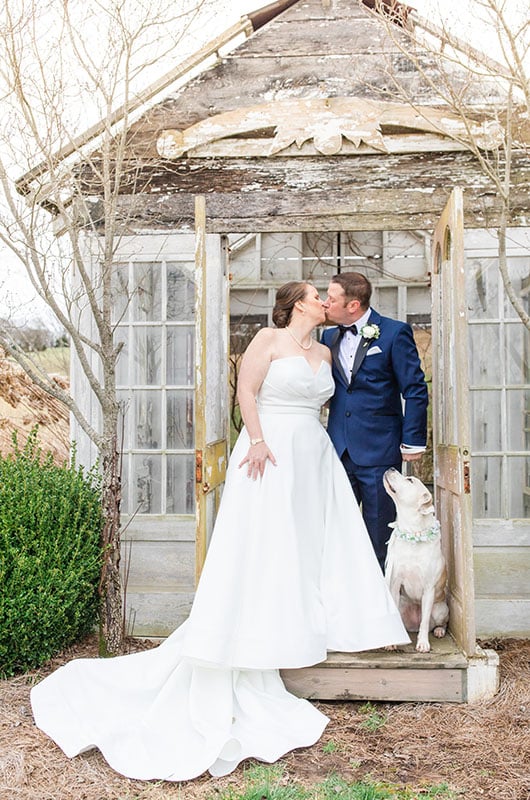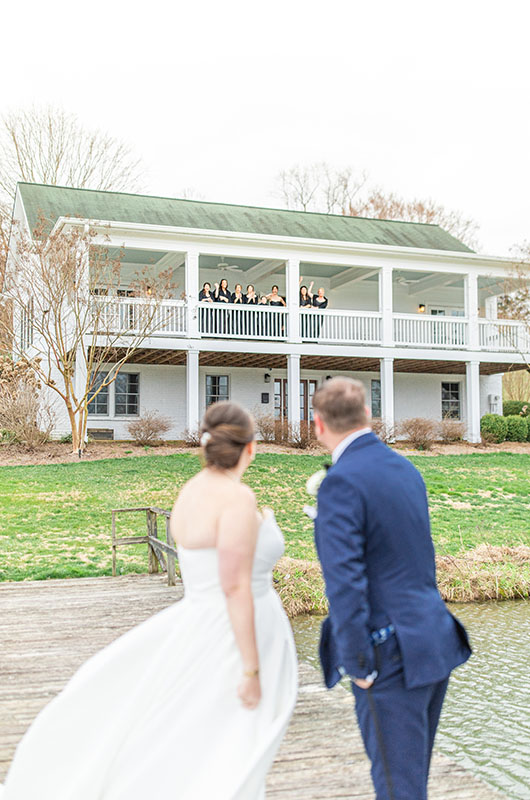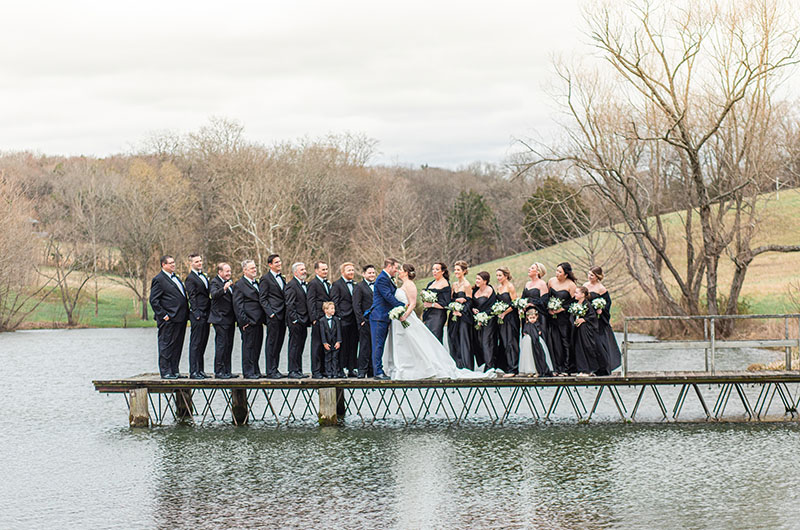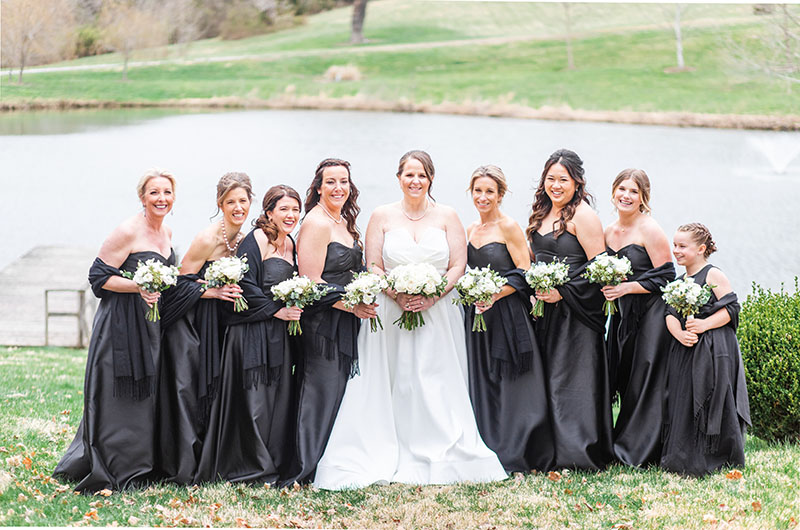 The Big Day
The couple's entire wedding day "felt sublime and filled with moments of unbounded joy and emotion." One of their favorite memories is an unforgettable first look, where Jeff sweetly left Caroline a glass of the Yama Whiskey he'd purchased to share with his groomsmen. Caroline saw it as she walked toward him and took three sips to help calm her nerves before gently tapping him on the shoulder.
For months leading up to the wedding, Jeff had told her he wouldn't cry, but Caroline could tell he couldn't control it when he turned around. In an attempt to stop his tears, she quickly professed, "I brought you a present!" He immediately responded, "I already drank it!" and they broke into laughter. The ceremony was equally memorable. Caroline and Jeff chose the phrase 'for as long as there is love' rather than the traditional 'til death do us part.'  They found the words honest and beautiful, and thought, "It's a lucky and positive phrase to take on as our own."
The ceremony was meaningful because Jeff was changing his last name to his grandfather's – Byrne. When the officiant and close friend explained the significance behind the name change, Jeff, highly emotional, expressed his measureless love for his grandfather, who could not be there for their big day.  Following the ceremony, an exquisite table scape was set with beautiful china and gold-rimmed glassware, while topped with hundreds of lit candles on long rustic farm tables that filled the expansive reception barn. Floating above the guests' heads were floral installations creating a canopy of ferns and elegant lanterns, while a live band set the soundtrack for the perfect Nashville party vibe late into the night.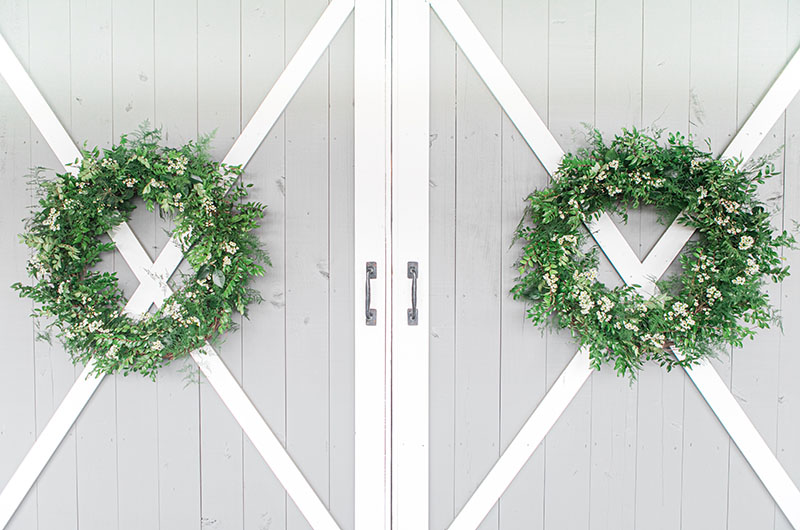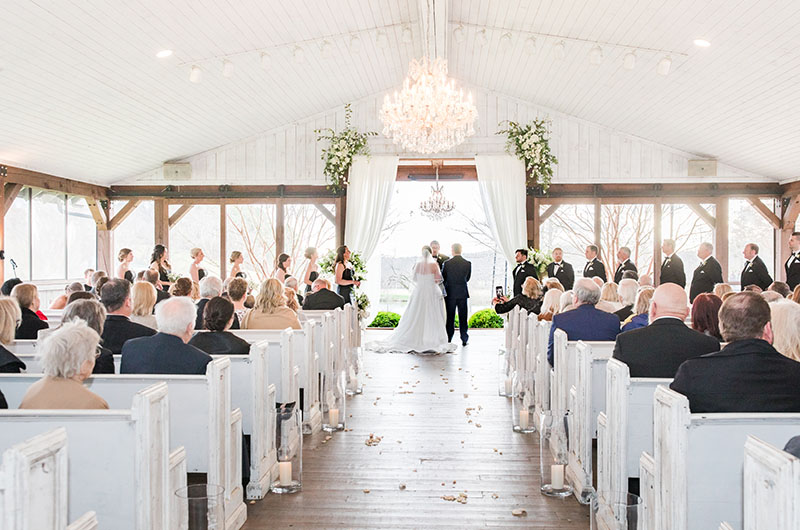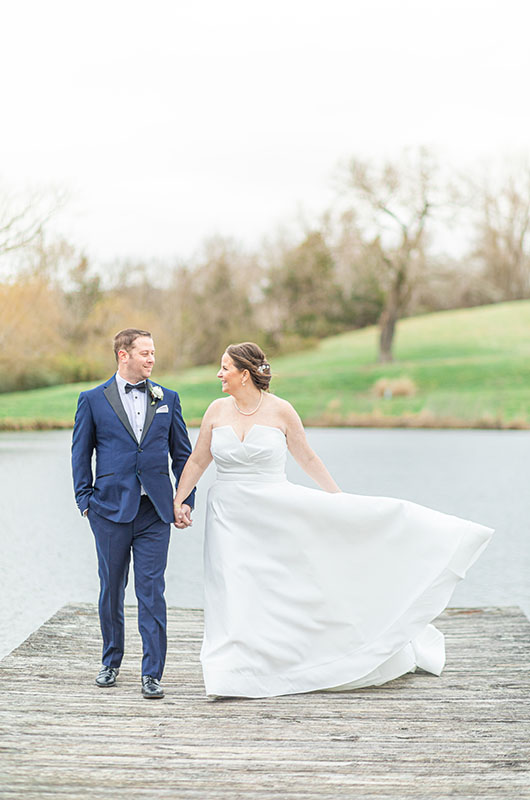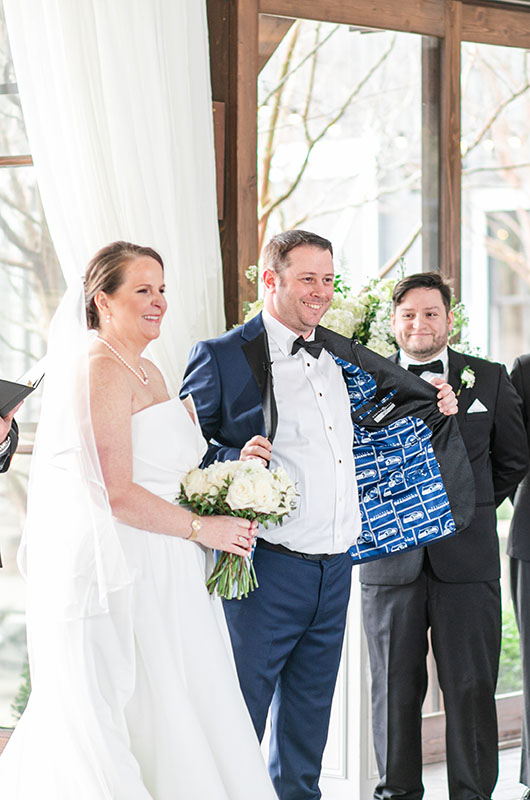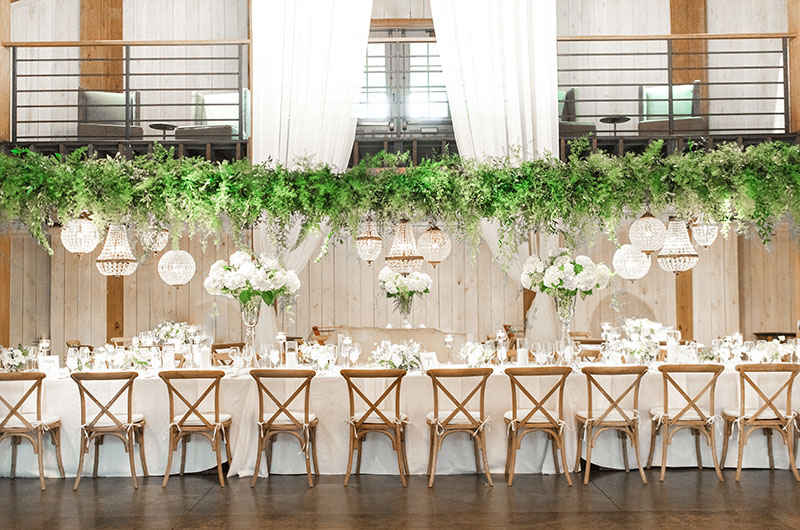 The Retreat
Caroline and Jeff share two favorite pastimes – golf and old fashioned cocktails! They love golf and seek out playing rounds on new courses throughout their travels while enjoying a bit of a competitive spirit. When Jeff and Caroline started dating, they bonded over a shared love of old fashioned's – as long as they were perfectly prepared. Jeff, having been a bartender, knew precisely what that meant and earned "brownie points" by preferring to prepare and enjoy them the "proper" way – with one large ice cube and Luxardo cherries.
Encapsulating these two themes, when planning their honeymoon, the couple combined their hobbies and planned a trip to the 150th British Open at the historic St. Andrews. They planned the entire month of July to attend the Open and explore Ireland, Scotland and London. Both Jeff and Caroling have Irish lineage but have never been to Ireland. They have set aside a large part of their trip for exploring the gorgeous country and staying in two historic luxury castles, Ashford in Galway and Waterford. Jeff is particularly excited, as he will also get to celebrate his 38th birthday while enjoying his favorite beer, Guinness, brewed straight from the waters of Dublin.
In Scotland, the two will attend the championship day of the 150th Open with VIP tickets – definitely a "bucket-list" item for the newlyweds! The couple are big foodies and made reservations for Michelin star restaurants in various cities. They researched the top swanky bars for old fashioneds – dressed with one large ice cube and Luxardo cherries, of course.
The couple plans to take a romantic hot air balloon ride, and look forward to enjoying each other's company as honeymooners before returning to begin their new life together in Seattle as husband and wife. Following their dream honeymoon, the newlyweds plan to buy a house with a yard for their dog, Lola, and start a family together.
Caroline Blake and Jeffrey Byrne's Beautiful Lakeside Retreat Wedding was one for the books!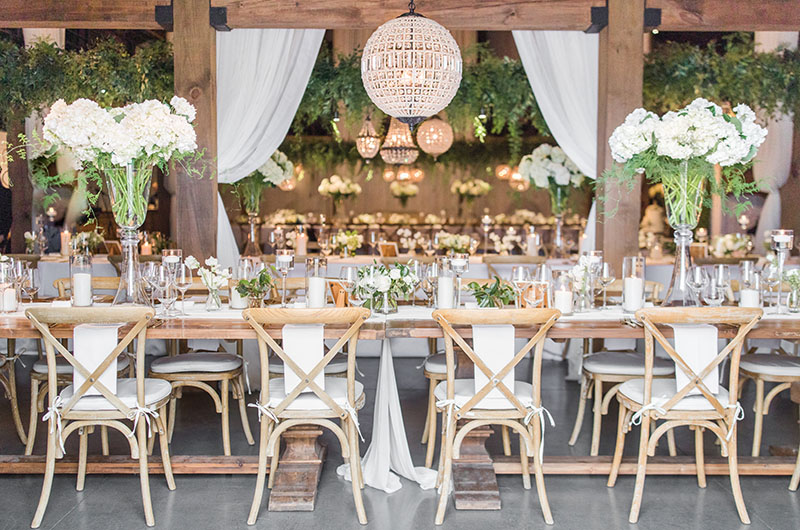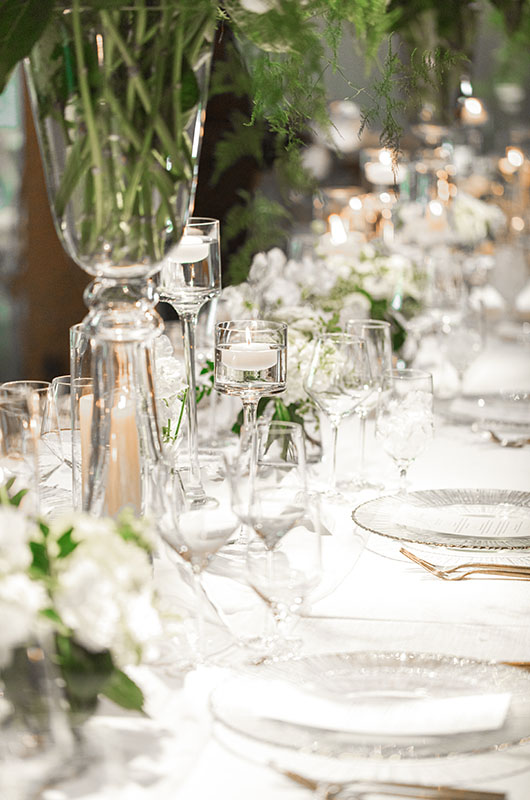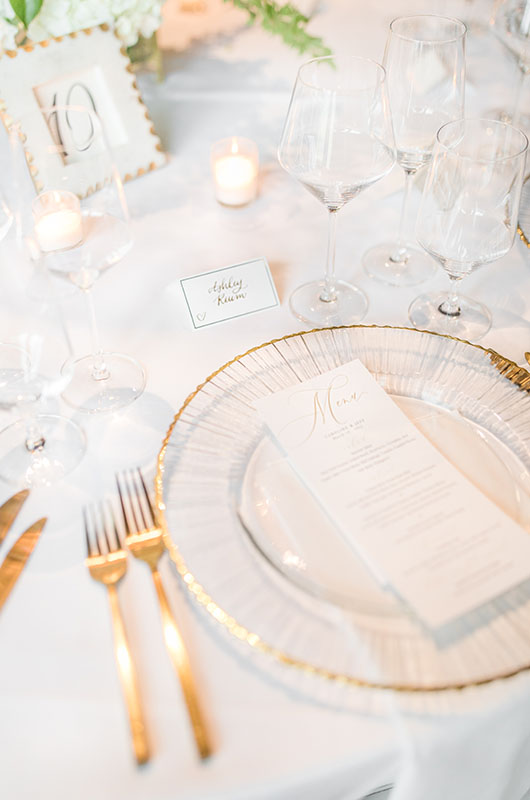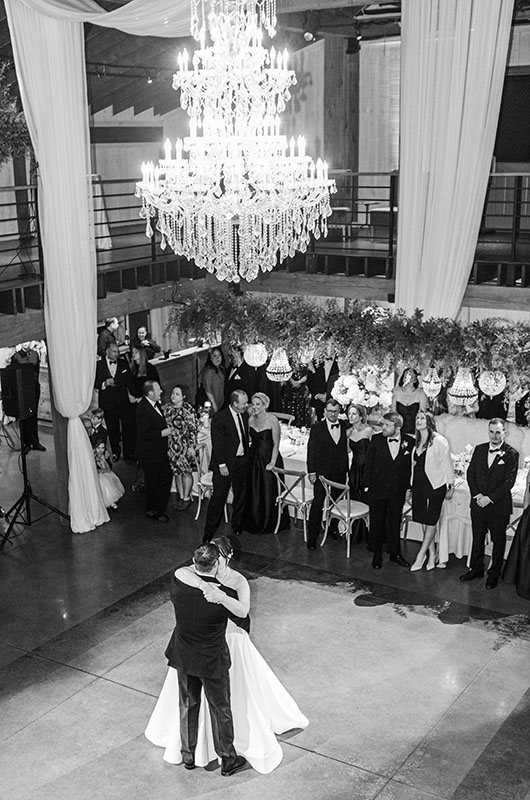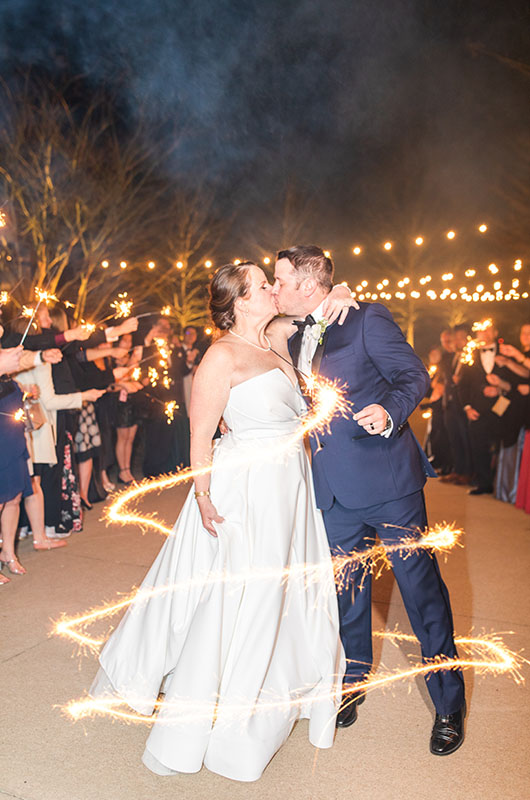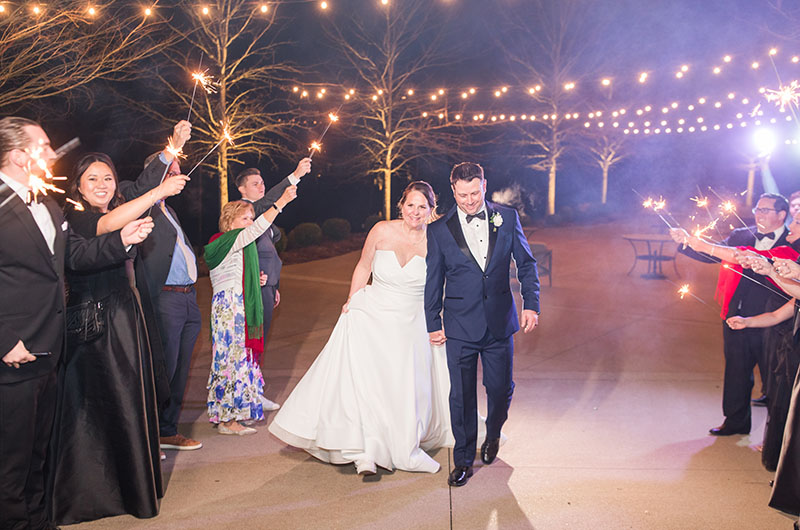 Featured Wedding Vendors
PHOTOGRAPHER
Contributing Vendors
EVENT PLANNER, VENUE & FLORIST
CATERER
WINE 
WEDDING CAKE
INVITATIONS 
GOWN
 Kleinfeld Bridal, Rita Vinieris
VEIL
BRIDAL SHOES
GROOM'S TUX
BRIDESMAID DRESSES
Bella Bridesmaids, Alfred Sung
ENGAGEMENT RING 
WEDDING BANDS
HAIR & MAKEUP
R & Co Bridal Beauty Nashville
ENTERTAINMENT
RENTALS & DECOR
TRANSPORTATION
WEDDING FAVORS & GIFTS
RECEPTION VENUE 
HONEYMOON ACCOMMODATIONS 
VIDEOGRAPHER
CALIGRAPHY