Carrie Henderson & Varun Kannan
I See Your True Colors Shining Through
Married
May 4, 2019
Atlanta , Georgia
Photo Credit
Dash Photography
---
Style Guide
Color Palette
Style
Whimsical
Season
Spring
---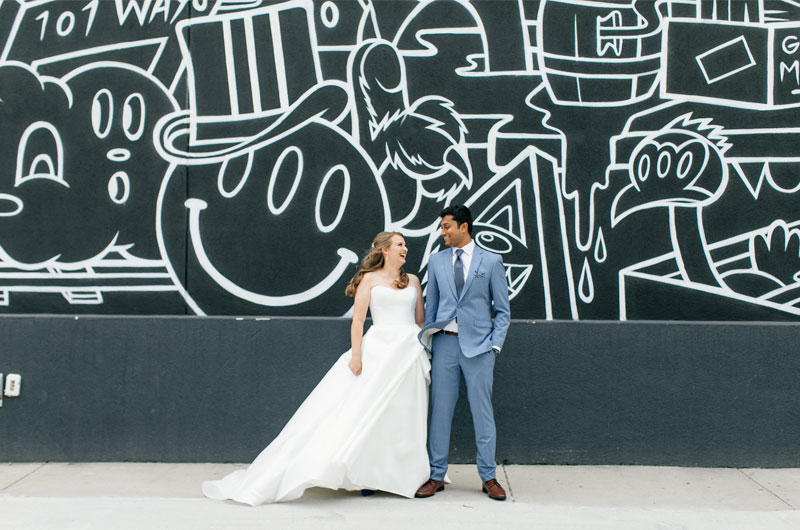 The Proposal
Varun proposed while they were traveling in Japan. They spent the most whirlwind 36 hours in Tokyo. It started with a quintessential Tokyo day doing all the things travelers do – the Samurai Museum, an insane restaurant called the "Robot Restaurant," and drinks at Golden Gai. They even fulfilled their dream of meeting strangers (hilarious Swedes) and doing Japanese karaoke with them! In the morning, they woke up, did some shopping around the city, then made their way to Odaiba, a man-made beach in the middle of Tokyo where you can see the sunset over the city. Varun had been carrying the ring around but had put it in a floss container – which was a strange choice! They were sitting on the beach, but then he saw a nice grassy knoll and a little sitting rock, so he took Carrie back there. He got down on one knee, but she thought maybe there was something in her teeth since he pulled out the floss! Then it dawned on her, and it was super adorable. They were so tired and had just had such a wild last few days, and a proposal really topped it off. They drank some mango juice on the beach and enjoyed the rest of the sunset. It was pretty private and really romantic.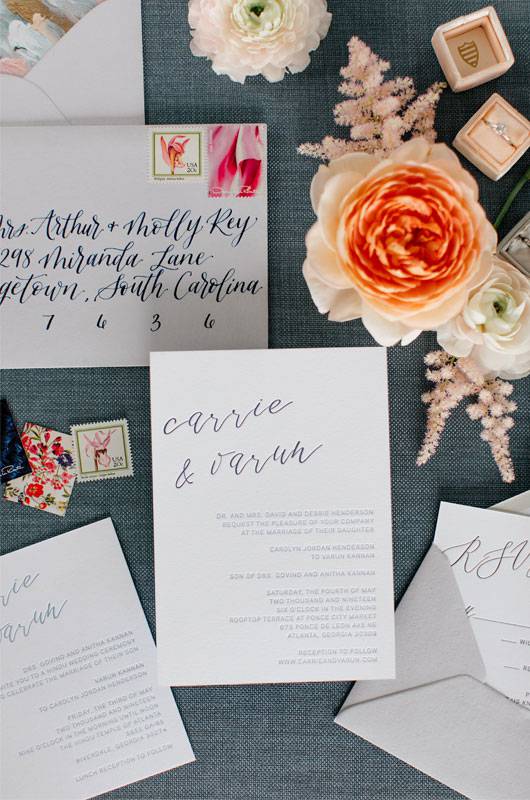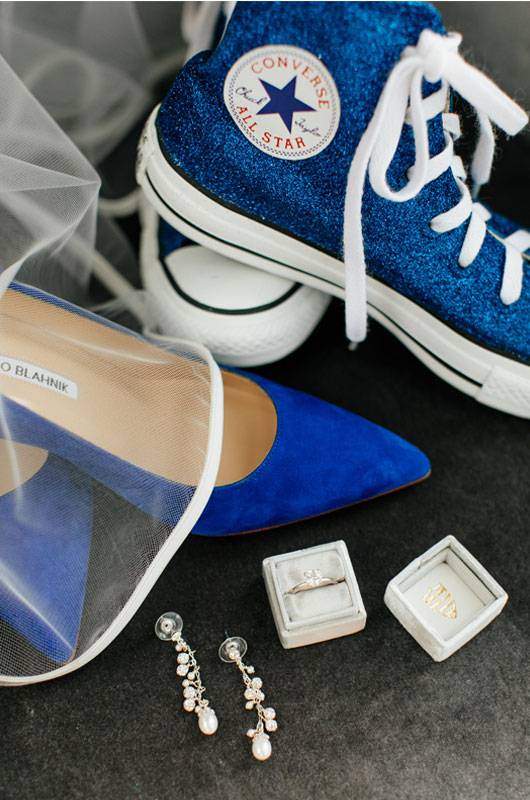 Carrie Henderson And Varun Kannan Invitation Suite Flat Lay 2
Carrie Henderson And Varun Kannan Bridal Heels And Converse With Rings And Jewelry
In Preparation
Aside from having an obvious connection in medicine, both Carrie and Varun are fine artists – she's a classically trained Opera singer and he's a talented painter. When it came time to design the wedding day, their planner, Heather McMichen of pearl and sky events, knew that Varun's painting talents should play a major role in the overall aesthetic of the day. Armed with a color palette and a general idea of the abstract style, Varun painted an original piece that became the inspiration for many of the design elements including the invitation liner, the stage surround, the seating chart, and even the wedding cake!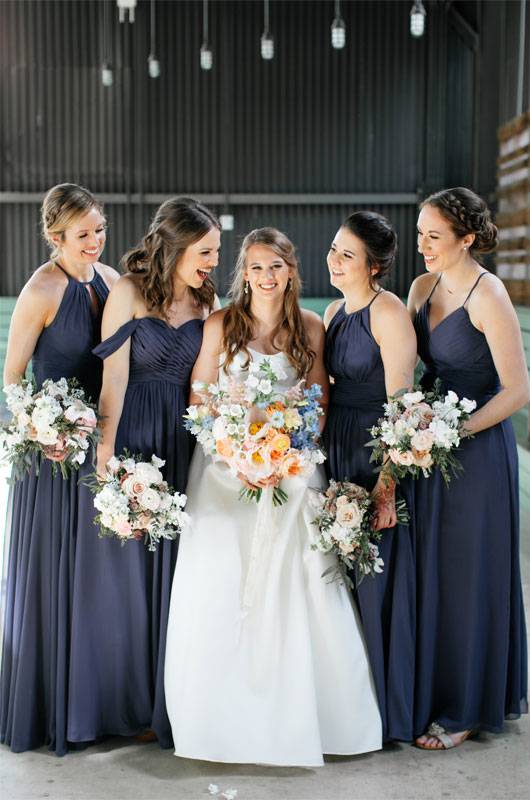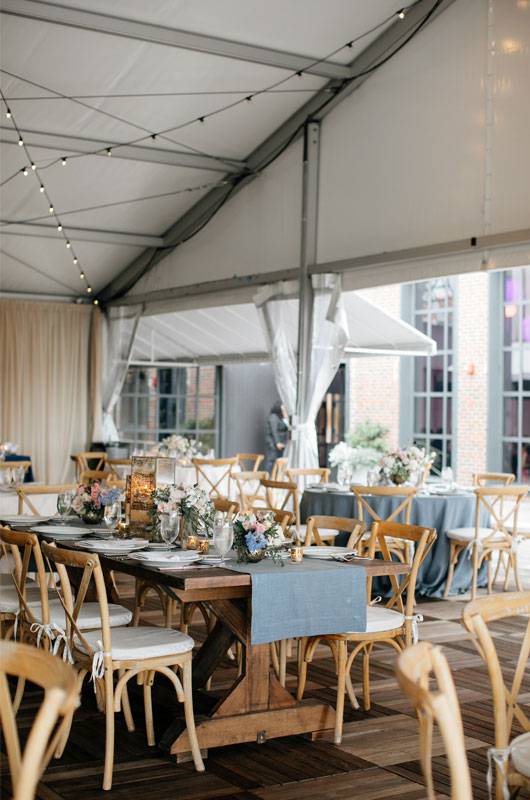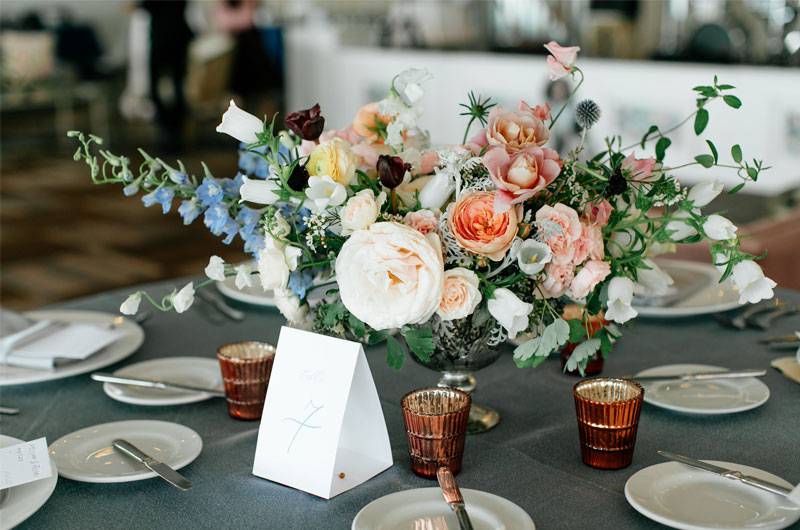 Carrie Henderson And Varun Kannan Bride With Bridesmaids 2 (1)
Carrie Henderson And Varun Kannan Wedding Reception Tables And Decor 2
Carrie Henderson And Varun Kannan Wedding Reception Tablescape And Number 2
The Big Day
Beyond the groom's original artwork, personal and sometimes offbeat touches underscored the entire celebration. The bride and her father walked down the aisle to "Can You Feel the Love Tonight?" played by a string quartet. The groom's cake was a chocolate chip cookie cake in the shape of the Millennium Falcon. Their hilarious yet heartfelt vows included references to everything from Lord of the Rings to heart-shaped pizzas, from velociraptor impressions to Honda Accords. These two could not be more perfectly matched, and their wedding day was truly an expression of that.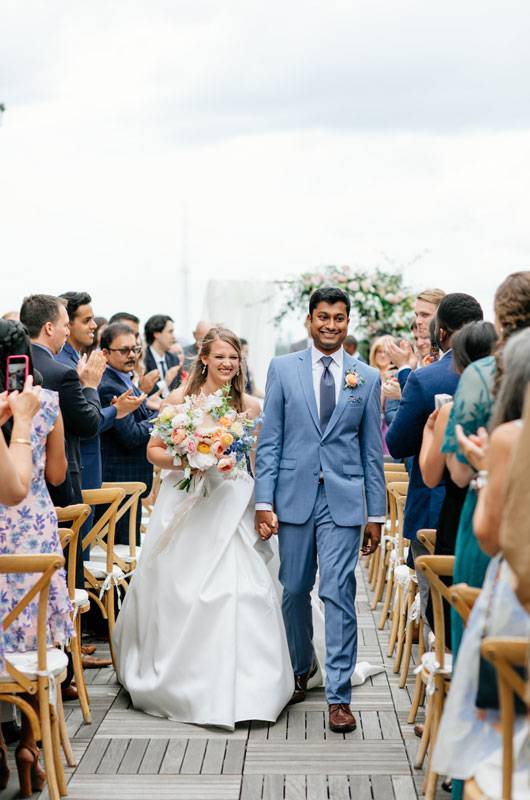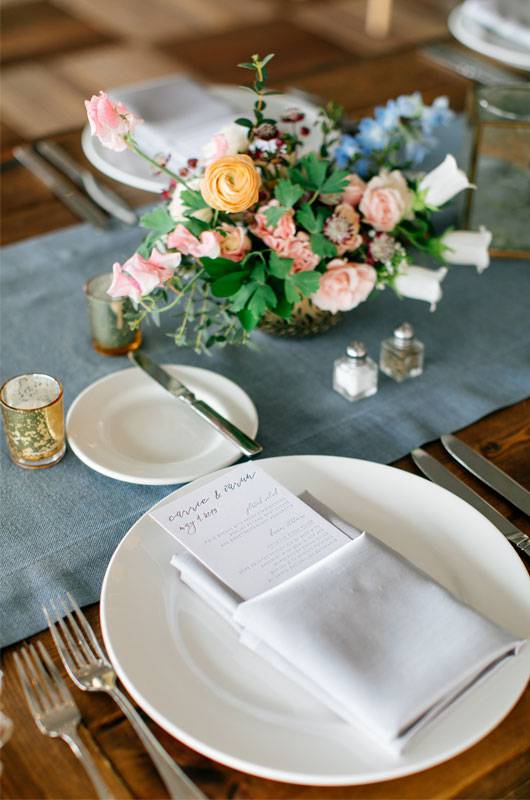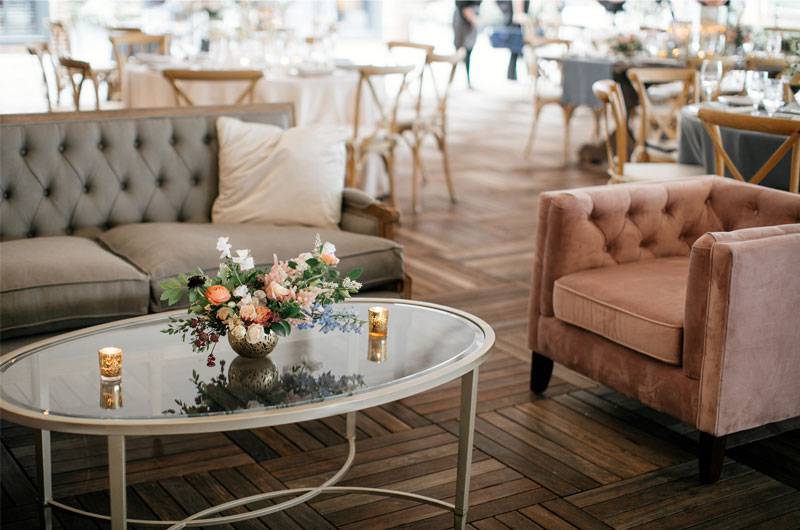 Carrie Henderson And Varun Kannan Bride And Groom Walking Down The Aisle (1)
Carrie Henderson And Varun Kannan Tablescape Place Setting And Menu
Carrie Henderson And Varun Kannan Wedding Reception Seating Area
The Retreat
After vows were exchanged, they took a 'minimoon' to Savannah, Georgia, and decided to wait til the fall for their big trip to Croatia and Munich to celebrate Oktoberfest! In Croatia, they hopped from city to city, staying in Airbnbs along the way and one super eclectic bed and breakfast, B&B Andio in Dubrovnik. While in Munich they stayed at Hotel Seibel which was located right in the middle of all the action at Oktoberfest.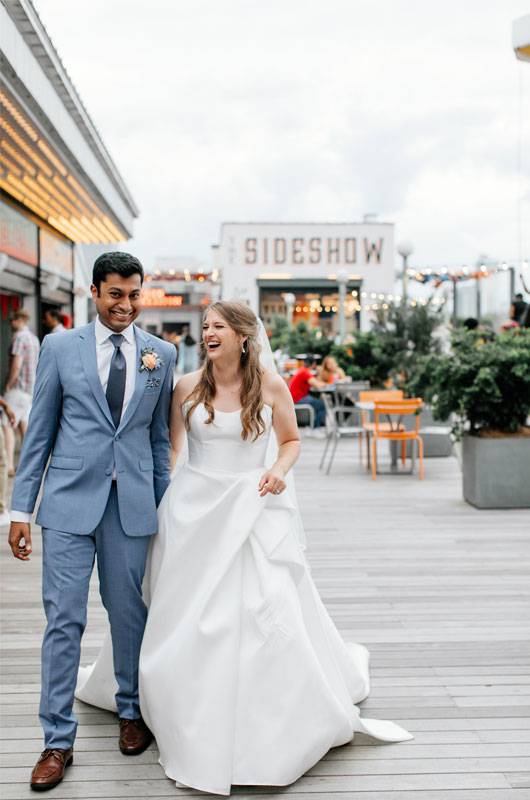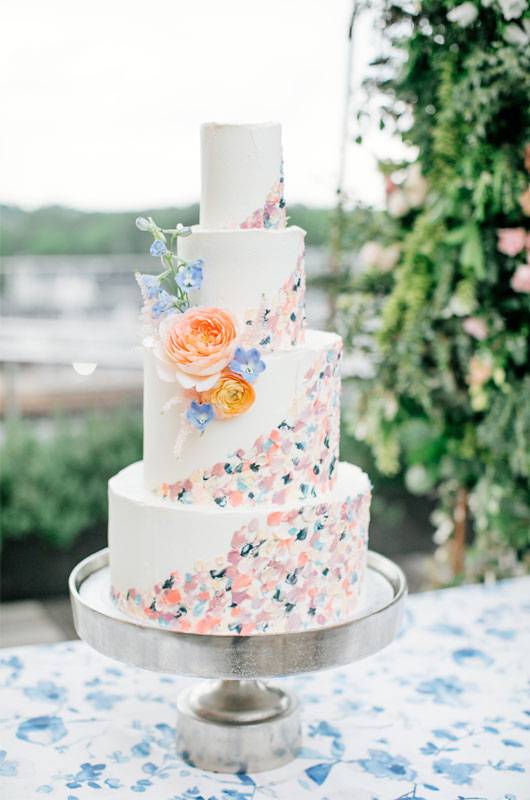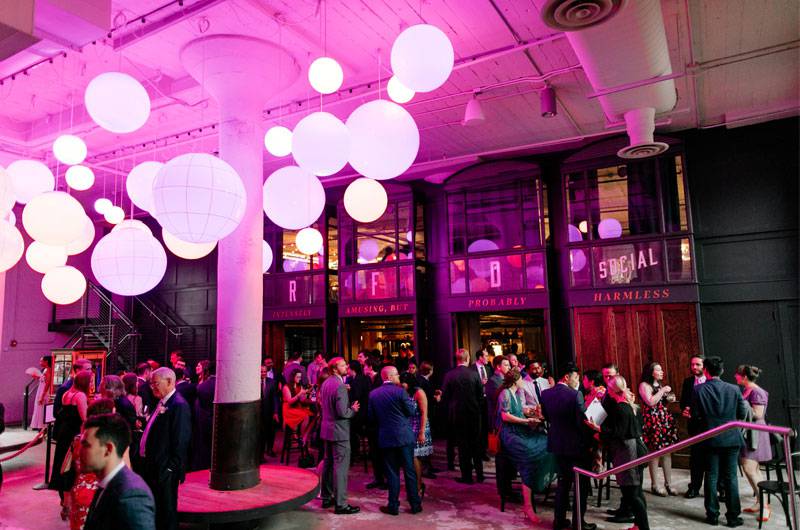 Carrie Henderson And Varun Kannan Bride And Groom Exploring Ponce City Market Atlanta
Carrie Henderson And Varun Kannan Colorful Wedding Cake With Florals And Brush Strokes
Carrie Henderson And Varun Kannan Wedding Reception Lighted Overview
Contributing Vendors
PHOTOGRAPHER 
EVENT PLANNER, DESIGNER, & FLORALS
RECEPTION VENUE
CATERER
CAKE
APPAREL
BEAUTY
INVITATIONS
CALLIGRAPHY
LINENS AND COVERING
BAND
EQUIPMENT RENTALS