Christina Herubin & Afnajjer Hernandez
When Tradition and Romance Come Together
Married
Jul 7, 2018
Dallas , Texas
Photo Credit
Bethany Erin Fine Art
---
Style Guide
Color Palette
Style
Formal
Season
Summer
---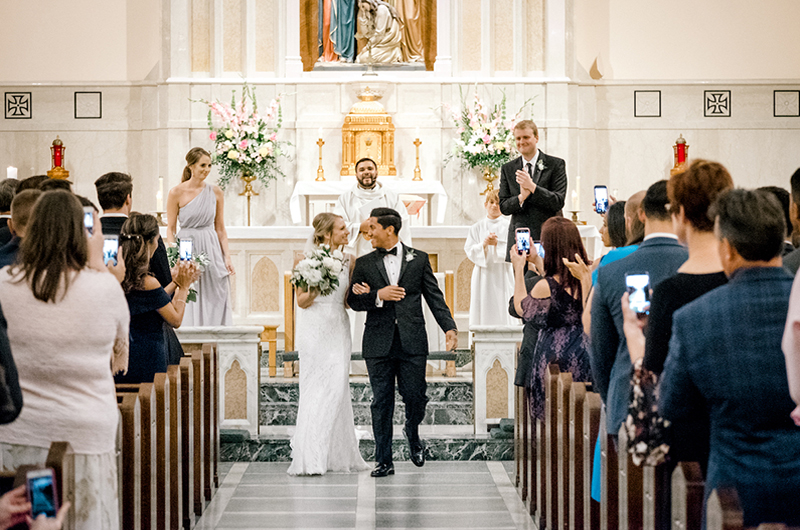 The Proposal
Af proposed at the Nasher Sculpture Center in Dallas, Texas. He walked me down a path outside toward a reflecting pool and handed me a pair of headphones. I heard the voice of Josh Weathers, my favorite local musician. Af had him record a personalized version of one of my favorite songs, "Big Night in the City." Af and I danced as we listened to the song and then he got down and one knee to ask for my hand in marriage. Afterward, we celebrated with a private dinner at Tower Club Dallas where we had one of our first dates and also where we hosted our wedding reception!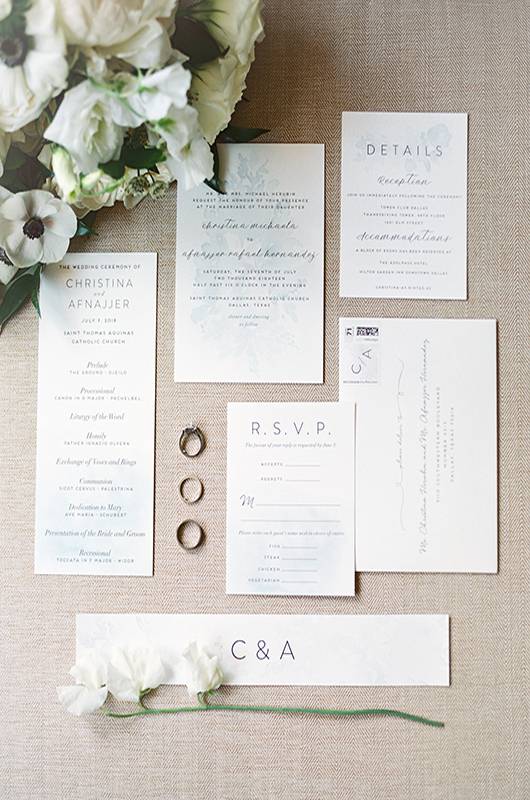 Christina Herubin And Afnajjer Hernandez Wedding Invites Floral Set Up
Christina Herubin And Afnajjer Hernandez Wedding Bands Bride And Groom
In Preparation
While Af and I were planning our wedding we were also planning a move to California – so we worked hard to balance the weight of both adventures with the priority of our relationship. We decided to have a traditional full Catholic mass and host our reception in downtown Dallas at the Tower Club, which is on the 48th floor and has an incredible view of the city. Our aesthetic was clean and classic, but with a modern twist. I decided on mix and match gray dresses for my bridesmaids and Af chose black suits for the groomsmen. Our floral design included lush white garden roses, peonies, and ranunculus with a pop of blue from anemones and greenery for texture. We love a dance party so we chose a DJ that could mix all of our favorites with a bit of Latin flair. One of my bridesmaids made 300 macarons as wedding favors – Italian wedding cake to represent my family and Colombian coffee to represent Af's. Every piece of our wedding was chosen with meaning and intention.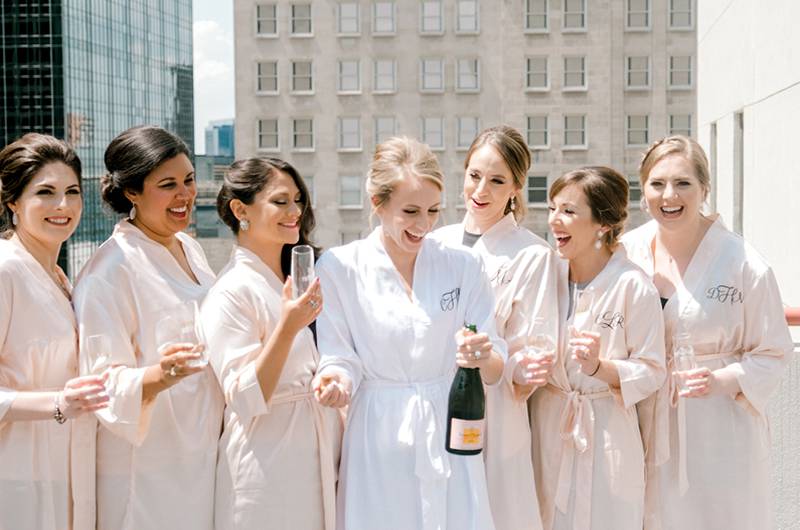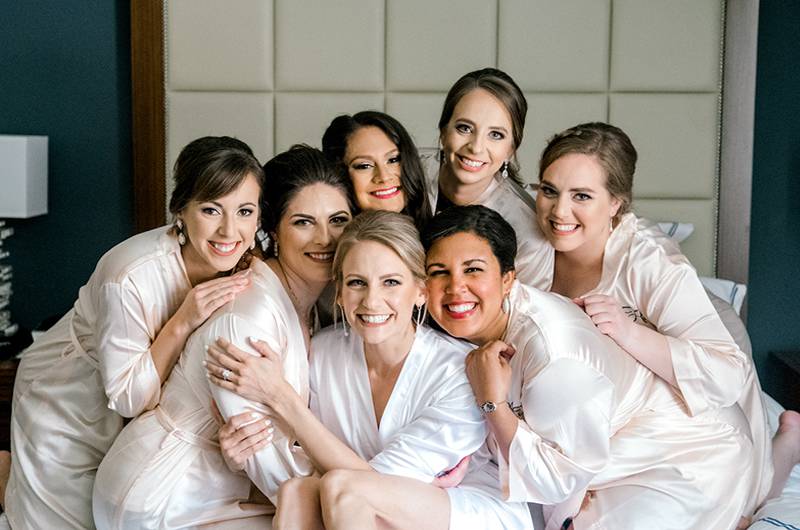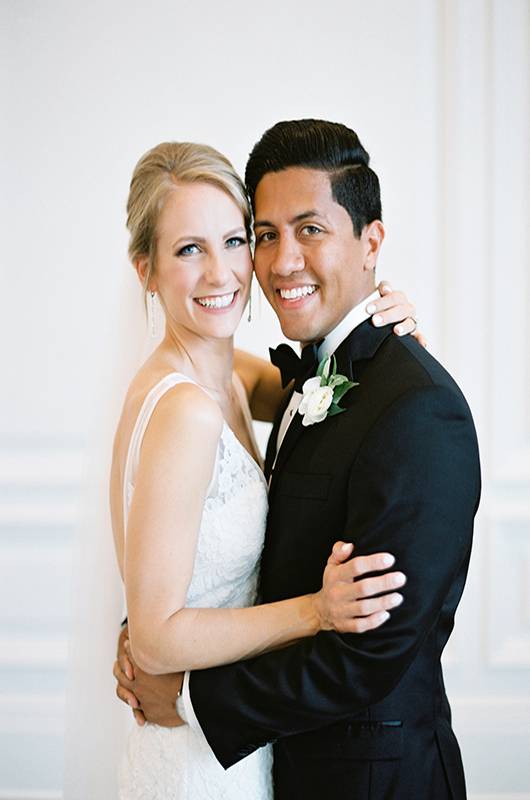 Christina Herubin And Afnajjer Hernandez Bride And Bridesmaids Toasting On Rooftop
Christina Herubin And Afnajjer Hernandez Bride And Bridesmaids Group Hug On Bed
Christina Herubin And Afnajjer Hernandez Bride And Groom Portrait Photo
The Big Day
After a luxurious morning with my bridal party, Af and I had our first look and read love notes to each other in the gorgeous ballroom of The Adolphus Hotel. My brothers opened the church doors and I walked down the aisle with my father while our organist played Canon in D. Our ceremony was bilingual as Af's family is Colombian and some speak only Spanish. A full choir sang a truly angelic rendition of "Ave Maria" that brought tears to our eyes. As we headed downtown with our wedding party, we relished in the most beautiful pink sunset and toasted with champagne. Af and I made our grand entrance and had our first dance to "Beyond" by Leon Bridges. We cut our cake with the Dallas skyline in the background and began the best dance party of our lives – confetti cannons and all! Our last dance, just the two of us in our thoroughly enjoyed ballroom, allowed us to savor the enormity of the day and I sobbed not wanting it to end. It will forever be the most beautiful, perfect, heart-warming day of our lives!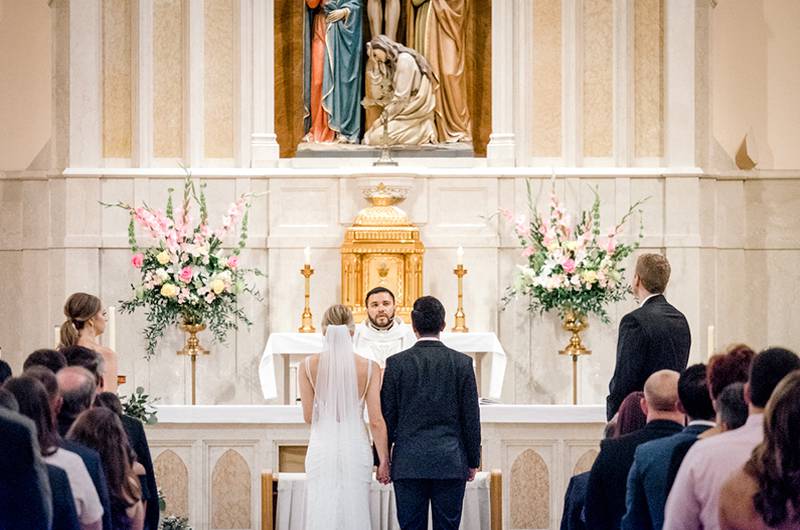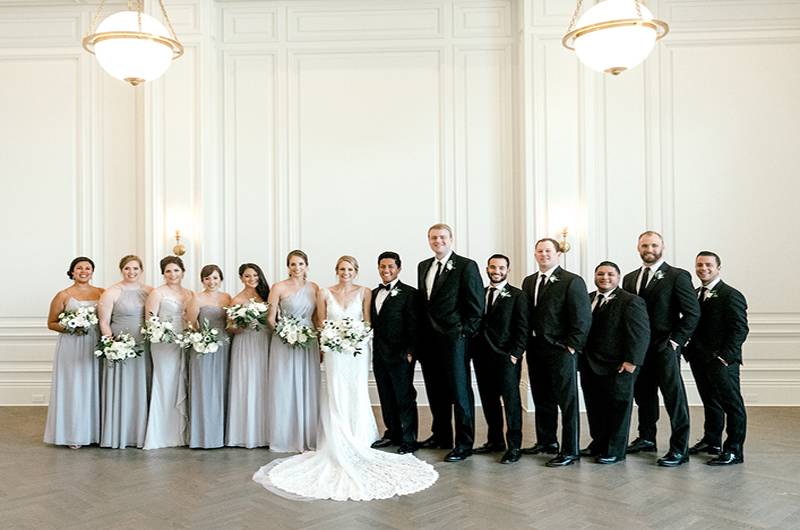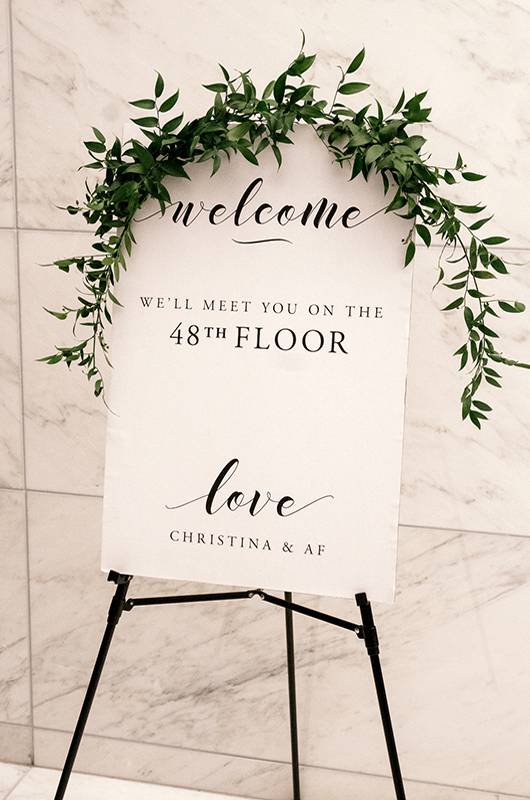 Christina Herubin And Afnajjer Hernandez Bride And Groom Vow Ceremony
Christina Herubin And Afnajjer Hernandez Full Bridal Party
Christina Herubin And Afnajjer Hernandez Welcome Sign To Reception
The Retreat
Af and I wanted to balance exploration with relaxation on our honeymoon, so we spent two weeks touring European cities that were new to the both of us. We started in Lisbon, Portugal then lounged at a remote beach resort on the coast. We went wine and port tasting in Porto before flying to Rome. We spent an incredible day touring the Vatican and had our marriage blessed by a priest while we stood in the Sistine Chapel. We rounded out our honeymoon at a small boutique hotel on the Amalfi Coast where we enjoyed the stunning blue water, boating, and all of the delicious local cuisine – we could not get enough pasta, pizza, wine, and gelato!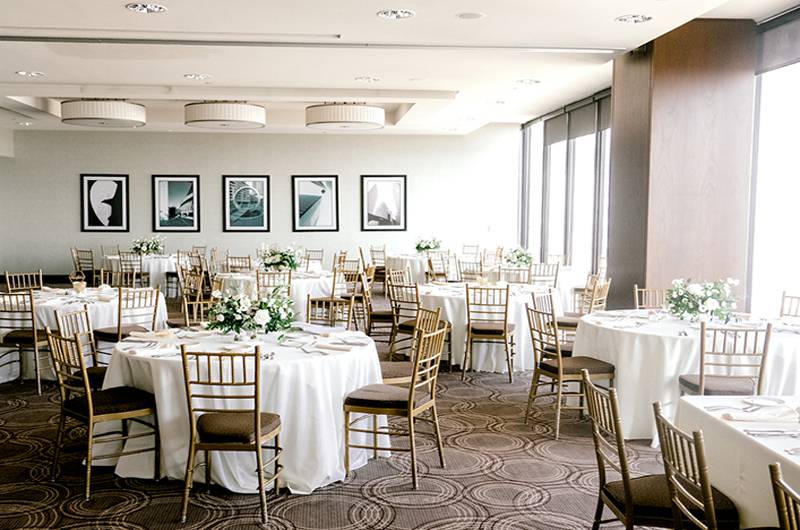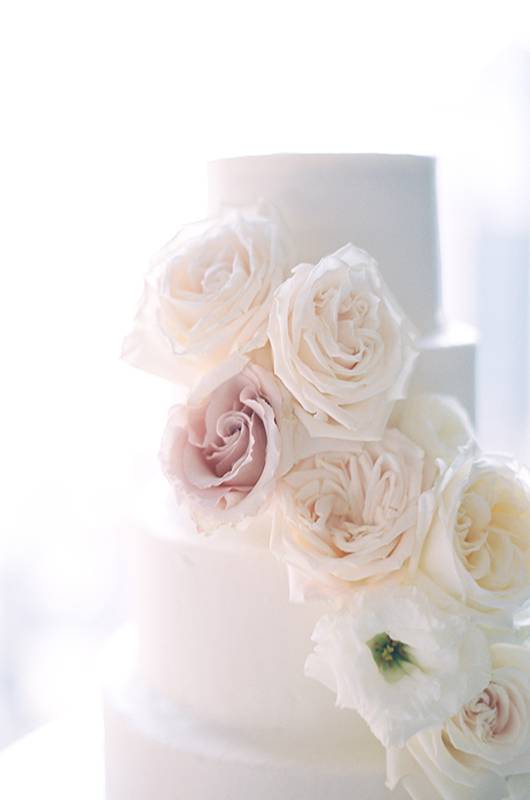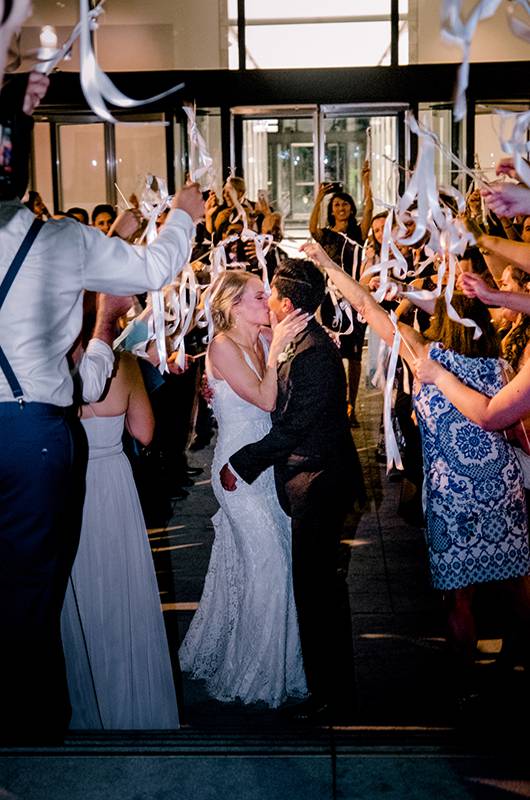 Christina Herubin And Afnajjer Hernandez Reception Area
Christina Herubin And Afnajjer Hernandez Wedding Cake With Floral Accents
Christina Herubin And Afnajjer Hernandez Bride And Groom Send Off To Honeymoon
Contributing Vendors
PHOTOGRAPHER
Bethany Erin Fine Art
CEREMONY VENUE
St. Thomas Aquinas Catholic Church
RECEPTION VENUE
The Tower Club
CAKE
Tart Bakery
ENTERTAINMENT
Dominic Nagella of LeForce
EVENT PLANNER
Chancey Charm Dallas
FLOWERS
Olive Grove Design
INVITATIONS
Minted
BEAUTY
Tousled Studio
BRIDAL FASHION
Made With Love Bridal
a & bé Bridal Shop Dallas
Altered for the Altar
MACAROONS
Easy as Cake