Diana Yovera & Michael Kjelson
Only Eyes For You
Married
Sep 1, 2019
New Orleans , Louisiana
Photo Credit
Caitlin B Photography
---
Style Guide
Color Palette
Style
Whimsical
Season
Fall
---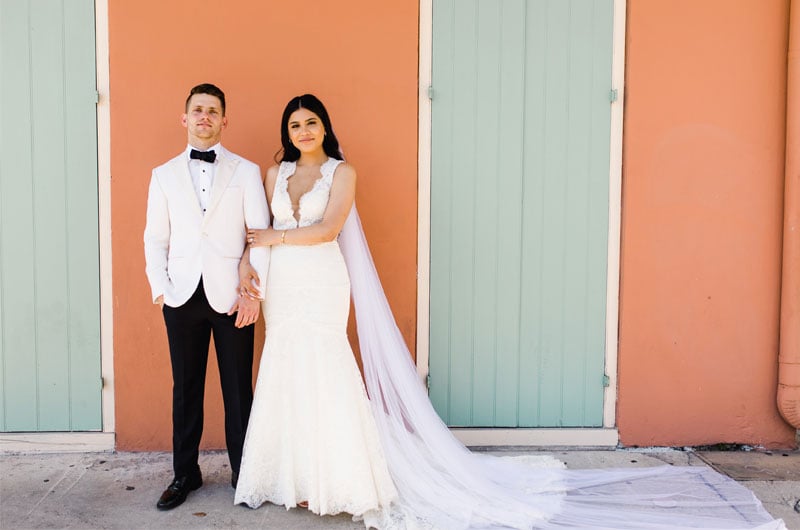 The Proposal
Michael proposed to me on a trip to Peru, which is where I was born. I thought the purpose of us traveling to my hometown was to introduce Michael to my family. Little did I know he actually planned to ask my parents for my hand in marriage. Despite Michael booking a gorgeous suite for us on an excursion to Cusco a couple days after being home, I had no idea what was in store! On November 22, 2017, we went on a hike to Machu Picchu and on our tour he wanted to stop to take some pictures. Michael never wants to stop and take pictures, so that caught me a little off guard. Rightfully so, he dropped down on one knee and proposed!
[smartslider3 slider="222″]
In Preparation
One of our traditions is to visit New Orleans for Mardi Gras every year, so when it came time to plan our wedding, there was no question that we would opt for a southern celebration. Originally, the ceremony was planned to take place under the historic Tree of Life in Audubon Park, but unfortunately due to weather we decided to make a last minute change to the Peristyle in City Park, which was actually a blessing in disguise. The Peristyle is a stunning pavilion that overlooks the water and moss covered oak trees, so we were still able to enjoy an outdoor ceremony, while protecting our guests in case of rain. Our reception was held at the historic, James Beard-nominated Brennan's Restaurant in the French Quarter. We selected the venue because you can reserve its courtyard and main dining room for your wedding, so guests would be able to enjoy dinner and dancing in one large space.
[smartslider3 slider="223″]
The Big Day
Although there was a 40% chance of precipitation forecasted during the week leading up to our wedding, it didn't rain! The weather was perfect and we were able to take pictures in the Quarter as well as City Park. The setting among hundreds of oak trees was a dream come true! Our guests, who traveled from all over the world, were amazed at the beauty of New Orleans, which made the planning and last minute changes totally worth it. Our string quartet learned the song "There She Goes" by The La's for my walk down the aisle, an ode to my love for 90s rom-coms. At the reception, we danced to Lauryn Hill's version of "Can't Take My Eyes Off Of You", which our band graciously learned as a special request. A second line parade immediately followed to get the party going – everyone paraded down Royal Street with us. It was the highlight of the evening and a moment we will always cherish.
[smartslider3 slider="224″]
The Retreat
Our wedding week felt like a vacation in itself so we decided on a mini-moon in Santa Monica, California at the end of the month. For our official honeymoon, we booked a two-week getaway to the Amalfi Coast and Paris for June 2020 but we've unfortunately postponed those plans due COVID-19.
[smartslider3 slider="225″]