Emily Kelbert & Matthew Kuntz
New Beginnings
Married
Jun 18, 2022
Asheville , North Carolina
Photo Credit
Emily Kidd Photo
---
Style Guide
Color Palette
Style
Formal, Whimsical
Season
Summer
---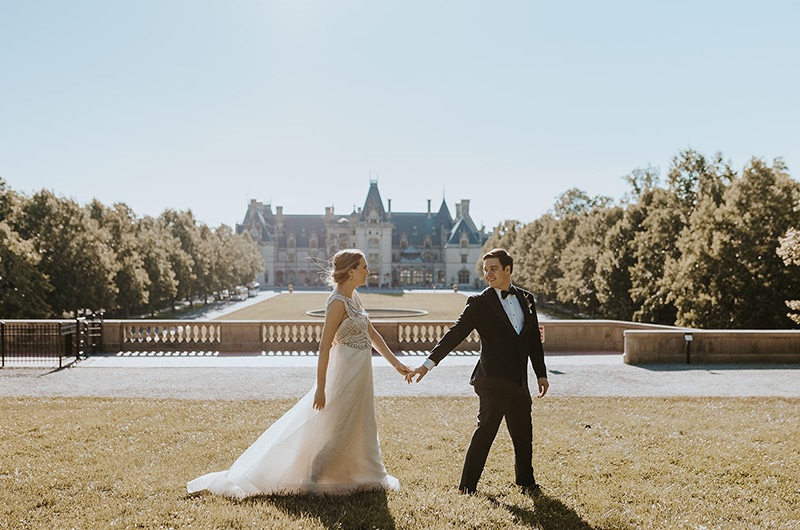 The Proposal
Emily and Matt met at the University of Florida and were living together in Tampa when Matt unexpectedly received his dream job offer in Arizona. Matt decided to move a few months before Emily, as she wanted to savor her home state a bit longer. Unsure about the move, Emily decided to visit and see Arizona for herself. After a long travel day, Emily took a nap and woke up just before evening to Matt, urging her out of the door to see the sunset. They drove to the state park nearby and hiked up a small trail to where a vista displayed the scenery of southern Arizona. It certainly wasn't home, but Emily appreciated her beautiful surroundings. They sat in the lawn chairs and opened a bottle of wine Matt conveniently decided to bring along. Emily noticed a photographer moving closer to them as the sun dripped below the mountains. She told Matt that they should probably move because they were getting in the way of her shot. Suddenly, Matt stood up, causing his chair to fall over, and bent down on one knee to pop the question. Emily immediately said yes! She looked down and saw the beautiful sapphire ring; It was one of the happiest moments of her life. After all the adrenaline, the newly engaged couple realized they were in need of something to eat and headed to a west coast classic, In-N-Out, to complete the evening. It was the perfect way to begin their new lives together in Arizona.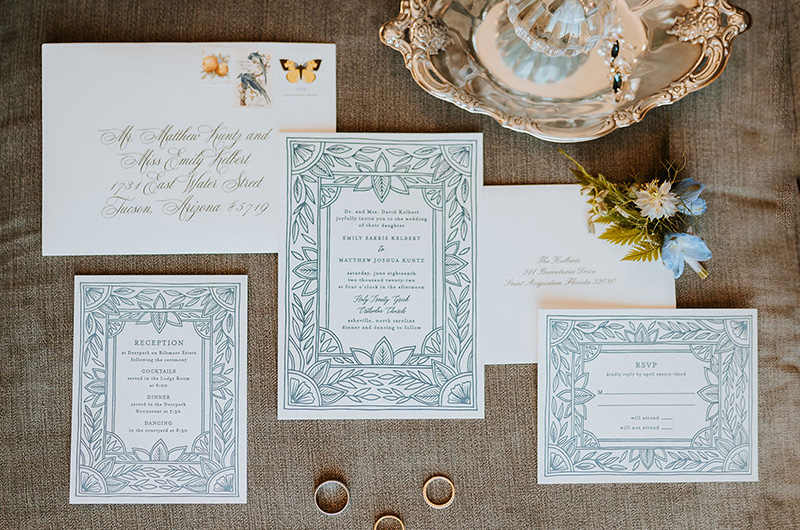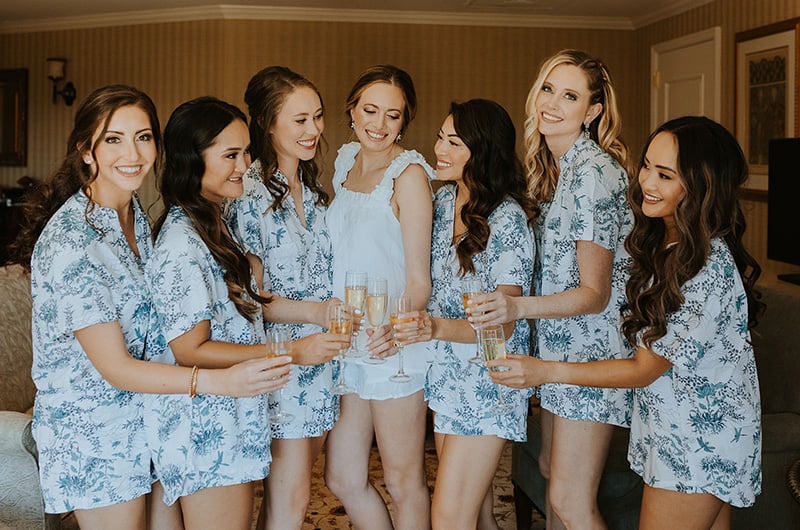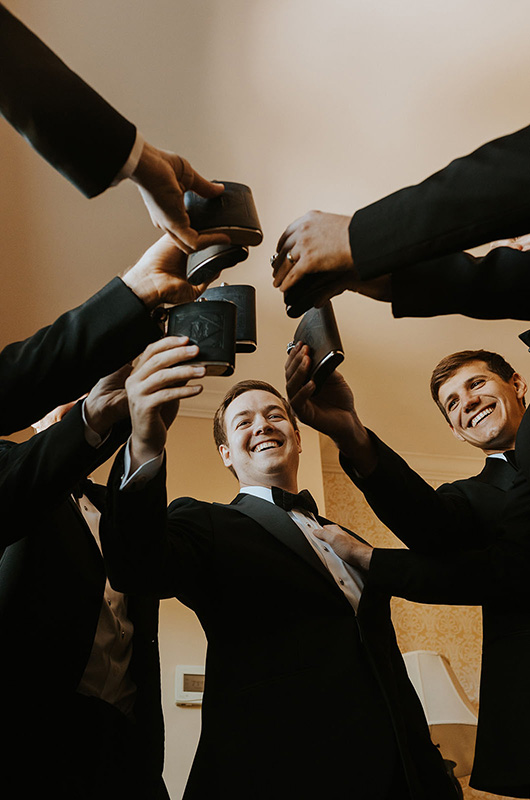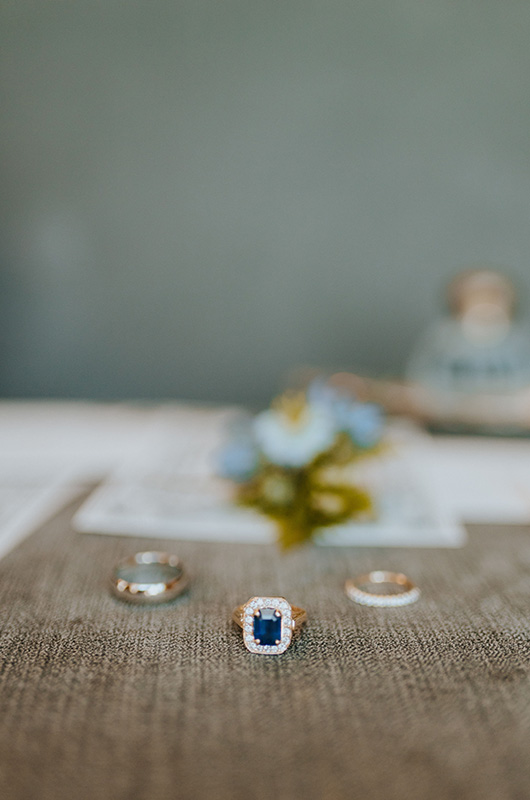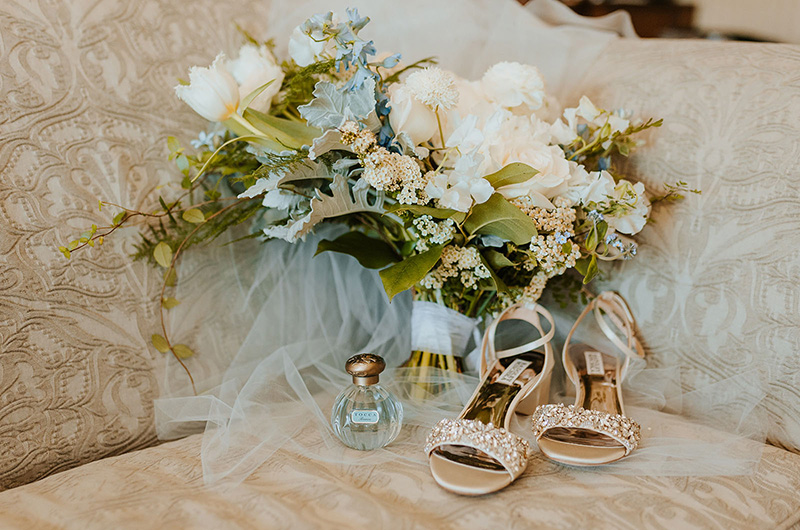 In Preparation
Emily knew she wanted to get married in the South. Her family has a cabin in Western North Carolina that they visit every summer to escape the Florida heat. When she envisioned planning her wedding in North Carolina, Emily knew it felt right. She also knew that she wanted a venue with a vintage yet classic aesthetic. Emily adores the Netflix series Downtown Abbey and the whole Art Nouveau/Art Deco movement. When her maid of honor suggested a reception at Biltmore Estate in Asheville, Emily immediately agreed it was a perfect choice. Deerpark at Biltmore Estate provided an open courtyard, a historic lodge room for cocktail hour, and a restaurant with floor-to-ceiling glass windows that would create a lovely atmosphere for dinner. The flexibility and elegance of the space sealed the deal.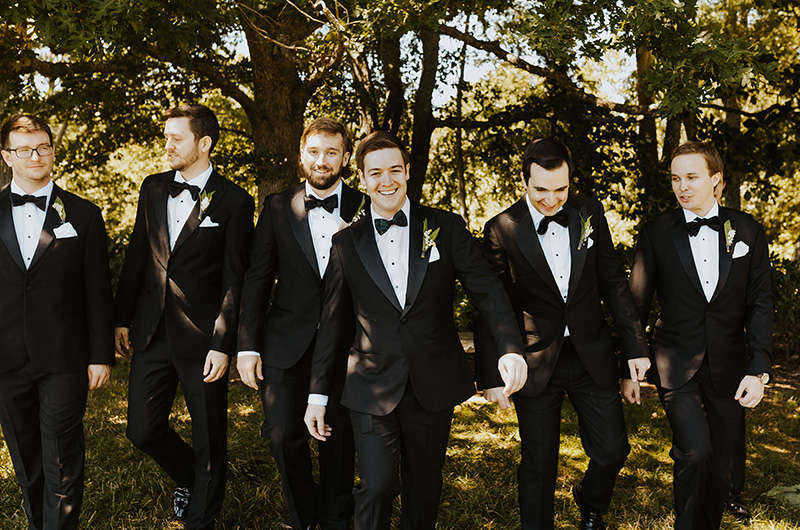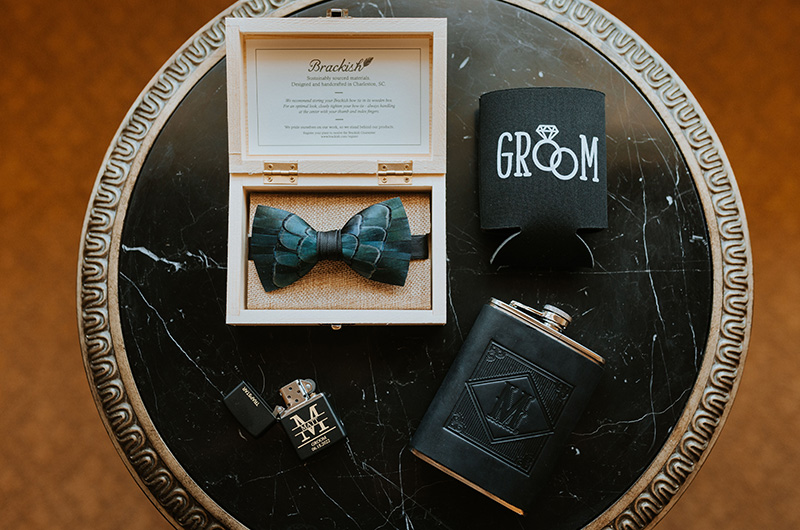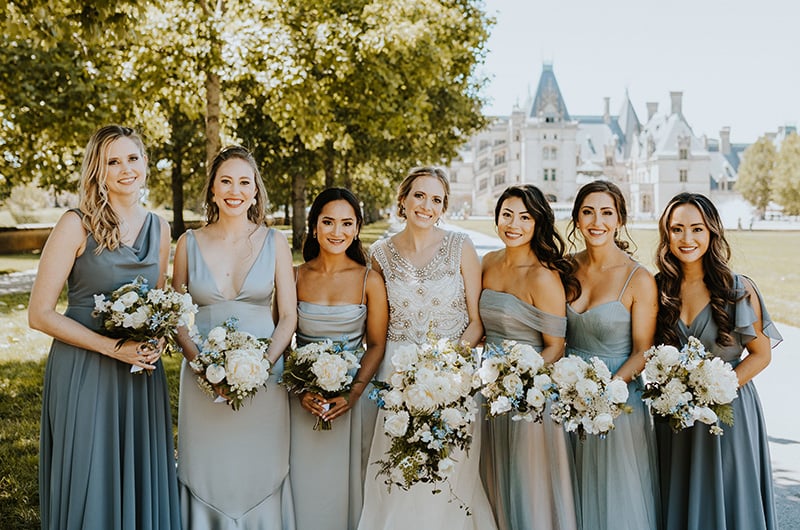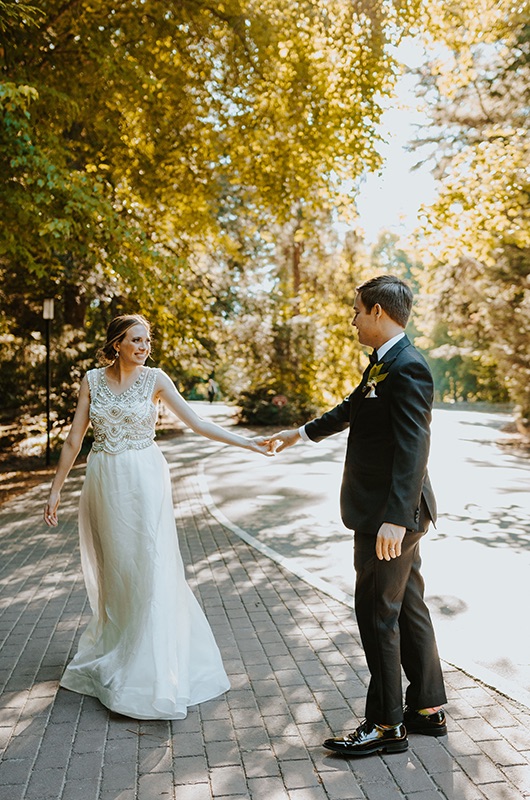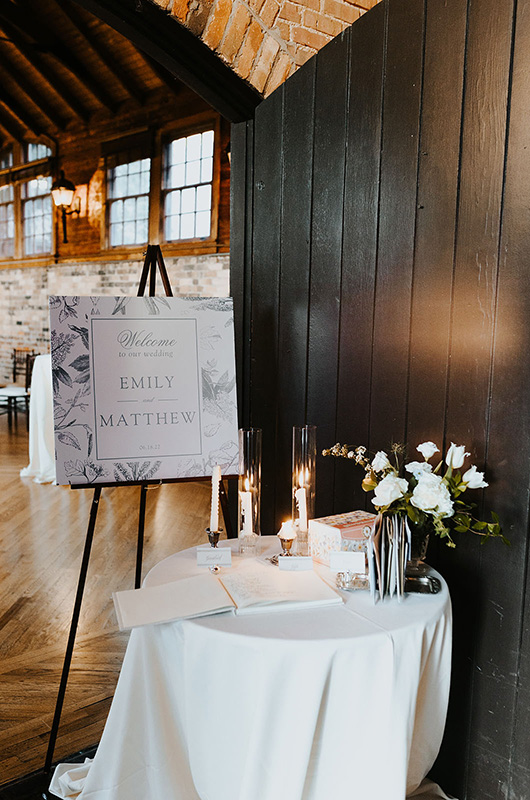 The Big Day
Emily and Matt's wedding day was a joyous celebration of love and tradition. They began by getting ready at the Inn on Biltmore Estate and exchanged vows in a traditional Greek Orthodox ceremony at the local church in Asheville. Afterward, Emily, Matt, and their guests returned to Biltmore Estate for group photos on the beautiful lawns. The reception began with passed canapes, signature cocktails, and a full bar. Emily and Matt made a grand entrance and officially welcomed everyone with a lively champagne tower and toast. A planned menu of southern dishes was served for dinner, including shrimp n' grits, grilled ribeye steaks, and lobster tails. The dinner tables were covered in candelabras, moss, and florals in various shades of blue to create an ethereal and natural vintage feel. Everybody danced the night away in the tented courtyard under an Art Deco-inspired chandelier while the incredible Erica Berg Collective seven-piece band played. For the last hour of the celebration, a DJ made a surprise appearance, and guests were given feather boas, pearl necklaces, fedoras and crowns, and vintage disposable cameras to capture the joyous occasion. Emily and Matt exited with 150 of their closest family and friends waving sparklers.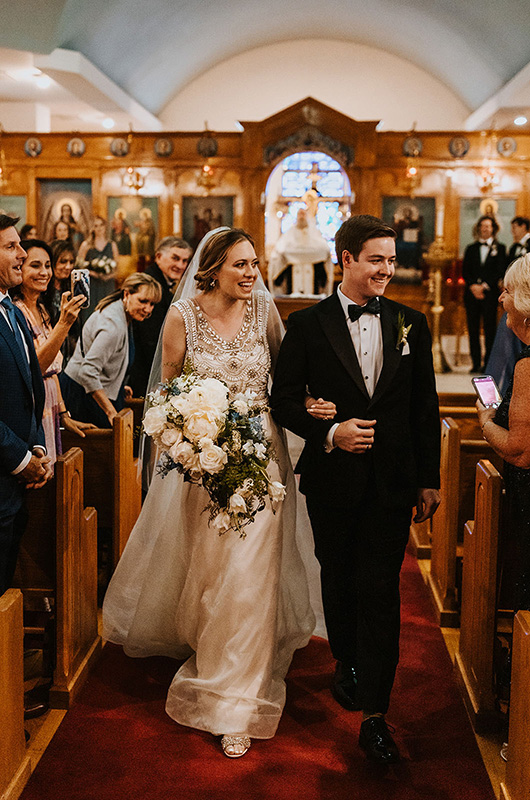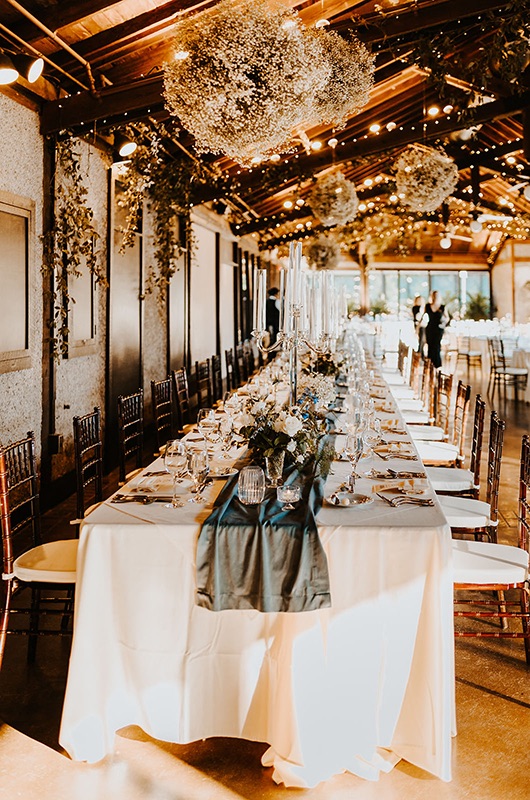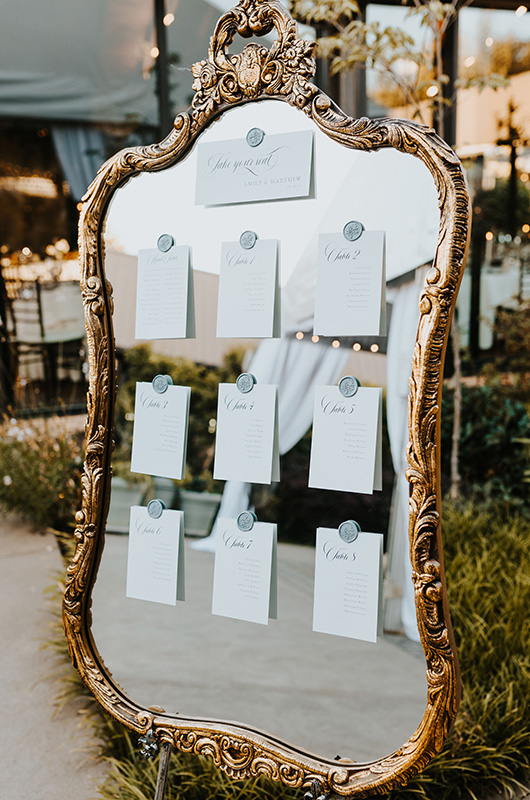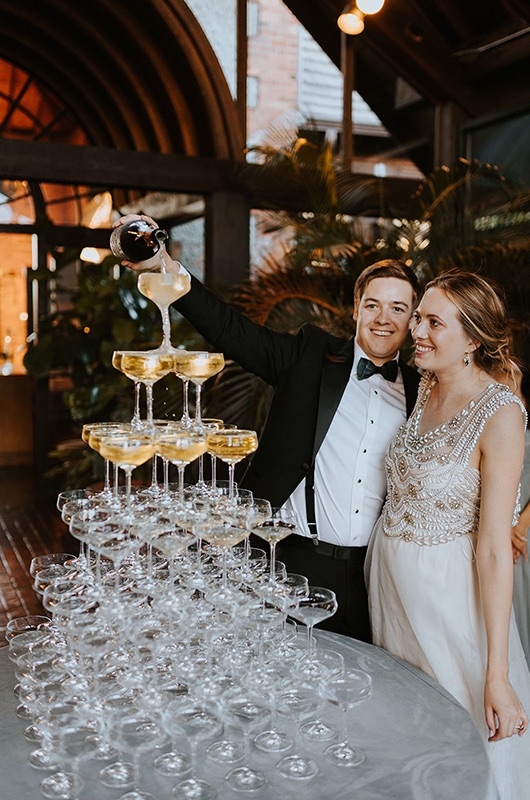 The Retreat
Emily and Matt will be traveling to Bali next summer for their honeymoon. Their first stop will be the historic cultural center of Ubud, where they plan to stay in eco-friendly tents in the rainforest. Then, they'll travel by boat to the nearby island of Nusa Penida to hike and relax on the beach. Finally, they'll end their trip in the classic honeymoon region of Uluwatu.