Justin Warshaw & Kelsey Turchi
This is What Dreams Are Made Of
Married
Sep 30, 2022
Sovicille-Siena , Italy
Photo Credit
Alessia Franco of David Bastianoni Studio
---
Style Guide
Color Palette
Style
Destination, Formal, Luxury
Season
Fall
---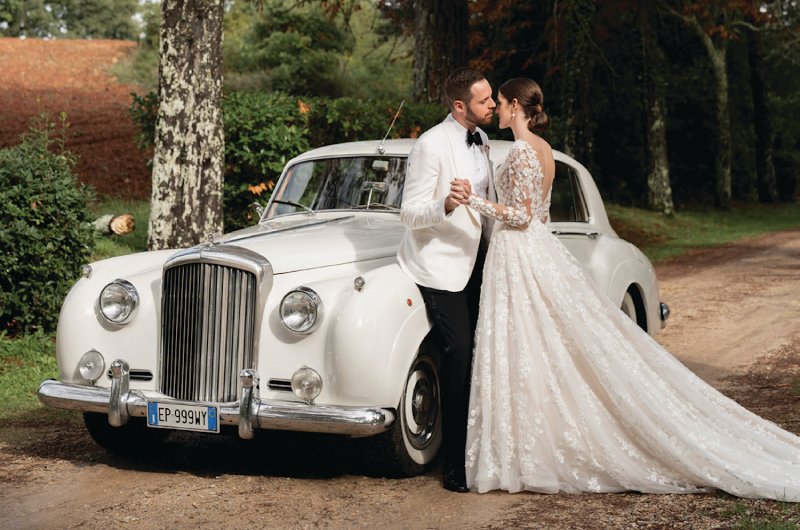 The Proposal
Justin and Kelsey had planned a trip to celebrate Kelsey's birthday in Jackson Hole, Wyoming, at Jackson Hole Mountain Resort. Justin and Kelsey both love skiing, and Justin thought Jackson Hole would be the perfect scenic and serene backdrop for this special occasion. After a delicious breakfast on Saturday morning, the couple got a car from the hotel and headed out for a day of sightseeing. Arriving at Teton Point Turnout, Justin and Kelsey began exploring and taking photos of the beautiful surroundings. While snapping pictures, Justin got down on one knee and popped the big question! The couple only had a little time afterward, as they were running late for their lunch reservation at Dornan's. Little did Kelsey know, Justin surprised Kelsey with her family joining them! "Kelsey informed the hostess that it was lunch for two, and I corrected her and told her we would be joining a group. Kelsey immediately screamed, "Where are they?!" as her family approached quickly, and they embraced. Everybody enjoyed pizza and champagne before setting out on an afternoon snowshoeing adventure!"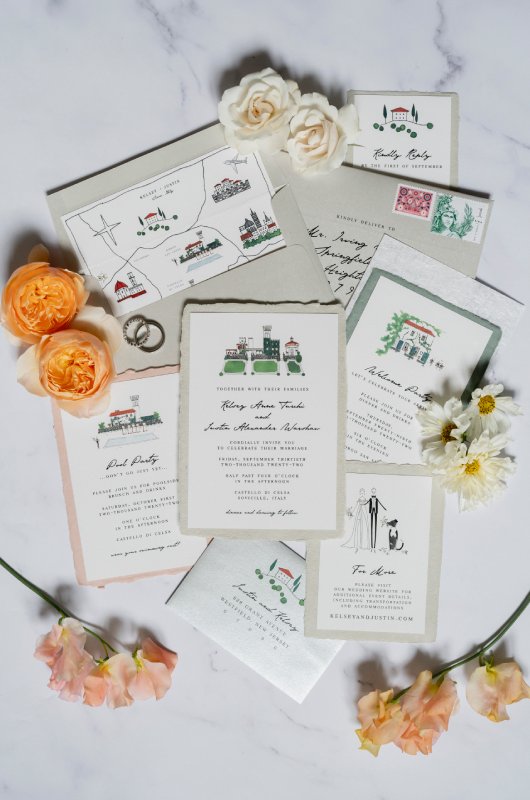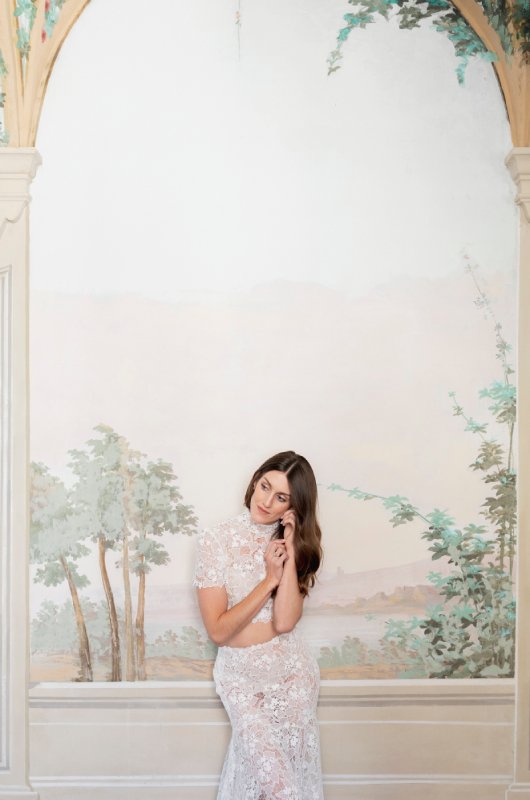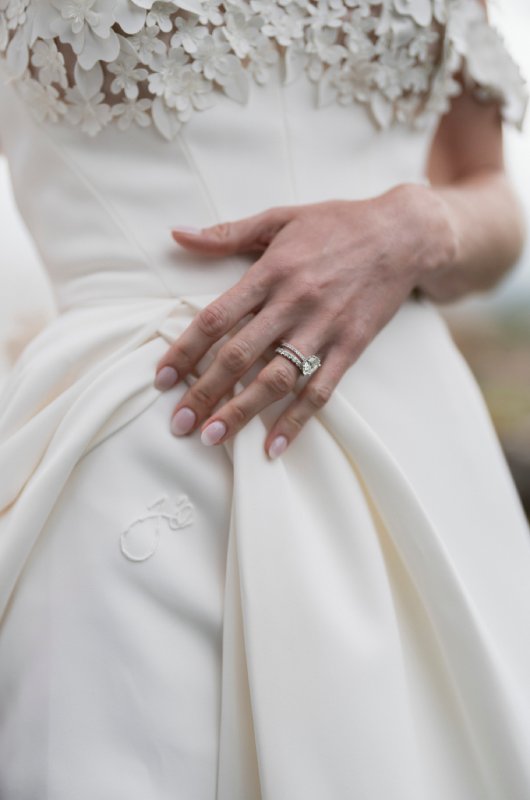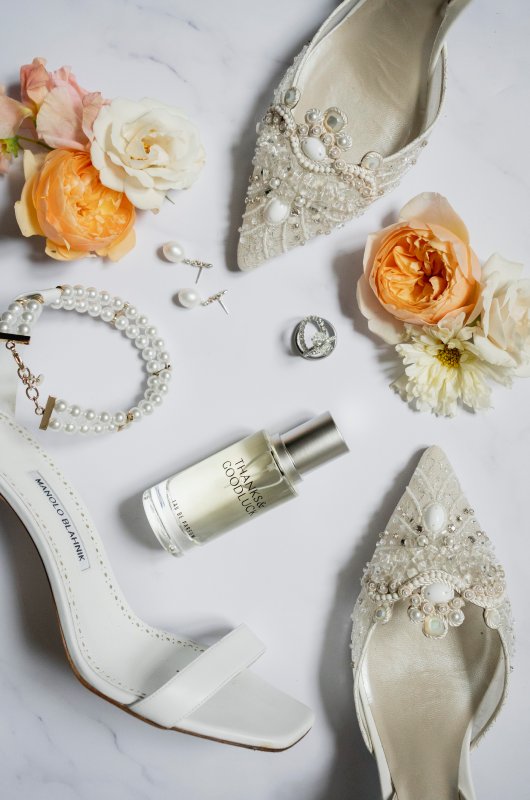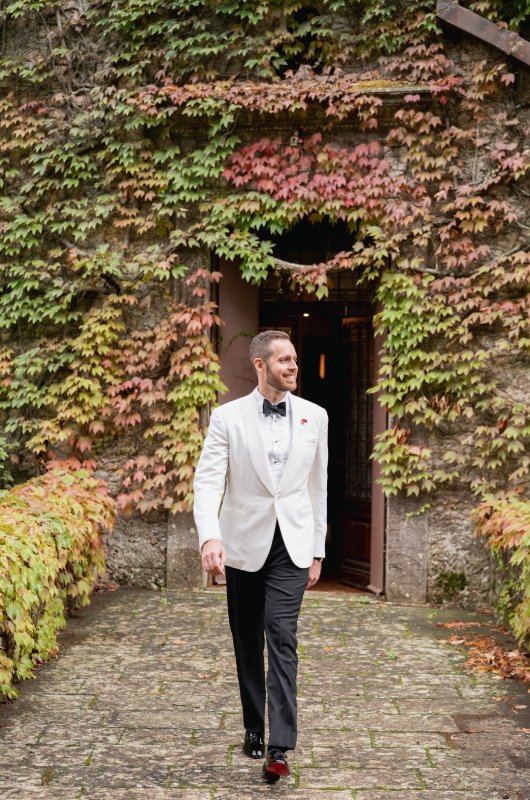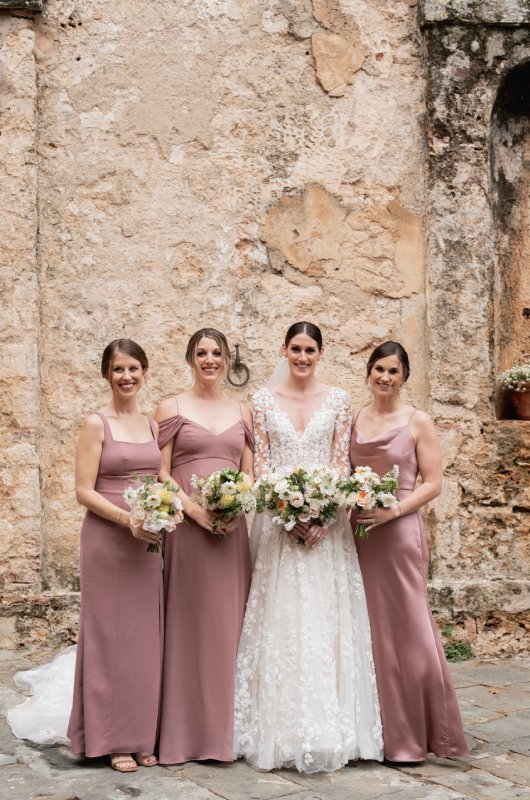 In Preparation
Justin and Kelsey hired a planner, Luba Gankin of Primavera Dreams, almost immediately. Luda specializes in Tuscan weddings and introduced the couple to many great venues and incredible vendors. The couple always wanted a destination wedding, and after discussing their options, they felt Italy was the perfect choice due to Kelsey's heritage and Justin's love of the country. As for the wedding décor inspiration, they really wanted to lean into the country's natural beauty, history, and character of the castle, as well as Italian traditions. The overarching wedding theme could be described as The Garden of Love. And for the menu, Truffle pasta was a must, served as the second course. The couple stuck with the Tuscan tradition with two pasta courses, followed by a balsamic filet. Justin and Kelsey also took a trip to Italy beforehand to see the venue, do their tasting, and confirm the dinner selections.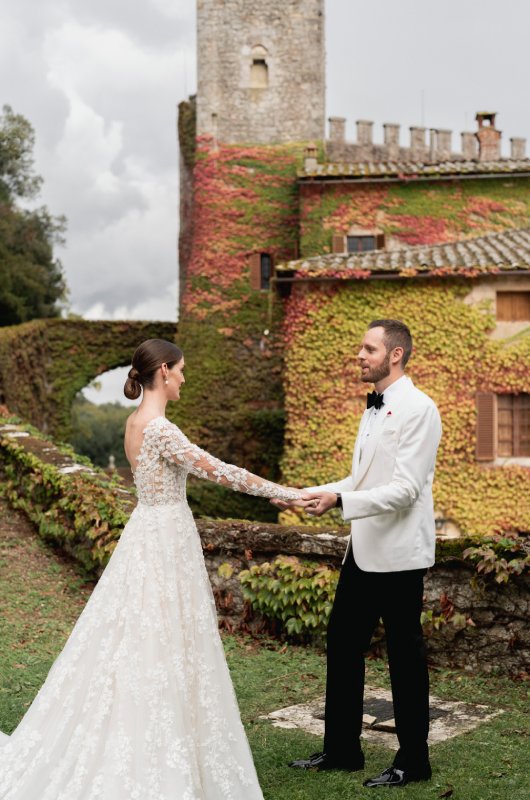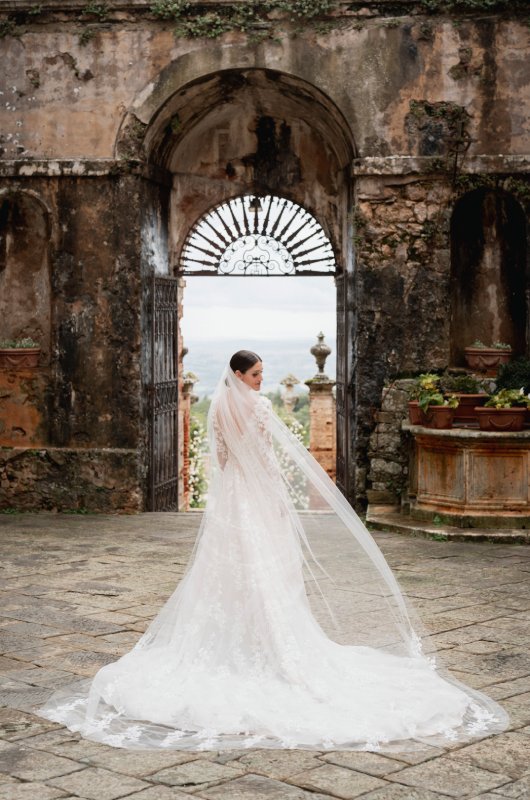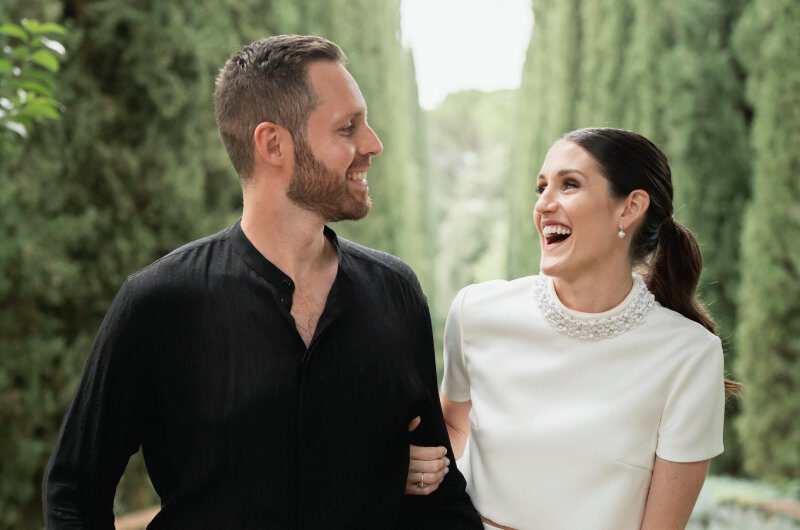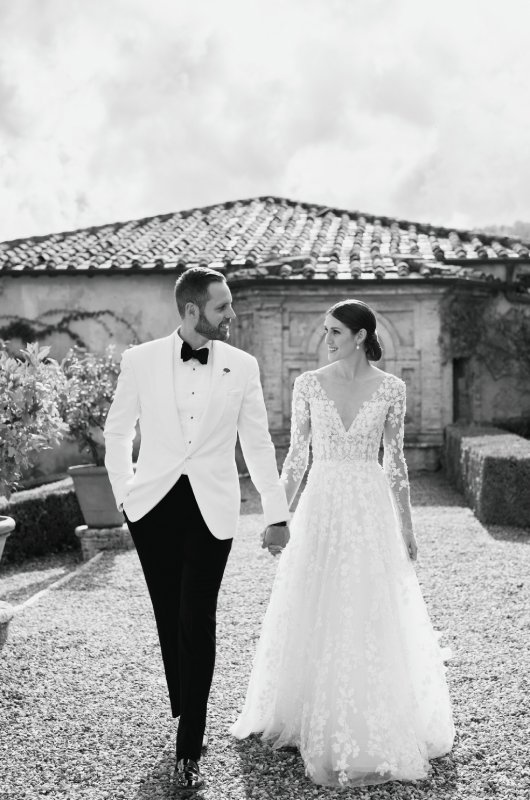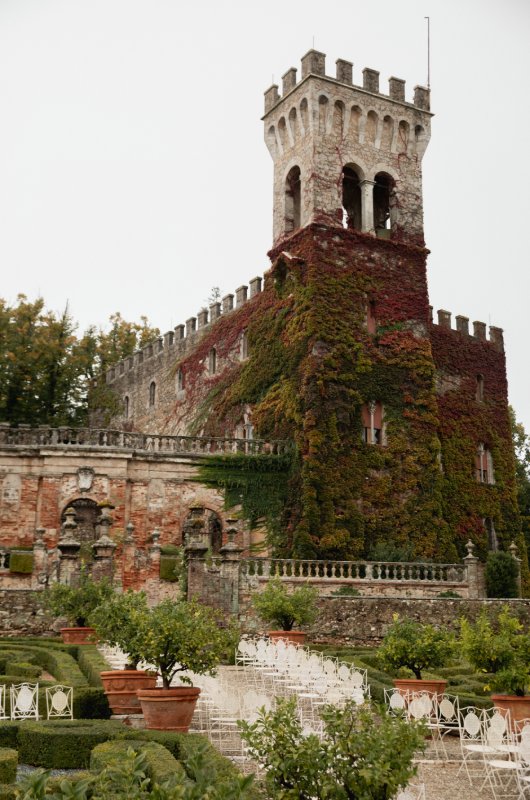 The Big Day
The wedding and ceremony took place at the historic Castello di Celsa in Siena, Italy, dating back to the 13th century. The location was lush, with greenery from the gardens all the way up the vines of the castle, romantic architecture, and spectacular views of the Italian countryside. The weather called for rain, and the morning started foggy until just one hour before Justin and Kelsey's first look… The sun came out, the clouds cleared, and it provided the most magical setting for their first moments together as bride and groom. For the ceremony, Kelsey wore a custom Justin Alexander gown. The gown, customized with personal embroidery and handwritten by Justin, had a magnificent dramatic veil to match. The guests entered the garden underneath gorgeous floral archways and were greeted by a string quartet. Following the ceremony, the extraordinary chefs at Guidi Lenci Catering prepared an authentic Tuscan menu. The reception space was decorated with twinkling lights, more flowers, and beautiful Italian dinnerware. There was a gelato cart, and Kelsey and Justin helped create their wedding cake on the spot by hand, making it together in front of their guests. After dessert, the couple invited their guests to join them outside for a spectacular fireworks display in the gardens before they shared their first dance.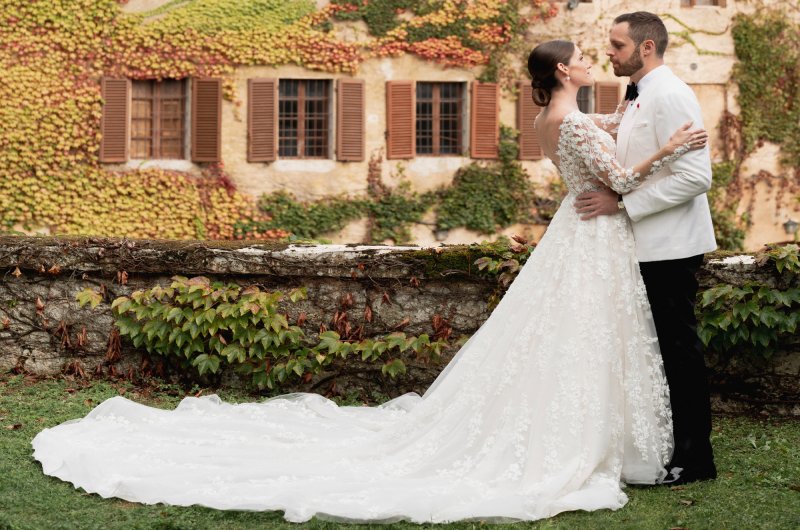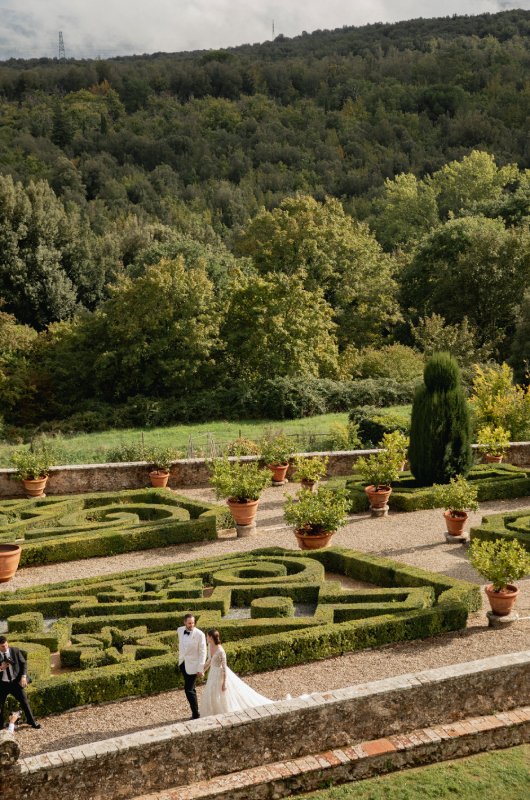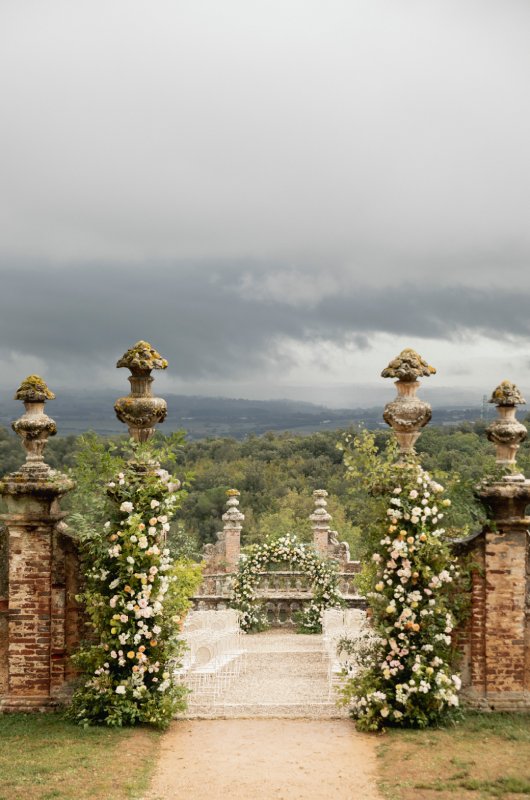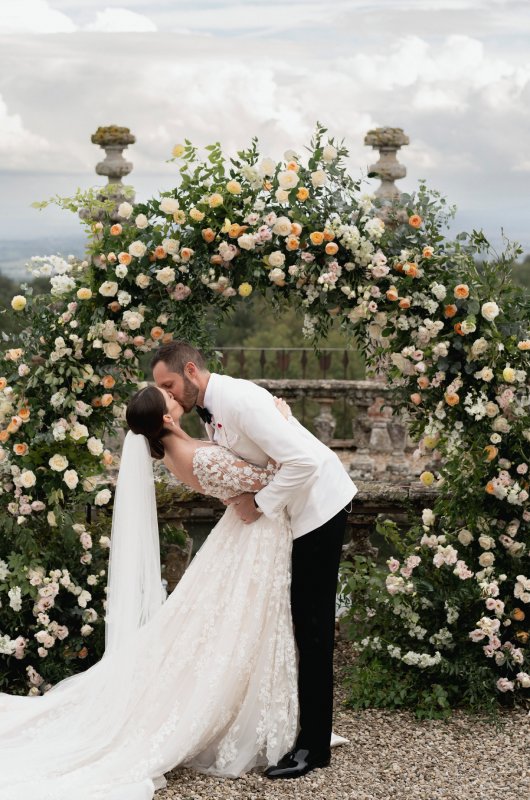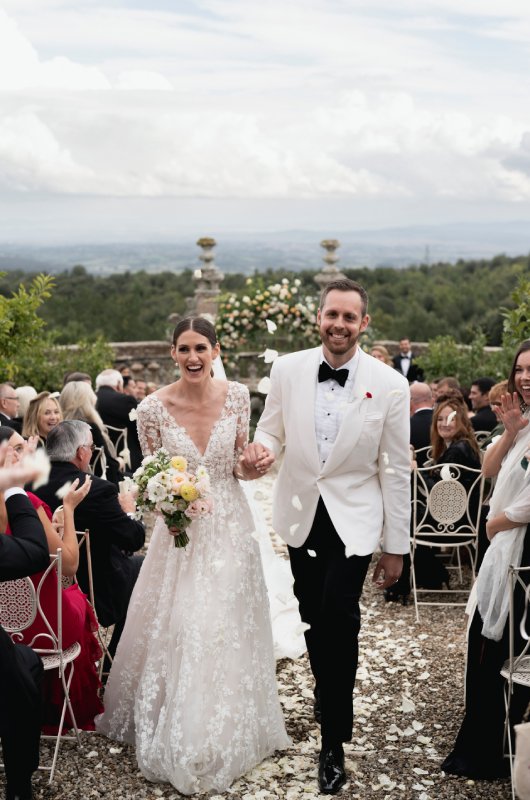 The Retreat
Justin and Kelsey spent their honeymoon in beautiful Sicily. They arrived at their first destination, Pantelleria, a secluded volcanic island less than 100 miles from Tunisia, well-known for its top export: capers. It was the perfect place to unwind and relax after three days of celebrating. They spent their time exploring the beautiful island by bike, boat, and foot. For the second half of the trip, they stayed at Monaci delle Terra Nere, a Bio Retreat on Mount Etna near Catania. Food, wine, more food, and more wine as they indulged at excellent restaurants featuring local and fusion cuisine while enjoying the wine from their favorite Italian region.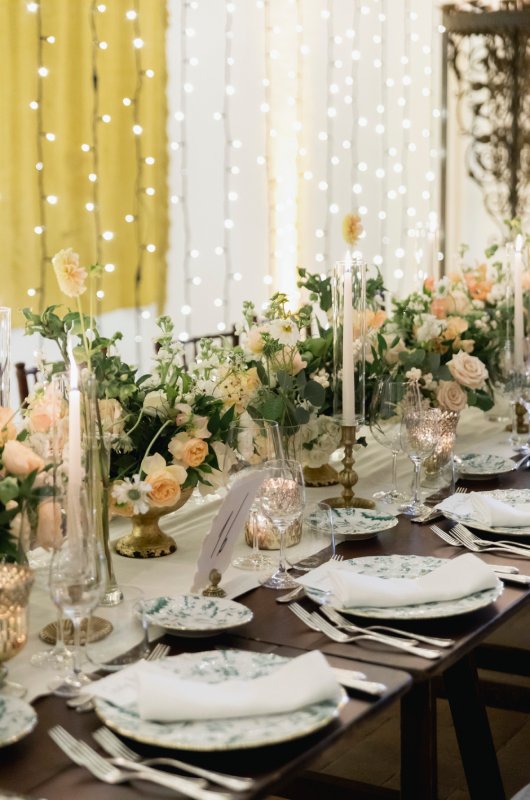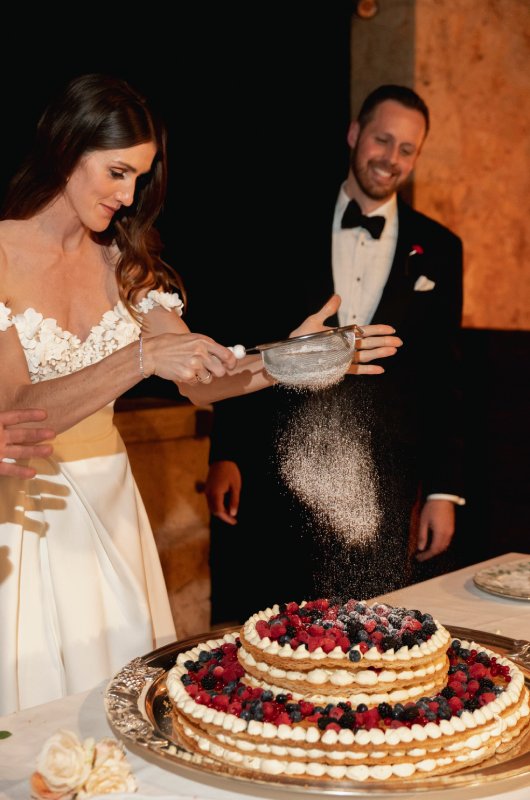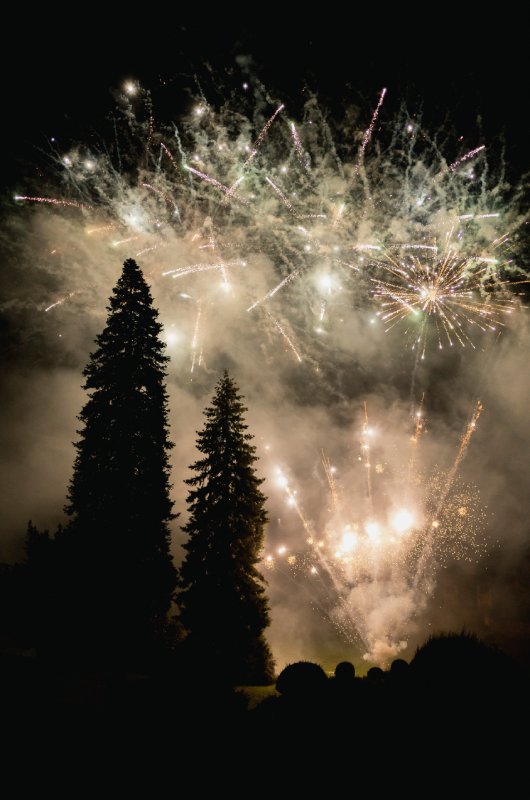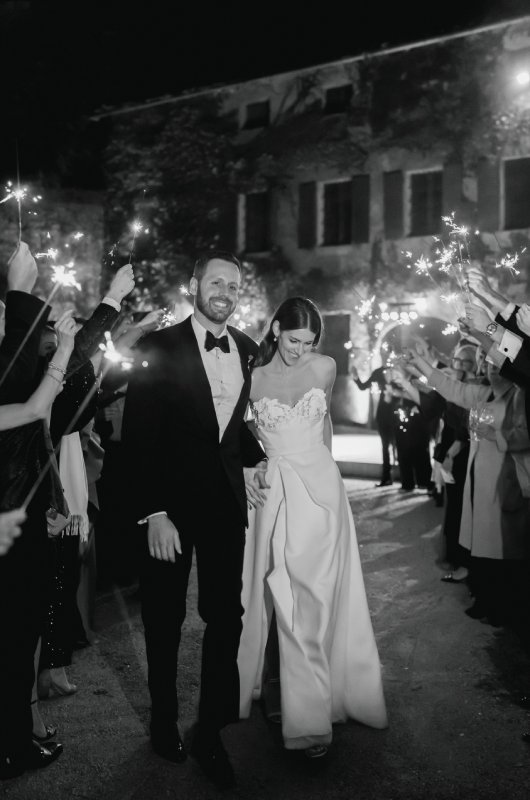 Contributing Vendors
EVENT PLANNER
ASSISTANT PLANNER
PHOTOGRAPHER
Alessia Franco of David Bastianoni Studio
VIDEOGRAPHER
FLORIST
VENUE
CATERER
STATIONERY & ILLUSTRATIONS
GOWN & RECEPTION DRESS
BRIDAL SHOES
BRIDE'S RINGS
GROOM'S TUX
GROOM'S SHOES
GROOM'S RING
BRIDESMAID DRESSES
HAIR & MAKEUP
ENTERTAINMENT, LIGHTING, & SOUND