Kelcey Leshinksi & Nate George
Upstate New Yorkers Tie the Knot in Dramatic Peaky Blinders Style
Married
Jun 29, 2019
Deansboro , New York
Photo Credit
Nicollete Media
---
Style Guide
Color Palette
Style
Rustic, Vintage
Season
Summer
---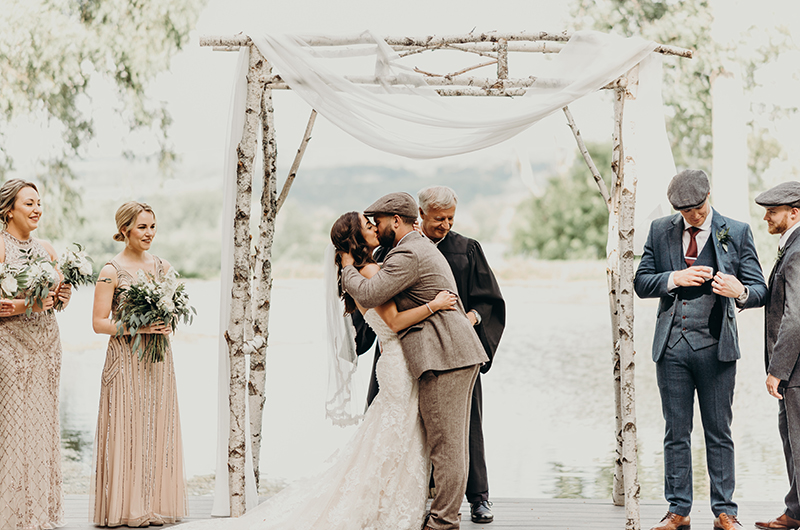 The Proposal
Nate texted me at the end of the work day and said "i'm picking you up we're going for a picnic!" He drove us to Portland Head Light, a historic lighthouse in Cape Elizabeth, Maine with the most picturesque views. It's also the oldest lighthouse in Maine and one of our favorite places to go for a long walk without leaving the City. Nate pulled out all my favorite picnic goodies: lobster rolls, Whoopie pies, and Bissell Brothers beer. Before I knew it, he was down on one knee with a ring. Luckily, there was a photographer hiding who captured the most incredible, after work surprise.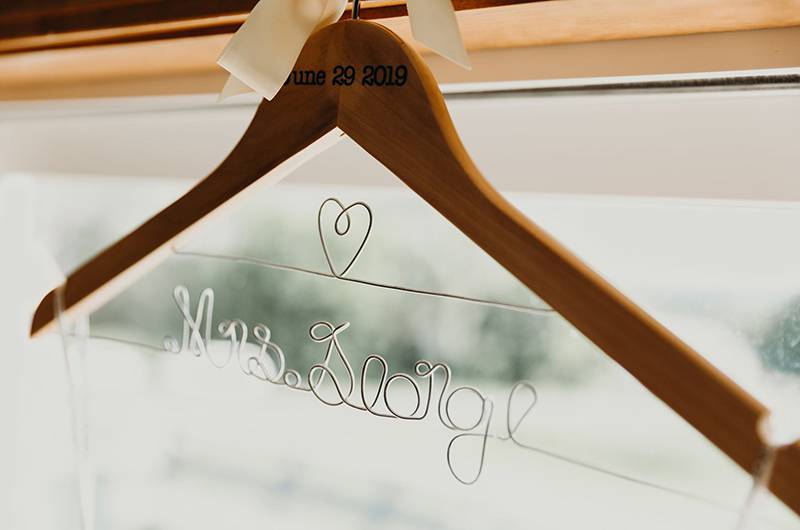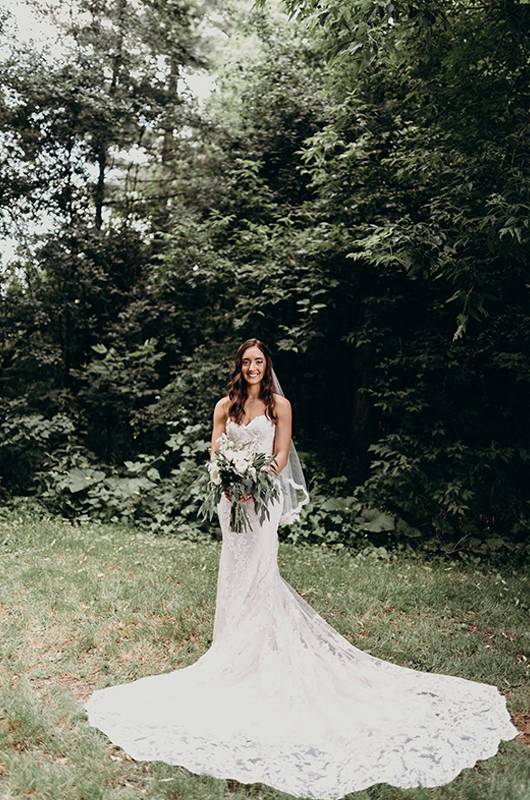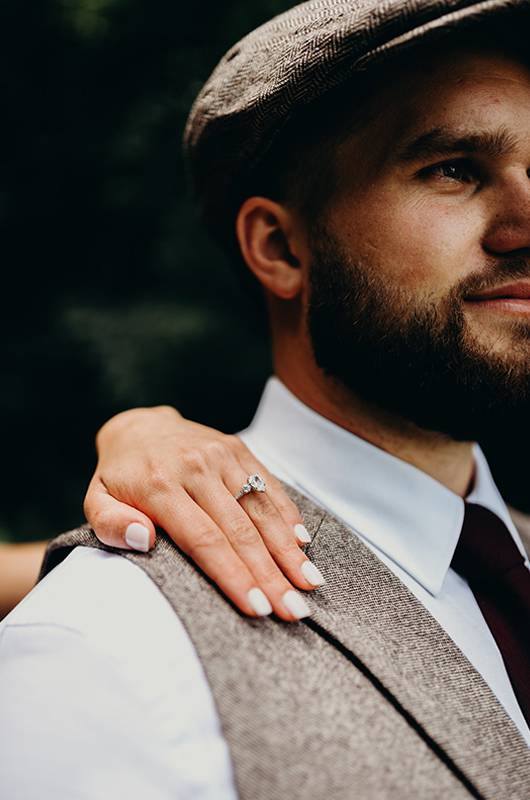 Kelcey Leshinksi And Nate George Dress Hanger
Kelcey Leshinksi And Nate George Dress
Kelcey Leshinksi And Nate George Groom
In Preparation
The venue we chose was basically a shell so we had to bring in every little detail we wanted from the tablecloths to the silverware, plates, napkins..literally everything! Looking back on photos I wouldn't change anything but it made planning a strenuous process. After we got engaged the first thing Nate said was that he really wanted the guys to dress like the 1930's London gangsters the Peaky Blinders series on Netflix. After researching on Pinterest I thought it would be a really cool wedding theme. Once our vision was pinpointed, I found my dress, and then the venue things fell into place a little more.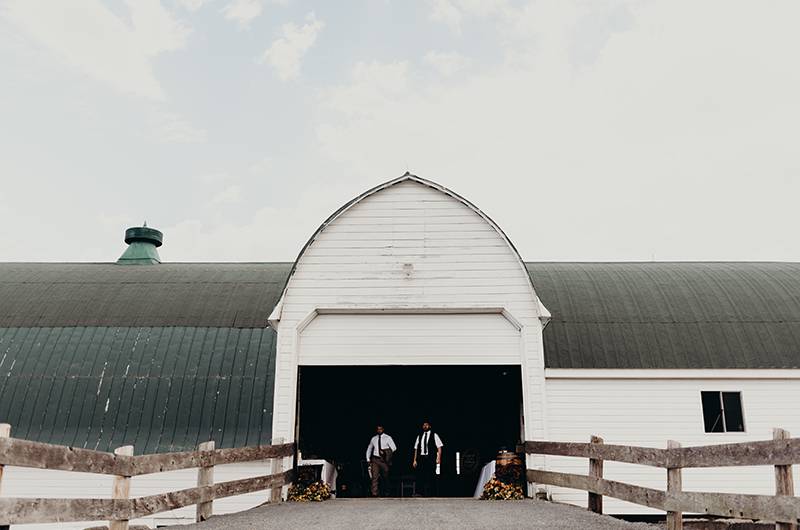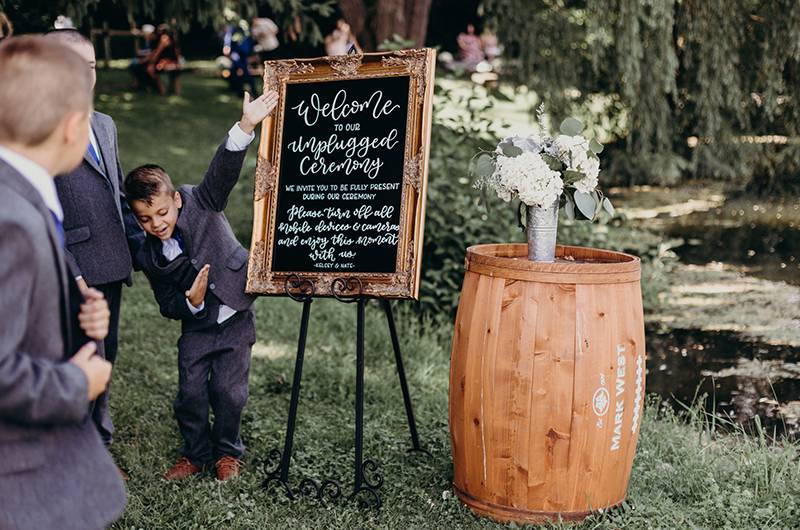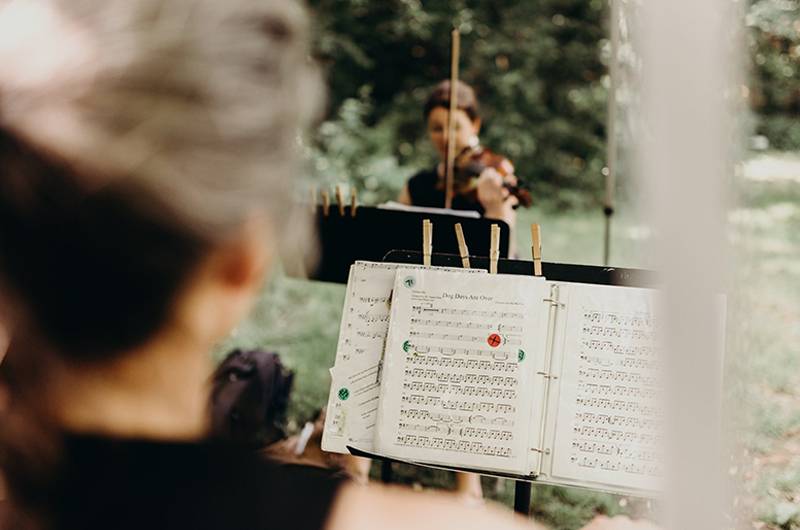 Kelcey Leshinksi And Nate George Outside Venue
Kelcey Leshinksi And Nate George Welcome Sign
Kelcey Leshinksi And Nate George Orchestra
The Big Day
The day went by so quickly! The week before, rain was in the forecast and I was so stressed because out ceremony was outdoors. It sprinkled a little in the morning but cleared up to be the most gorgeous afternoon. Exchanging vows and saying "I do" was definitely my favorite part of the day. A string quartet played "Stand by Me", "Dog Days Are Over", "Your Song", "What a Wonderful World", and Nate and I exited to "Paradise" by Coldplay. We wrote our own vows, and everyone told us the sun was shining down and little pine needles were falling from the trees above us onto the pond that was behind us. It was gorgeous. Our reception was so much fun and the best part was no longer being worried about the day. We enjoyed our family and friends and drank a lot of really great Maine beer that we brought with us and craft cocktails made with liquor from Nate's uncle's distillery.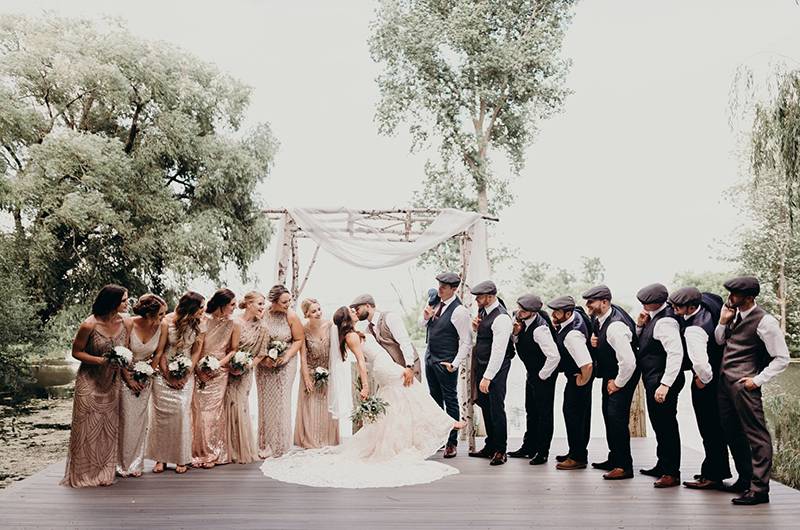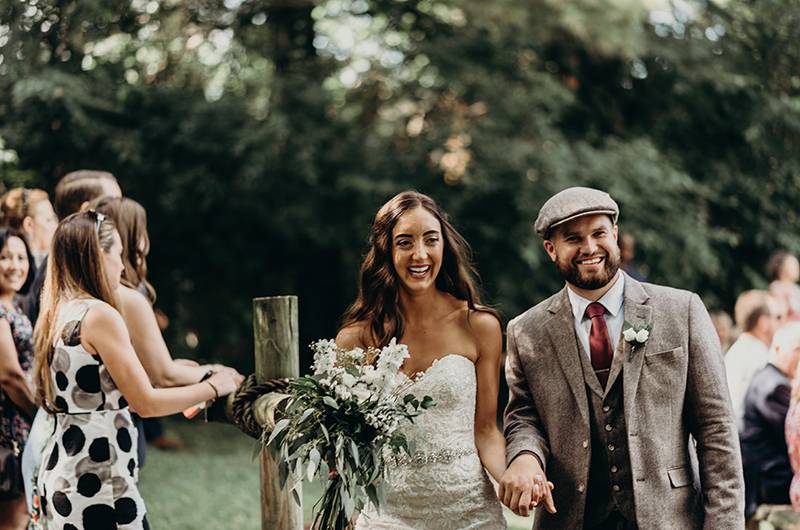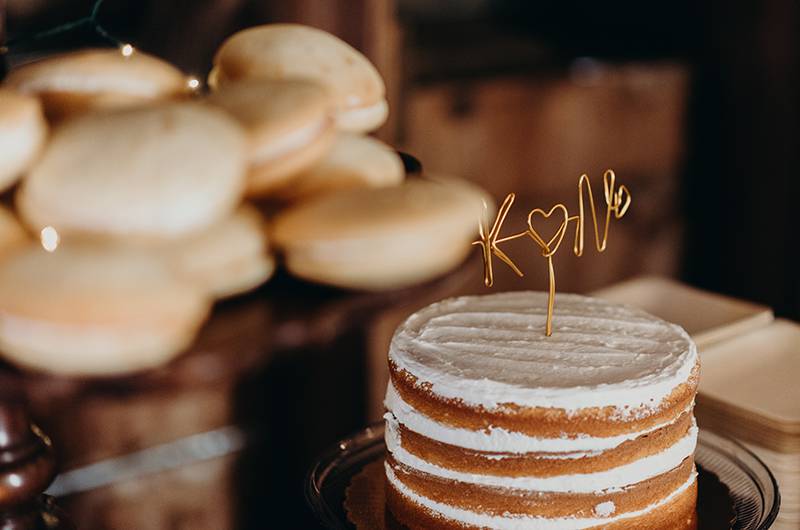 Kelcey Leshinksi And Nate George Bridal Party And Kiss
Kelcey Leshinksi And Nate George Coupe Walking Down Aisle
Kelcey Leshinksi And Nate George Cake
The Retreat
We've been planning to travel to France and Italy in March 2020 but that's been postponed due to COVID-19. However, right after our wedding weekend we spent time exploring the Allagash Wilderness Waterway as a tribute to where we now live together – in the beautiful state of Maine!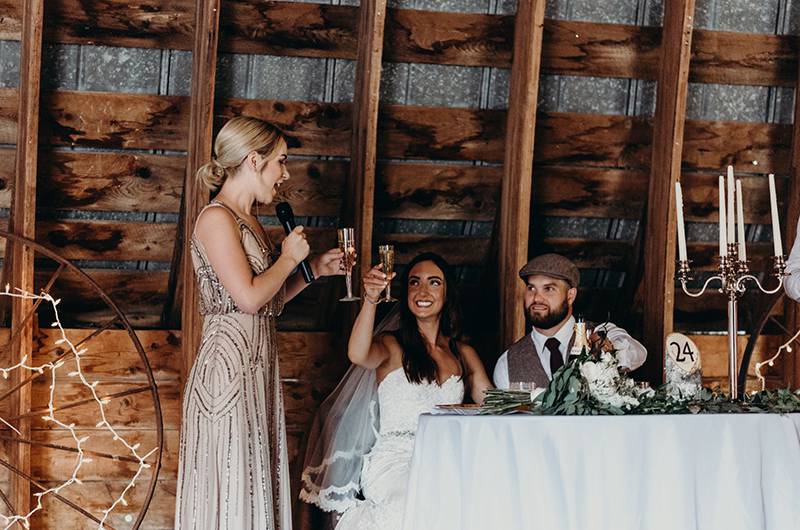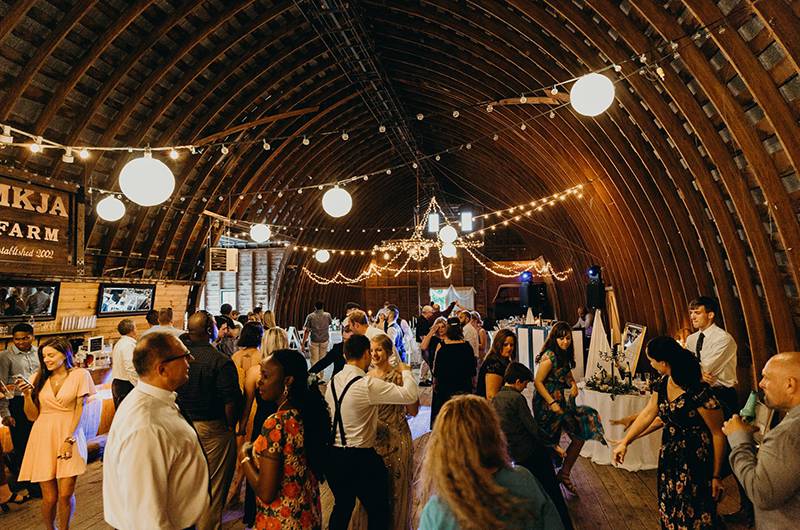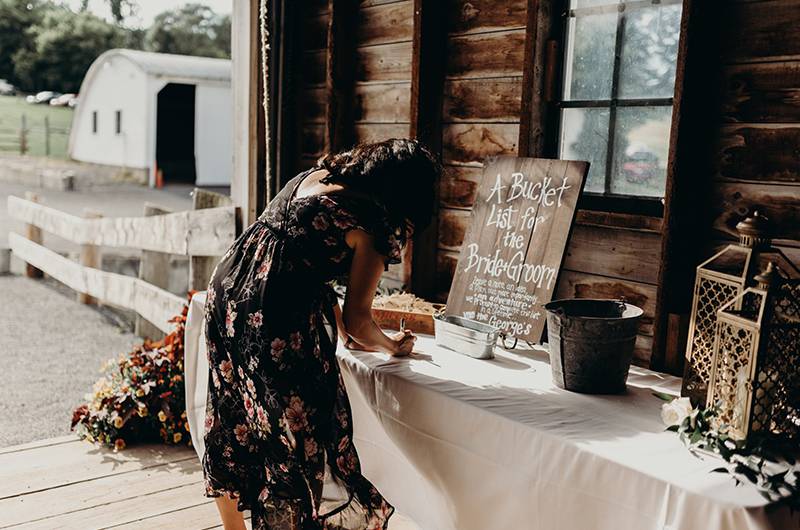 Kelcey Leshinksi And Nate George Bridesmaids Text
Kelcey Leshinksi And Nate George Dancing At Reception
Kelcey Leshinksi And Nate George Bucket List Table
Contributing Vendors
PHOTOGRAPHER & VIDEOGRAPHER
VENUE
FLORIST
Lace Leaf Co
CATERER
Dinosaur BBQ
WHOOPIE PIES
Ramon's Bakery
INVITATIONS
Minted
GOWN
Blush Bridal & Formal
ENGAGEMENT RING & WEDDING BANDS
Maine Gold & Silver
CEREMONY MUSIC
Magnolia String Quartet
CEREMONY ARBOR
Custom built by the Groom
ENTERTAINMENT
360 Entertainment
RECEPTION COCKTAILS
Five Saints Distilling