Kimberly Hernandez & Michael Kelly
Baby You're a Firework
Married
Nov 1, 2019
Nashville , Tennessee
Photo Credit
Saje Photography
---
Style Guide
Color Palette
Style
Whimsical
Season
Winter
---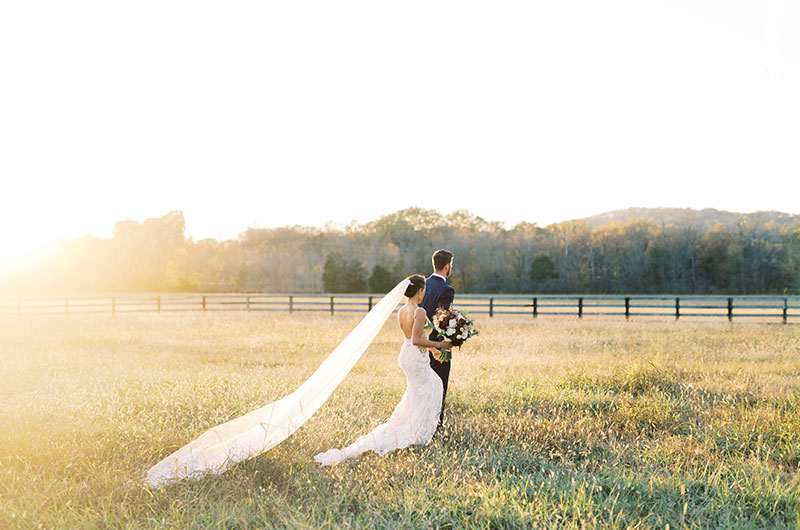 The Proposal
It was November 30th, 2017 and my first time to Disney World. The day had already been so magical, we were walking around Epcot that evening with family, it was extra packed with the Magic Kingdom closing early for an event. We stopped to take a quick break and during that time he was very adamant that we get a better look at the water down the 2 flights of stairs vs. looking at it from high ground. I thought it was a little strange but with water being something we love and have always made it a point throughout our travels to point out I didn't think too much into it. So, I entertained him, mind you it's dark out but down the stairs we went and to my disbelief there was no one but us which I did think was strange knowing how extra crowded it was. Mickeys magic if you ask us! As I'm looking out at the water I hear him saying the things that make you think aahhhh it's happening and sure enough I turned around to him down on one knee. I always thought I'd know when this time would come but I was in complete shock, quickly followed by pure excitement and happiness. We walked back and go figure everyone knew and we all celebrated in "Paris." That's the country we were closest to and so that's where we tell everyone we got engaged- Paris, Epcot ha! We couldn't wait to get back to our hotel to share the news with Moo our fur baby who had just turned 3 the day before. First trip to Disney World together was nothing less than magical and memorable!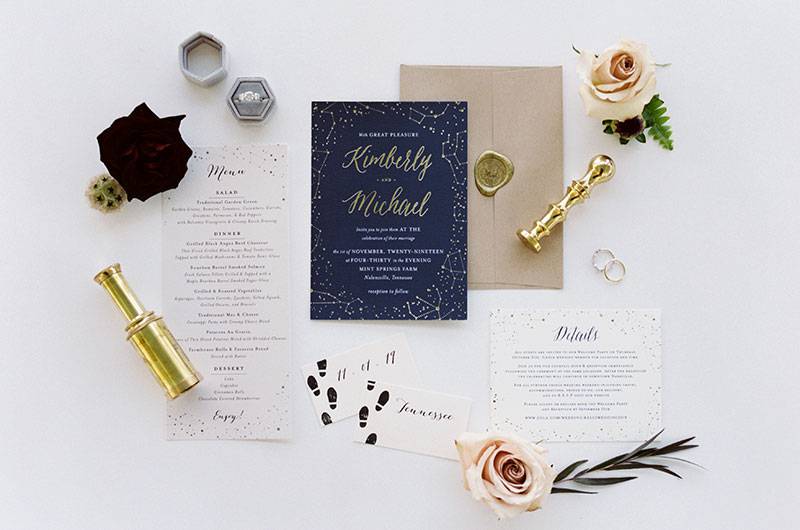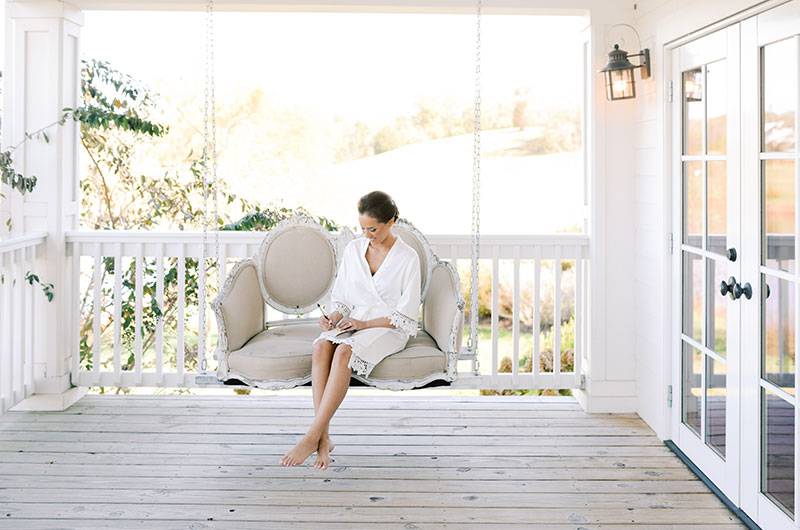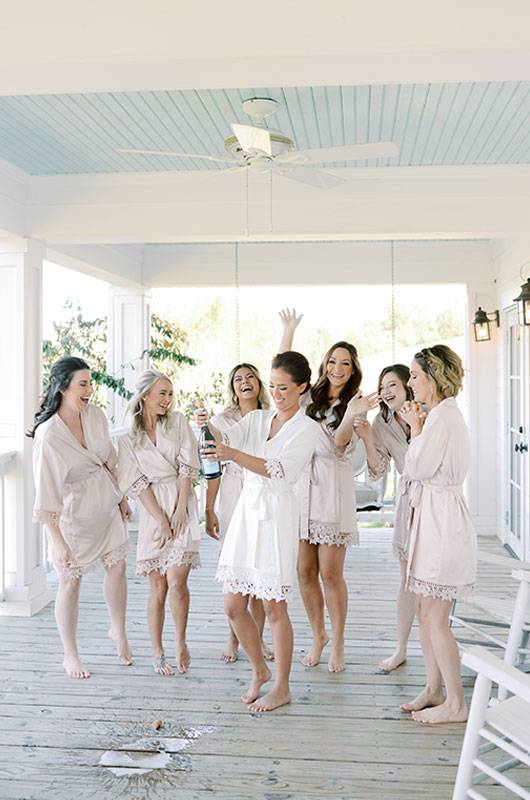 Kimberly Hernandez & Michael Kelly Stationary
Kimberly Hernandez & Michael Kelly Bride Sitting And Writing
Kimberly Hernandez & Michael Kelly Bride Popping Champagne
In Preparation
When thinking of my wedding day, I thought the stars, deep jeweled tones, and of course Harry Potter! Took me 1 month shy of 2 years to prepare for our big day and even then could have used a few more months. I quickly realized how much goes into planning a wedding and what they say about the checklist is true, you check one thing off and add another. With moving across country just 2 months after getting engaged I ended up planning our wedding in 3 different states. We actually ended up not going with our first choice and continued our search landing our dream venue in Nolensville, TN called Mint Springs Farm. I then found my dress in Atlanta, and with Michael away playing baseball we had his suit made in Washington, D.C. I would say shopping for my wedding dress was my most memorable preparation experience. My mom, soon-to-be-mother-in-law, sister, and niece joined me to help find my perfect dress. I did my research and thought I knew what I wanted but ended up going with that gut feeling of when you know you know. So with 5 venue visits and 2 dress fittings there was a lot of travel involved. We even met our officiant via FaceTime during All Star Break being that it was one of the few times we were together. We couldn't have done it all without our wonderful wedding planner and the support of our family and friends who were all scattered across the United States and made it easy on me with prompt communication. Your tribe makes all the difference.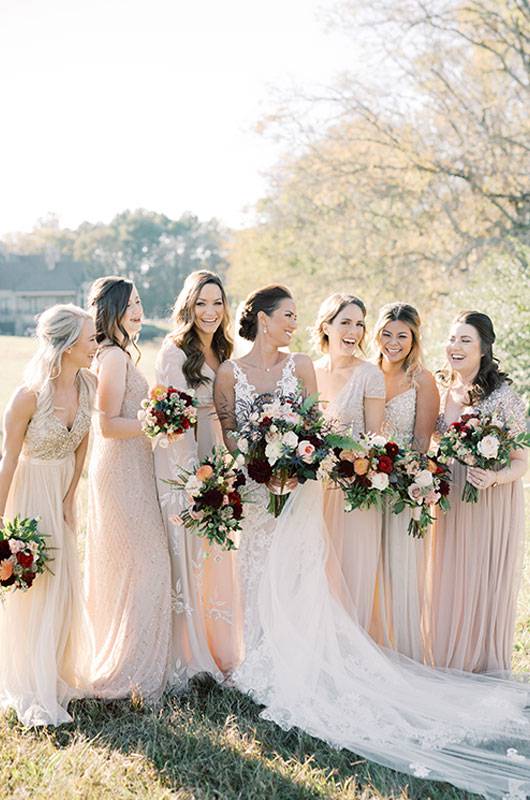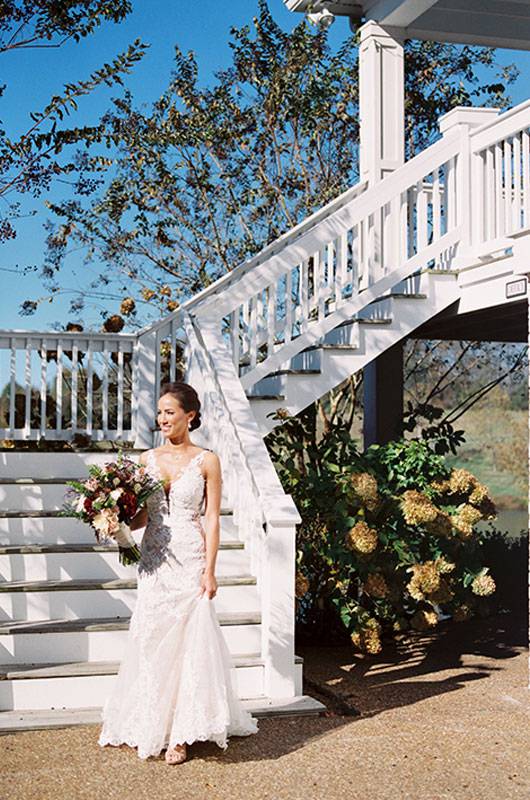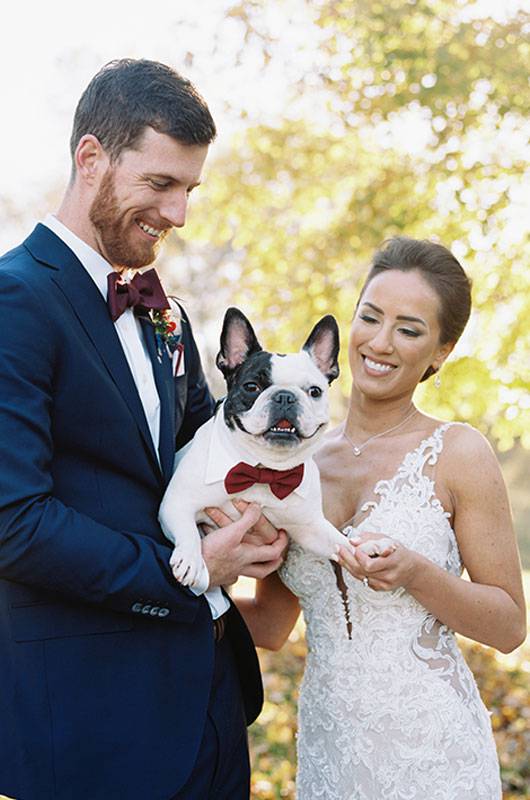 Kimberly Hernandez & Michael Kelly Bride And Bridesmaids
Kimberly Hernandez & Michael Kelly Bride On Stairs
Kimberly Hernandez & Michael Kelly Couple With Dog
The Big Day
Just as they say, it's the best day of your life. My cheeks were sore from smiling. I didn't know what to expect and thought nerves would kick in but I wasn't nervous at all and neither was he! We enjoyed every minute of it and recall us saying to each other a few times throughout the night, "this is amazing, we're never going to forget this!" Standing behind barn doors I couldn't wait to see him at the end of the aisle where we'd say I do. The bells rang and the doors opened and we locked eyes and never looked away. It was as if the entire room disappeared. I kept squeezing his hand throughout the ceremony. After the kiss we knew it was time to celebrate! We ate, we danced, we mingled, it was perfect! To seal the night was the firework show. Fireworks hold a special place in our hearts with our journey and baseball being a big part of it. Throughout all our travels, whenever visiting Michael during season and it was firework night he would rush in from the game and quickly do what he needed to, I'm talking lightning speed, to get back out and watch them with me because he knew how much I loved them. It was the perfect end to the most magical day!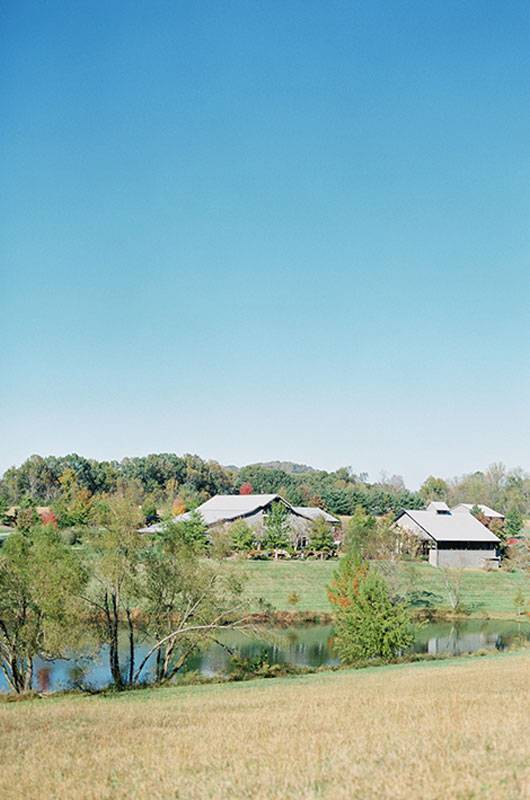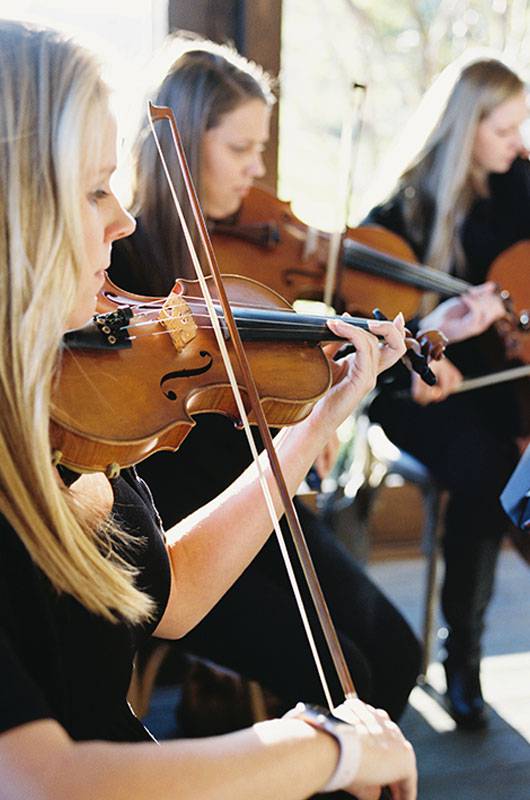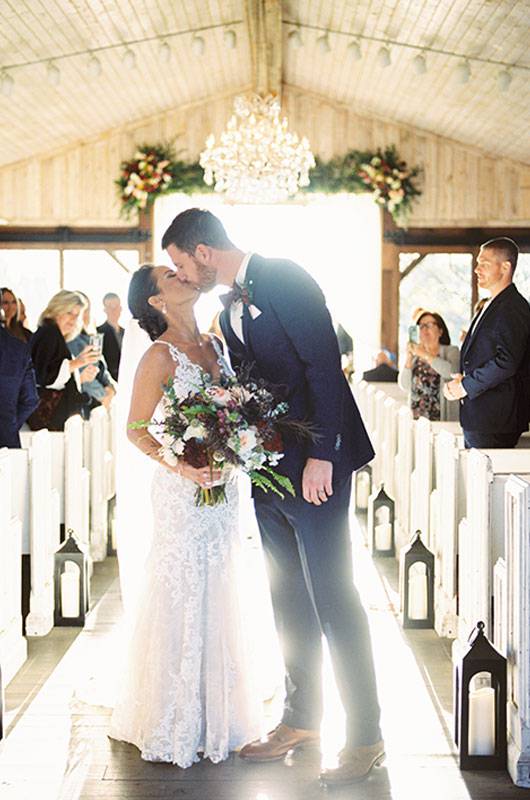 Kimberly Hernandez & Michael Kelly Lake View
Kimberly Hernandez & Michael Kelly Violinists
Kimberly Hernandez & Michael Kelly Couple Kiss In Aisle
The Retreat
We're currently saving for our honeymoon but look forward to sharing details in the near future!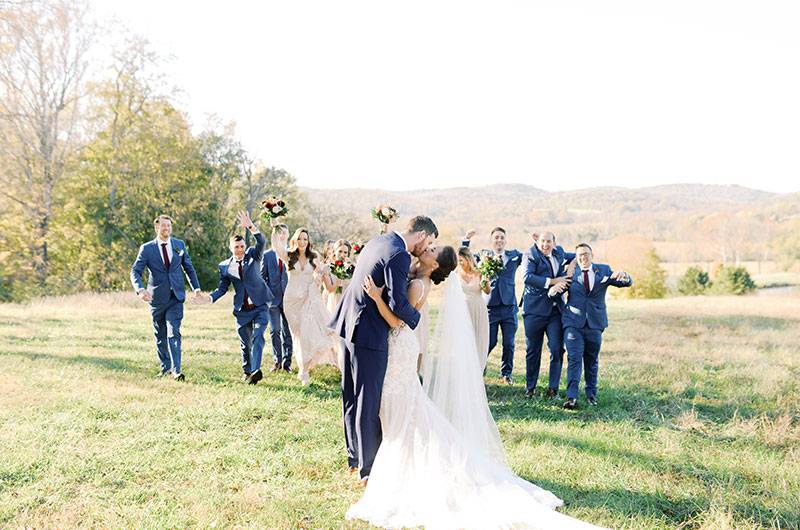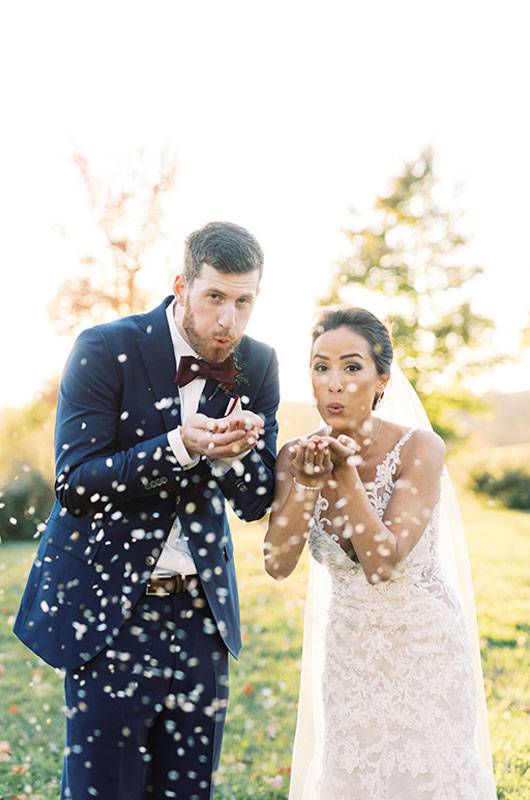 Kimberly Hernandez & Michael Kelly Bridal Party Watching Couple Kiss
Kimberly Hernandez & Michael Kelly Couple Blowing Flowers
Featured Wedding Vendors
VENUE & CATERER
Contributing Vendors
PHOTOGRAPHER
Saje Photography
EVENT PLANNER
Allie Coode
FLORALS
Angela Wilkes
INVITATIONS
Minted
CAKE
Dulce & B. Jacksons
GOWN
Sweet Elegance Bridal
ENTERTAINMENT
Snyder Entertainment
VIDEOGRAPHER
Love Story Films