Lauren Kirby & Adam Byerly
A Fairy Tale Love
Married
Mar 3, 2018
Hilton Head Island , South Carolina
Photo Credit
Sarah Anastasio Photography
---
Style Guide
Color Palette
Style
Formal
Season
Spring
---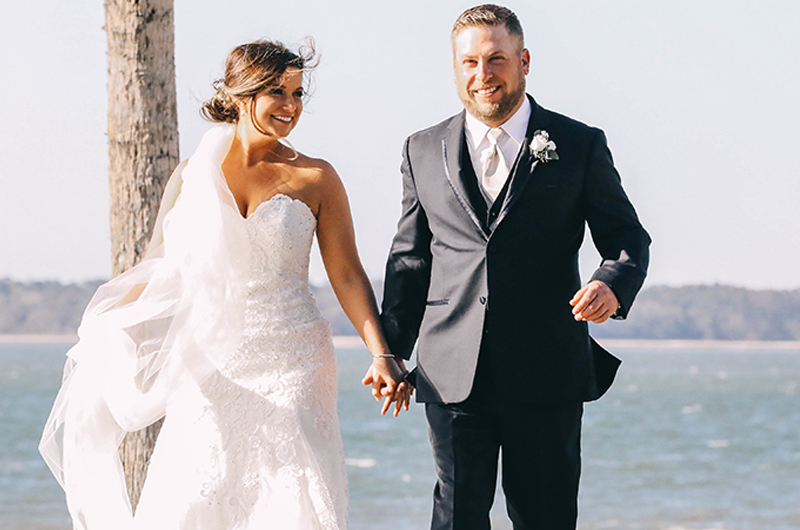 The Proposal
It was the day after Thanksgiving and the day before Adam's birthday so I was expecting zero surprises for myself that weekend! After a quick trip to New Jersey to visit family, I spent that Friday running through airports trying to catch my flights from Newark to Charlotte to Spartanburg! Little did I know I'd be getting the biggest surprise of all! Adam pulled up and we went to the trunk to throw in my bags. Inside was a sign that said, "Will you marry me?" Adam was down on one knee when I turned around. Of course I said yes and in great American tradition we spent the weekend in Clemson cheering on our teams during one of the biggest college rivalry games!
[smartslider3 slider="376″]
In Preparation
We'd planned the wedding in a little over a year! We knew we didn't want to rush because naturally I wanted everything perfect! We thought about getting married in Charlotte, since we live right outside of the city and that's where our whole relationship had grown! But we also loved the idea of getting married near the coast. Adam is a big golfer and Citadel alum so Charleston was of course on the radar. I grew up taking family vacations to HHI so it's always had a special place in my heart. The very first spot we looked at was Sea Pines resort! Harbour town is notorious for being a golf/family getaway. We knew immediately that's where we wanted to get married.
[smartslider3 slider="377″]
The Big Day
The day of my wedding was a total fairytale! I woke up in a king sized bed to sunshine busting through the windows, (exactly what every bride wants to see.) My 8 best friends woke me up singing! They knew exactly how to keep me relaxed. We all put on our robes and slippers that I had bought everyone and we drank coffee, popped Prosecco, and blared the 90s music. My hair and makeup experts arrived, followed by my photographer who captured the whole day perfectly. Throughout the day we all exchanged more gifts and stories, including a box handmade by my matron of honor, filled with letters from my bridesmaids, my parents, and my wonderful husband-to-be.
[smartslider3 slider="378″]
The Retreat
The honeymoon is clearly the best part of any wedding! The planning is done and now we get to spend a week alone in a beautiful place. Neither of us had been to Jamaica so we knew that's where we wanted to visit. A new marriage exploring a new country! It was nothing shy of perfection. We stayed at The Couples San Souci in Ocho Rios, about two hours out of Montego Bay. The best way to describe the resort was 1950's Havana mixed with Palm Springs! Truly magical. The entertainment, the food, and the staff were all amazing. It's a very quaint location. You are tucked away in a cove so you don't see any other hotels. Did I mention it was adults only?!
[smartslider3 slider="379″]
Contributing Vendors
CATERER
The Seapines Resort
VENUE
The Seapines Resort
WEDDING CAKE
Lowcountry Flour Girls
ENTERTAINMENT
The Parks Brothers
EVENT PLANNER
The Seapines Resort
FLOWERS
Gardenias
FAVORS & GIFTS
Sip Sip Hooray
GOWN
New York Bride & Groom
HONEYMOON
The Couples San Souci
INVITATIONS
Reaves Engraving
PHOTOGRAPHER
Sarah Anastasio Photography
RECEPTION VENUE
The Seapines Resort