Mattie Jackson & Ben Selecman
Fairytale Wedding
Married
Oct 7, 2017
Franklin , Tennessee
Photo Credit
Kristyn Hogan
---
Style Guide
Color Palette
Style
Formal, Luxury
Season
Fall
---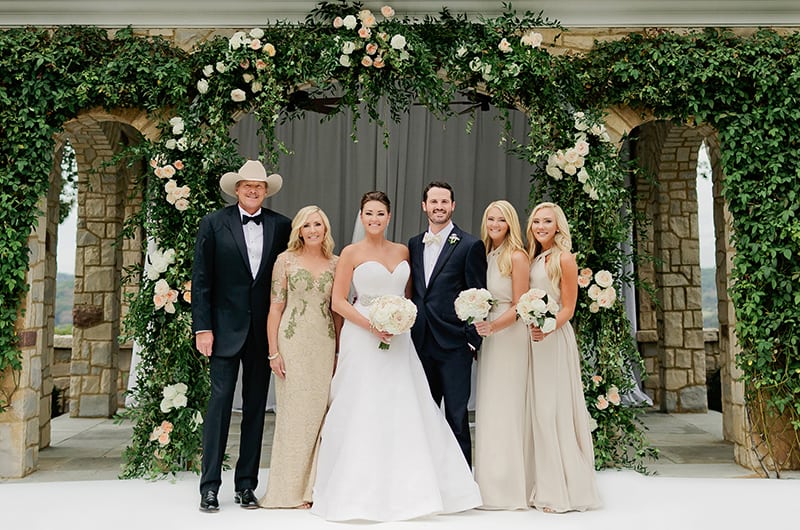 The Proposal
Ben will tell you we first met at a mutual friend's wedding, but I just remember dancing with a cute guy and never thinking about him after. We reconnected 2 years later while he spent a summer clerking for a judge in Nashville during law school. He asked me out and I said no, but he didn't give up. Three months later, he called. I finally relented, so he drove almost 4 hours just for dinner and we've talked ev- ery day since. He pursued me until I finally saw the handsome, outgoing, Godly guy I needed. After deciding we were meant for forever, he took me on a picnic on the Old Historic Natchez Trace, where we enjoyed incred- ible wine, cheese, dancing and the most romantic proposal.
[smartslider3 slider=567]
In Preparation
When it came to planning our dream wedding, we wanted the day to feel elegant, personal and full of happy, infec- tious energy. I'm all about details, while Ben revels in the big picture. Some things were very collaborative, integrating our southern, playful yet refined tastes, like the two specialty bars: a Champagne and oyster bar for me and a Scotch and slider bar for Ben. Other things, like the linens, lighting and cake, he graciously dubbed as, "Whatever makes you happy." Our favorite part to plan together was a surprise first dance, a two-step swing dance to my Dad's first radio single, Blue Blooded Woman 'and a Redneck Man'.
[smartslider3 slider=560]
The Big Day
We are both big on entertaining our friends and family, so to say the day was a fairytale is an understatement. It felt like the first day of school, senior prom, and a sort of graduation into a world with so much more gravity than any we'd yet experienced. I was calm and ready to cross the finish line, while Ben was giddy and charged like a little boy throwing his first fastball. The first look felt somewhat surreal. The ceremony felt surprisingly personal, like it was just us, the pastor and the defeated, ominous clouds that held back the rain. Our reception was better than any party we've ever been to. From the moment our toasts concluded, the custom dance floor bore no pause in party, song or dancing. One of our favorite memories was popping a vintage 2006 bottle of Tattinger's Comtes de Champagne, a bottle they only make in the best years. We're looking forward to opening another from the 2006 vintage on our 10th anniversary.
[smartslider3 slider=561]
The Retreat
After such an amazing celebration, it was so wonderful to head off on our honeymoon together to the Sey- chelles and South Africa. The best part was taking time to experience and explore each other's passions. Ben reveled in wine country and the best restaurants in the Western Cape and Hemel-En-Aarde with me and I rode 12 hour days on hunting safaris with him in the Eastern Cape. The joy it brings to truly soak up each other's passions to kick off a marriage is indescribable.
[smartslider3 slider=562]
Contributing Vendors
VENUE
Jackson Family Estate
INVITATIONS
The Paper Place
CATERER
Kristen Winston
ENTERTAINMENT
Wedding Musicians Co.
FLORIST
The Tulip Tree
BRIDES SHOES
Jimmy Choo
PHOTOGRAPHER
Kristyn Hogan
FIREWORKS
Impact Pyro
RENTALS & DECOR
Please Be Seated
HAIR & MAKEUP
Parlour3
WEDDING GOWN
Vera Wang
MOTHER OF THE BRIDE'S GOWN
Cristina Ottaviano
PLANNER
Jayne Bubis
RINGS
Hamilton Jewelers
DRAPING & CHANDELIERS
Quest
CAKE
Classic Cakes
LIGHTING
Bright Event Productions
VIDEOGRAPHER
Dallas Wilson Wedding Films
GROOMS ATTIRE
Custom Tux by Joseph A. Banks