Rachel White & Tristan Thompson
My Shining Star
Married
Jul 10, 2020
Houston , Texas
Photo Credit
CivicPhotos
---
Style Guide
Color Palette
Style
Formal, Glamour, Luxury
Season
Summer
---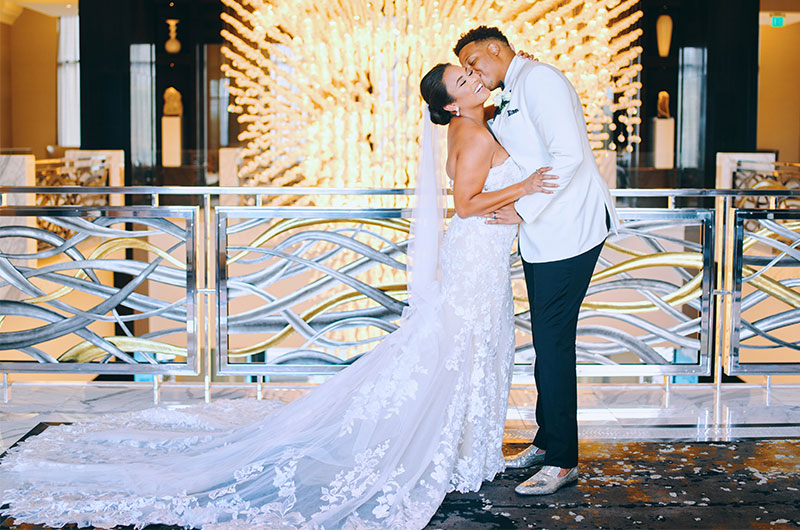 The Proposal
Near 8 p.m. on May 28, 2019, Tristan took me to our building's 43rd floor. We stood near the pool with the Houston skyline in the background. Even though we both knew what was going to happen, I was so nervous. Tristan got down on one knee and made a beautiful speech and placed the ring on my finger, and I just lost it. What made the night even more memorable was FaceTiming all our friends and family and surprising them with our news. The reactions were priceless. And everything about that night was perfect – because it perfectly defined us.
[smartslider3 slider="198″]
In Preparation
I knew we would need a wedding planner, so I hired Meghan Garvin from Belle of the Ball Events. She was truly a light when wedding planning can become so uncertain, especially in a pandemic. She helped me with my vision – "Organic Glam." I love sparkle (The bride, a former 2014 Miss Texas) And, Tristan ( The Groom, was featured on Married at First Sight (season 7) grew up surrounded by nature. Thus, we combined both vibes to create an organic glam. I wanted people to walk into our wedding and see Tristan and me. I wanted it to be personal down to details from the colors chosen, the fun facts, boutonnieres that included monopoly pieces, and the signature southern brunch cocktail hour. Everything was very personalized and telling about our relationship.
[smartslider3 slider="199″]
The Big Day
Hosting a wedding in a pandemic is challenging. Many people could not come, and we respected that. We also wanted to move forward and put the COVID wedding nightmare behind us. So with the best precautions, we could put in place – we moved forward. And we had the most incredible day. It was so meaningful because of everything we have been through together. But, it all turned out perfect, and, honestly, if something went wrong, I didn't know about it (thanks, Meghan!). I'm so thankful to say that the few guests that did come are all healthy, safe, and reportedly zero cases of COVID!
[smartslider3 slider="200″]
The Retreat
Pre-pandemic, we planned to go to St.Lucia for our honeymoon, but we never booked travel. After the wedding, we decided to go to Austin and stay at a fancy hotel. We had a wonderful time ordering room service and sleeping like we had not slept in years. And, we had so much fun walking around calling each other "husband and wife." I feel like I married my best friend. We have found the light together in some dark times. When it's a little safer, we hope to travel internationally for a honeymoon, but we are currently focusing on welcoming our baby boy, who is due in the spring of 2021!
[smartslider3 slider="201″]
Contributing Vendors
PHOTOGRAPHER
EVENT PLANNER
Meghan Garvin of Belle Events
FLORIST
VENUE & CATERER
The Post Oak Hotel at Uptown Houston
CAKE
DONUTS
FLOWER WALL & PHOTO BOOTH
INVITATIONS
GOWN
BRIDESMAID JUMPSUITS
HAIR & MAKEUP
GROOM'S SUIT
BRIDAL RINGS
GROOM'S WEDDING BAND
CEREMONY MUSIC
ENTERTAINMENT
TRANSPORTATION
Rolls Royce from Akama Lifestyle
VIDEOGRAPHER
MINI-MOON ACCOMMODATIONS