Rebecca Burks & Hunter Coleman
Formal Memphis Wedding
Married
Mar 17, 2018
Memphis , Tennessee
Photo Credit
Madison Yen
---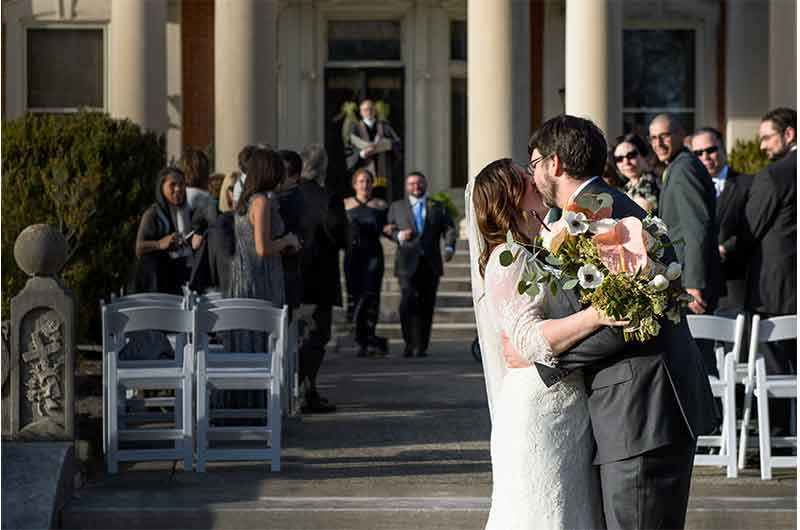 The Proposal
On May 21, 2017, I was actually in a pretty bad mood. My hair wouldn't cooperate, I didn't like any of my clothes, and I certainly didn't like how anything fit! It was a beautiful day ,but I was fine to just stay home. Hunter was sweet as always and suggested we go downtown and have a drink somewhere. He slyly mentioned going to the Peabody. He knows how much I love sitting in the lobby with a cocktail and people watching, it just has an all-around good feel! So I pepped up a little- managed to throw myself together and soon enough there we were. Oddly enough part of my conversation over our cocktails was about our future and when we were married – and with my boatload of insecurities that day I asked Hunter to list all the reasons why he loved me. His answers were beautiful and reassuring, full of honest love. And as I look up there he was down on one knee asking me to marry him. The world spun and stood still at the same time which I know doesn't any sense. After tears of joy and a million questions, Hunter says "Becca, I need you to answer the question. " I said yes. It was the easiest decision I've ever made.
In Preparation
We actually waited a few months to prepare for anything. We wanted to enjoy being engaged for a minute without all of the worries that go along with wedding planning. We also wanted to decide what worked best for us. Be it a traditional style wedding, or if we wanted to run off somewhere far away and have a very intimate wedding. Long story short,  we went traditional. We are both lucky enough to have just too many loved ones that really wanted to be part of such a special day. Procrastination and being scatterbrained makes up a large part of my DNA. Thank goodness I had team Coleman backing me, one in particular who deserves an article of her own. Jan Coleman, my amazing, beautiful, organized, and clear headed, mother in law. There are no words, and a simple thank you doesn't quite cut it. She kept me on path and thought of details I wouldn't have thought of in a million years. Mother Burks, also known as JeanMarie came in strong with her fierce artistic talents and just being my mom. She was always there to listen and offer a warm hug that would somehow keep me grounded through all the decision making which she knows how incredibly difficult that is for me. Then there was Betsy McKay, my childhood friend and gracious wedding planner who was gracefully tying all the odds and ends together as we went along.
The Big Day
It was the big day and it was a morning full of nervous energy! I was not nervous to be married, but I did have a full wave nervousness hit me because thats what comes with being the center of attention. I got ready with my sister, Neely at The Coleman's beautiful home in midtown where we later decided to have a smaller ceremony with close friends and family. We later carried the reception downtown for a bigger celebration at the Cadre building. It was supposed to be cloudy, but not only did the sun make an appearance, the pretty cherry blossoms bloomed in front of the house just in time! It was a beautiful day and was just perfect!
The Retreat
For out honeymoon, we ran off to Italy for about eight days! We started in Florence then took a day to hike in Cinque Terre. Cinque Terre was such a beautiful town, from there we ended with a few days in Rome. It was an unbelievable experience and trip! It was my first time to Europe so I was "wowed" by it all. It was very difficult to say goodbye to such an amazing country. Hunter and I both agreed to get back and spend more time for an anniversary.
Featured Wedding Vendors
Catering
Venue
Cake
Wedding Planner
Contributing Vendors
Venue
The Coleman Home on Overton Park
Entertainment
The King Beez
Other Entertainment
Mark Edgar Stuart – Ceremony Music
Flowers
Deedra Stone Designs
Fashion
Lows Bridal
Photography
Maddie Moree Photography
Rental and Decor
White Door Events
Other Rental and Decor
Mirror Me Image Photo Booth
Food & Beverage
Memphis Bar Ties
Hair & Makeup
Rachel Douglass