Sadie Batson & Eric Storey
Bring Me a Higher Love
Married
Oct 19, 2019
Sylacauga , Alabama
Photo Credit
Leslie Hollingsworth Photography
---
Style Guide
Color Palette
Style
Formal, Whimsical
Season
Fall
---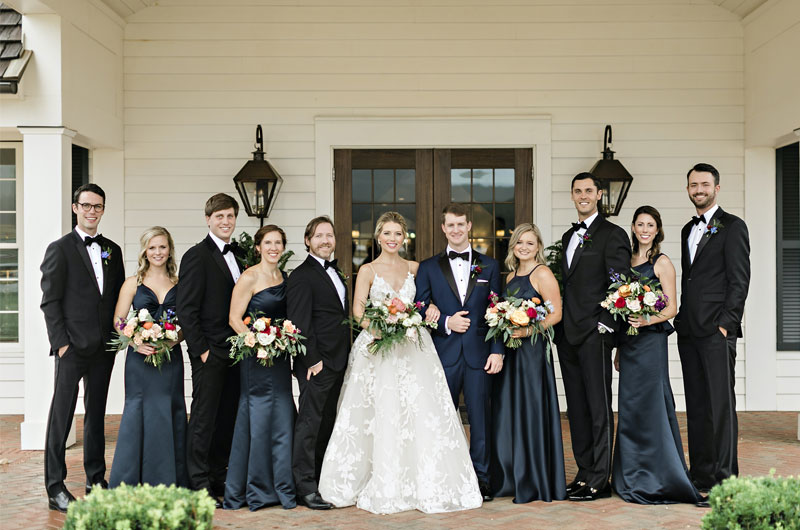 The Proposal
Eric's proposal was a huge surprise! I was flying home to Birmingham for Christmas and was so disappointed that Eric couldn't take me to the airport. It was actually because he was on a flight to Birmingham too! My parents picked me up and dropped me off at their house, claiming they had to run an errand. When I walked in, I heard Eric's voice and my mouth hung open for a good 30 seconds because I was so surprised. After I got over my initial shock, Eric said some sweet things that I don't remember and then got down on one knee. He surprised me with the most beautiful ring that he designed using a family diamond.
[smartslider3 slider="231″]
In Preparation
I wanted our wedding weekend to be a getaway for our guests. As soon as we saw Pursell Farms, I knew it was where I wanted to get married; it's beautiful, peaceful, had wonderful staff, and it felt like home. We chose our planner because we felt like she was direct and efficient. We chose our florist because I liked how she incorporated colors and botanicals into her designs. My favorite part was selecting gifts for our guests. Welcome baskets were filled with Golden Flake Sweet Heat Chips (my favorite!), Peanut M&Ms (his favorite!), and Bloody Mary supplies. I worked with an artist and my stationer to create weekend itineraries with fun watercolor images and details of weekend events.
[smartslider3 slider="232″]
The Big Day
Guests were greeted with antique cocktail glasses pre-filled with champagne, which also served as their wedding favors to take home. Our flowers and design involved various fall colors and botanicals. My favorite part was the custom panels that were made to go behind the band. Instead of a cocktail hour, we had guests seated right away and served the first course of our seated dinner. After, we danced the night away with our friends and family! At the end of the night, our band led us out in a second line before we drove away in a golf cart complete with cans tied on the back.
[smartslider3 slider="233″]
The Retreat
We spent two amazing weeks in Mauritius and South Africa. In Mauritius, the staff at the Four Seasons at Anahita made sure we were well taken care of. We relaxed on the beach, took a cooking class, went to the Spa, and enjoyed the beautiful scenery from our private villa. After a week on the beach, we flew to Cape Town, South Africa and stayed in the most incredible hotel, The Silo, which is in a renovated grain silo. We highly recommend it if you are visiting there. We spent a few days exploring shops, eating amazing food, and wine tasting. Our trip was so incredible, we were planning our next visit before we had even left!
[smartslider3 slider="234″]