Sloane Bell & Brock Phillips
The Wonder of You
Married
Aug 29, 2020
Birmingham , Alabama
Photo Credit
Heather Durham Photography
---
Style Guide
Color Palette
Style
Formal, Luxury
Season
Summer
---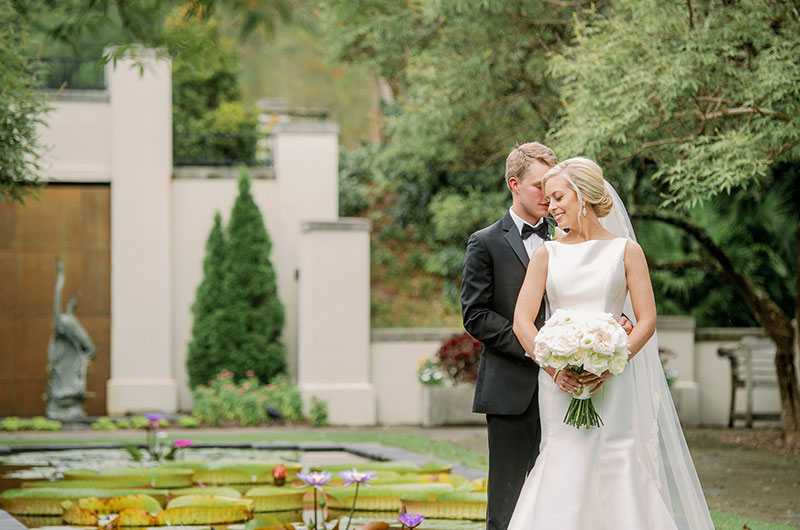 The Proposal
Brock told me that we were going to a membership interest party for the junior board of our city's botanical gardens. This made sense and didn't get me too suspicious because we had a mutual friend on the junior board and would be a seemingly valid reason to get dressed up. Once we arrived at the botanical gardens, he told me that the party was in the Rose Garden in the very back of the gardens. He led me back to the Rose Garden, and when we arrived there was no party. Instead, he got down on one knee and asked me the most important question of my life in such a beautiful spot in Birmingham! It was perfect.
[smartslider3 slider="202″]
In Preparation
Preparation for our wedding started off completely normal. We got engaged in August and were to be married on April 18, 2020, but little did we know that a global pandemic would hit roughly one month before our supposed-to-be wedding date. After delaying a decision on postponement as long as possible, we relunctantuntly chose a backup celebration date in June, but in the end, it was clear it was not going to happen. After months of planning, replanning, and waiting, we decided to follow through with an intimate family ceremony in August. Our big day would take place at the church we initially planned to get married in, and we were overflowing with joy that we could finally start our lives together.
[smartslider3 slider="203″]
The Big Day
Our August 29, 2020 wedding day was long-awaited after having to reschedule our previous plans twice. Instead of dealing with the normal wedding day nerves, we were already married and got to enjoy the day without the usual stress! We got to relax and get ready with our bridal party, renew our vows in front of all of our family and friends, and (finally!) have the party we'd been looking forward to for so long (even though it was COVID-compliant!). Being married prior to our actual wedding celebrations made experiencing them so much sweeter because we knew the sanctity of what we were celebrating. And after waiting for what felt like SO long, it was the most amazing party!
[smartslider3 slider="204″]
The Retreat
After rescheduling our honeymoon plans twice as well, we were so excited to finally jet off to St. Lucia! We stayed at the incredible Sugar Beach resort, and our accommodations included a private villa and plunge pool that made for the most serene honeymoon experience. As if our accommodations didn't make us feel special enough, the all-inclusive food and drink package took our honeymoon experience a step further and helped us properly celebrate the end of our wedding diets! We shared a couple's massage and went on a sunset cruise where we met some other COVID-19 wedding couples who had been through much of the same things we had. It was the best weekend celebrating and relaxing after months of stress due to COVID and wedding planning. It marked the start of our newest chapter after getting to go to the altar – TWICE!
[smartslider3 slider="205″]
Contributing Vendors
PHOTOGRAPHER
EVENT PLANNER
FLORIST
CEREMONY VENUE
Dawson Memorial Baptist Church
RECEPTION VENUE
 CATERER
WEDDING CAKE & GROOM'S CAKE
Sweet Magnolia
INVITATIONS
GOWN
FAVORS & GIFTS
RENTALS & DECOR
ENTERTAINMENT
TRANSPORTATION
VIDEOGRAPHER
HONEYMOON ACCOMMODATIONS