Tammara Chamberlain & Jarrett Webster
Tying Traditions The Modern Way
Married
Oct 27, 2019
Memphis , Tennessee
Photo Credit
Camille Leigh Photography
---
Style Guide
Color Palette
Style
Formal, Glamour
Season
Fall
---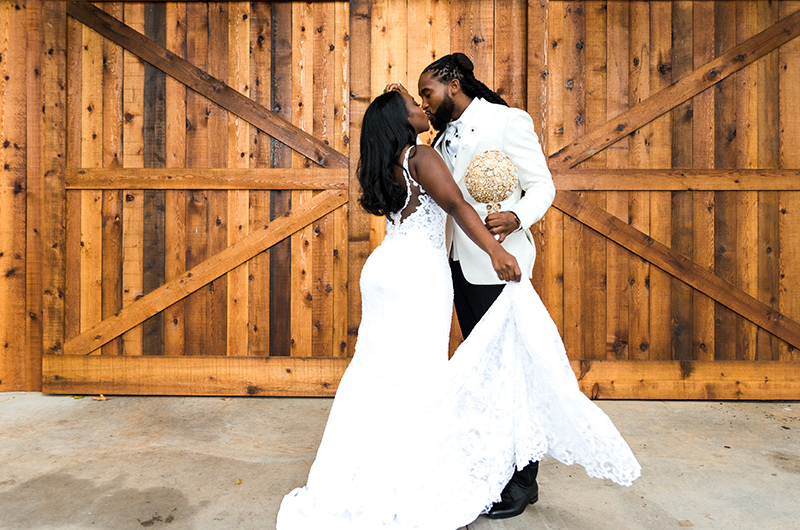 The Proposal
April 27, 2018 was my 31st birthday. Jarrett told me he scheduled a massage for me, and we were having a staycation at The Peabody Hotel downtown. The only instructions I had were to pack an overnight bag and a nice dress for dinner. After my massage, I got my makeup done and headed home to pack a bag. At the hotel, we got dressed for dinner, and surprisingly, we had dinner right there at Chez Philippe inside the Peabody. During dinner Jarrett was very anxious, which never happens, so I kept asking him if he was all right. After our last course, a guy walks in recording us and Jarrett reached for my hand so that I'd stand. He gets down on one knee and pops the question in front of everyone. It was magical! Afterward, we proceeded outside for a mini engagement shoot with the photographer he hired.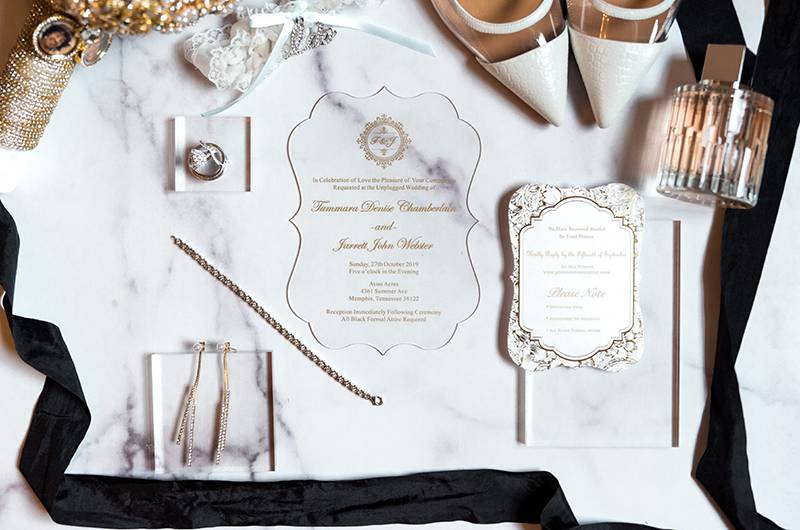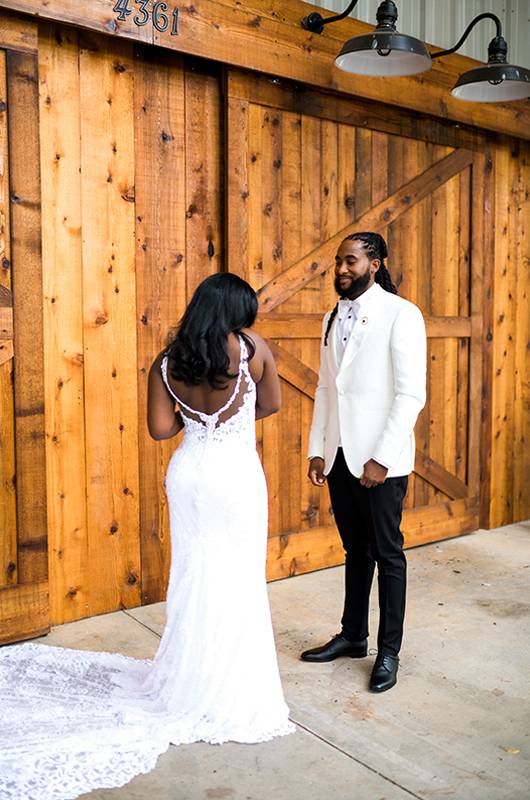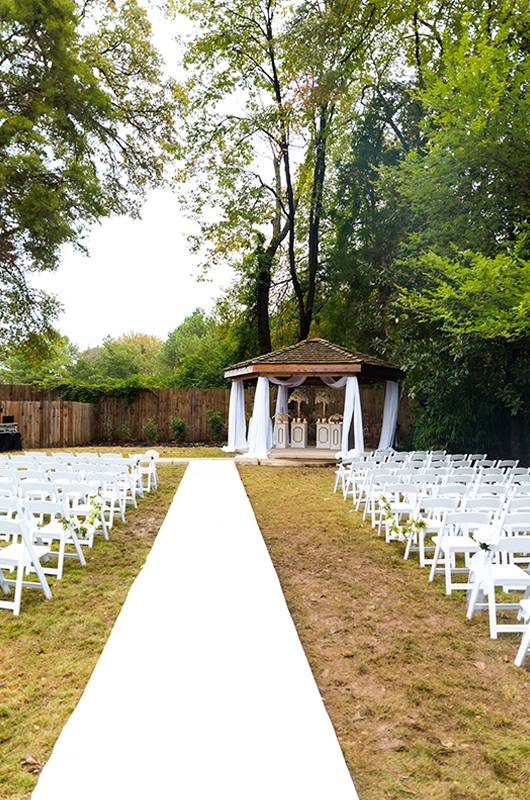 Tammara Chamberlain And Jarrett Webster Stationary
Tammara Chamberlain And Jarrett Webster Couple Look
Tammara Chamberlain And Jarrett Webster Ceremony Vertical
In Preparation
I searched for "the perfect dress" until I found one at Maggie Louise. I knew that I wanted an over the top day, so I ended up with four looks. For Jarrett, I had a custom tux made by a designer in Atlanta. I made my own bling bouquet and bling converse for my reception shoe. Nothing leading up was stressful because we knew exactly what we wanted. Finding a venue was probably the hardest because we wanted a blank canvas. Avon Acres was perfect. We were able to go in and completely transform the room into the fairytale dream that we wanted. It was important to have all white décor with a hint of gold. A month prior to the big day, we had a joint bachelor & bachelorette trip with the whole wedding party and their spouses in Cancun. It was the icebreaker before the big day.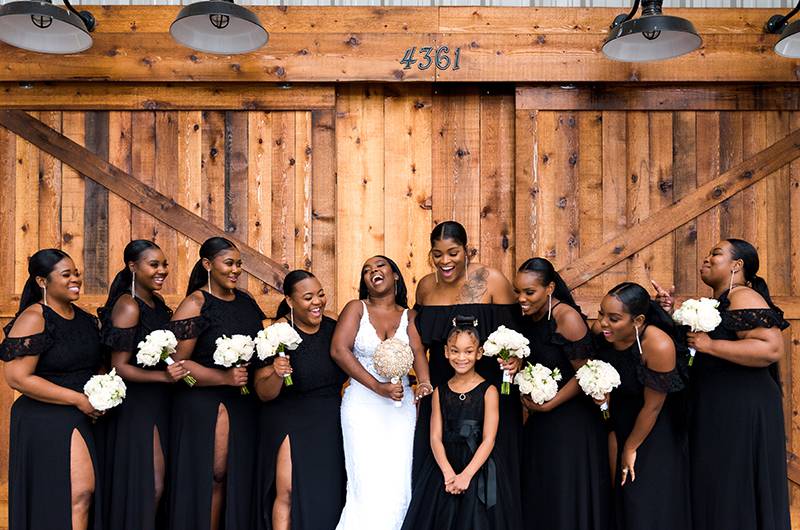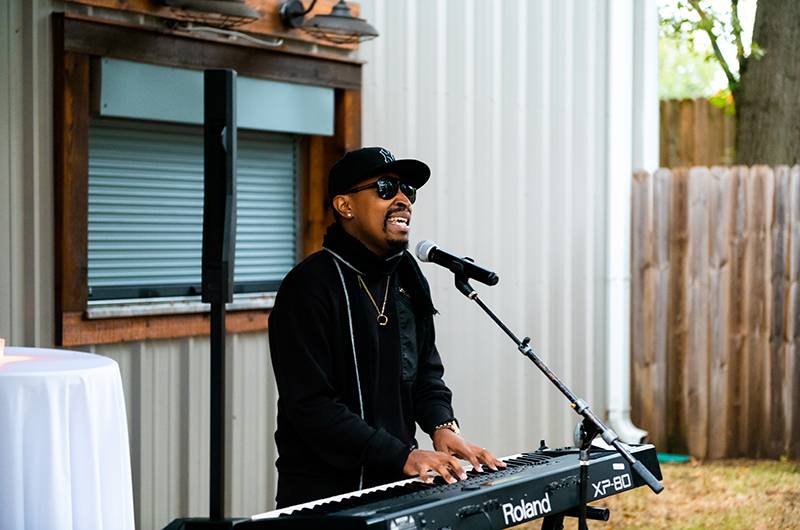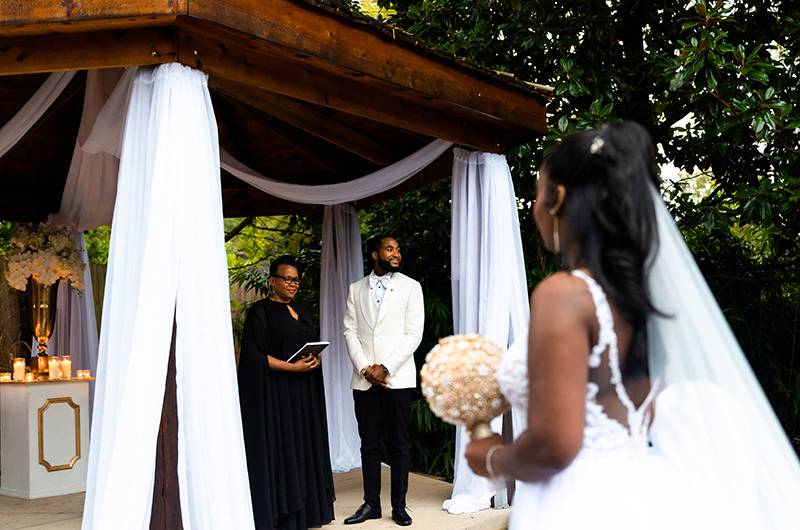 Tammara Chamberlain And Jarrett Webster Bridesmaids
Tammara Chamberlain And Jarrett Webster Piano
Tammara Chamberlain And Jarrett Webster Bride
The Big Day
Jarrett gifted me a double diamond band ring, and I gave him a gold and black Bulova watch. We opted for a "first look" so we could take wedding photos before the ceremony. I wore my Martina Liana dress with my hair down to see him for the first time. For the ceremony, I wore the same dress with a large tulle overskirt and changed my hair, so he would be surprised despite seeing me already. The first look was such a great idea because after the ceremony we took family photos and headed straight into the reception. I changed into my converse and reception dress to dance the night away. All our guests were asked to come in all black formal attire, so I ended the night in an all-black bling jumpsuit with a huge black tulle skirt that detached. We had a sparkler send off with black and red smoke bombs.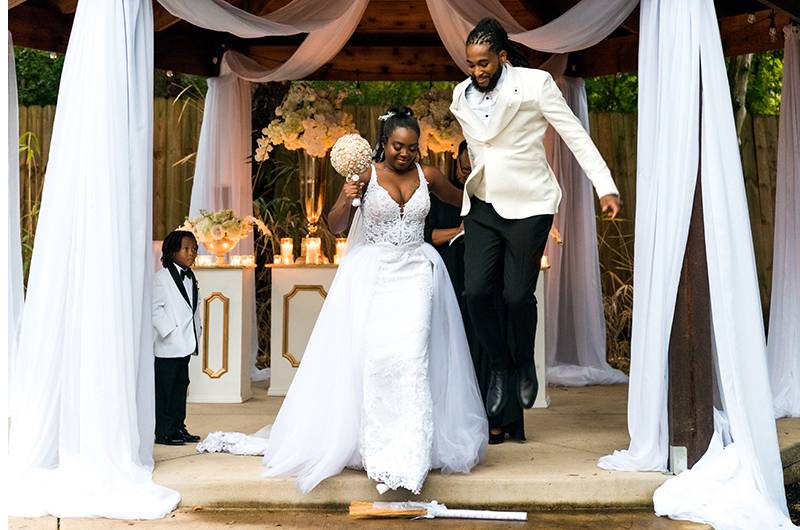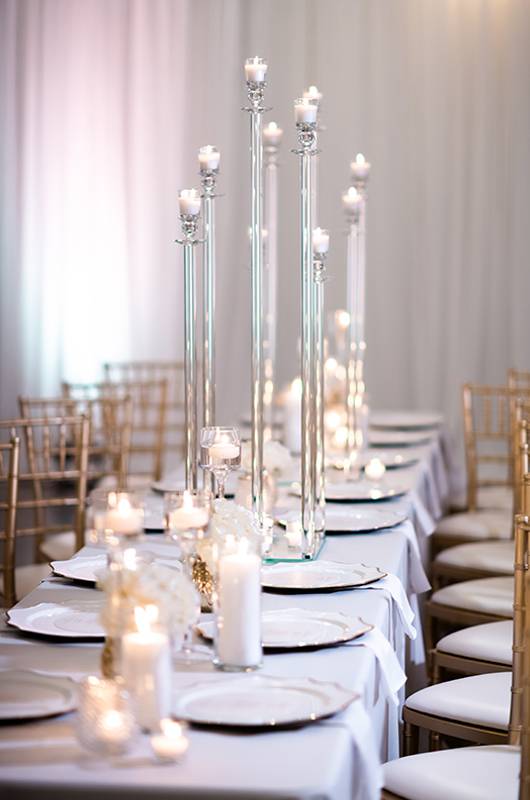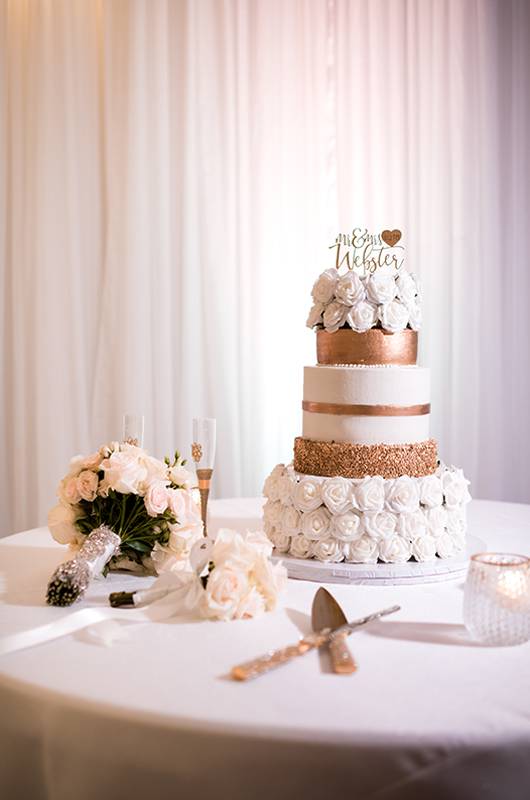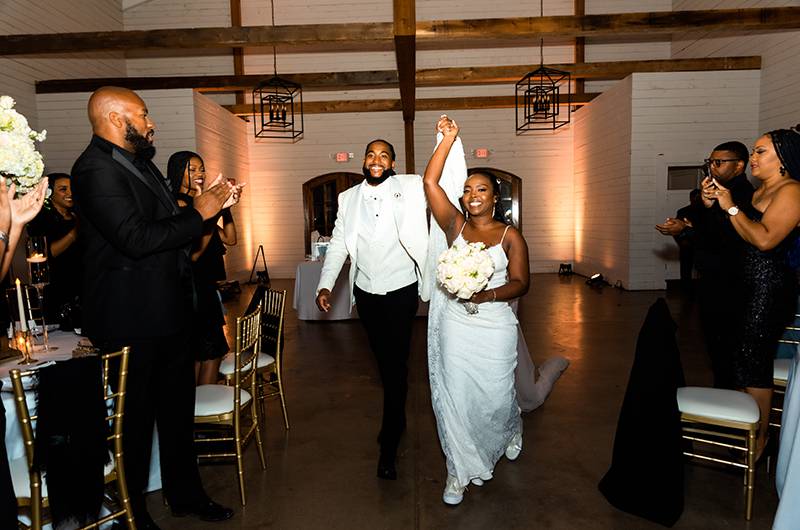 Tammara Chamberlain And Jarrett Webster Jumping
Tammara Chamberlain And Jarrett Webster Table
Tammara Chamberlain And Jarrett Webster Cake
Tammara Chamberlain And Jarrett Webster Couple Walk In Reception
The Retreat
We had a 'mini-moon' at a resort in Las Vegas. It was perfect! We relaxed and got to explore and just bask in being newly married. The whole trip we were on cloud nine and already planning where we would go for our first-anniversary trip. We chose Jamaica, which is planned for this October. We are hoping to still go, but with COVID-19, the trip may be canceled.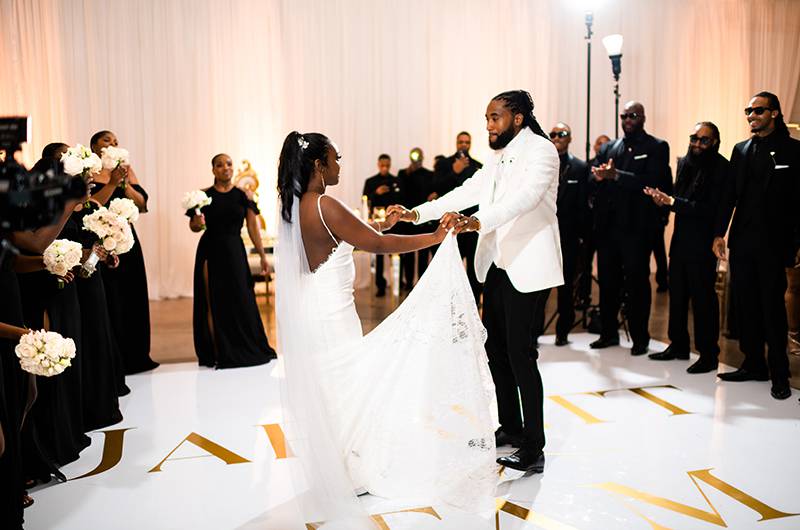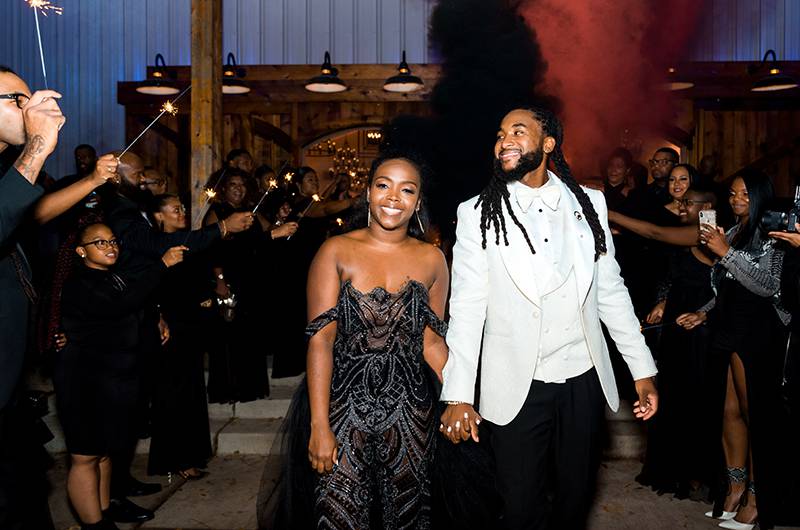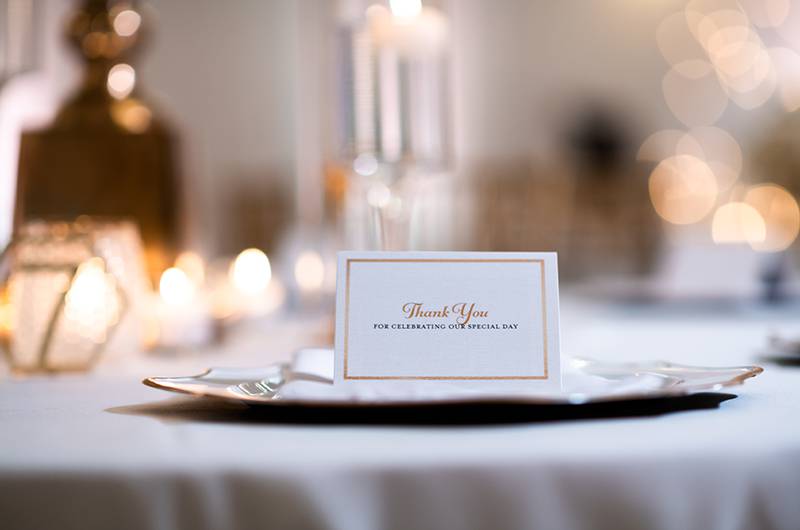 Tammara Chamberlain And Jarrett Webster Dance
Tammara Chamberlain And Jarrett Webster Sendoff
Tammara Chamberlain And Jarrett Webster Thank You Card
Featured Wedding Vendors
CEREMONY & RECEPTION VENUE
Contributing Vendors
PHOTOGRAPHER
EVENT PLANNER
Diane Martin
FLORIST, RENTALS, & DECOR
CATERER
GOWN
RECEPTION DRESS
EXIT OUTFIT
Custom Jumpsuit by DaniNichole Designs 
ENTERTAINMENT
VIDEOGRAPHER
Ryan L. Martin
BARTENDER
MINI-MOON ACCOMMODATIONS