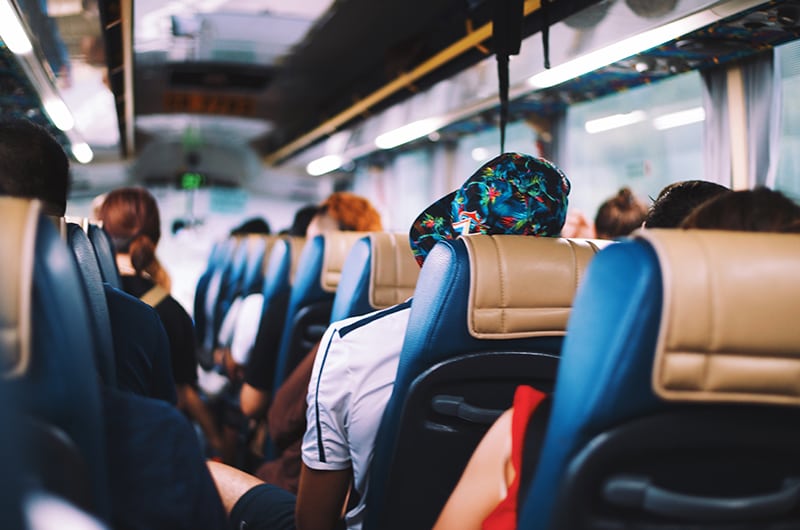 ONE | Make a written list.
Write down the basics for what you'll need, and make sure to include anything you could be prone to forget at the last minute (toothbrush, phone charger, etc.), and follow your list to ensure you don't overpack. Choose staples you feel most confident in, and that you can repurpose by mixing up layers and accessories. Be realistic about what you'll need and what you'll actually wear—and know yourself. If you're a chronic overpacker, lay out everything you want to bring, and force yourself to cut it by half. Don't forget to account for what you'll wear to the airport, and make sure that ensemble includes your bulkiest, heaviest items. (Most planes are pretty chilly, anyway.) And when you're done with your list, don't throw it away! Hold onto it to save yourself the work for your next trip.
TWO | Use a theme.
Try to make most of the things you pack stick to one color scheme (black and white, blue and tan, etc.)—think in neutrals, with one or two coordinating colors. This will exponentially expand your outfit options, so you can mix and match and improvise without worrying about anything clashing. This will also help you cut down on the number of shoes in your bag (which can take up a lot of space and weight), so you only have to bring a few neutral pairs (one flat or sneaker, one pump or wedge, and one sandal) that match every outfit. For shoes, focus on comfort and versatility—no one wants to get sidelined by aching feet on vacation.
THREE | Accessorize!
Throw in some lightweight pops of color like statement earrings, a great belt, a bright scarf, and of course, your favorite vibrant nail polish. These won't take up much space in your bag and will really "make" your outfit—and satisfy your urge for variety.
FOUR | Re-purpose like a pro.
Get creative when it comes to packing items you can wear more than once or use in multiple ways. A few ideas: Use your carry-on bag as your beach bag. Bring a breezy, on-the-go dress that can also double as your swim cover-up. If you're bringing a handbag or clutch, use it to store your delicates, cosmetics, tech accessories, or other small odds and ends while you fly. Pack a one-piece swimsuit that can also be worn as a tank with a maxi skirt. And speaking of skirts: if you master the art of twisting and tying it before your trip, a sarong will be your new best friend.
FIVE | Make good use of that carry-on.
Your "personal item" should be small enough that you can tote it around comfortably, but large enough to hold your electronics, your toiletries, and your travel essentials (books, sleep mask, documents, wallet, etc.). If you're checking a bag, put any valuables like fine jewelry in your carry-on to ensure nothing irreplaceable gets lost or stolen. Keep anything you'll need to pull out in the airport (tickets, ID, passport, gadgets) easily accessible, in a zippered pouch or pocket toward the top of your bag.
SIX | Do your research.
If you're planning an extended trip (or just want to pack as light as possible), research where you'll be staying to find out whether you'll have access to (and the time to use) laundry facilities—if so, there's no need to pack a whole outfit for each day. The same goes for toiletries. If it's bulky, relatively inexpensive, and you can buy it there—don't bring it. If you really need your favorite lotion or shampoo, buy a small container instead of a travel-sized version. It's more affordable and you can control exactly how much you'll need.
SEVEN | Buddy up.
If you're traveling with friends, confer about share-able items before you pack. She brings the blow dryer and you bring the curling iron, she brings shampoo and conditioner and you bring body wash, etc. If she's a good friend with great taste and a generous spirit, then you've just doubled your accessory options as well.
EIGHT | Ward off wrinkles and spills.
It's some sort of travel law of the universe that the one time you pack a bottle of shampoo in your suitcase is the time that the bottle will explode all over everything. This happens because of changing air pressure when you fly. To prevent this from happening, unscrew the lids of any bottles you're bringing and squeeze out any excess air. Cover the hole with plastic wrap, then screw the lid back on. And to prevent wrinkles, add a sheet of tissue paper in between layers of clothing in your suitcase.
NINE | Roll, baby, roll.
Tightly rolling clothing saves space and prevents wrinkles. But not everything was meant to be rolled—this method works best for stretchy knit fabrics, like tees, cotton dresses, and jeans. Line the bottom of your suitcase with your rolled items, and then fold any stiffer or wrinkle-prone items on top. Finally, drape your longer pieces, like maxi dresses and skirts, on top of that. Fill nooks and crannies like your bra cups and shoes with smaller items like socks and jewelry to save space.
TEN | Never forget your nice-to-haves.
We've all been there: As soon as you land at your destination, you realize the one little, random thing you meant to bring is missing. These are the small, portable items that, while you can certainly survive without them, will make your trip easier and more enjoyable when you do remember them. Here's a short list of such items to remember as you pack—a task that gets way easier when you have a written checklist on hand:
Pouches and plastic bags: These can be used to store cosmetics and toiletries, souvenirs, and wet or dirty swimwear or towels after the trip. A resealable plastic bag is also good for bringing your phone to the beach—you can even use the touchscreen through the plastic.
Cheap sunglasses: If you're going near water, leave your designer sunglasses on dry land and wear a pair that won't leave you devastated if they sink or snap.
A good book: Even if you have a packed itinerary and an iPhone full of podcasts and games ready to go, flight delays happen and iPhones die. But a good paperback will always be there for you.
Snacks: Stop hanger (hunger + anger) before it happens by stashing some granola bars, apple slices, or blood sugar-boosting candy in your carry-on.
Flip flops: Even if you're not going anywhere sunny and sandy, flip flops make great "slippers" for cold or scratchy hotel floors.
Earbuds and a portable speaker: Have a way to listen to music in private and as a group. Vacations were made for impromptu dance parties!
Medicinal basics: Advil, Neosporin, bandages, and aloe vera. Even if you don't need them, someone else will. That's just how vacation works.
A foldable hat: Protect that pretty face and ward off bad hair days at the same time with a soft sun hat, baseball cap, or fedora that won't get crushed in your bag.
A travel water bottle/thermos: Did you know that if you freeze your water bottle (therefore making it an ice bottle) before going through the airport security line, they'll let you bring it through? Yep, it's true—frozen solid liquids are permitted by the TSA, as long as you sip any melted water off the top beforehand.
Hand sanitizer: Two words: Public restrooms.
A scarf/shawl: You can use it as an eye mask or pillow on the flight, and then repurpose it as a head wrap or accessory during your trip.
Coconut oil: First of all, it's a solid (if you keep it below 75 degrees F), so it's allowed by the TSA. And it's also the ultimate multitasker, able be used as: makeup remover, moisturizer, cuticle oil, frizz-fighter, coffee creamer, lip balm, shaving cream, sunburn soother, deodorant, toothpaste, and the list goes on.
A cross-body bag: Choose a medium-size, sturdy crossbody that will keep your hands free during day trips and nights out.
Q-tips: Small. Mighty. Useful for more than just cleaning your ears.