October is Breast Cancer Awareness Month, and to bring attention to this important cause, we've constructed a list of how you can easily help out.  From donating your flowers to setting up a donation on your gift registry, there are plenty of ways for brides to support Breast Cancer Awareness, and the best part is… it costs absolutely nothing to give back.
1. Donate your dress to Brides Against Breast Cancer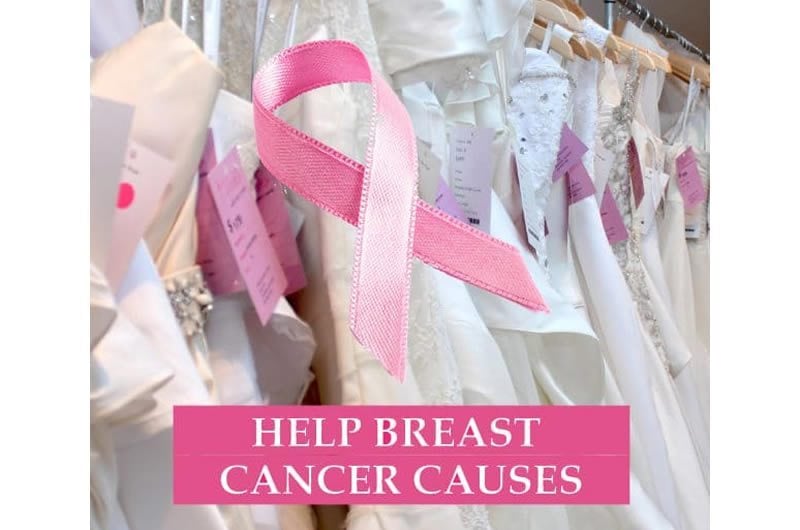 You've had your wedding, you've worn your gown, and now it's sitting in a box on the top of your closet.  While some people like to keep their wedding gowns for memories sake, or in the hopes that one day their daughters might want to wear a 20+ year old gown, others are opting to put their gown to good use and donate them to Brides Against Breast Cancer.
Founded in 1997, BABC has helped thousands of women buy affordable wedding dresses and in turn has donated millions to cancer-related charities.  At the end of the day, you're probably never going to wear the gown again, so why not give it to a great cause.
2.  List The Breast Cancer Research Foundation on your Zola.com Registry
The traditional wedding registry of casserole dishes and gravy boats is a thing of the past.  Now, couples are starting to lean towards monetary gifts and honeymoon excursions, but why not add a more charitable option for your guests to choose.  Listing The Breast Cancer Research Foundation on you Zola Registry is a great way to help an amazing foundation and it's super easy.
On Zola, you can register for pretty much anything you want from cookware to wine of the month memberships and honeymoon airfare. You can also set up a cash fund that goes to the charity of your choosing. It's as simple as that. Guests can log on to your registry, choose the amount they'd like to donate and then it's finished.
3.  Donate your used flowers to a local cancer treatment center
After your reception is over, you leave for a two-week honeymoon with your hubby and all of your food, flowers, and decorations are left to be dealt with. Those flowers that you paid thousands for still look beautiful for up to a week following the reception, so instead of throwing them out, donate them to a local cancer treatment center. Imagine the look on a patients face when they're given a beautiful bouquet of flowers while they're going through treatment.  Flowers make anyone's day a little brighter, and to those battling cancer, it's sure to bring a smile to their face.
Need more wedding registry ideas? Check out these cool gifts & gadgets to add to your registry.