Last week we showed you 9 nifty gifts for your southern gentlemen's Christmas and today we've got 9 Christmas gifts you're going to want to subtly save and send to your future hubs.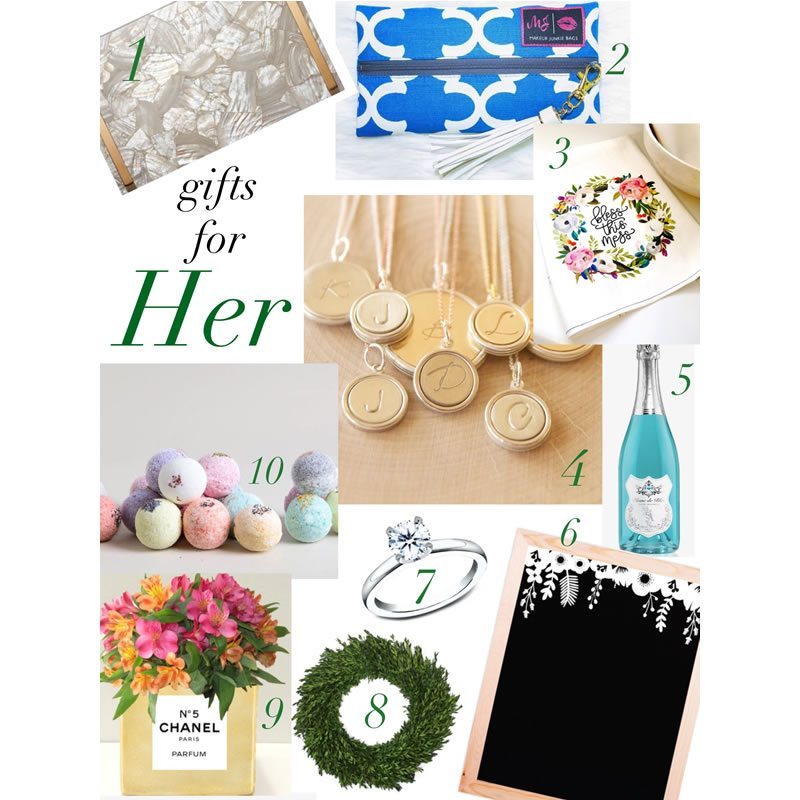 1. We saw this tray a couple weeks ago in the Kendra Scott store and had to show you! It's the perfect home for all your KS pieces.
2. This is the perfect gift for the make-up junkie in your life (or yourself, obviously).
3. Grace Anne Studio, a Texas based Etsy shop, has the prettiest home decor decked with sweet southern sayings.
4. Aren't these pendent necklaces so dainty and perfect? They're double sided. Perfect for initials and a wedding date?
5. A little something blue might make the perfect Christmas gift for you! Blanc De Bleu, sparkling wine, has hints of blueberry and is as delicious as it is pretty.
6. A little chalk board art, with charming phrases, makes any house feel warm and personalized. We love the floral chalkboard from Mrs. Post Stationery!
7. A gorgeous solitary engagement ring is so beautifully classic and wouldn't this one from Benchmark just make the perfect gift for you?
8. Beautiful live wreaths make a great early gift and if you shop from FiftyFlowers.com, they come delivered straight to the door they're going to hang on.
9. Isn't this Chanel inspired vase from Rue Des Rosiers NYC to die for? As soon as we saw it, we had to have it!
10. Last but not least, every bride to be needs to take a break from wedding planning and relax. These bath bombs from Lizush are just the thing.
Hope you loved the list as much as we loved creating it! For more window shopping and pretty gift ideas, check out these wedding registry options from Kate Spade New York.