Today on the Southern Bride Blog we are sharing a yummy recipe and a great idea for couples to incorporate on their big day.
Brides and grooms always have favorite recipes and special foods they enjoyed growing up, whether it was something their mother or grandmother made or something they have enjoyed cooking or baking together. We love the idea of serving a favorite food or sweet treat at a wedding that has special memories for the couple. We also love the idea of making it even more personal by incorporating a favorite saying or quote, like this . . .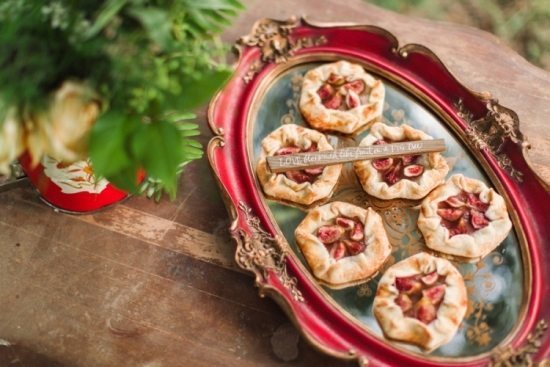 "Love blossomed like fruit on a fig tree" – how cute is that?
Incorporating personal touches to your wedding day are details that your guests will remember and enjoy!
Now for what we are all waiting for, a recipe for amazingly delicious fig pies. The fig pies pictured were baked by our friends at Heirloom Cuisine. The recipe below is not from them, but one we love and wanted to share.
What you will need:
For the crust:
1 ½ cups of almond meal
1 egg
1 tbs honey
1 tbs ghee
¼ tsp of baking soda
pinch of salt
Mix your ingredients for the crust, then place in a greased muffin pan.
Bake at 350° for 10-12 minutes or until they are golden.
For the figs:
you will need 10-12 figs, cut or slice (whatever you prefer)
1 teaspoon honey to taste
For fig prep, drizzle the honey on the figs, then broil them for about 5-7 minutes.
Then you simply add the figs to the delicious crust and voila – you have your very own mini, mouth watering fig pies!
{photo credits}
stylist: Angela Marie Events | fig pies: Heirloom Cuisine | Ashleigh Jayne Photography