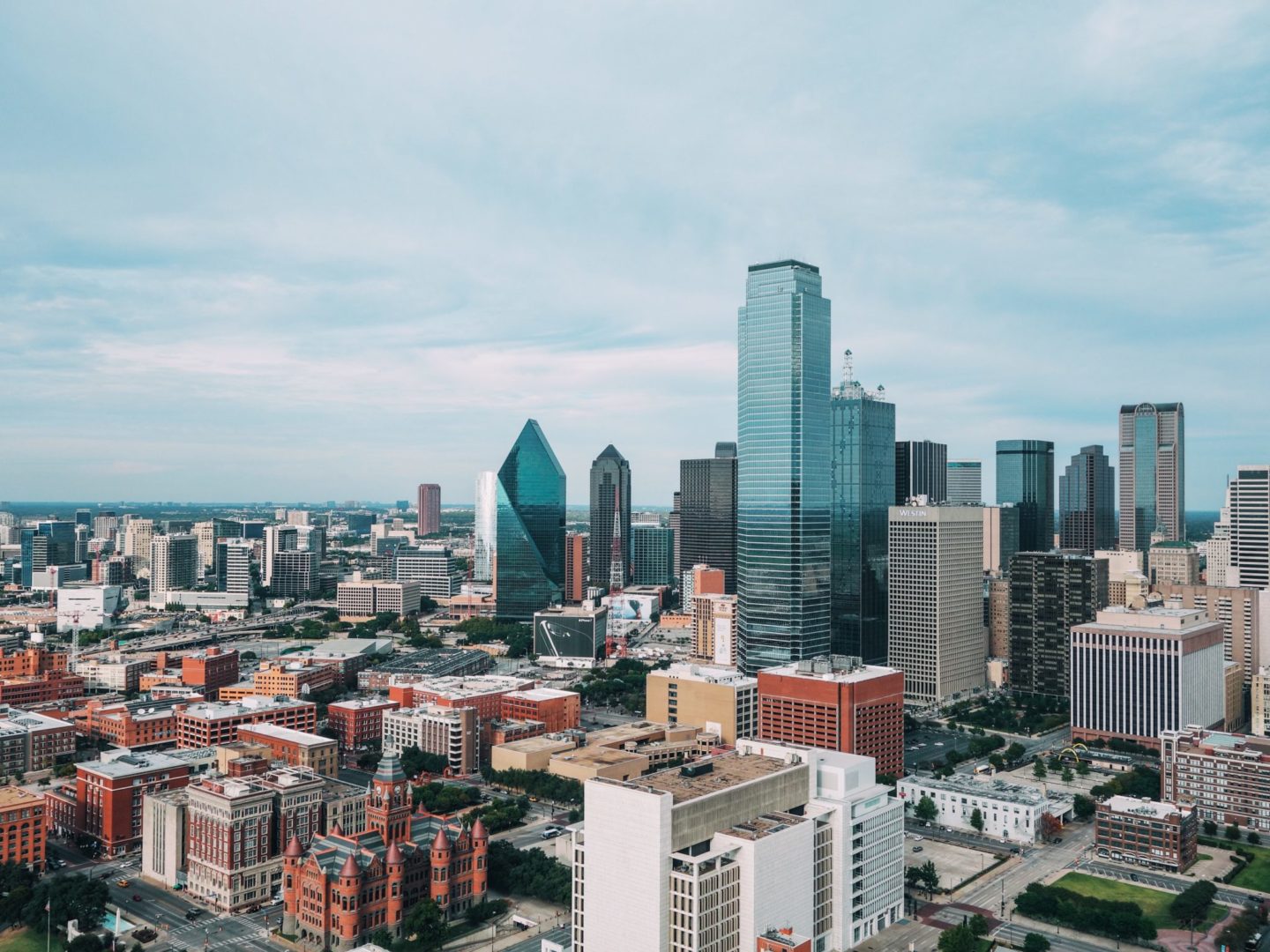 An ever-growing metropolitan city, Dallas is both an unexpected and wondrous wedding destination. Full of vibrant, unique neighborhoods and filled with an exciting crop of venues and restaurants, the city is a dream setting for any 'foodie' bride. Dallas was named the "Next Best Food City" by GQ in 2018, making Dallas a tasty place to gather for upcoming nuptials, bachelor/bachelorette parties, honeymoons, and more. Here are seven great venues to keep in mind!
Dakota's Steakhouse | Downtown Dallas
A Dallas dining icon for nearly 35 years, Dakota's Steakhouse delivers above and beyond expectations in its unique underground location. Its dining space allows for groups large and small, and includes a private wine room and climate-controlled patio, complete with a five-tiered granite waterfall. Its subterranean courtyard is considered one of the most romantic dining spots in the city and features multi-tiered landscaping and a lava rock fire pit. Its cuisine is a true Texas treasure, especially for out-of-town guests. Its cuts of steaks are handpicked and dry-aged for a minimum of 28 days, making dining at Dakota's an authentically-Texan experience.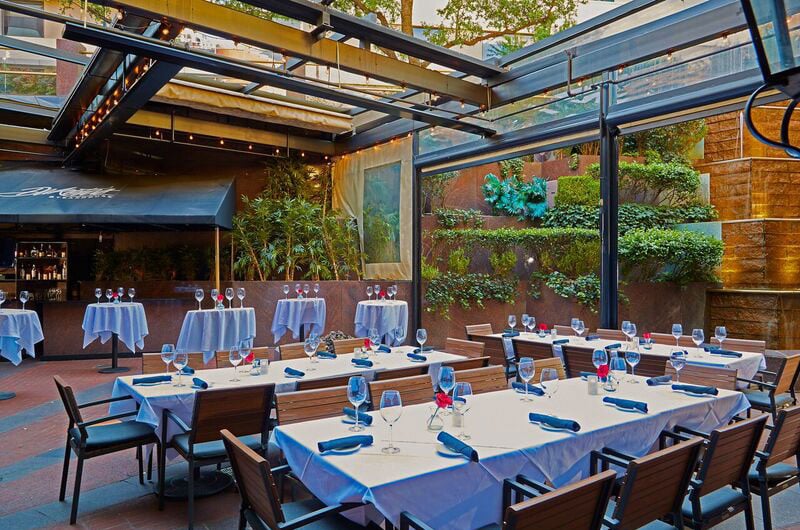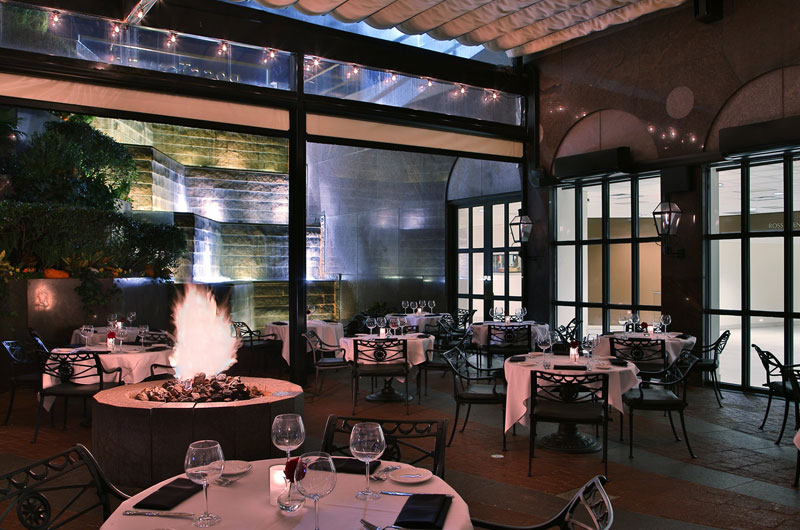 images provided by: Dakota Steakhouse
 Fine China | Downtown Dallas
Fine China, an upscale Asian gastropub located on the first floor of The Statler Hotel, serves up unique takes on classic Asian fare—from dim sum to cold dishes, rice & noodles, and large dishes. Meant to be enjoyed among friends and family, the restaurant boasts the largest communal table in the city, offering to seat for up to 28 guests. While the interior is a chic mix of textures and bold colors, space also holds three private dining rooms—making it an ideal romantic backdrop for a rehearsal dinner or pre-wedding celebration.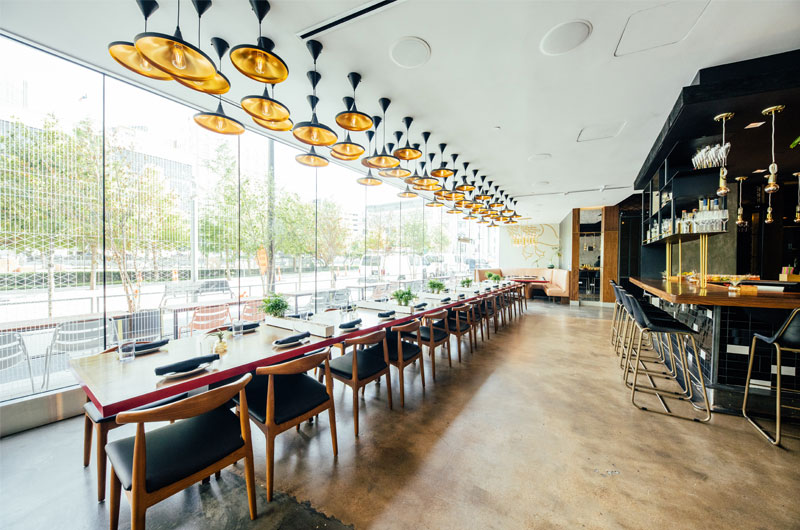 image provided by: Fine China
Firestone & Robertson Distilling Co.'s Whiskey Ranch | Fort Worth
Whiskey Ranch, the distillery's second and largest outpost, is set on a 112-acre pastoral setting and offers sweeping views of downtown Fort Worth. The destination blends the masculine scent of whiskey and oak barrels with a lush landscape and the rustic romance of a Texas ranch, providing the perfect locale for any wedding. The prime event space, The Oak Room, is able to accommodate up to 300 guests boasting floor-to-ceiling oak barrels, an expansive stone fireplace, plenty of natural light, and more. Outside of traditional venue spaces, Whiskey Ranch offers multiple gathering areas for guests including an outdoor courtyard and wraparound porch with scenic views plus a well-kept 18-hole golf green that offers a backdrop of the Fort Worth skyline for outdoor ceremonies.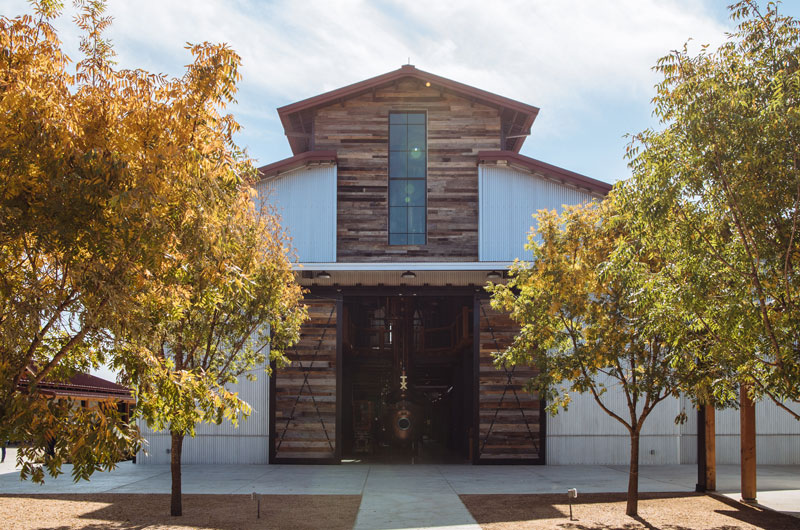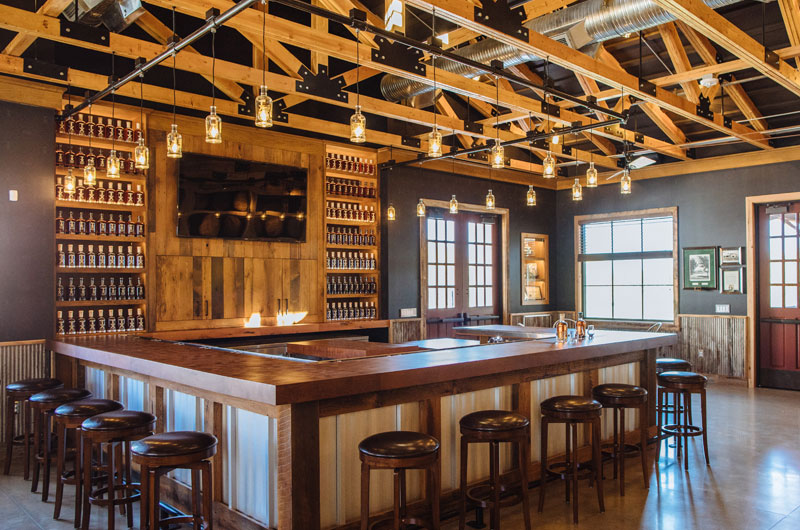 images provided by: Firestone & Robertson
Heim Barbecue | Fort Worth
Fort Worth's famed barbecue joint Heim offers catering for events of any kind, along with private event space within its restaurant. Heim has headquarters dedicated solely to its catering services and provides a variety of farm-to-smoker Texas classics. Heim's food truck can also be booked for events—perfect for late-night or takeaway bites near the end of a wedding. As a Texas-barbecue icon, Heim's catering is an exciting way to get guests in a southern spirit.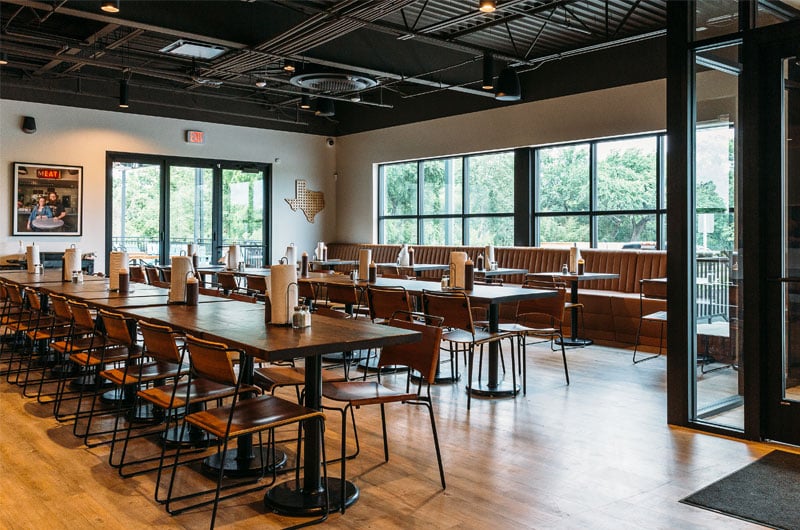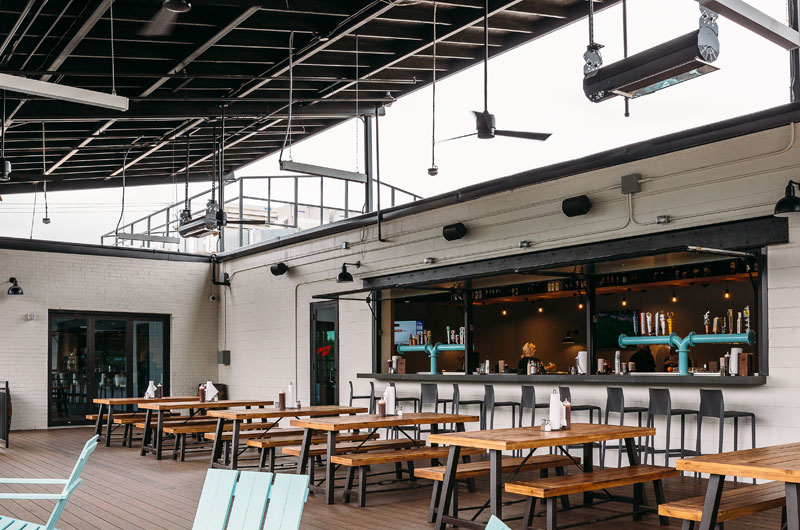 photographer: Robert Strickland
Moxie's Grill & Bar | Plano
Moxie's Grill & Bar is a premium casual Canadian concept owned by Dallas Stars proprietor Tom Gaglardi. Moxie's delivers a unique experience through its blend of high-end design, uncompromising food quality and friendly, energetic approach to hospitality. The Plano location boasts a sophisticated dining space with an impressively sleek, modern interior, complete with an open kitchen and a vibrant lounge area. For larger parties, Moxie's Plano offers a total of five private event spaces available for rent.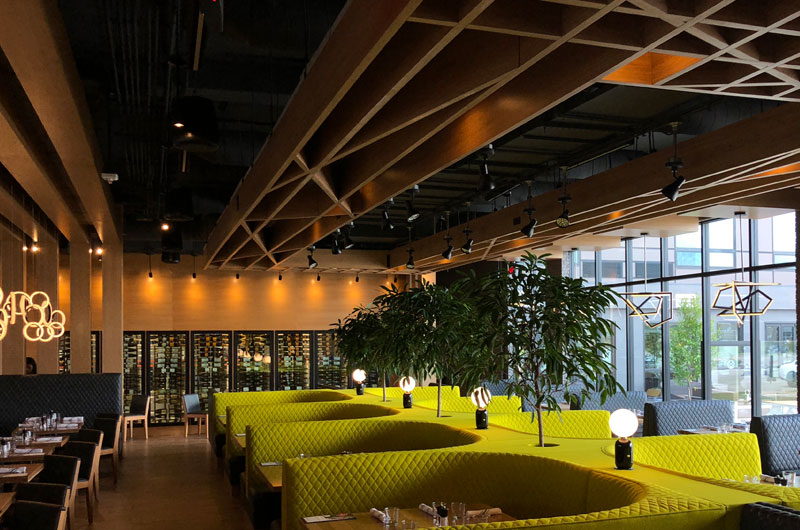 image provided by: Moxie's Bar and Grill
Pappas Bros. Steakhouse | Dallas
The private dining rooms at Pappas Bros. Steakhouse offer guests cozy, sophisticated accommodations suitable for a variety of events, whether hosting a wedding rehearsal for a small or large party. This Texas-based steakhouse is emblematic of the dining experience standard, with perfectly dry-aged steaks (for a minimum of 28 days) and an overflowing wine list recommended by Pappas Bros.' very own sommeliers. Each location boasts an array of intimate private dining rooms, complete with sleek, leather furnishings.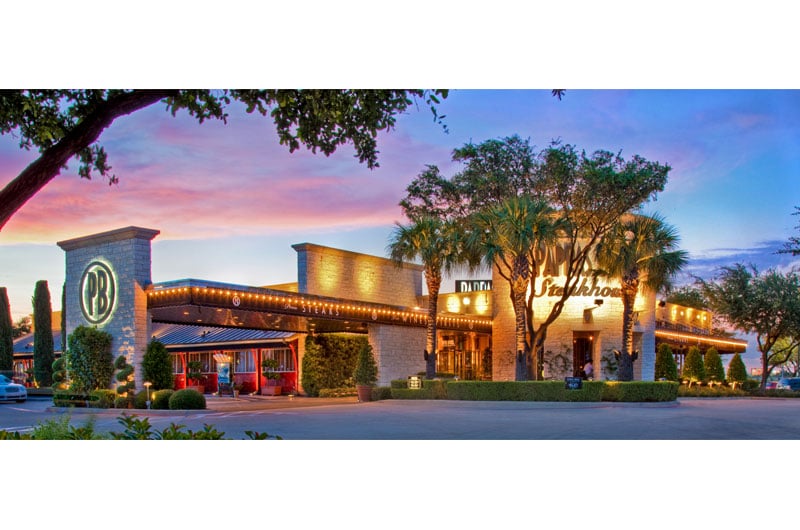 image provided by: Craig Kuhner 
Ten50 BBQ | Richardson 
Ten50 provides its guests with a true Texas barbecue experience by selected premium products that are sourced locally (when available). All meats are slow smoked, and all side dishes and desserts are made in-house from scratch. Ten50 offers a large and secluded private room, perfect for rehearsal dinner entertaining. The private room has a 25-person minimum, however, it can hold up to 70 people with limited and full-service bar options available. Ten50's patio is also available for events and can accommodate live music and an open bar.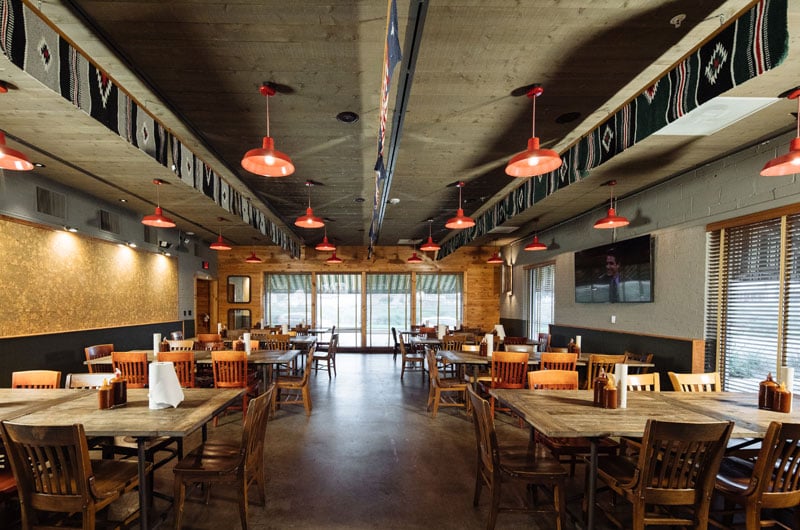 image provided by: Ten50 BBQ