We're excited about our guest blogger today and not just because he's talking about food. Draper's Catering is one of Memphis's premier catering companies and Ryan Draper has a lot to say about today's Wedding trends when it comes to feeding your guest. Feast your eyes on his delicious blog post.
Over the years I've seen trends come and go.  Some seem to stick around a little more than others (like the mashed potato bar or shrimp and grits) while others are long gone or on their way out (like cupcakes and chocolate fountains).  Burlap and mason jars probably won't ever go away though…and that's ok.  It's important for me to take notice of trends so that I can help bring to life the ideas that are generated when I meet with couples planning their reception catering.   Here are a few trends I'm seeing in wedding reception food & beverage catering.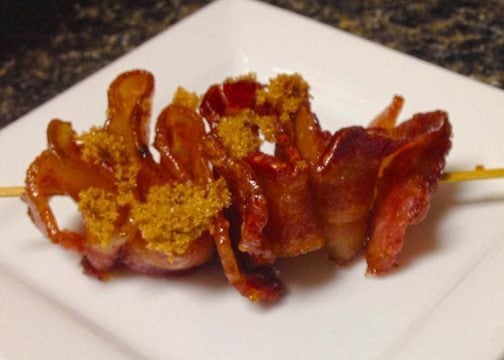 BACON
A few years ago I thought bacon was at its peak.  People were putting it in everything from ice cream to donuts.  It was no longer for breakfast or a gourmet add-on to a good burger.  New types of bacon were coming to market and I remember trying to figure out just how I could incorporate it in my offerings for wedding receptions.  However this "baconmania" never really took hold in catering quite as much as it had on the cooking shows and in mainstream restaurants and, just as it started gaining in popularity as an offering at a wedding reception, the bacon world started to slow down.  Concerns about swine flu, scary articles on bacon shortages and increased prices seemed to contribute.
However, I am happy to report that bacon is making a comeback!  I'm seeing more requests for candied bacon, recipes with bacon added, and ideas such as passed bacon lollipops and bacon stations.  A bacon station is a food station where all of the items contain bacon…why not?  I think bacon brought out a lot of creativity as people sought for unique ways to incorporate it in their dishes and appetizers.  The love for bacon has never gone away and it seems as if more and more couples are looking to share that love with their guests on their wedding day.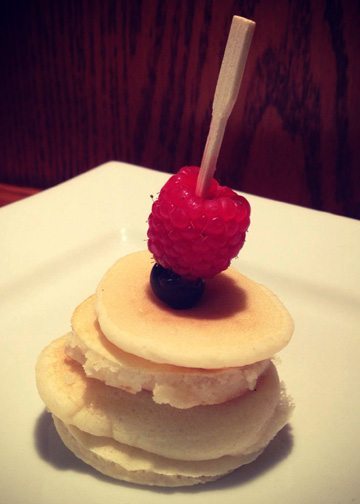 BRUNCH
In the past I've catered a wedding brunch here or there but never really saw it as a major trend.  Just this year I've received more inquiries for brunch receptions than in years past.  Couples are really focusing on creating an experience that is unique and exciting for their guests.  Morning ceremonies and mid-morning receptions are not the norm but brides are excited about doing something different.  One bride told me she chose a morning reception because "everyone loves breakfast food!"  A typical brunch menu might contain fruits and specialty cheeses, biscuits with assorted jams and jellies, eggs in many forms, smoked salmon, chicken salad, ham and/or turkey carving stations, and much more.  I've even seen a push to add breakfast food items to evening reception menus because well, who doesn't like breakfast for dinner?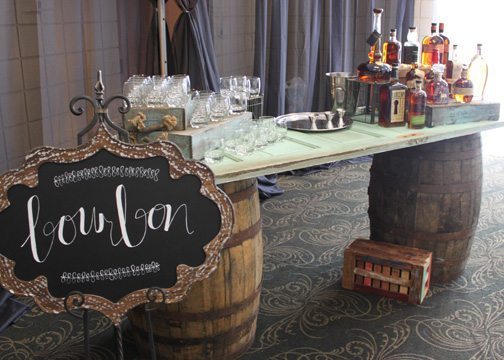 BARS
Bars are a very important part of many wedding receptions.  Lately I've seen a greater focus on creating a special experience with the bar for guests.  Signature drinks have been around for a while now and they're not going away.  People serve their favorite drinks or a drink that matches the colors or theme of their reception.  These are usually served during the cocktail hour of a reception and the guests seem to get excited about the opportunity to try something a little different than their typical choice of beverage.
However, for some couples, a signature drink just won't cut it.  A recent bride and groom wanted to set up a Bourbon Bar with several choices of bourbon offered to their guests.  The guests went nuts over this.  Some of my brunch couples are planning stand-alone Bellini and Bloody Mary Bars as an added treat.  My favorite part of this focus on bars, however, is in the appearance of the bar.  No longer is a bar set on a 6 foot table sufficient.  Caterers, venues, and wedding designers are using rentals and props to create actual bars with decorative bar backs.  They are setting bar stools out and creating beautiful bar spaces to add to the overall ambiance of the reception.
There are many trends in catering and food choice.  However, what's most important is that your reception be a reflection of you.  Your caterer and other vendors will help guide you through making those decisions that will make the greatest impact on the overall feel and experience you are wanting to create for your special day.
Ryan Draper is the Operations Manager for Draper's Catering of Memphis, a family owned catering company specializing in creating fantastic menus with delicious, recognizable food.  Find out more about Draper's Catering by visiting their website.