Once you find the dress, it's time to decide if a veil will be a part of your big day look. While this may seem like a simple task, choosing your veil should be carefully considered. Why? You most likely put a great deal of time (and money) into finding the perfect dress, so you will want to make sure selecting your veil gets some special attention, too. Before you start the very important search, see these 5 things all brides should consider when choosing a veil.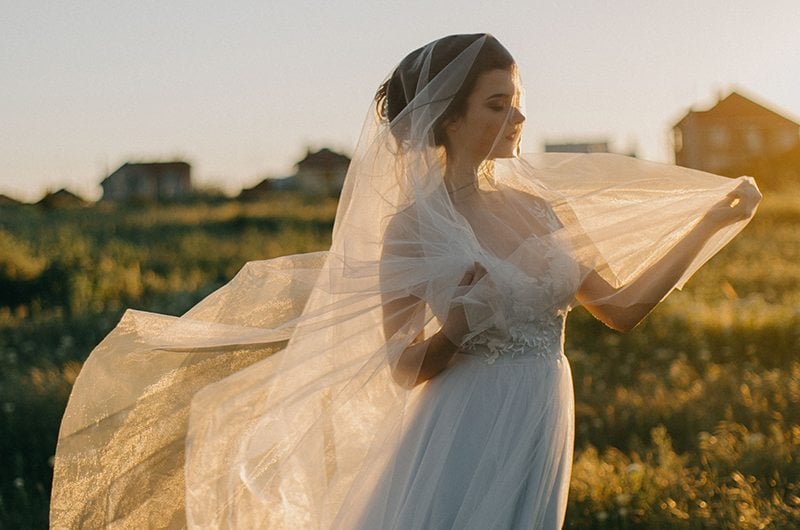 1) Color Quest 
A veil will not add to your look if the color does not compliment your dress. When trying on veils, it's always recommended to try it on with your dress. This is a good idea for a number of reasons, but especially when trying to select a veil that is a close match to your dress. To you, your dress may appear ivory, and you can think an ivory veil might be a perfect match, but it's better to see the veil with the dress in case the shade is off. With that said, the color does not have to be a 100% match, but getting it as close as possible is always a good idea. If you're looking at veils online, remember that the color you see in a photograph may not be the true color, depending on the quality of the photo. If ordering a swatch is an option, do that so you can compare it to the color of your dress before purchasing online.
2) Material Girl
Not all veils are the same material. Some are more sheer and delicate while some are more opaque. The material itself is something you will want to consider and pay attention to when looking at veils. It's all a matter of the look and feel of the material, and what will go best with your dress. If you're having an outdoor, day-time wedding, then a veil that's more on the sheer side might be preferred. If you're having an evening wedding with candlelight, you might want to consider a veil that has a slight glimmer or sheen. Again, trying on the veil with your dress is always best.
3) Think Length!
You probably already know that there are a variety of veil lengths, which once again, should be considered with the style of your dress. The Birdcage Veil, for example, is the shortest veil style and can be simple yet still make a statement with almost any style of gown. If you're going for a regal look but want a bit of drama, then a Cathedral Veil is a perfect choice! This style ranges in length typically from 7.5 feet to 10-20 feet. It best compliments a classic, full-length dress, as well as a dress that has an illusion back or a dress with a long train. If you like the idea of a Cathedral Veil, but it's a bit longer than desired, then a Chapel-Length Veil is a great choice since it ranges at approximately seven feet. This style will compliment your gown without being distracting and will also add an elegant, simplistic look. If you're a bride who's wanting to add a veil but not one with great length, then a Fingertip Veil is a great choice. This style is about three feet and has been said to be the most flattering veil choice for any style of dress and body type. Want to see more veil styles? Click here! 
4) Location, Location, Location! 
Yep, the location of your wedding ceremony and the type of venue should be factored into the style of veil you choose. For example, if you're having a beach wedding, just remember that it can be windy near the water. If you have a super long, dramatic veil on a windy day, it may not cooperate and become more of a pain than a pretty addition to your look. Outdoor weddings, in general, can get tricky when it comes to the longer veils, which could get caught on sticks, twigs or leaves. If you do have an outdoor wedding, just consider where you'll be walking, if you can add an aisle runner, etc.                       
5) Is it YOU?
If you're not feeling like you're a 'veil kind of bride', that's okay! Veils are gorgeous and can add a stunning touch, however, this is YOUR day and if you don't want to wear a veil, don't! Maybe your mother or grandmother wants you to wear one, maybe it doesn't go with the style or tone of your wedding, maybe the style of your dress is beautiful all on its own. Whatever it may be, be true to you and your own personal bridal style.