It's in the wine we drink, dirty dishes in the kitchen sink,
And the lights go out til the sun comes up; we are not alone.
It's in the miles we drive, never having to say goodbye
To the things we tell each other without saying a word.
There's a beauty that we never know what the future holds.
Beneath the surface we are the calm, we are the storm.
I'm not sunset or a hurricane or a Vincent Van Gogh.
You are the one thing that I know.
– Drew Holcomb and the Neighbors, '"The Wine We Drink"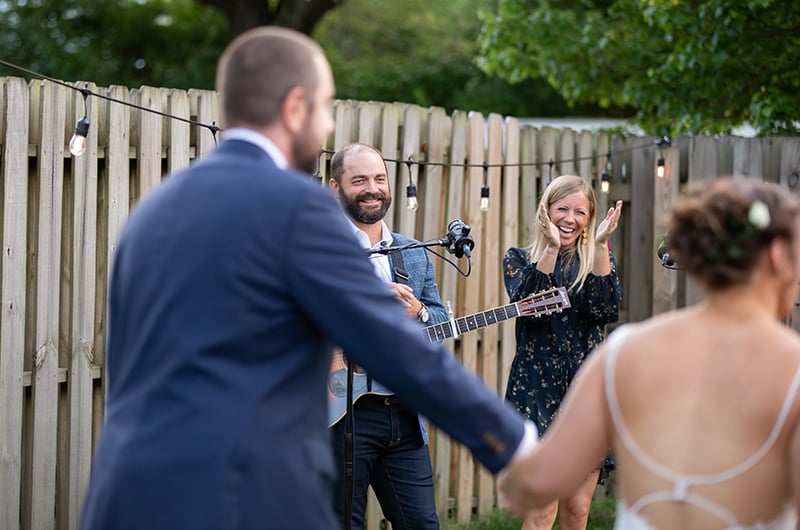 Americana sensation singers, Drew and Ellie Holcomb were looking for ways to connect with fans after the whole country went into COVID lockdown and Drew's band, Drew Holcomb and the Neighbors spring and summer tour was canceled. 
Ingenuity prevailed for the self-described troubadour, artist, and family man as Drew and wife Ellie curated Kitchen Covers – a nightly, at-home, live Instagram event featuring the couple playing cover songs from old school to current hits. But, little did they know they were about to get a whole lot more 'up close and personal' with two very exceptional fans. 
 Just a few blocks away, Matt and Jill Hewitt were at crossroads with their upcoming wedding plans and the recent COVID mandates. Out of respect for social gathering guidelines and the safety of their loved ones, Matt and Jill decided to keep their wedding date but move their wedding location to their backyard in East Nashville. Understandably, the couple felt disheartened by setting aside their dream wedding, but family and friends quickly devised an ambitious consolation plan. They would all rally on social media and implore the dynamic duo, Drew & Ellie, to surprise the wedding couple with performing "The Wine We Drink" for their first dance.
 The Holcomb's were quick to oblige and thrilled to share in the couple's big day with their song that so eloquently captured the mood of the uncertainty of the moment – but also the possibility of a beautiful outcome.  As, Ellie shared, it felt great to be "kicking back at the darkness with the light." And, while Jill & Matt's wedding day looked very different than they anticipated, it resulted in an unforgettable and meaningful day.  
Click the video for how the surprise unfolded.