By Norma Davidoff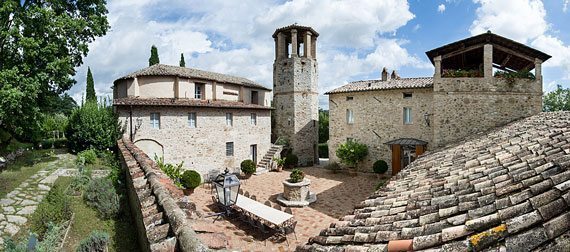 GET ACQUAINTED
Le Torri di Bagnara has several luxurious stone castles in Italy's Umbria province, near Tuscany, between Florence and Rome.  Spread over 1500 acres, including a luscious swimming pool, this estate is a special way to have a private wedding for 80 or 120 guests. The natural beauty of hilly, unspoiled Umbria and the spirituality of the famed religious city of Assisi are part of the allure.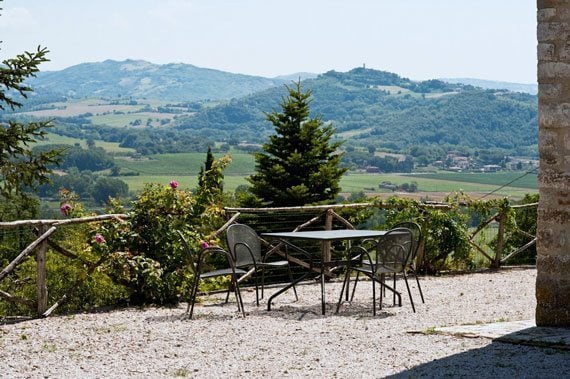 WE SIMPLY ADORE
"Kiss Spots" all around the property – by a lovely small lake; another, at a rose-covered high spot overlooking the valley; and near a distinctive, gnarled old tree.  The bride and groom can designate their own "kiss spot."
The courtyard of Pieve San Quirico Castle, surrounded by stone buildings, includes an ancient tower.
The consecrated church's simple beauty; it dates from1800's.
The sweet smell of lemon blossoms around Pieve San Quirico Castle.
The exquisitely elegant traditional Italian bedrooms and large baths in the castles.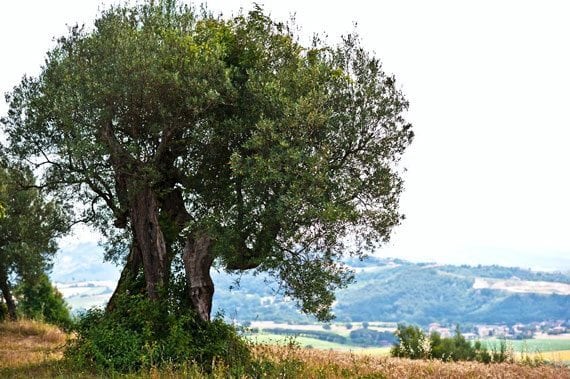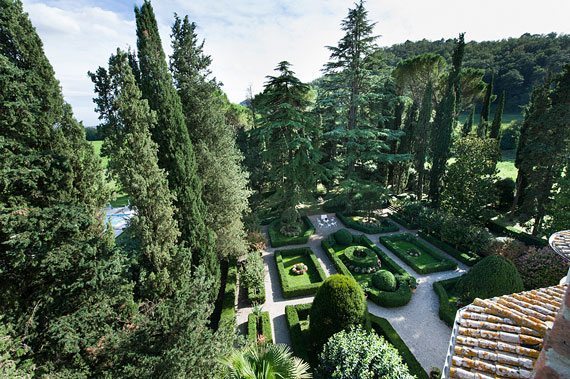 NOTE TO SELF
How about some binoculars for the beautiful views of this countryside expanse?
You will need a car.  Best would be four-wheel drive for the steep switch-back lanes leading up to the castle. Le Torri can arrange for transport from the airport.  But the airports in Perugia and Rome have many car rental choices. If you wish, helicopter in from Rome or Arezzo to Le Torri's landing pad.  At the castle, you can pay in cash for fees under 1,000 euros.
Have cash ready for tips for the maid and wait staff.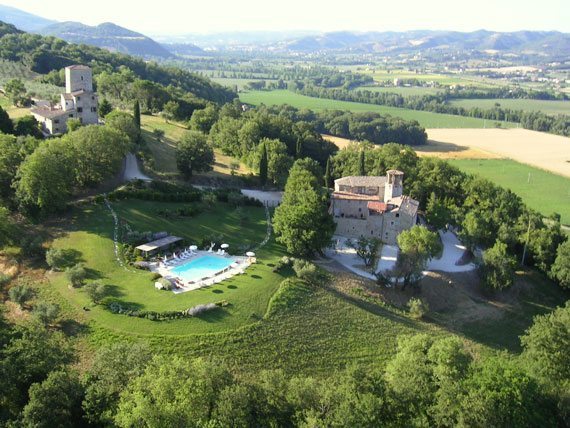 OUT AND ABOUT
Tennis and horseback riding are 5 minutes away.
A challenging golf course, designed by Robert Trent Jones Jr., is just 10 minutes.
The bustling city of Perugia, home of famous Baci (chocolate kisses), numerous churches, duomos and museums, is 20 minutes away.  The spiritual city of Assisi, famed for St. Francis, is 30 minutes from Le Torri.  Both of these hill top cities have breath-taking basilicas, cathedrals, and other religious sites; and you can look out to the pastoral valleys below and beyond.  The town of Deruta and its famed potteries, with endless choices, are a bride's shopping dream.
Sun yourself on the ferry to the rustic little islands of Lake Trasimeno, Italy's fourth largest lake. Take the ferry from the town of Castiglione del Lago, where you can tour its castle and frescoed town hall.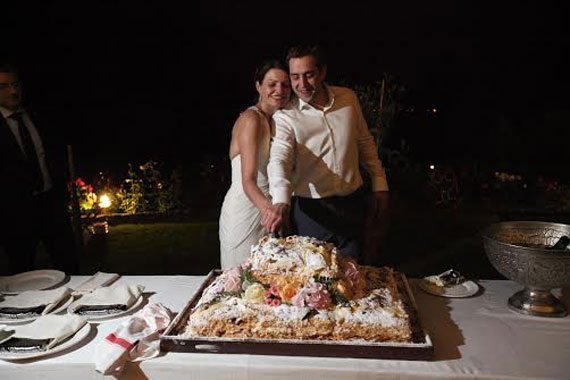 BIG DAY DETAILS
Your Options
 On premises, there is more than ample parking. Le Torri and its wedding planner take care of entertainment, catering, and special day requirements. You can make it an experience of several days by adding a poolside barbeque, a dinner the night before, and more.  A first-rate Florentine chef will arrange for classic Italian dishes or create new favorites– even kosher cuisine—whatever you desire. Bride and groom even share in assembling the dessert right at the wedding dinner. 
One can also hold an event at Castello di Bagnara, an 11th Century castle, on the estate. Bagnara has a 17th century Italian garden with stately cedar trees, a pool, an orangery, and a 17th century, consecrated chapel. Descendants of emperor Napoleon Bonaparte's brothers own the castles and the entire estate.  It is indeed regal, and one is treated accordingly.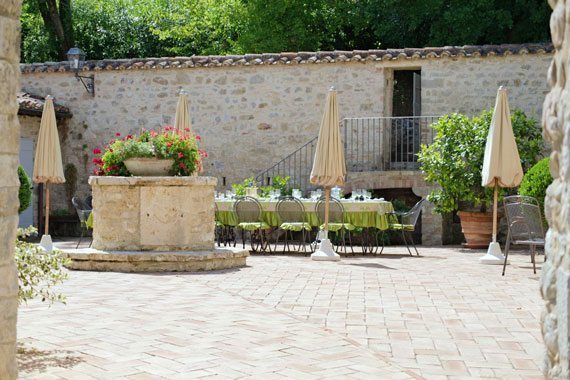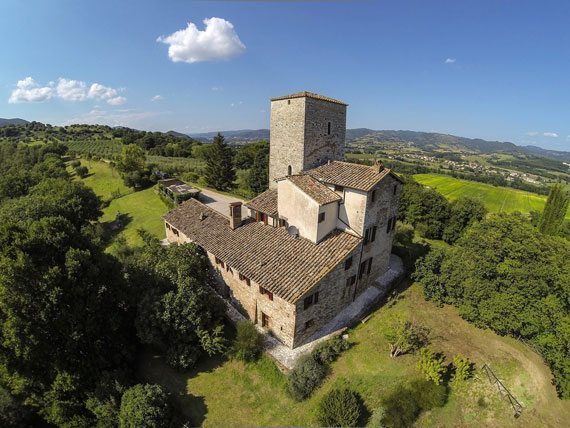 HERE'S THE SCOOP
This is a romantic place to be shared and enjoyed. There is enough space to be together and apart for the whole wedding party. Can a place be relaxing and exciting at the same time?  Yes, if it's Le Torri. High-quality, gracious service, and the joys of a luxurious, unusual setting, high in Umbria's hills, make for a meaningful place to share vows at a destination wedding.