Hospitality at its Most Creative
By Lindsey Cross Lee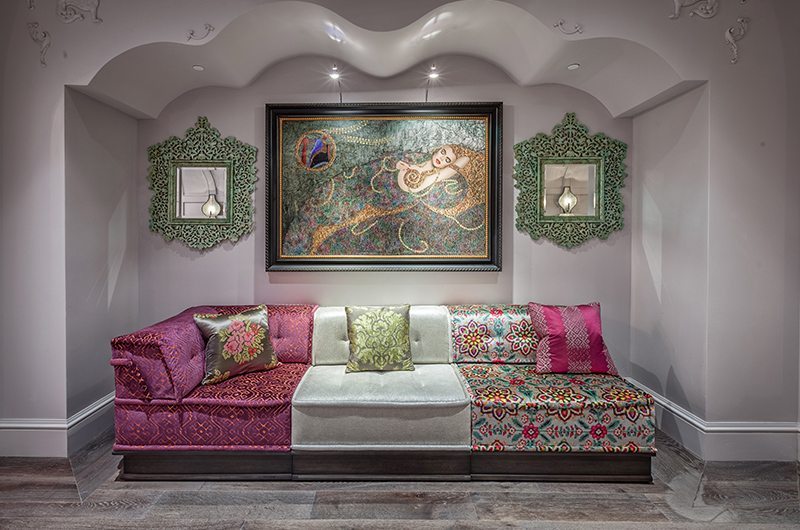 Get Acquainted
The Grand Bohemian Hotel is a stunning glamorous hotel. The perfect mix of bold, saturated colors, an abundance of original art and signature southern charm will certainly impress the most creative and discerning guests. This gorgeous hotel is located just steps from the famed boutique-lined King Street as well the historic district of Charleston, which includes an outdoor market, horse and carriage tours and amazing restaurants. The eclectic style of the lobby extends to the guest rooms with custom baroque style headboards in vibrant yellow, patterned draperies and original paintings lining the walls. Their rooftop restaurant, Élevé, offers delicious farm-to-table options and is the perfect setting for an intimate wedding reception or rehearsal dinner. Additional well-appointed areas on the terrace level are also available for ceremonies and bridal luncheons – complete with private outdoor balconies.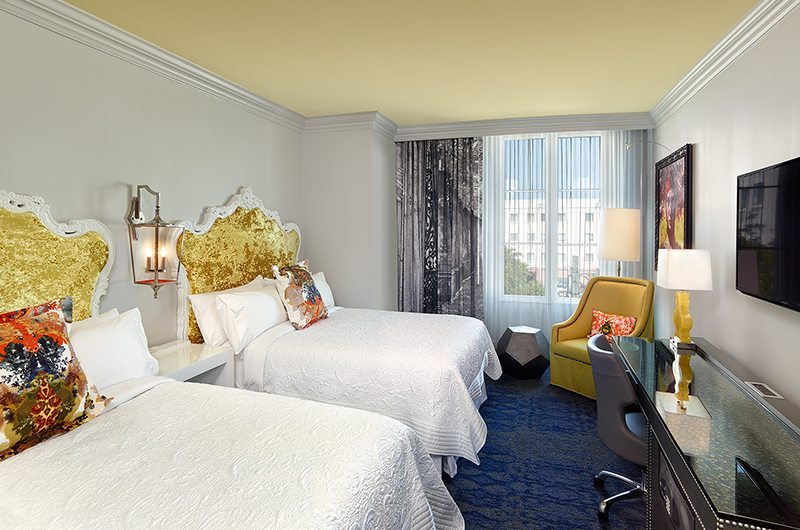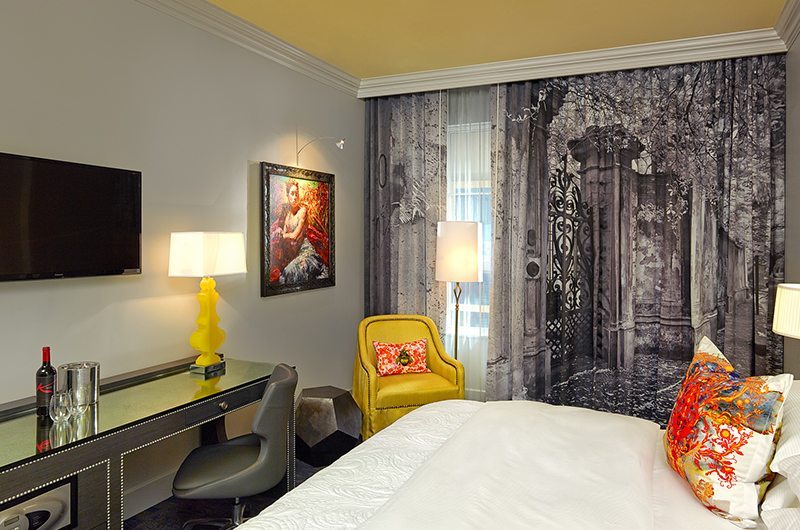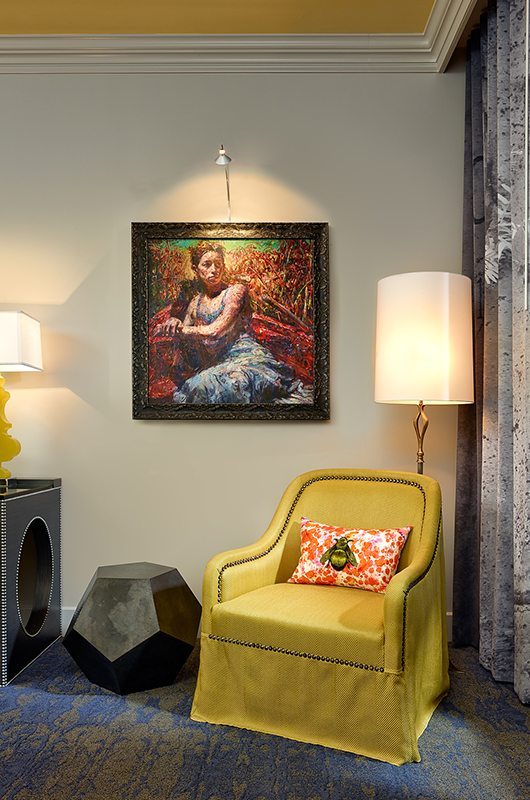 We Simply Adore
The art gallery off the lobby is not to be missed. A carefully curated selection of paintings, sculpture and jewelry is available for purchase, and there are many captivating options from local artists. It's impossible to leave empty-handed.
Join the Grand Bohemian's master sommelier for a 90-minute wine blending class. Mix grapes from different regions and learn aging techniques to create your own complex flavor. You will leave with your own bottle of wine complete with a custom label. They keep your specifications on file, so if you need another bottle of your custom blend for a special occasion, they will recreate it and ship it to you.
Search out the multi-storied art gallery in the center of the hotel between the second and fourth floors – some lucky guest rooms have a window looking out into this spectacular space.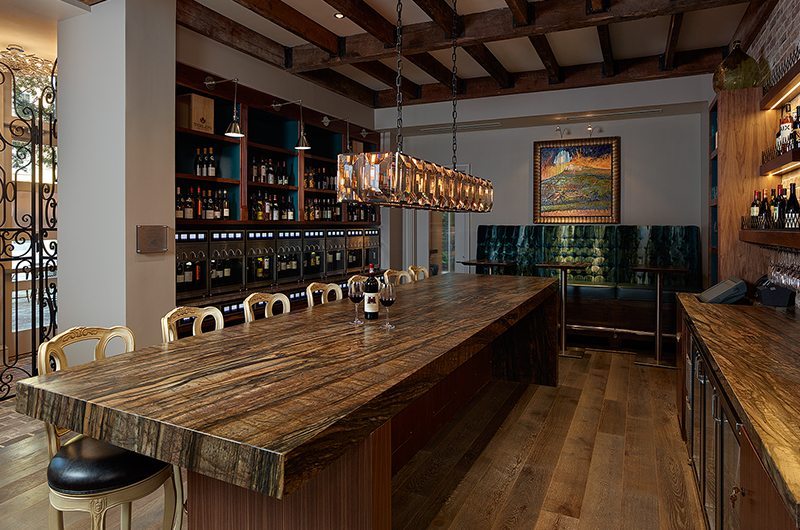 Get the Dish
Make sure you plan to have dinner at Élevé, the Grand Bohemian's rooftop restaurant one evening. Of all the amazing meals we sampled while in Charleston, this was my favorite. The filet mignon was perfectly prepared and if their melt-in-your-mouth apple cinnamon beignets are on the dessert menu the evening you go, definitely order some. You will not be disappointed!
Directly across the street of The Grand Bohemian is the James Beard Award Winning Fig Restaurant – one of Charleston's premier culinary destinations. Their simple, flavorful dishes change seasonally and their service staff is a knowledgeable and passionate group. Make reservations early – they typically are booked solid at least a week or two in advance.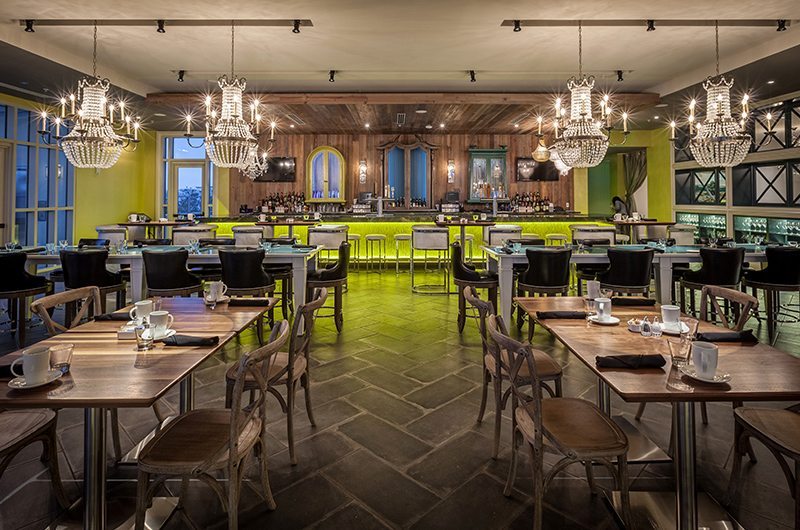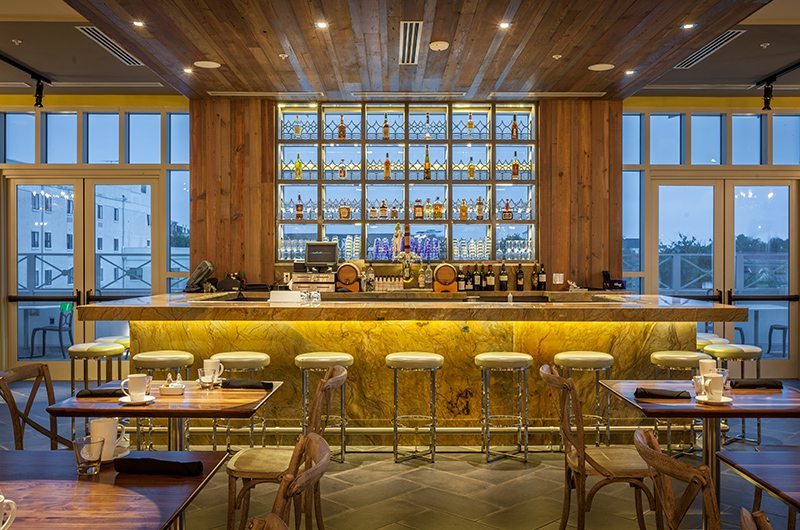 Big Day Details
The Grand Bohemian Hotel can accommodate wedding weekend events in their variety of spaces – each with its own unique personality.
The outdoor terrace on the roof deck has a wonderful "Alice in Wonderland" feeling complete with quirky furniture, dancing fire pits and mood lighting. This is the perfect space for a cocktail hour or welcome party, allowing guests to overlook the historical district of Charleston.
Just inside from the outdoor terrace is the wonderful Élevé Restaurant with its open, airy vibe.
On the other side of the top floor is the hotel's ballroom that can accommodate up to 100 guests for a wedding ceremony or 80 people for a seated dinner. Oversized Venetian mirrors line one wall with large doors on the other side leading out to the ballroom's private balcony space. The Grand Bohemian will even let you choose a painting or two from around the hotel to decorate this space with if desired.
The private dining room is an elegant space perfect for luncheons, rehearsal dinners or intimate receptions. The beautifully crafted wooden tables allow seating for up to 45 people are accented with aqua upholstered chairs and ornate glass chandeliers.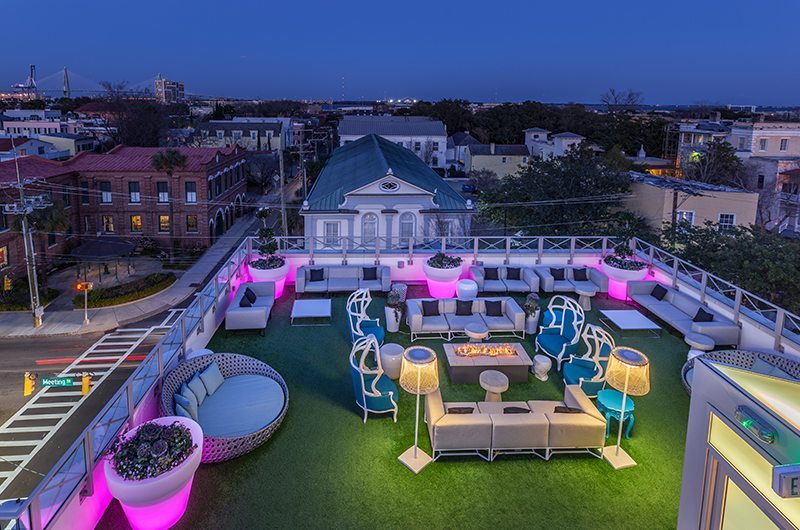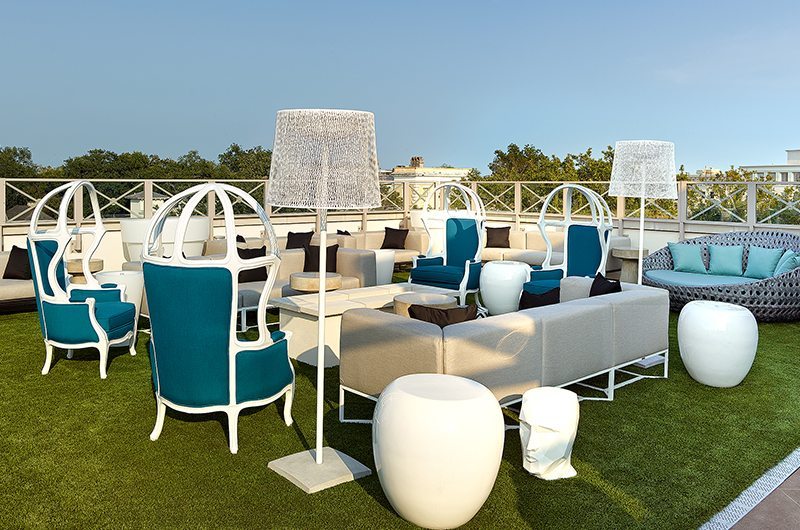 Here's the Scoop
From the moment you step into the classic white building of The Grand Bohemian Hotel in downtown Charleston, your senses are met with a colorful interior décor mixing luxury and dynamic personality. The design sensibility of this unique space is eclectic and bold but completely welcoming in the best of southern ways. It is a wonderful location for weddings since there is so much décor already in place and a wonderful restaurant to provide your guests with a memorable experience. Whether you are coming to The Grand Bohemian Hotel for your wedding or a weekend getaway, this wonderful spot will certainly impress.
For more information, visit www.kesslercollection.com.