By Sharon Naylor
Bermuda is known for its pink sand beaches, its pastel candy-colored houses, and its friendly vibe from British-accented locals. Now, it's more popular than ever since Bachelorette Emily Maynard hosted her suitors at the new Rosewood Tucker's Point resort overlooking the crystal-clear blue ocean waters, home to the largest private beach on the island, and luxury accommodations in a tropical hideaway within 200 acres of manicured grounds and natural loveliness.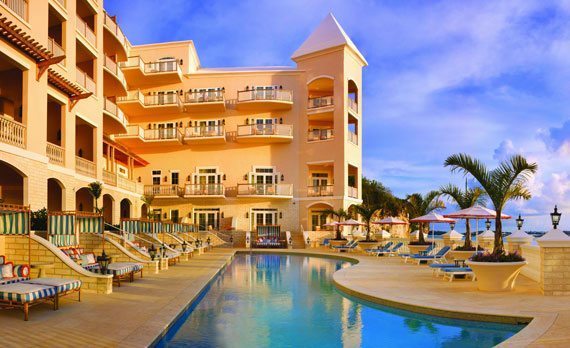 Spectacular views of the Atlantic Ocean, Castle Harbour and Harrington Sound invite you to stroll hand-in-hand along the private, pristine beach at sunset, or swim or snorkel through the gentle waters off the beach. For an unforgettable adventure, snorkel or scuba dive above or around the more than 500 shipwrecks dating from the 1500s to the 1900s around this 21 square-mile island, exploring a breathtaking world below the ocean's surface. Shallow reefs will allow you to spot a number of colorful fish, coral formations, sea fans and other ocean life eye-catchers.
Poolside Togetherness
Lounge by one of the resort's beautiful freshwater pools, surrounded by well-appointed couples' cabanas accented with billowing, gauzy canopies and pillows providing a cozy rest together as the Beach Club staff brings you delicious island drinks and food.
Spa Sense
For even deeper, romantic relaxation, visit the Rosewood Sense® Spa for a unique combination of spa treatments and theme-paired spa meals, such as the Sense of Bermuda package including a cedar warming massage, signature facial, mani/pedi and spa lunch. Or opt for the 'Bermuda Triangle' Silver Tag® Shower in which 18 showerheads massage your entire body before you enjoy a soothing massage using aloe fresh-picked from the resort's garden. Add in honey massages, sea salt purifying scrubs, and a pawpaw foot massage, and your honeymoon stay could include multiple wellness indulgences.
The Suite Life
Each of the 88 spacious rooms and suites offers breathtaking water views, private balconies or terraces perfect for al fresco dining, flat-screen televisions, Wi-Fi, sound systems, elegant furniture and fabrics including plush Egyptian cotton sheets, oversized luxury bathrooms with marble baths and shower, plus stand-alone deep soaking tubs for a romantic, relaxing bath. Many suites offers fireplaces and oversized balconies on which you'll find a canopied day bed for morning alone time or breakfast in bed with a memory-making view. In the evening, romantic lighting is provided on your terrace via stylish lanterns.
Dine in Style
Toast your new beginning with fine dining at The Point Restaurant, and perhaps choose a private dinner in the 3,000-bottle Wine Room for chef-mastered gourmet cuisine, and enjoy more casual meals at Tucker's Bar, the Beach Club Restaurant and Bar, or for an al fresco café experience and poolside dining, visit the Palm Court. Or, enjoy your luxury suite's terrace with 24-hour in-room dining for those late-night indulgences.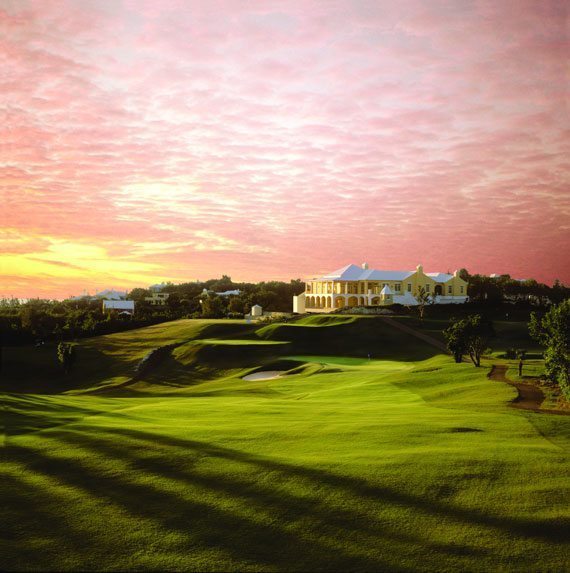 Fore-play
While at Tucker's Point, you share property with one of the world's finest golf courses, designed by internationally-renowned course visionary Roger Rulewich, so if a round of golf is on your honeymoon wishlist, you can count your experience here as a highlight of your lifetime golfing experiences, with a challenging course and unmatched views at every stop. You're also welcome to play tennis and dine at the club.
Additional Excursions
Take a taxi, ferry or mopeds around the island to take in the charming architecture, botanical gardens filled with butterflies, uniformed bobbies directing traffic. Shop, dine, and visit the island's perfumeries. A highlight of your Bermuda honeymoon may be swimming with dolphins at nearby Dolphin Quest (www.DolphinQuest.com) or touring the magical, glittering underground caverns at Crystal Caves (www.Caves.bm) where you walk on floating pontoons through glowing, lit caverns naturally-decorated with majestic, sparkling stalactites and stalagmites, and limestone formations creating the effect of a frozen waterfall along the walls. Clear blue water is visible to a depth of almost 50 feet.
Rosewood Tucker's Point has won coveted awards, such as Conde Nast Traveler's 2011 and 2012 Gold List designations, and was named by Travel and Leisure as one of the world's best hotels in the Caribbean, Bermuda and Bahamas. The accolades pour in for this easy-to-reach destination that lets you get right to your honeymoon's first visit to the beach or pool by lunchtime if you begin your quick journey in the morning hours.
Tucker's Point's reputation as a romantic locale is growing, with many honeymooners vowing to return on their first anniversary, to renew their wedding vows on a milestone anniversary or to bring their kids someday. Until those future dreams come true, couples call this resort home for their getaway of a lifetime.
NOTE TO SELF:
You will need passports, since this is an international destination
The Bermuda dollar is on par with the American dollar
There is no sales tax in Bermuda
Bermuda is a mere 90 minutes from most major U.S. cities along the Atlantic coastline, and the nearest American land is Cape Hatteras, North Carolina, 570 miles away
Tucker's Point is awarded Green Globe Certification for eco-friendly practices
For more information, click HERE or call 888.ROSEWOOD