Brianna Geiger & Jimmy Nettles
Southern Glamour
Married
Jun 22, 2019
Callahan , Florida
Photo Credit
Bella Blue Photography
---
Style Guide
Color Palette
Style
Glamour
Season
Summer
---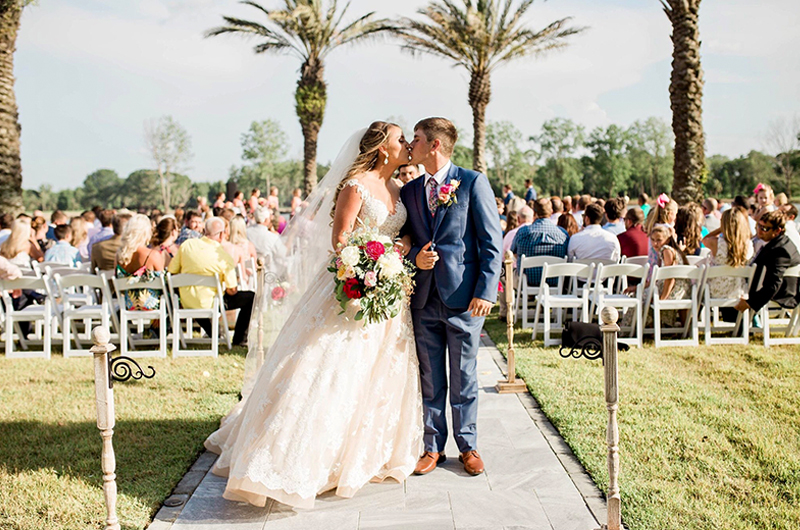 The Proposal
After my Aunt was diagnosed with breast cancer, my parents wanted our entire family (mom and dad's side) to have a vacation together. We chose to go on a Disney Cruise. Little did I know, they had something else up their sleeve. On the very first night, we had planned on taking a family picture together on the grand staircase. Yes, all 25 of us! After the big family photo, my immediate family took on too. Then my mom told my boyfriend (at the time) and I to take one of just us. As we smiled for the first picture, he told me he had a surprise for me. Next thing I knew he was on one knee and asked me to marry him! Of course, I said yes and all the women in my family were crying!! I'm so blessed that most of the most important people in my life were able to share this special memory with me.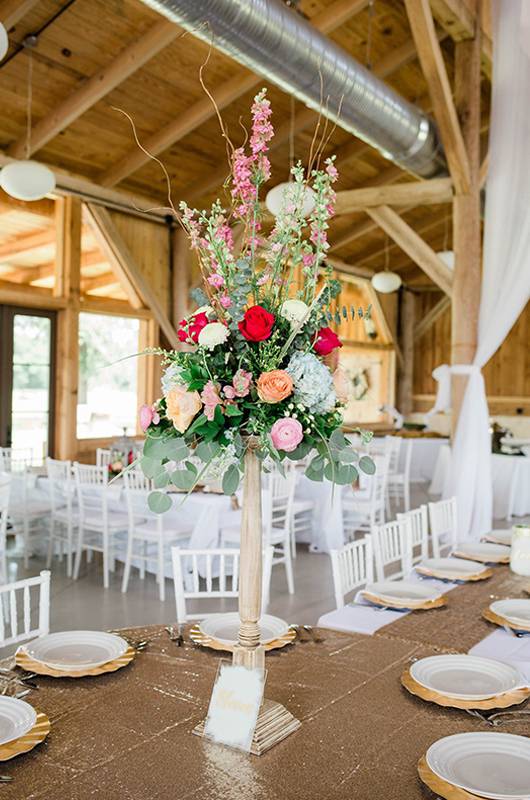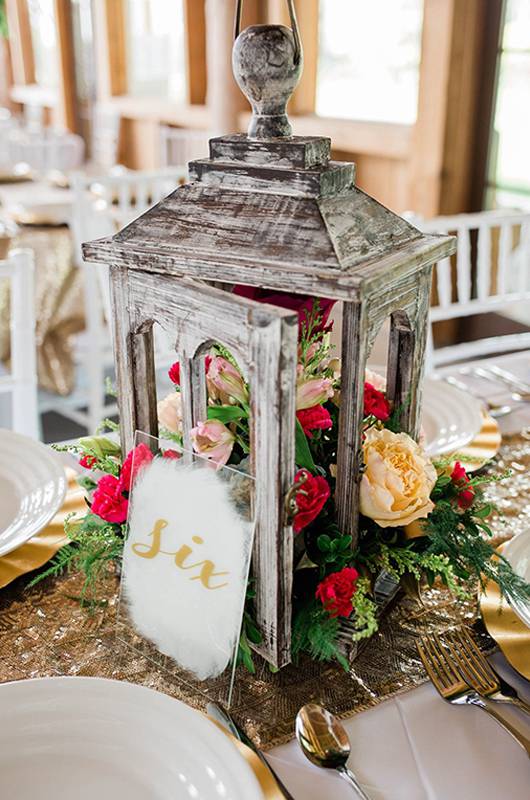 Brianna Geiger & Jimmy Nettles Wedding Centerpieces
Brianna Geiger & Jimmy Nettles Lantern Centerpiece
In Preparation
I've had my Pinterest wedding board built up since I was in high school. So I've had a pretty good idea of what I wanted and what I didn't want. I'm also the type of person where I either love it or I don't like it at all. Wedding planning was honestly such a breeze for me, but I'm also very organized planner too. Our venue was just being advertised whenever we got engaged. I knew instantly that was where I wanted to get married! Majority of the venders I chose, I've seen their work for years so I knew exactly who I wanted. Our decorator has watched me grow up so she knew exactly what I wanted. She was definitely the main reason why I was stress-free (most of the time at least) because I knew she would make sure everything was how I wanted!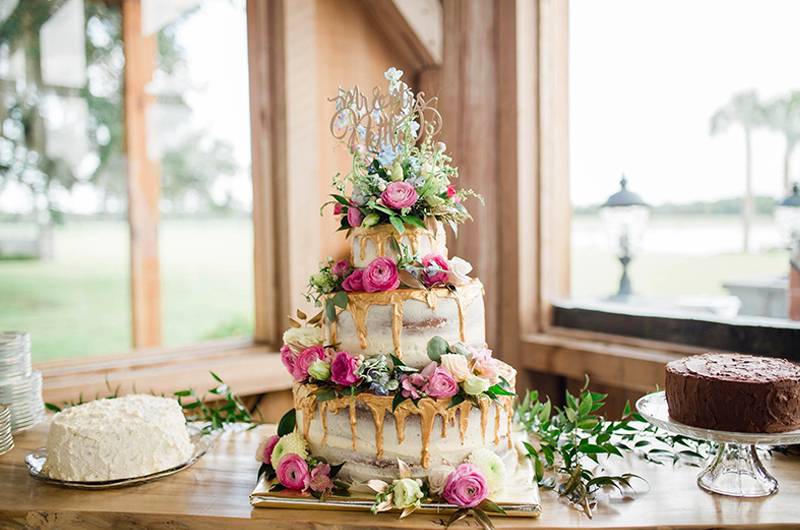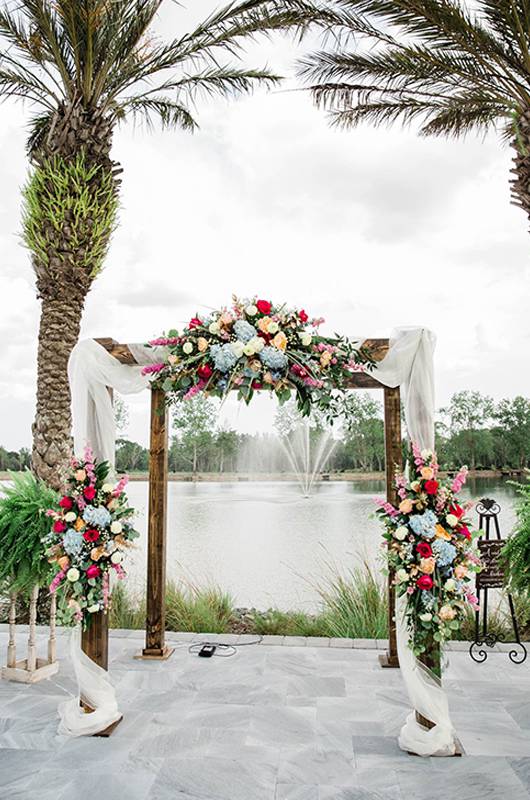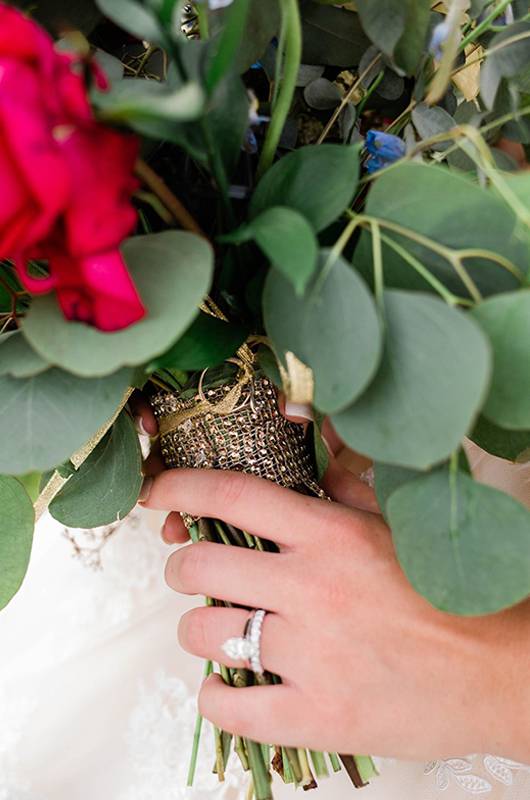 Brianna Geiger & Jimmy Nettles Wedding Cake
Brianna Geiger & Jimmy Nettles Vow Ceremony Loaction
Brianna Geiger & Jimmy Nettles Close Up On Ring And Boquet
The Big Day
I woke up that morning and realized the feeling of "I'm getting married today" still hadn't hit me yet. I just felt like I was back in high school getting ready for prom with my friends. Once I put on my wedding dress, that's when I experienced the "I'm getting married today" feeling. I did my first looks with my bridesmaids, with my dad, and it was time to have a first look with my Groom. I started feeling nervous as I started to walk towards his direction, but as soon as he turned around with the biggest smirk on his face all the nervousness went away. We were just happy that our big day was finally here. It was over before we knew it, but we enjoyed every minute of it! One of the most touching things happened to me that day. Getting married to my best friend wasn't the only thing. Four months before my wedding, one of my best friends from college passed away in a tragic car accident. She was always the life of the party and always loved to aggravate anyone she could. My only request to the venue was that they occupy the cows (it was at a ranch) during the ceremony so they weren't being disruptive or in my photos. The owners had done so prior to ceremony time. The ceremony starts and there are no cows to be seen. The absolute SECOND I start to walk down the aisle, the cows (the black blobs in the back of the alter pictures) start running to the pond behind the alter and are literally mooing as loud as they possibly can!! As soon as I saw them, it didn't make me annoyed, not even the least bit upset, but incredibly happy. Because I instantly thought of my friend, Emily. I just knew that was her sign of telling me she was there because she would've thought I was absolutely hilarious considering how I specifically didn't want them there. Once I got to the altar and the cows became louder, I just couldn't help but laugh and think of her. What I thought would be my biggest annoyance, turned out to be one of the greatest memories I'll cherish.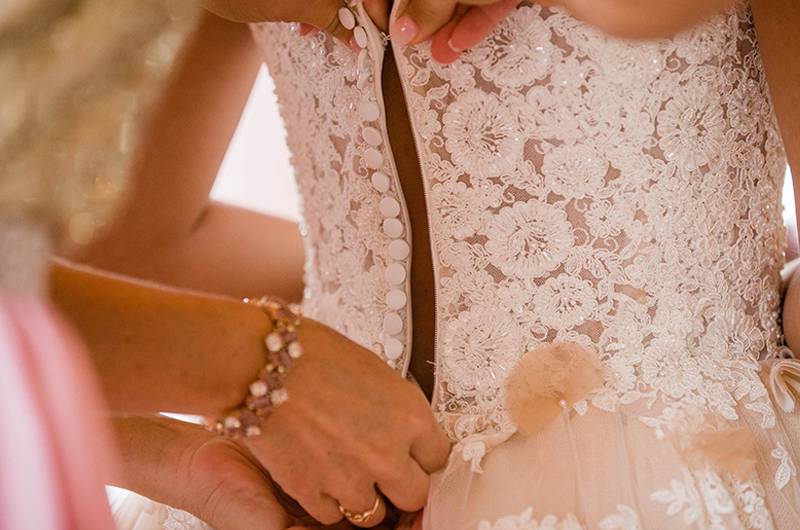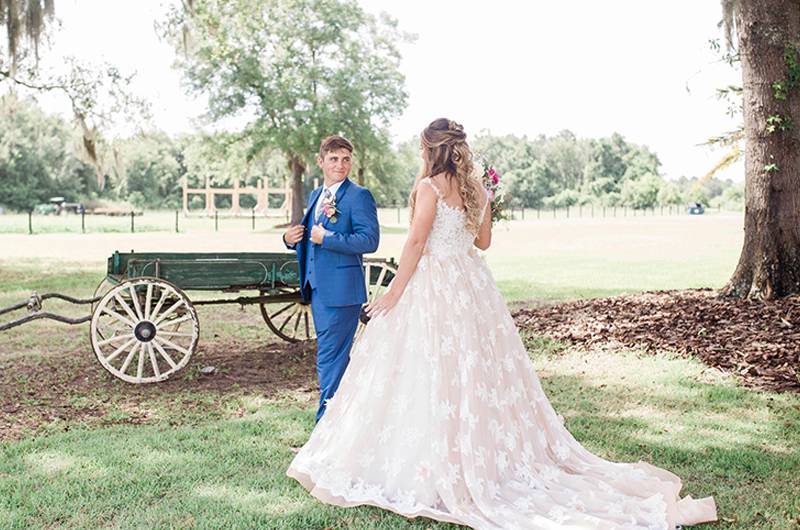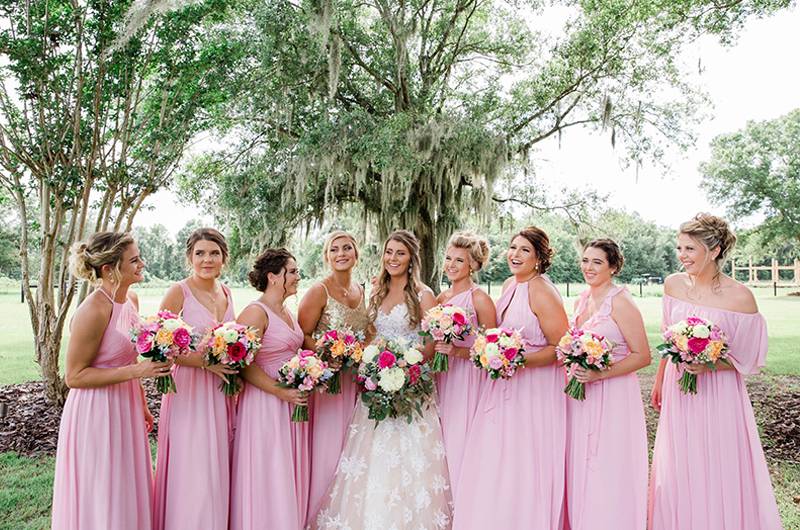 Brianna Geiger & Jimmy Nettles Brides Dress Buttonig Up
Brianna Geiger & Jimmy Nettles Bride And Groom Next To Wagon
Brianna Geiger & Jimmy Nettles Bridal Party Group Photo And Bride
The Retreat
For our honeymoon, we spent a week at a Sandals Resort in Ocho Ríos, Jamaica. The water was absolutely beautiful. We couldn't have asked for any better weather than what we had! We got to experience "Blue Hole", which we definitely recommend seeing! Our absolute favorite was the food(who doesn't love food). Especially jerk chicken! We relaxed on the beach every day and sadly it all came to an end. We will definitely be planning a trip back for future anniversaries!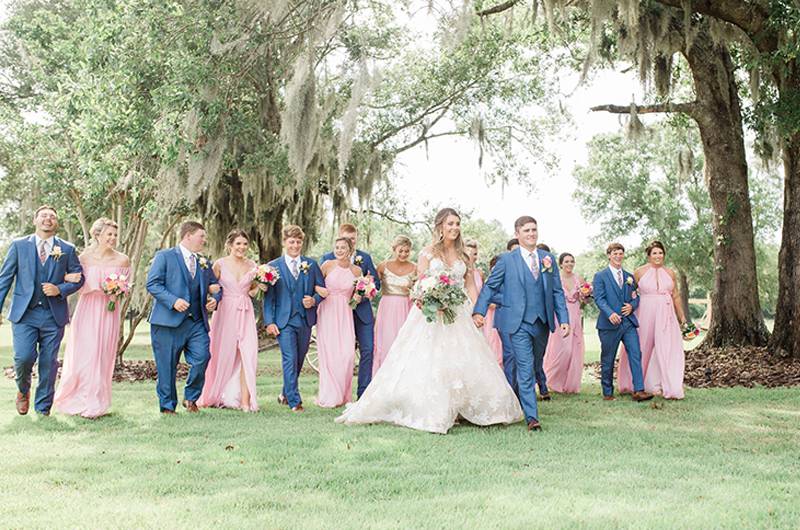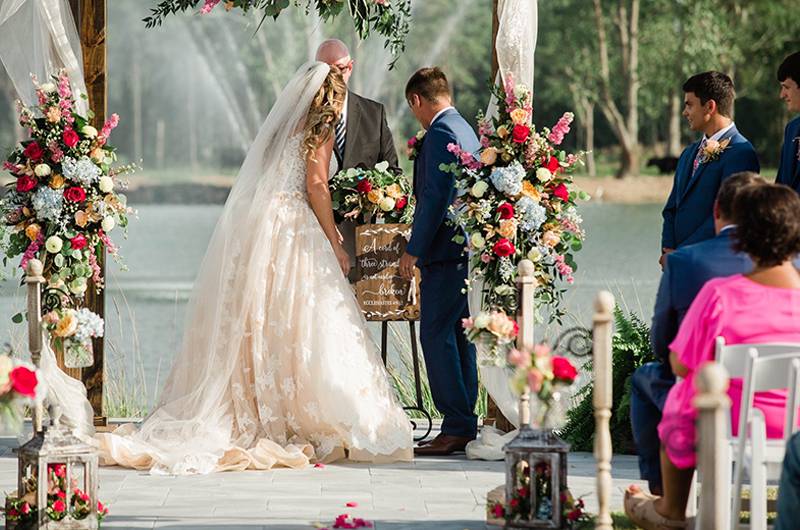 Brianna Geiger & Jimmy Nettles Bride And Groom Party
Brianna Geiger & Jimmy Nettles Bride And Groom Saying Vows
Featured Wedding Vendors
HONEYMOON
Contributing Vendors
PHOTOGRAPHER
Bella Blue Photography
VENUE
The Barn at Cottonwood Ranch
CATERER
Jimbo's Log Kitchen
CAKE
Jessica Turner
ENTERTAINMENT 
First Cost Sound
FLOWERS
Jewel Chancey
GOWN
Milla Nova
INVITATIONS
Shutterfly
DECOR
Suzanne Franklin
VIDEOGRAPHER
LW Film & Video