A collection of day saving beauty tips from makeup artist, Amanda Cocanougher Williamson of Little Rosie & Co.
We all like YouTube, right? Makeup tutorials are a must in my down time. Before I got married I had to have watched over 20 bridal makeup tutorials. However being a gal over 30 I have found that some of the makeup trends aren't so flattering on skin over 30. From baking to brows, I have tips to help keep your skin as youthful as it was in your 20s for all of your wedding festivities.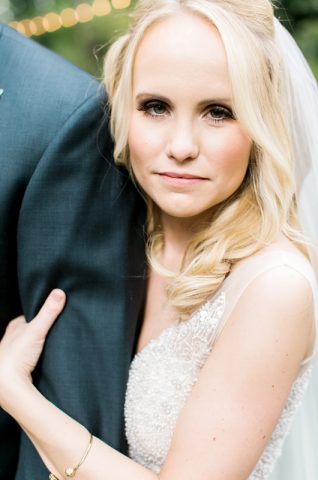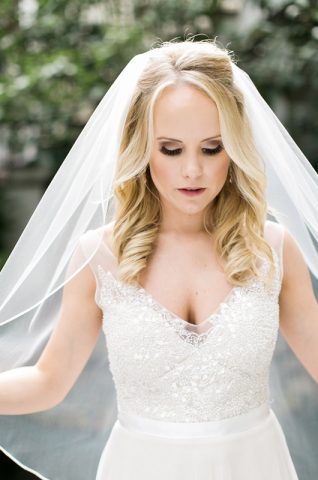 photo: Amy Nicole Photography
ONE | Prep your skin before your wedding day. Stay loyal to your skin and it won't fail you. If you are old enough to remember wearing butterfly clips in your hair, then it's time to make moisturizer your best friend. It makes all the difference restoring the hydration that has been lost due to aging. Cleanse every single night.
TWO | If you can, budget to hire a professional makeup artist. Schedule a trial run to test out a few looks if you are not sure what you want. Even being a professional hair stylist and makeup artist, this is absolutely the best thing I did on my wedding day. Have someone who is experienced do your makeup. We are trained in techniques and can give you the most flattering looks without looking overdone. And it will last all day.
THREE | Create a touch-up kit for your big day. Most, if not all, makeup counters will give you free samples of lipstick upon request. Grab your bridesmaids and head over to a cosmetic store or a makeup counter and test out different shades. Even though "nude" lip colors are super popular, we suggest something with a little color. You want your lips to stand out. Wearing nude can make your lips appear to blend right in with your skin if you pick the wrong shade. We suggest a matte lipstick because it will last all day even after your first married kiss.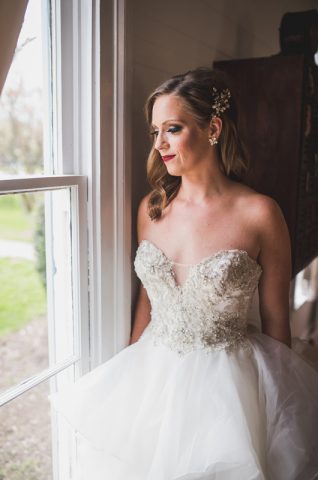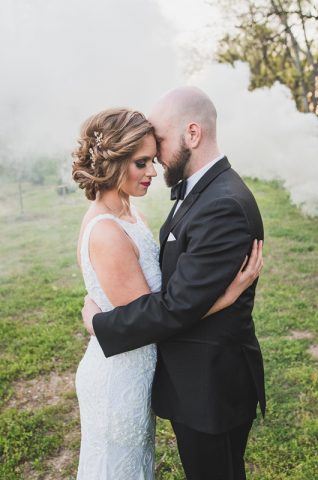 photo: John Myers Photography
FOUR | Baking, it's not necessarily the best way to set your makeup if you're in the aging skin category like I am. This is a trendy technique used with powder to set liquid creams such as foundation and concealer. Setting powders can set into fine lines and wrinkles and stand out even more making the skin appear dry, especially under the eyes. If you have oily skin you can use a setting powder throughout the day instead of caking it on after applying your foundation and concealer. Alternatively, there are many primer sprays that work with aging skin without drying it out.
FIVE | On your big day, stay away from makeup with SPF. I can not stress this enough. Have you ever seen a picture of a bride and her face looks lighter than her body? This is due to SPF creating a ghost-face flashback. If you are doing your makeup yourself do a test run and have a friend take pictures of you with and without a flash to make sure you won't have flashback issues.
SIX | Brow trends: if you are like me and prefer natural brows over the trendy "Instagram brows" then this advice is for you. Makeup companies have created all sorts of products for brows. One of my favorites for brides of any age is brow fiber. Some come in a tube with a wand and we've found that to be the easiest way to get fuller brows without looking overdone. Or go back to the basics and use a pencil. They are formulated to go on with a softer appearance.
I hope some of these tips help you to have the most youthful and glowing skin on your wedding day and for years to come.
Need a little more wedding day makeup inspiration? Check out Our Favorite Bridal Makeup Looks From 2018.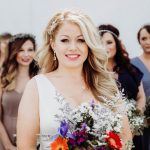 Amanda Cocanougher Williamson of Little Rosie & Co. is
one of our favorite southern makeup artist and southern
brides. See a lookbook of her beautiful Kentucky wedding
in the current issue of Southern Bride. Get your copy HERE!